Your kitchen faucet is one of the most frequently used appliances in your home. Whether you're filling up a pot, washing dishes, or getting a drink of water, your faucet needs to be functional and reliable. 
But how do you know what to look for when choosing the right kitchen faucet for your needs? Since the market is flooded with options, it can get really confusing sometimes to find out your suitable one from all those available options. 
That's why we've put together this step-by-step guide on how to choose the right kitchen faucet for your sink.
How to Choose the Right Kitchen Faucet: Step-by-Step
Now, before we go into our detailed discussion, let's take a glance at the breakdown of our kitchen faucet buying guide.
1. Choose Installation Types
At first, you'll need to decide on the installation type from the following- 
Countertop-mounted
Deck-mounted
Wall-mounted
2. Decide the Number of Faucet Holes, Shape, and Size
Then, you should consider the number of holes and the shape and size of your faucet.
3. Decide Faucet Material
Choosing the right material is crucial for your kitchen's aesthetics and the faucet's lifespan. Common materials include-
Brass
Stainless Steel
Bronze
Zinc Alloy
Plastic
4. Decide Other Faucet Features
Next, you can move on to choosing the additional features you prefer. These may include-
Pull Out Spout
Soap Dispenser
Water Filter
Touchless Technology
Side Sprayer and Pot Filler
Mini-boiler
5. Now Choose the Finish and Style
Finally, you should choose the finish and style according to your preference. The four most common options are-
Chrome
Stainless Steel
Brushed Nickel
Copper
Kitchen Faucet Buying Guide - [Step-by-Step ]
Let's now take a closer look at each of the steps we just listed so you can learn how to choose the right kitchen faucet for your needs.
Some Pro Tips While Choosing A Kitchen Faucet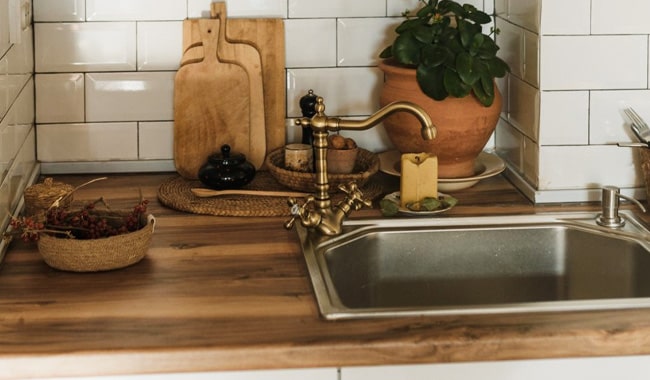 Here are a few more things to keep in mind while you're shopping for a kitchen faucet:
Check the Spout Height and Reach
If you're replacing an old faucet, measure how far out it sticks over the sink, then look for a new one with comparable specs. You also need to know how high or low it sits above the sink to be sure your new one will fit under your existing cabinets.
Choose Ceramic Valves
Ceramic valves are more durable and less prone to leaks than others—and they'll save you money in the long run since they won't wear out as quickly.
Some Finishes are Tougher than Others
Keep in mind that some finishes are stronger than others. Oil-rubbed finishes have become a popular choice because they look beautiful and offer some extra protection against wear and tear.
Consider the Water Pressure
It's hard to get a good, strong stream of water if the pressure is too low. Hence, you'll want to choose a kitchen faucet designed to work well in your area.
A good faucet will be made with a valve that enables you to adjust the flow to get the perfect amount of water for your purposes. This is especially important when you're trying to fill up a large pot or when you need to rinse off food scraps after chopping.
A Single Handle Is More Convenient
While two-handled faucets may look more traditional, they're not as convenient to use. A single-handled faucet is much easier to operate since you can adjust the water temperature and flow with one hand while you're doing something else with the other.
Pull-Down Sprayers Are Better than Side Sprays
Side sprayers are the old-fashioned way to rinse off your dishes, but they're not as convenient as a pull-down sprayer. 
Pull-down sprayers offer more flexibility and range of motion, so you can reach every corner of your sink. Besides, they're easier to use since you don't have to hold down a button while you spray.
Look for a warranty
When you're spending money on a quality kitchen faucet, you want to be sure it will last. That's why it's essential to look for a model with a warranty, which can be anywhere from six months to three years. 
Some renowned brands like Moen, Delta, and Kraus even offer lifetime warranties for their selected products. When you buy a product with a warranty, you have peace of mind knowing it can be replaced or repaired if there are any problems down the line.
[ On a side note: If you are interested in buying a Moen kitchen faucet, you can read our 13 best Moen kitchen faucets reviews, here. ] Recommended reading: Moen Vs Delta Kitchen Faucet.
Here, we have answered some of the most frequently asked questions about kitchen faucets to help you make an informed purchase decision.
Is it difficult to install a kitchen faucet?
No, it is often not that difficult to install a kitchen faucet. In fact, many people choose to do it themselves to save money. However, if you are not confident in your ability to do it yourself, you can always hire a professional.
How much does it cost to have a kitchen faucet installed?
The cost of having a kitchen faucet installed will depend on the complexity of the job and who you hire to do it. 
The average cost to install a kitchen faucet is between $100 and $200. And if you choose to do it yourself, it will obviously cost less than hiring a professional.
How to choose kitchen faucet height?
There is no definitive answer to this question since it will depend on your own personal preference and the height of your sink. 
However, it's usually best to choose a kitchen faucet around 10 inches tall as a general rule. This will ensure that it is high enough to be easily used but not so high that it gets in the way.
Do I need to caulk around the kitchen faucet?
Caulking around the kitchen faucet is not strictly necessary, but it is generally a good idea. This will help seal the faucet area and prevent water from seeping behind it.
Can I replace a kitchen faucet myself?
Yes, it is possible to replace a kitchen faucet yourself if you have some basic handyman skills. However, if you are not confident, it is always best to hire a professional.
How long does it take to replace a kitchen faucet?
It'll depend on the faucet model, but installation is typically quick and easy. It shouldn't take you more than a couple hours at most.
How much should a plumber charge replace a kitchen faucet?
If you hire a professional to replace your kitchen faucet, they will typically charge by the hour, which is around $100-$120 per hour on average. However, the total cost will depend on the job's complexity and your location.
What do I need to buy to replace the kitchen faucet?
To replace your kitchen faucet, you will need to purchase a new faucet and any necessary installation hardware. You may also need to buy some supplies like caulk, wrench, pliers, screwdriver, and a putty knife.
A well-functioning faucet is a must in any kitchen. The right faucet is key to your sink's functionality, safety, aesthetics, and tons of other factors. 
By knowing its parts, understanding its primary purpose, and looking into the different options you have when shopping around, you are sure to end up with a great kitchen faucet that will last for years to come.
So, now that you know how to choose the right kitchen faucet, what are you waiting for? Start shopping around and find the perfect one for your home today.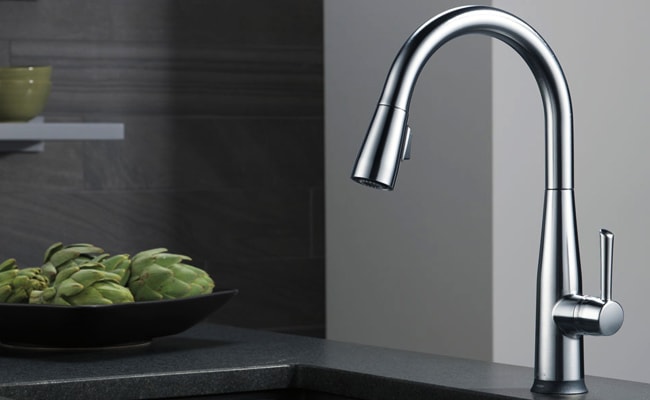 A faucet may seem like a simple contraption, usually taken for granted in kitchens. However, it is important to know all the components of a
Read More »
Was this article helpful?