Perhaps the most used item in a kitchen, other than the stove, is the faucet. On average a day, a person may use the tap 8-10 times.
So, with so much use, it is very important to find a faucet which will serve your purpose and not break in a matter of months or even a year.
In order to make sure that you find yourself and your family a reliable, efficient and basically the best brand kitchen faucet out there, I am going to provide you with some recommendations.
In addition, I will also provide you with a buying guide where I will talk about the features you need to look for in a kitchen faucet.
Let's get started.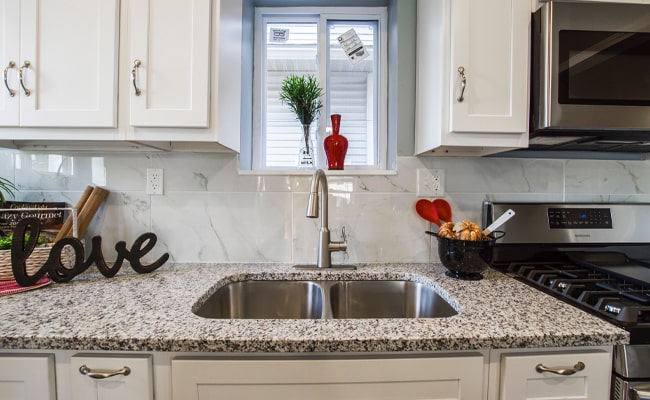 Our Pick for The Best Kitchen Faucet – Reviewed
In this section we will talk about the features, pros, and cons of my recommendations. So, let's begin.
1. Moen Arbor One-handle High Arc Pulldown Kitchen Faucet Featuring Reflex, (7594SRS)
This faucet comes with more than 50% spray power. It also resists any sort of stain, including fingerprints. Installing the device should be pretty easy and you won't need professional help for that.
The good thing about the item is that it does its job really well. There will be no fingerprint on the device when you put your wet hands on it. 
Another good thing about this is that it is well designed and good looking.
There are sensors that can detect object in front of it, which makes is good for washing hands and dishes, all the while using less water.
2. Delta Faucet Leland Single-Handle Kitchen Sink Faucet, Chrome 9178-DST
The makers market the product on its durability and its promise on lasting longer than two times a standard faucet. It is also said to have a powerful spray.
Now, it comes in two types of design, one is the standard and the other one has an LED indicator to check the temperature and has touch on/off option. Other than that, everything is the same in the two products.
It is really well constructed, and despite that it's not heavy at all. So, that's a great plus.
Overall, I would say that it is one of the best luxury water faucets out in the market.
3. Vapsint Spring Brushed Nickel Mixer Pre-Rinse Pull-down Sprayer Kitchen Faucet
Now this one is supposed to be of moderate size with a 360-degree rotation. It should be able to easily reach both bowls of the sink.
This is a very good find for those who are in search of a good but affordable faucet. Despite the low price tag, it provides great value for money.
The water pressure is pretty great. And not only that, you will be able to shift from spray to steam without having to turn the faucet off.
And one of the very best parts of the device is that it is very easy to install and replace.
So, you won't need to call for professional help.
Recommended Reading: Best Pull Down Kitchen Faucets Review
4. WEWE Single Handle High Arc Brushed Nickel Pull-Out Kitchen Faucet
The faucet has a very sleek and minimalist design, which enables it to mesh well with all the kitchens. The spray in this is also very useful with its 3 settings, stream, spray, and pause.
Moreover, it only takes about 30 minutes to install the whole thing which makes it a good purchase for those who are new at installing faucets and want to get the job done by themselves.
Also, the product comes with everything that is needed to install it except a seal tape.
This item is highly functional and is of great value. As it is more on the affordable side, it makes the functionality and the features all the more attractive to the consumers.
5. Kraus KPF-1610MC Bolden Kitchen Faucet 18-inch Matte Black
Now, this faucet is said to be a perfect fit for any kitchen with its 18-inch height. Not just that, the manufacturer's website says that it has dual-function sprayer which gives the user a very splash free experience.
The color of the product is one of the reasons why people seem to like it so much, the matte black gives a very elegant look to the kitchen.
This faucet has just the right water pressure to get food off the bowls and plates. 
And that's not all, the spray reaches the bottom of the sink, so it makes the whole dishwashing chore easier than it would otherwise have been.
6. Ufaucet Modern Commercial Solid Brass Pull-Out Spray Brushed Nickel Kitchen Faucet
This faucet has been marketed to the consumers highlighting its durability. That's because the materials used in this are of top quality. 
So, there is very low chance of things breaking and water getting leaked.
And it has an excellent design, which makes this a good purchase for the consumer who is out looking for a good faucet at an affordable price.
This too is easy to install and comes with most of the things needed for the installation. Regarding the aesthetics, this one looks nice and will complement any kitchen interior.
7. Delta Faucet Collins Single-Handle Kitchen Sink, Chrome 4140-DST
Flexibility and durability are the two-main selling points that this product has. The pull-out design allows it to move very easily in every direction. 
If you buy this thing, I can assure, no, I can guarantee that you won't have to look for its replacement for years.
This works beautifully and has good water pressure. It is actually on the shorter side, so if anyone is in the market looking for a short faucet then this is a good buy.
If I am being honest, I didn't like the design much. It's pretty old-fashioned and should be improved.
8. KOHLER K-596-VS Simplice High-Arch, Pull-Down Sprayer Kitchen Faucet
This has a pull-down water faucet so you will easily able to get your work done. Thanks to this feature, it is regarded by many as the best kitchen faucet with pull-down spray.
The hose also reaches the end of the sink, making it very convenient to use. This one has a magnetic dock which makes it difficult to leave its position.
This thing is designed very well, and you will be able to use it without much problem for many years. At least, you'll get your money's worth.
However, you need to be careful with the installation of this product because things might stop working properly if it is not done in the right way. This actually does apply for almost all the faucets.
9. Peerless 2-Handle Wall Mount Kitchen Sink Faucet, Chrome P299305LF
I like this brand. Why? Well, the reason, as you can guess, is very simple; they offer good quality products. So, yes, you can put your trust in them.
Regarding the product itself, it has absolute flexibility, thus gives the users of the faucet great comfort while operating it. 
Not just that, it has two handles which will help you to control the temperature.
In addition, this one has an extremely easy installation and takes just minutes to assemble it even though it is a wall mounted faucet.
The item is on the prettier side of the aesthetic spectrum. As it has two handles, it is easier to control the water flow. 
Moreover, most of the people who have bought it, strongly recommend others to do so as well due to its superior performance.
10. Antique Spring Single Handle Pull-Down Spray Oil Rubbed Bronze Kitchen Faucet
The mechanical faucet head will be much better than the plastic ones when it comes to durability and performance. 
Moreover, the hose of the faucet can he retracted and can move 360-degrees. 
Also, the height of the faucet is just right to fit into most sinks without bumping into shelves above the sink.
Regarding the price, I find it very reasonable. You'll have to spend upwards of 200$ to get similar performance from another device.
Not only is the faucet easy on the eyes with its bronze finish, but it is also very convenient to use. Due to its pull-down spray function, people who would like to install this in the kitchen will just love it.
Kitchen Faucet Buying Guide
First, you need to decide what kind of faucets do you want. Do you want to mount the tap on a wall or a sink?
The answer to this question will help you zero down on your ideal option.
Even though it would be nice to get a faucet which is nice to look at, but a lot of the times the nice-looking ones are more delicate and not as durable. However, there are exceptions, and you will find some of those exceptions on this list.
You must think of the height and size of the faucet, as at times there might be shelves right above the sink, so a long one would not work. The reach is also very important, as a short faucet may not be comfortable to use.
If you are able to find a good pull-down sprayer, then that is the one you should go for as it will make the job easier for you.
Now that we know what it takes to be the best kitchen sink faucet, we will go into the review section.
Everyone has different preferences when it comes to items such as these. Some might want it to be on the longer side, while others may prefer the shorter ones.
In fact, some people might want a good looking one over a more functional option.
And luckily, my best kitchen faucet reviews have all types of products.
The review of each of the products will help you identify which would be the right choice for you and your kitchen.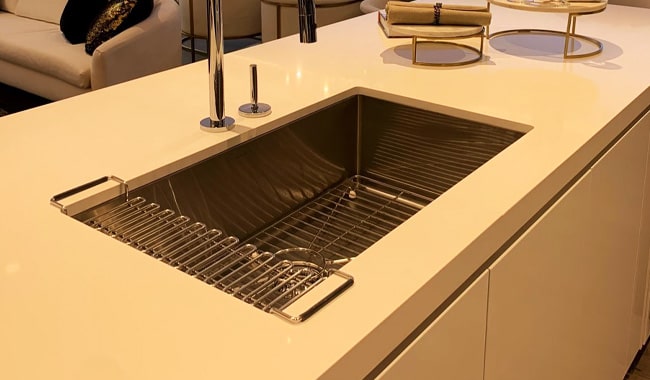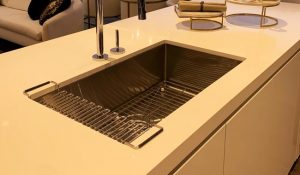 Finding the right kitchen sink is crucial for a homeowner, as that can determine their entire mood while doing chores in their kitchen.  However, with
Read More »
Was this article helpful?