The main difference between Moen and Kohler Kitchen Faucets is the price. Though Kohler faucets are more expensive, they are of top-notch quality. On the other hand, Moen models are a bit cheaper than Kohler's. Plus, compared to Kohler, Moen has a wide variety of styles and design choices as well.

Now, choosing the right sink faucets for your home can be a freaking hard job. But not to worry! After going through this Moen vs Kohler Kitchen Faucet guide till the very end, you can easily decide which one you should select between these two brands.
Because we'll explore the key factors such as cost, variety, functionality, etc. between Kohler and Moen, setting them apart from one another.
So, let's get started!!!
History and Pros-Cons of Brand Moen:
Moen has not been in the market as long as Kohler, but they also have been manufacturing top-quality faucets for several decades. Unlike Kohler, Moen focuses exclusively on faucets, not other plumbing products.
As Moen offers top-notch taps that have a sleek design and innovative technology, they have earned a good reputation from their customers. Plus, their products come at affordable rates, too. Also, there are a wide array of styles to choose from. 
Pros and cons of Moen Kitchen Faucets:
Let's have a look at some merits and demerits of Moen Kitchen Faucets:
History and Pros-Cons of Brand Kohler:
Though Kohler has been making only faucets for around 15 years, actually, they've been ruling in the plumbing industry throughout the world for bathroom fittings and plumbing goods for almost 150 long years.
You need to use your faucets several times a day, right? And, that's why durability matters most. And, that's where Kohler comes into play. Because they focus more on durability than design, their faucets will last for a longer period of time though they might not be aesthetically pleasing. 
Pros and cons of Kohler Kitchen Faucets:
Here I'm going to mention some advantages and disadvantages of Kohler Kitchen Faucets:
Side by Side Comparison Table: Moen vs Kohler
Let's have a look at this below-mentioned table to understand some common differences between Moen and Kohler:
| | | |
| --- | --- | --- |
| Topic | Kohler | Moen |
| Durability | Focuses more on durability. | Focuses more on designs and aesthetics. |
| Price | More expensive. | Less expensive. |
| The product range | Comes with a wide variety of products. | Moen offers even more options. |
| Technology | The technology Kohler offers is called Response. | The sensor technology Moen uses is called MotionSense. |
Main Distinguishing Factors Between Them:
Now, in this section, I'll go over several major distinguishing factors such as price range, durability, design, warranty, technology, etc. between Moen And Kohler that will help you decide which one to buy. Here we go:
Durability & Quality:
Mind you, both companies tend to be durable and last for years to come. Plus, they both also ensure quality products.
Also, they are corrosion and discoloration resistant, which is one of the big selling points for each of them. Therefore, it doesn't matter whatever fixture you select, you can always rest assured that it will offer you a shiny and new look.
Kohler: As mentioned earlier, Kohler focuses more on its durability and functionality. So, if you want a heavy-duty faucet that will stand the test of time, then Kohler will be your best bet.
Moen: On the other hand, though Moen faucets are also durable, they are well-known for their superb features and modern designs.
The winner: Kohler.
Design:
It's really tough to compare these two in terms of design if you do not get down directly into their products. But, obviously, these two have some differences that will help you understand better which one is better.
Kohler: As mentioned above, Kohler emphasizes on durability and functionality more than design. So, it is definitely the best way to go if you want a product that can resist corrosion, discoloration, and tarnishing for years and years to come. But, yeah, they also come up with some shiny finishes to choose from.
Moen: Whereas, Moen loves to focus more on aesthetics and designs. That's why they offer some of the finishes that are spot-free. On top of that, they have hundreds of models available out there and some of them really stand out in the crowd when it comes to appearance.
The winner: Moen.
Product Materials
Product materials are another crucial part of faucets that will help you figure out which one is better and which one will serve you for years.
Mind you, all the models of Kohler and Moen are made of high-quality materials that are corrosion and detergent-resistant. And, that's why they secure the top positions in the ratings of most plumbing manufacturers. 
Plastic can also be found in the most expensive Kohler's products. But the company tries to reduce its usage.
The winner: Draw.
Finish:
The finish also plays a crucial role when choosing a faucet. Keep in mind that, the finish of your faucet should be compatible with the overall tone of the kitchen and bathroom. Or, your faucet will stick out like a sore thumb. That won't look pretty, right? 
What's more, by protecting the faucet from wear and tear, scratches, and corrosion, the finish will also extend the fixture's life.
Kohler: This brand offers various kinds of finishes such as polished chrome, oil-rubbed bronze, spot-resist stainless steel, black matte, and brushed nickel to choose from.
Moen: On the contrary, Moen also comes up with a wide variety of finishes like chrome, brushed nickel, oil-rubbed bronze, stainless steel, brown, and matte black. 
Spot resist stainless, chrome, nickel, brushed gold, matte black, and brass are the most popular finishes for bathrooms. Since the spot-resist faucets of Moen are completely tarnish-free, they have been a massive hit so far.
The Winner: Moen
Product Range:
Both of these faucet brands come with different sorts of products like kitchen faucets, bathroom faucets, touchless faucets, widespread, pull-down, center set faucets, regular, etc. 
Moreover, they also feature different styles, for example, contemporary, traditional, as well as a mix of both. Because each product offers a wide range of finishes, you can choose one appropriate for your existing kitchen's aesthetic.
Though Kohler offers a boatload of options to choose from, Moen offers even more options.
The winner: Moen.
Technology:
Both of them have some faucets that offer touchless technology. Not only does it save you from cleaning your faucet after you touch it with dirty hands, but it also helps you reduce the wastage of water. That's pretty handy, isn't it?
Kohler: The technology Kohler offers is called Response. With the help of this technology, you will be able to turn the faucet on or off with just a slight wave of your hand. 
One more exciting thing to note here is that, unlike Moen, the faucets of Kohler will automatically turn off just after 4 minutes of no use.
Moen: But, the sensor technology Moen has is called MotionSense. Moen's faucets use 1 or 2 sensors. One is located at its spout and the other one is at its base. All you need to do is just wave your hand in front of the sensor after using the faucet, and the water stream will immediately switch off.
The Winner: Draw.
Awards and Certificates:
WaterSense and ADA certifications are very important in the plumbing industry. Not only do Moen and Kohler meet all the requirements of a modern manufacturer, but they also comply with EPA or WaterSense standards restricting water flow from 1.2 to 1.5 gallons every minute. This feature ensures a greater water economy.
ADA, known as American Disability Act, is based on the principle of considering the needs of all people. The meaning of ADA certification is that the faucet won't need any extra adaptation for using it comfortably.
The Winner: Draw.
Maintenance:
Knowing how to maintain your faucets is also a crucial factor while you commit to buying a kitchen or bathroom faucet. Let's get to know the maintenance procedure of both Kohler and Moen.
Kohler: Kohler faucets are easy to maintain. Before you apply the cleaning solution to the entire surface of the faucet, consider testing it on an inconspicuous area all the time. Right after using your cleaner, you need to wipe the surfaces and rinse thoroughly off with water.
Never let the cleaner soak. It is recommended that you had better use a soft and dampened cloth or sponge while cleaning surfaces. Plus, you should also avoid using abrasive materials such as abrasive sponges and steel wool, or other harsh cleansers like limescale removers
Moen: The maintenance of Moen faucets is also very easy. To clean off the surface of your faucet, you should use a wet cloth and mild dishwashing soap. Then rinse off the surface with water and pat it dry with a gentle cloth. 
Bear in mind that, all cleansers need to be completely rinsed off with water just after you clean the faucet. While cleaning, don't use abrasive materials.
The Winner: Draw.
Cost:
You should choose a faucet that fits your budget yet provides you with durability and quality.
Kohler: Kohler comes with a hefty price tag. But why? The reason might be they have been ruling the industry for a longer period of time, and of course, they also have got a great reputation.
Since the starting price of Kohler can be about $150, and for certain top-quality products, the price can climb up to $1400. So, it's beyond saying that Kohler's faucets are going to be hard for your pocket. 
Moen: On the contrary, you won't have to break the bank to purchase Moen faucets. Depending on the design and finish you select, the faucet prices of Kohler can be around $70 and can go high up to $1300. 
Compared to Kohler, although they're newer to the plumbing industry, they have won over the hearts of lots of people due to their stunning and appealing designs.
The Winner: Moen.
Customer service- warranty:
The warranty is also an important thing to consider while buying a product just like any other feature. Because, in spite of having a good reputation, things can go wrong at any time. 
So, it's best to be on the safer side, right? If your faucet gets defective in any way, the warranty will keep you covered. And, which is why a warranty is essential.
In terms of the warranty, both Kohler and Moen are similar. They are backed by a lifetime limited warranty on all of their faucets though the warranty will not cover everything.
Another important thing to mention here is that, for providing outstanding customer service, both of them are well-reputed and well-known. 
Hence, after purchasing a faucet from either company, if you face any sort of trouble, rest assured that you can talk to someone over the phone regarding the issue without any hassle. 
The winner: Draw.
** You may also like: Grohe vs Kohler Brand Comparison
People Also Ask these Questions:
What is the most reliable brand of kitchen faucets?
Some of the most reliable kitchen faucet brands are Delta Faucets, Kohler, Moen, Kraus, Pfister, and American Standard. You can choose any of them according to your budget and needs. 
Though it's very tough to say which one is the most reliable, I recommend you go for Delta or Moen. And, Delta's Leland 9178T is an excellent product that will serve you for years to come.
Is Kohler the best faucet brand?
Well, it's actually difficult to say whether it's the best faucet brand or not. But, it is safe to say that it's one of the best faucet brands available out there. As it comes with high-quality and stunning-looking taps, it will bring lots of value for the money you're paying for.
Are Kohler faucets worth it?
Absolutely. Kohler can be the best bet for you if you are looking for a top-notch faucet that provides you with all the parts you need, is easy to install, and also offers an elegant look to your kitchen or bathroom.
No. Since the prices of Moen are lower than many other reputed brands, it isn't a high-end brand. In terms of pricing, Moen lies in the mid-range option. It provides you with quality products at an affordable price range.
Is Moen an American company?
Yes. Moen is an international company that is based in North Olmsted, Ohio. It has U.S. manufacturing operations that are located in New Bern and Sanford in North Carolina, as well as in Pine Grove, Pennsylvania.
Are Moen faucets made in China?
Partly yes. Although Moen's manufacturing plants are spread all over the world, their main manufacturing plants are located in the USA. There are three plants in the USA at New Bern, Pine Grove, Pennsylvania, as well as Sanford in North Carolina.
Are Kohler faucets Made in the USA?
Though Kohler uses parts and components that are primarily made in China and India, some faucets that are sold in North America are still assembled in the USA at the plant of Kohler in Sheridan, Arkansas.
Who is the parent company of Moen?
The parent company of Moen is Fortune Brands Home & Security, Inc. (Fortune Group), also referred to as FBHSA according to the financial report that has recently been published by Moen.
Well, that's all there's to it, people. Now that you've got a clear understanding on Moen vs Kohler Kitchen Faucet. If you've gone through this article carefully, I hope you'll easily be able to choose the better one between these two brands that will best match your needs.
To sum it all up, if you're looking for a super budget-friendly or mid-budget option, then you can go for Moen. It's definitely a great option for people who are looking for something that is modern, attractive, and cost-effective. 
But, if the budget is not an issue for you and you want a superior-quality faucet for your kitchen sink or bathroom, then you should give Kohler a go. As I already mentioned, Although Kohler is more expensive than faucets from Moen, they'll bring lots of bang for your bucks as they'll last for an extended period of time.
Remember, when it comes to faucets, both Moen and Kohler are top-quality brands. So choose one that will be best suited for your preference and needs.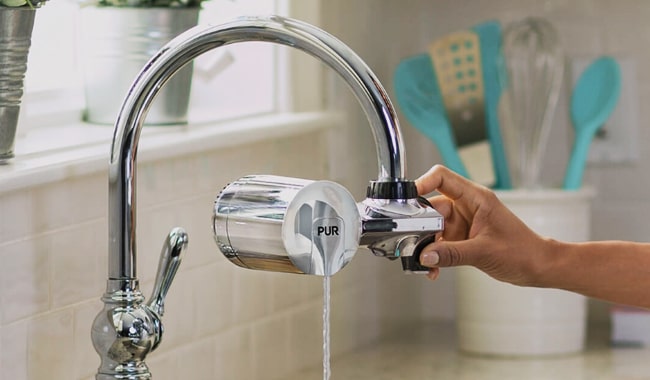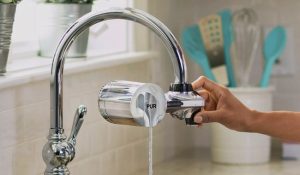 Even though people get already treated supply water, every four out of ten American households prefer using a home water treatment unit of some kind.  
Read More »
Was this article helpful?