If you're going to install a new faucet or replace an old one in your kitchen, knowing the average cost of it will help you identify the best faucet in your budget. 
So, to help you out, here we will give you an idea of the average cost of installing/replacing a kitchen faucet with some important aspects of the process that will bring you clarity.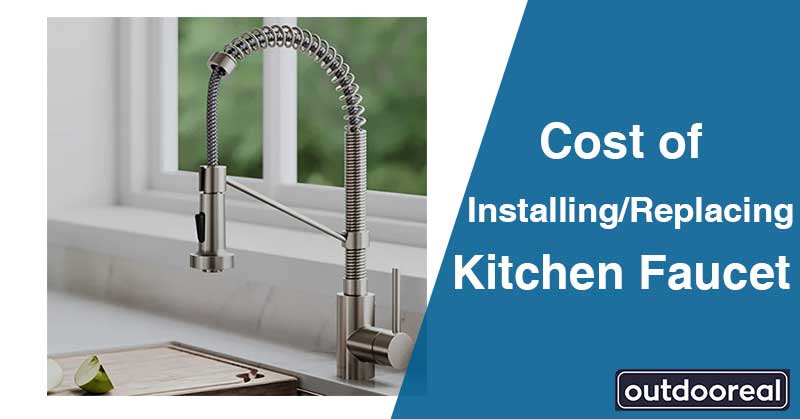 Average Price a Plumber Charges to Install a Kitchen Faucet
A kitchen faucet installation normally costs around $160 to $345, but it may cost as much as $585 or as little as $90. Actually, the cost of installing a kitchen faucet depends entirely on where you dwell, the type and quality of faucet you choose along with whether you hire a professional or work on your own.
For instance, if you hire someone who is professional to install your faucet instead of doing it yourself, you'll have to pay labor fees along with the faucet price.
Average Price a Plumber Charges to Replace a Kitchen Faucet-
Whenever you need a plumber's help to replace a kitchen faucet, you have to pay a labor cost which is between $45 to $150 per hour. However, the price may vary from place to place, and the availability of plumbers at that time.
Kitchen Faucet Installation and Replace Costs: Depending on Area [USA]
As we have known, the cost of installing a kitchen faucet varies greatly based on where you reside, here are a few examples-
| | |
| --- | --- |
| City | The Average Cost |
| Austin | $165–$325 |
| San Francisco | $192 – $296 |
| Charlotte | $160–$370 |
| Chicago | $185–$365 |
| Boston | $180–$360 |
| Dallas  | $170–$330 |
| Denver | $185–$420 |
| New York  | $185–$400 |
| Los Angeles | $150–$345 |
| Philadelphia | $125–$800 |
| Portland | $195–$395 |
| Seattle | $240–$535 |
| Washington | $190–$370 |
| Tampa | $300- $900 |
| Miami | $158 – $243 |
| Honolulu | $220 – $800 |
| Atlanta | $170 – $560 |
Kitchen Faucet Installation and Replace Costs: Depending on Types
A regular kitchen faucet comes in traditional design and they cost between $20 to $350 depending on the quality of the faucets and the labor cost will be around $45 to $180/$200 per hour if you hire a professional.
Pull-Down and Pull-Out Kitchen Faucet
Pull-Down and Pull-Out faucets come with a stylish look for your kitchen. A good-quality pull-down faucet comes at a price between $90-$160 depending on place and brand and the Pull-out faucets range in price from $100 to $150.
Wall Mount Kitchen faucet
Wall-mount faucets are attached to the wall in behind the sink and they're a popular choice for kitchens. You can get a Mount Kitchen faucet from $50 to $250 the cost may go up if you choose a high-quality product.
A two-handle faucet has two distinct knobs on each side of the spout. You will get Dual-Handle Faucets that come at $50 to $150, and the price will go up if you hire a plumber or choose a high-end faucet.
Commercial Style Kitchen Faucet
Commercial style kitchen faucet is intended for hotels, restaurants, and other commercial places to add an awesome vibe. On average, a typical commercial-style kitchen faucet comes at a cost between $150 to $350 without the labor cost.
Separate Spray Kitchen Faucet
The Separate spray faucets are another cool innovation with their movable spray. The cost of a typical separate spray kitchen faucet is around $90 to $300 depending on the place you dwell, without any plumber cost.
Pot Filler Kitchen Faucet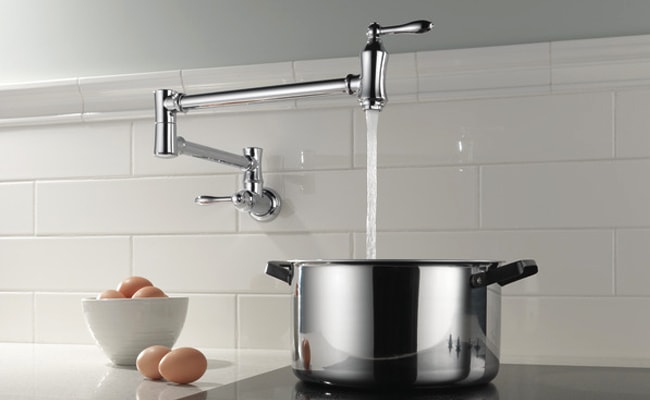 Pot filler faucets are great for filling your pots while cooking, and usually, Pot Filler Kitchen Faucet prices are between $150 to $200 for a unit, and you will have to add the labor cost with the price.
Motion Detection/Touchless Kitchen Faucet
Kitchen Faucet Installation and Replace Costs: DIY
You will undoubtedly save money by installing or replacing a kitchen faucet yourself. If you hire someone to replace the existing faucet, the wages for installing a kitchen faucet normally vary between $50 to $200 an hour based on where you reside. 
But, if you replace your kitchen faucet yourself, it may save the labor fees entirely.
Kitchen Faucet Installation and Replace Costs: By Brand
Another variable that can considerably impact the price of the kitchen faucet installation is the brand. Some manufacturers, for example, provide faucets with high-end designs and functions, such as a sensor that turns on the water when it detects your hands.
These features can significantly raise expenses. The table below shows average kitchen faucet prices by brand:
| | |
| --- | --- |
| Brands | Price |
| Kraus | $25 – $419 |
| Moe | $50 – $1,000 |
| Kohler | $30 – $2,400 |
| Grohe | $175 –  $3800 |
| Delta | $50 – $700 |
| American Standard | $60 – $540 |
| Pfister | $40 – $600 |
Cost of Related Materials and Supplies
Here are the prices of related tools and materials you may need to buy if you will replace or install your kitchen faucet on your own:
An adjustable wrench comes at $10–$40.

A basin wrench comes at $15–$20.

A channel-locking plier comes at $10–$30.

A tape measure comes at $5–$20.

Plumber's putty comes at $5–$10.

Flexible supply lines: $3–$10 (as needed).
Costs for Removing, Relocating, Repairing Kitchen Faucet
The expected cost to uninstall a kitchen faucet range from $24.85 to $50.23 per faucet, and the relocating cost will range from $45 to $180 per hour.
On the other hand, the average national cost to fix a leaky faucet is $65–$150, however, the cost may be greater depending on the type and source of the leak.
Things that Might Affect the Installation/Replace Price-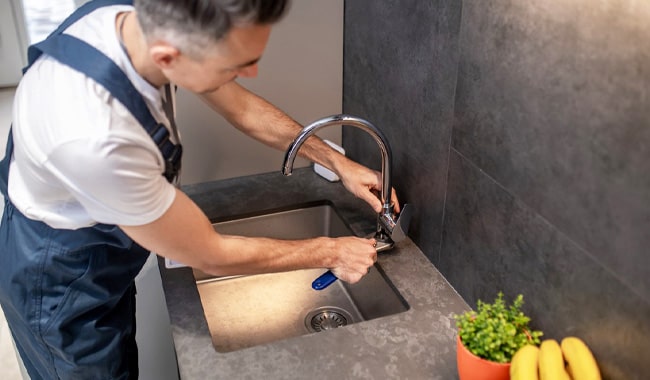 Here are some important factors you should know that can impact the total cost of installing a kitchen faucet:
Flow Rate Control
The flow rate control of the faucet is an important factor that can influence the pricing while installation. 
From filling pots, and washing dishes, to cleaning our hands, we all need the use of a kitchen faucet, so being able to manage the water flow rates makes life easier and saves the water as well. But it adjusting the flow rate can cost you a little more because the task requires some extra time.
Unexpected Damages
While you are installing a new faucet in your kitchen, there are some unexpected expenditures to consider especially if the mountings or connections on your kitchen sink get damaged or if they need to be replaced with a new one during the faucet installation process. 
Furthermore, if you hire a certified plumber to install or replace your kitchen faucet, it will cost you more than hiring a general plumber.
Upgraded Features
Whenever you want to install a new faucet with improved functionalities, such as built-in water filters or lighting, is usually more expensive than simple faucets without those features. Furthermore, the faucet's finish, hand-detecting sensors, building material, and style can also make an impact on the entire cost of your faucet installation. 
It means, that the more features and good-looking faucets you need, the more you will have to spend.
1. Should I Install a Kitchen Faucet Myself Or Hire a Professional?
If you install a new kitchen faucet on your own, it will save you money on labor but mountings and connections that work for one faucet may not fit for the other. So, it would be a good idea to contact a local plumbing specialist to adapt or modify these fittings.
2. Do I Need a Licensed Plumber To Install a Kitchen Faucet?
If you don't want to deal with any external hassles when installing or replacing your faucet, you should contact a licensed plumber with knowledge in the sector. Because if you don't hire someone who isn't certified in this field, they could perform something incorrectly, which will cost you extra to fix.
3. What Is The Labor Cost To Replace a Kitchen Faucet? 
The labor cost to replace a kitchen faucet depends on various factors like where you dwell and whether you are hiring a licensed plumber or not. But hiring one labor may cost nearly in between $45 to $150 per hour. However, you can always negotiate and settle with a price as well.
4. How Much Does Lowes Charge to Install a Kitchen Faucet?
Depending on the area you are dwelling in, the cost of installation of a Lowe's faucet starts at around $92 and goes up. Basically, Lowe's provides a one-year labor guarantee as well as the removal and disposal of the old faucet. Lowe's exclusively installs sink faucets in the kitchen and bathroom.
5. How Much Does Home Depot Charge to Install a Kitchen Faucet?
Home Depot is the leading home improvement company in the US, consistently selling tools; building materials; appliances, and providing services. If you want to install a kitchen faucet from them, it will cost around $150 to $300 without labor cost, and with the labor cost, it would be $250 to $400.
6. How Long Does it Take to Install a Kitchen Faucet?
Typically, a professional plumber takes one hour to replace an old faucet and could take 2 hours if any modification appears. But for installing a new faucet, all the plumbing work can take up to 8 hours, and it might take an entire day if the location is difficult for piping. 
7. How Much Is a Kitchen Sink Faucet?
A new kitchen sink faucet costs between $20 to $2,800, while the typical cost is between $100 and $150. The labor cost of installing or replace of the sink is around $45 to $100 per hour, which may vary according to the place you dwell and the availability of plumbers. 
8. How Much Does it Cost to Install a New Kitchen Sink and Faucet?
If you want to install a new sink and faucet in your kitchen, the average cost often varies between $150 and $200 for a sink and $160 to $345 for a faucet. Well, you can expect to pay roughly $600 for a new sink and faucet installation including the labor cost.
The installation or replacement cost of a faucet in your kitchen depends on the type of faucet you are willing to purchase, and the place you are currently living in.
Well, in this discussion, we have tried to show you some price examples of different types of kitchen faucets for different places and brands, and we hope this information will help you in determining your budget.
For your information, installing or replacing your kitchen faucet on your own may save you money, but if you don't have the skills and the right tools with you, calling a professional plumber would be ideal.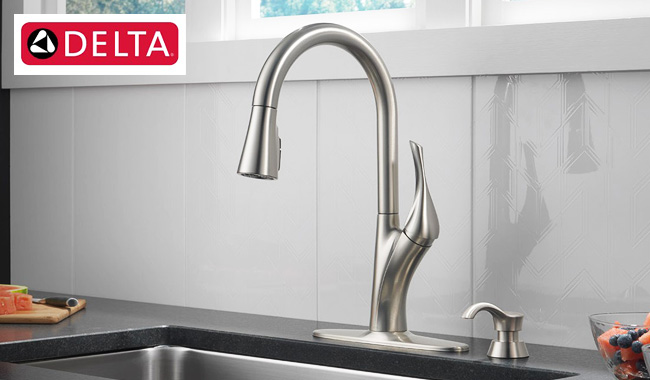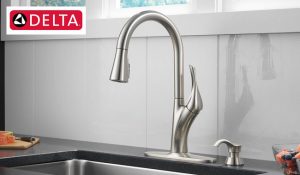  4.6/5 Delta is known for producing high-quality, durable faucets with innovative features and designs. It has served North American people for more than hafl
Read More »
Was this article helpful?