When it comes to faucets, there is no doubt that Moen and Delta faucets are at the top of the game. But which one is the best amongst them? 
In this article, we have pinned them both against each other. We have provided a thorough discussion of both the brands, which ensures a clear view of each of its products and allows us to choose the best one.
A video is also provided for better understanding. So let's get started…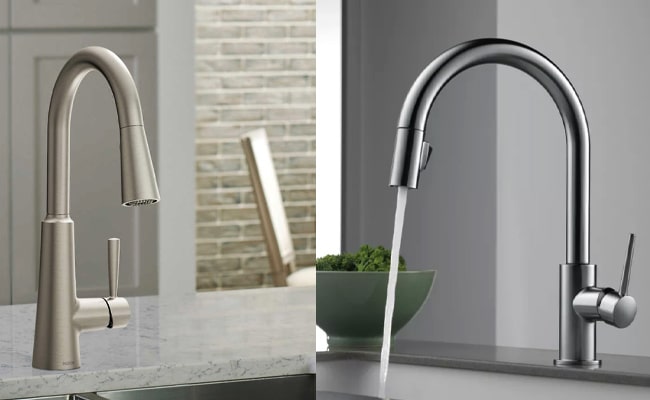 Moen vs Delta Kitchen Faucet Reviews
Before we start comparing them two, it is wise to know both the brands.
The Moen company is one of the oldest in the home appliance business. Al Moen started the company back in 1937, and its product has been on the top since. 
Their faucets are one of the most elegant in the business as well as ensures satisfactory performance.
Delta has been the rival for Moen for as long as one can remember. They came into the business right after the Moen and have been their rival ever since. 
And today, we will finally close the case of Moen vs Delta kitchen faucet for good.
So, let us start comparing them feature by feature.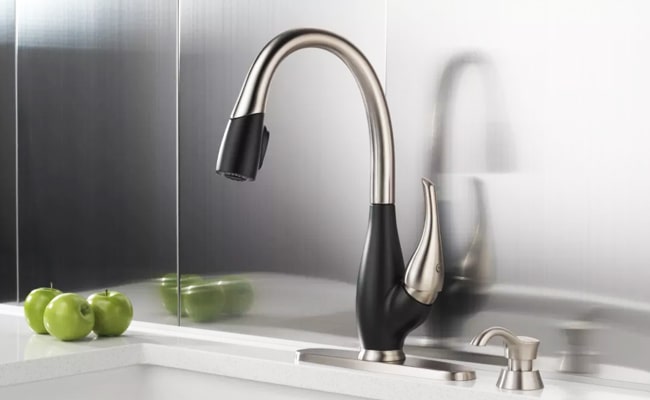 Both brands have a wide variety of designs and styles, which makes the choice even harder. But Delta has a better variety of selection such as Leland for traditional looks, Essa for transitional and Trinsic for modern looks. 
This is where Moen lacks behind by a hairline. As Delta has a slightly better collection, it bags one point on its side.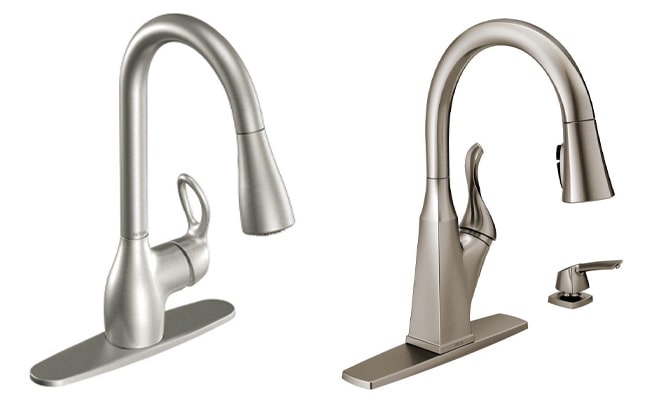 The finishing of the faucet is one of the deciding factors in the business. If you have picked the wrong faucet, it could completely ruin the looks of your kitchen, even if you have bought the best of that brand.
Both the products have chrome and oil rubbed finish, which is cautiously and passionately done. Why are these two materials used in its finishing so important?
Firstly, chrome was used in finishing as it has a low maintenance factor. This low maintenance material offers a glossy and sparkling finish to the faucets, which the producers guarantee to last for years. 
Next, the oil-rubbed bronze gives it the elegant and traditional touch that most buyers look for.
And both of these two brands use these as the main ingredient for their work. But that is not all! Along with these two finishes, the brands offer different colors, as well. 
Moen offers majestic colors like black and silver (mainly the color of stainless-steel).
On the other hand, Delta provides a more interesting variety of colors like black or Venetian bronze. So, it seems like the round ends in a draw, but our personal opinion is to go for Meon when it comes to choosing elegant looks.
Recommended reading: Are Moen Faucets Good? 
Technologies Used in the Making of the Faucet
Moen uses a method called spot resist. This stops or prevents the buildup of rust, water spots, and keeps your faucet as clean as new.
However, Delta uses a Spot shield technology, which is practically similar to spot resist but also provides antimicrobial protection. 
Hence, keeping your sink and faucet dirt and germ-free. And, this round also goes to Delta.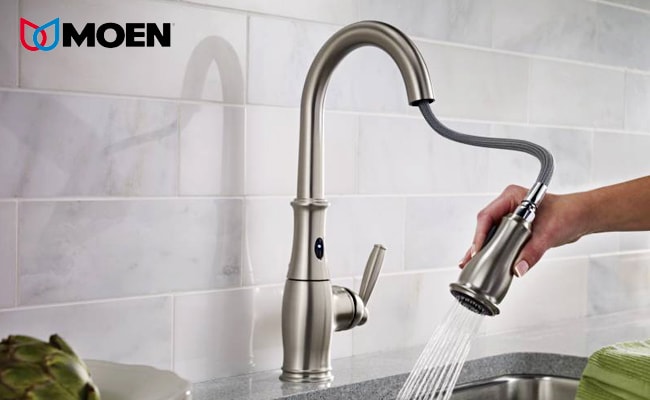 The pull-down and pull-up method of each brand are diverse, and there are numerous styles to choose from. 
This allows higher pressure of water to spray out and, hence, gets rid of all the dirt, sticky leftovers, or anything unwanted off the dishes.
However, the process used for high-pressure water spraying is different for both of them.
Moen uses a method called Power-cleaning, which provides higher pressure and denser water to come out. 
The power cleaning ensures at least 50% more efficient water spraying.
Another interesting thing about Moen's Power-cleaning is that even though it is much more powerful than conventional faucets, it ensures a constant and clean flow of water.
On the other hand, the technology used by Delta is Shield-spray. It is also similar in function and efficiently cleans your dishes with ease. 
So, another tie. It Looks like both of them are going head-to-head in this race!
Recommended reading:  Are Delta Faucets Worth It?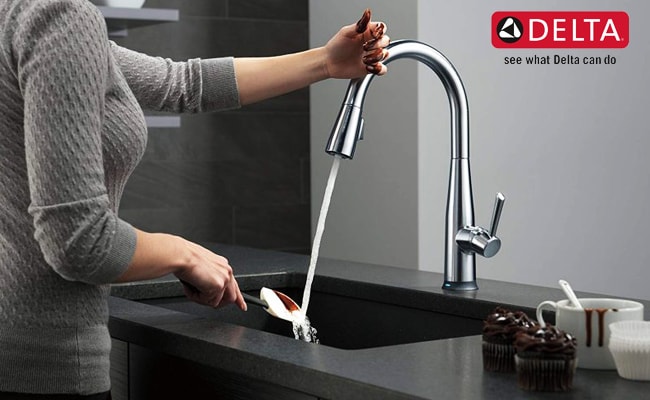 Both the products use enhanced touch and touchless technology, but it should be of no surprise that they both use different methods.
Delta uses both the touch and touchless technology, which is provided by a Touch2O chip installed inside the faucet. 
The chip allows the faucet to detect and guess when it is needed to be activated — preventing any unwanted dirt or germs to be delivered to the body of the faucet by your hand.
But Moen uses an advanced motion sensor technology installed inside the faucet. 
The sensors are situated on the base, and the top and are activated by any motion. Just move your hand or anything near those sensors, and the faucet will release the jet-spray.
It seems that both the products are different yet are on the same level when it comes to functionality in all or most aspects.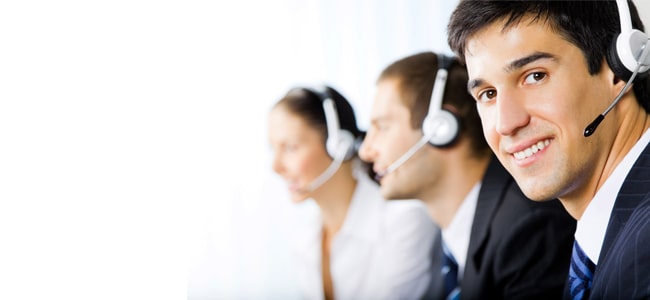 When it comes to customer care, both the company ensures 100% support.
If there is a need for replacement or an issue that needs to be repaired, they deal with it as fast as possible. 
Also, they ensure the highest cooperation when someone provides a query to them through their hotline.
Prices of both the brands can vary from $50 to $1000.
Delta is a little less expensive compared to Moen. But, do not think that a less expensive Delta faucet is going to deliver less. 
Both brands assure that all their products will provide satisfactory service no matter what the price is.
Apart from the looks and quality, it is also important that the faucet that you desire is within your range. In this case, Delta may be your first choice.
[On a side note: to find the best delta kitchen faucets, read this.]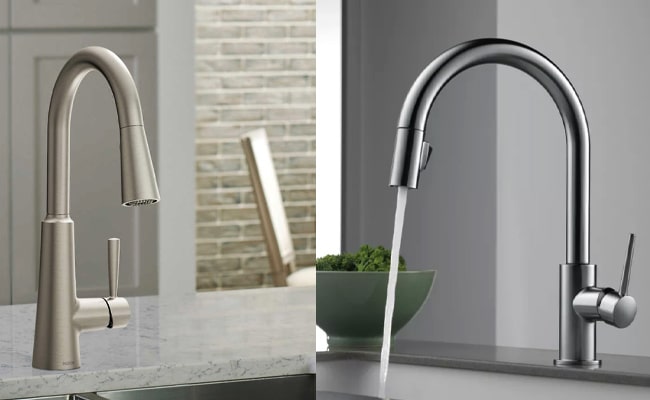 When it comes to warranty, both brands provide warranties of reasonable length, as you'll get about 6-7 years of warranty for their products.
However, both brands have a policy in place regarding commercial use. If you use their products for commercial purposes, you won't get more than 5 years of warranty.
Recommended reading: Kitchen Faucet Buying Guide
This Video Got Over 62K Views! (Expert Opinion)
After thorough discussion and researching, we can say that Delta wins the "Moen vs Delta Kitchen Faucet argument". It is a little cheaper and provides a little better functionality. 
But even though we have deduced that Delta is better, Moen is a very good option as well.
It is entirely up to you on which brand suits your home decor best! And, after we have provided all the detailed information, such an act shouldn't be tough!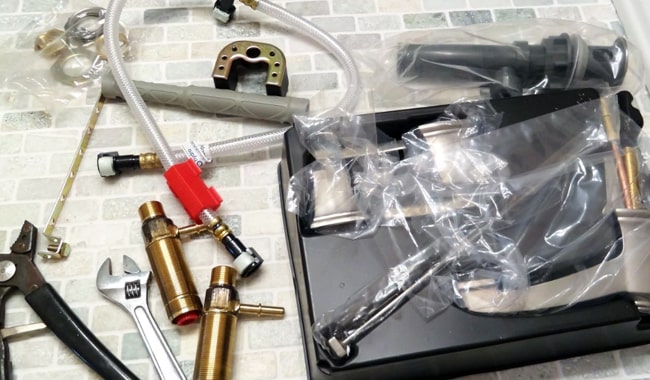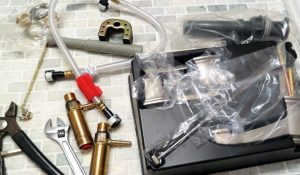 In your life, if you have ever changed a kitchen faucet, then you might know that it is not the easiest process, and you are
Read More »
Was this article helpful?