Shower– A mystical place where we are stripped of all inhibitions; we sing, we dance, we come up with brilliant or disastrous ideas, get energized to face the day, or relax before hitting the sack.
To make shower an even more magical place, we'll introduce a few different kinds of shower heads for you to think about.
Let's get started.
Types of Shower Heads - List
Wall Mount Shower Heads
Rainfall / Rain Shower Heads
Handheld Shower Heads
Low / High- Pressure Shower Heads
High-Pressure Shower Heads
Filtered Shower Heads
Shower Panels
Dual Shower Head
Ceiling Shower Head
LED Shower Head
RV Shower Head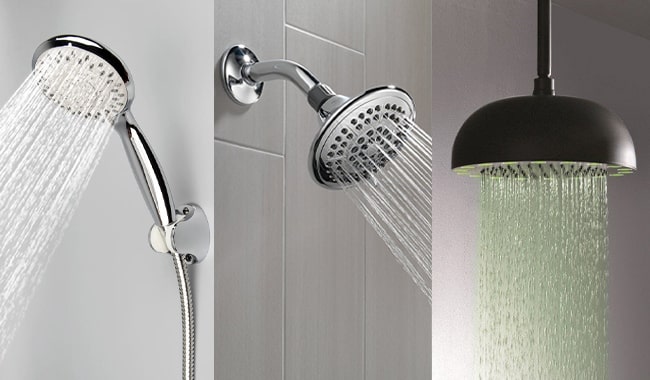 Different Types of Shower Heads
Before you run off to get a new shower, you need to consider a few factors, such as the water pressure, the type of water, and heating system in your property.
You'll also have to consider if it is possible to replace the existing shower head with a newer one, the size of the bathroom, your budget, whether you want a single or multi-functional shower attachments (multi-functions are more expensive).
Now there are many different kinds of shower heads out there; to help you choose the best for yourself here's a list of 11 different types of shower heads: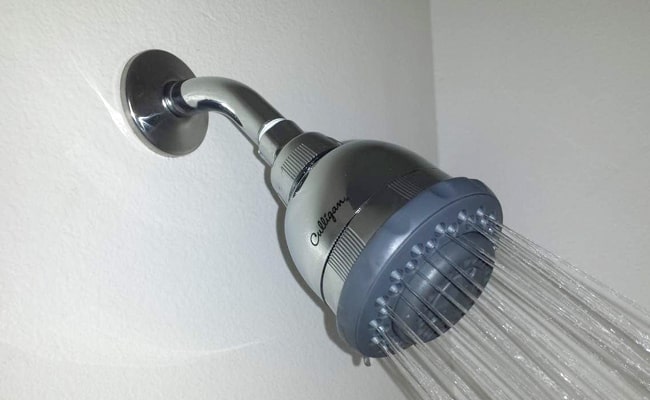 The most common and ergonomic shower head is the wall mount shower heads. It is cost-efficient not only because it's cheap, easy to maintain, but also due to the availability of its parts and reduced chances of it failing to work. 
If you are on a budget, this is the best option.
It reduces the hassle of maintenance, and you can buy one online as well. If you are looking for a more luxurious experience, choose one with multi-function, which will allow you to change the pattern of water spray to your liking. 
The wall mount shower head is 5 inches maximum in size. Although you can change the direction of the spray, unfortunately, you can't adjust the height of the shower itself as it is fixed on the wall.
Rainfall / Rain Shower Heads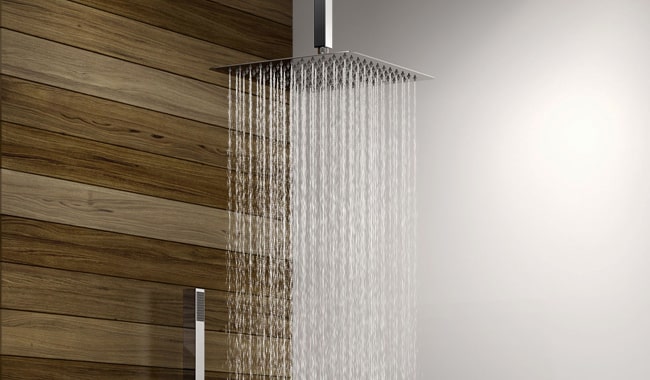 To give yourself a special treat every day, you can install a waterfall shower head that can be mounted from the wall or the ceiling. Its size generally ranges from 6 inches to 12 inches or more.
It can be mounted from the ceiling provided there are pipes running through the ceiling, or if you want to be more cost-efficient, use an overhead shower arm. 
The arm extends 12-16 inches, which can even extend the length of the actual shower head. You can choose from concentrated spray to multi-function spray for a luxurious shower experience.
However, be mindful of the water pressure and the size of your bathroom before you choose to install rainfall shower heads.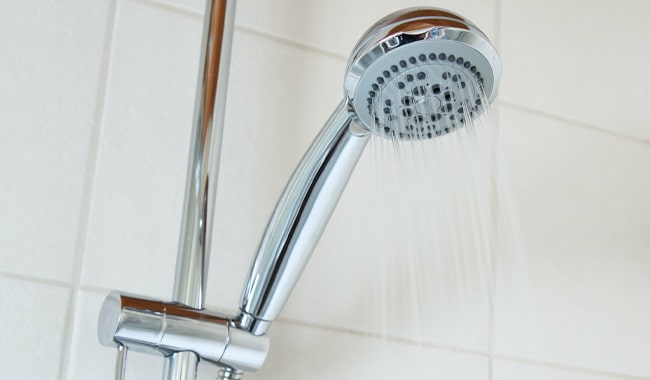 Tired of adjusting shower head to wash away all traces of shampoo or shower gel?
Try a handheld shower head as it is more flexible, easy to use, and not too expensive. It is also very handy if you have to give your kids a bath or wash your pets. 
They usually come with a wall mount as well as a flexible hose of plastic or metal. It is also cost-effective as metal hoses are durable, and you can also buy the shower head if you already have the mount and hose at home.
Low / High- Pressure Shower Heads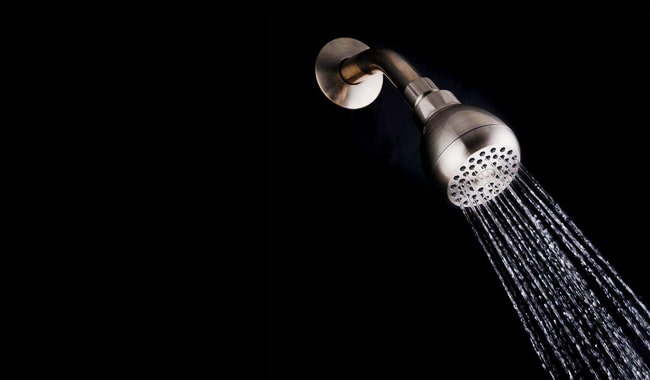 Want a spa-like experience but live in a low water pressure area? The best option for you is to for a low-pressure shower head, which will give you a soothing spa-like experience without increasing your water bill.
It's designed to work efficiently in low-water pressure and provides features such as rainfall, massage, etc. Though it's costly to install but in the long run, think of all the money it will save you by reducing your water bills.
High-Pressure Shower Heads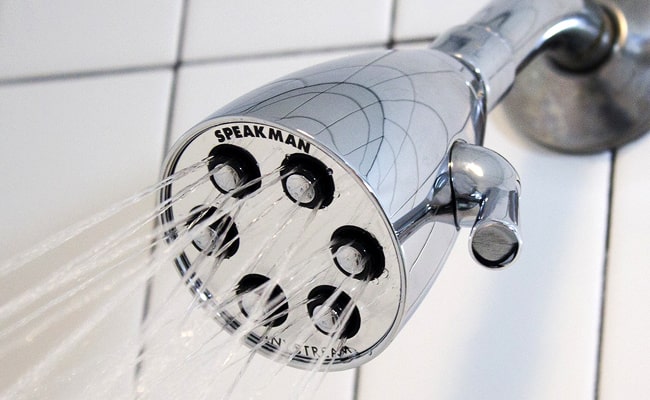 If you don't care about water bills and need to take at least two showers every day, go for a high-pressure shower head. [ To know more about the best high-pressure shower head Click Here ]
It will relax you with its powerful and steady stream of water in the evening after a long day of work and invigorate you in the morning before you head off to work. Some models do allow you to change spray patterns; however, they are quite expensive.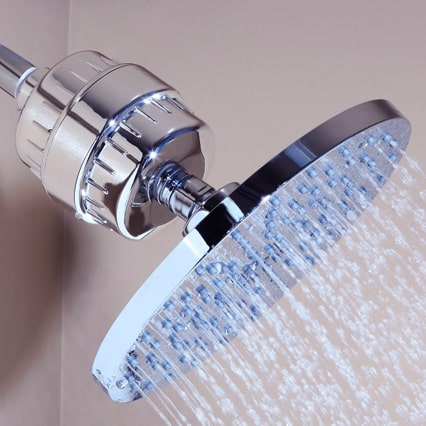 There are areas where the water consists of more chemicals than others; if you happen to live in one such area, a normal shower head is not going to get rid of chlorine, minerals, sulfur from the hard water.
So you need an effectively filtered shower head, which is designed to filter impurities from hard water.
Be sure that they are NSF (an independent, well-renowned product testing organization) certified, which only certifies products that are healthy and safe for consumption.
Unfortunately, they don't come with multiple functions or features, and also the filters need to be replaced every six months (this depends on the condition of water in your area).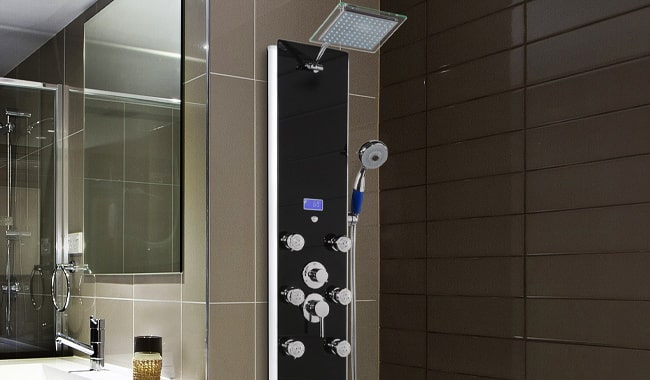 For the ultimate shower experience, you can go for the shower panels.
Not only do they look absolutely stunning and futuristic, but also they are packed with wonderful features such as temperature control, water spurting randomly from various directions, LED screens, etc. 
They are also handheld, provide enough water for a thorough rinse and a massage in the form of a shower, and make your bathroom look incredibly luxurious.
Their unique designs ensure that they don't clog, and so are low maintenance. But like all good things, all these features come at a high price, and it is quite expensive to install.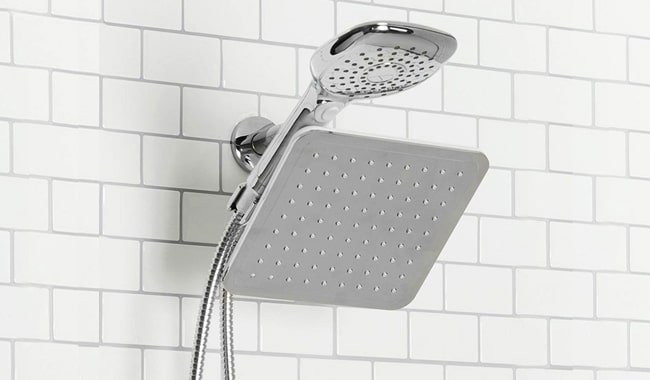 In general dual shower head is the combination of rain shower head and handheld shower head.
It offers two shower heads in one unit. The water will be coming from two different sources. So, it gives you a different type of experience, and there are a lot of people who prefer such type of shower experience.
You'll have to spend around 80-1000 bucks for them.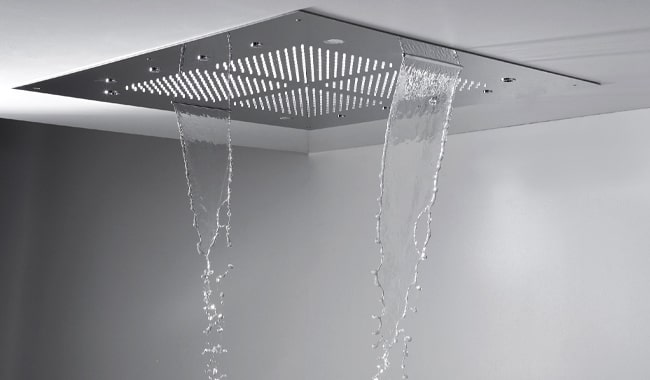 As you can guess from the name, it's mounted on the ceiling. It gives you the experience of rain. You can get one for less than a hundred dollars.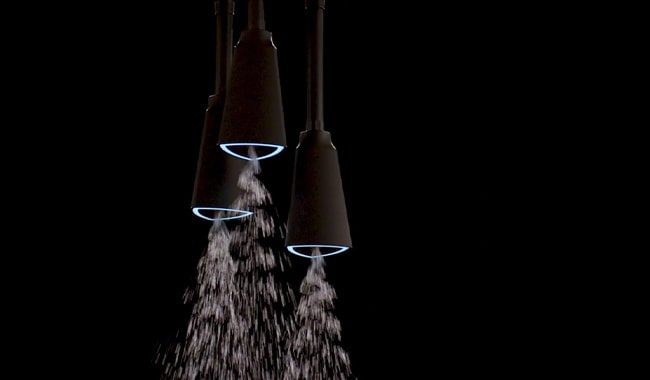 LED shower head lights up in various colors when in use. It will change your mood during shower time.
It's a fancy kind of shower head that will add a new dimension to your shower experience. This one will illuminate your shower room with different colors with varying temperatures of the water.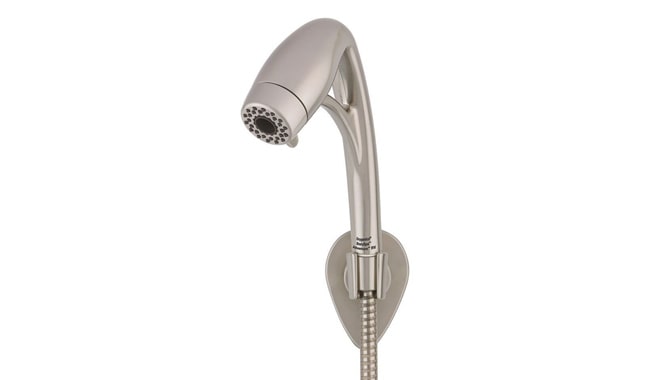 The shower head that you can mount on your RV is called an RV shower head. For the camping enthusiast who frequently travels in an RV, you can make your adventures more enjoyable by investing in it.
It's price can range from 100$-1000$.
The shower is a convenient and faster way of cleaning yourself, but that doesn't mean that you should only focus on the practical side while buying a shower head. Today's technology ensures that a shower can be much more than just simple jets of water. 
You can use functions like temperature control, have LED lights on your shower attachments, enjoy soothing rainfall without going out, and have a spa-like experience in the comfort of your home. The possibilities are endless. 
Nevertheless, I hope you manage to get the ideal shower head for you after learning about the  different types of shower heads.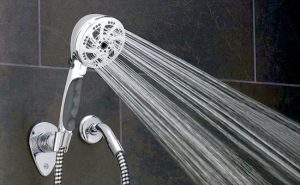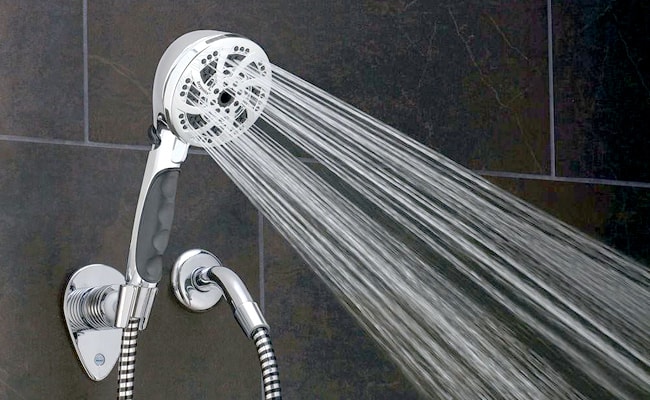 Long, hot showers are good for the soul. There are very few things in life that are half as satisfying to a tired man as
Read More »