What gives a DIY lover like you more joy than replacing the kitchen faucet Yourself?  But soon you will question, what do I need to buy to replace the kitchen faucet? That's because, like any DIY project, plumbing also requires a set of tools.
Firstly you need a new faucet to replace the old one. Then, you need a basin wrench and a regular adjustable wrench for adjusting nuts and bolts. Moreover, your toolbox should also have a Channellock plier, plumber's putty, Teflon tapes, and pipe nipple extractor.
In this article, we will be showing all the essential items you must have in your kitchen toolbox for replacing a faucet. 
So, without further, ado, let's dive in.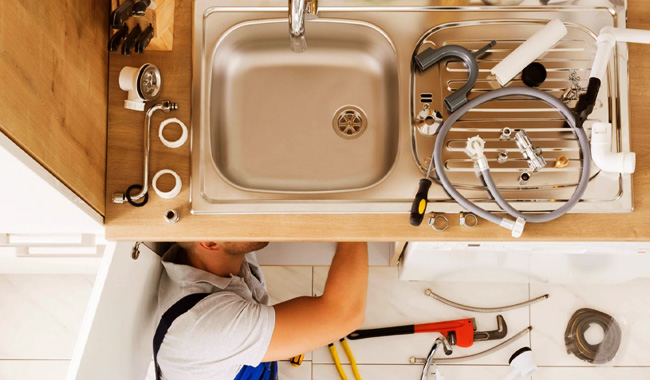 The 9 Essential Tools You Need to Buy to Replace Kitchen Faucet
Over the years as a DIY enthusiast, your toolbox will gather various tools. However, today we will only talk about the nine essential tools that a beginner needs to replace a kitchen faucet. Check out the list below.
New Faucet
We understand your priority is whether the new faucet matches the sink or not. But, don't go for looks only. Check the spout height, number of handles & whether the shape is proportional to the sink's size or not. Plus, a pull-out sprayer is always good to have.
Flexible Water Supply Tubes or Pipes
Each new faucet comes with these tubes in the package. However, most of the time they are not long enough to connect the supply line with the faucet. We recommend you keep some flexible supply tubes in the box for such emergencies.
Channellock Plier
To replace the kitchen faucet you have to disconnect the water line first. With these tongue & groove pliers, you can easily turn off the indoor or outdoor water valves. 
Adjustable Wrench
You can't replace the old faucet without removing the fasteners, right? That's why a plumber needs an adjustable wrench. It is a multi-purpose spanner for tightening or loosening nuts and bolts. Of course, there's a right technique to follow. Make sure the "L" side at the back is taking all the torque.
Telescoping Basin Wrench
When the faucet is out it's pretty easy to access the nuts with a regular wrench. But when the nuts are under the sink and the faucet has other tubes around it, you need a basin wrench for help. Its unique shape allows you to get it around the faucet even in a tight spot.
Pipe Nipple Extractor
It's possible to leave a thread behind as you extract the old pipe from the wall. That's when you need a long-reach nipple extractor to get the threads out. Just tape it inside the pipe to set up. Then turn it counter-clockwise a few times. 
Plumber's Putty
Plumber's putty is a must-have item in your emergency kitchen kit. It keeps the base of the new faucet watertight. Take a decent amount of putty and cover the faucet base with it. Finally, scrape away the excess putty with a scraper or putty knife.
Thread Tape
Thread pipes or Teflon pipes as we know them to ensure a watertight seal for pipe threads. You just have to layer the threads with this tape before tightening the faucet. As a result, there is not even a thin crack to encourage leakage. Most of all, the Teflon cover prevents the inner parts from getting rusty.
Measure Tape 
It does what it says. Just grab your measuring tape and take a note of the ideal faucet height, reach, and spout height. It allows you to pick the right type of kitchen faucet as a replacement.
Is it Important to Have All Tools?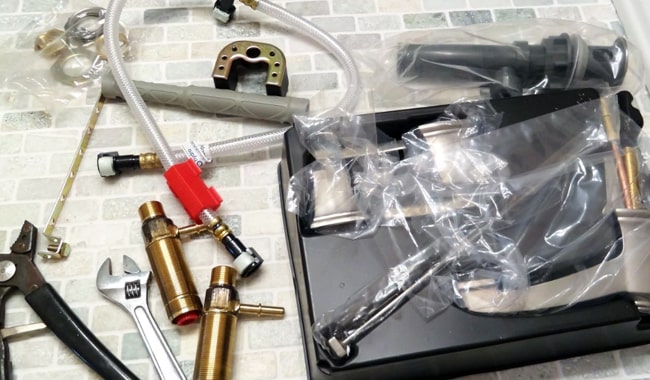 Nine tools might look a little overwhelming if it's your first DIY project. 
You can ignore the plumber's putty if the new faucet comes with rubber gaskets. The gaskets are enough to seal any leakage. As long as you don't see any severe crack, you are fine without the putty.
Next comes the flexible water supply tubes. It also comes within the package. You will only need some extra tubes if the given ones are too short. If you don't need a long connection, you can easily get away without these.
You see, having all the items would put you at great ease. But, if you want to cut something off, start with the putty and the supply tubes. Try to keep the rest items in your toolbox at all costs.
Where Can I Buy These Tools?
Luckily, all the tools we mentioned in our article, are easily available in your local hardware store. If you find it hard to handpick each item, try an online marketplace like amazon or Ali-express.
Try to stick with the popular and reliable brands like Dewalt, Makita & Bosch. Hopefully, you will like the quality.
Is There a Special Wrench For Faucets?
We have already hinted at a special wrench for faucets on our list. Yes, it's the basin wrench. It's specially designed to remove or replace older faucets with new ones. But what makes it special?
It allows you to tighten or loosen nuts that are under the sink. Mostly these areas are hard to reach with a typically adjustable jaw wrench. Because of the swivel at the end and the ability to shift length, you can have better leverage without using much of your hand.
That makes a basin wrench the ultimate must-have item for any kitchen or bathroom DIY.
What Size Wrench Do I Need to Change a Faucet?
To determine the wrench size, first, you must measure the nuts and bolts. They can range from 8mm to 38mm. If all the nuts and bolts used in the setup have a uniform size, it will be easy to find the right wrench size. Normally, the most popular wrench sizes for removing kitchen faucets are 6", 8", and 10".
If you still have some more questions, Don't worry. We have prepared this FAQ section to clarify all your existing queries regarding the tools.
Is There A Special Wrench For The Faucet Nut?
Yes, telescoping basin wrenches are specially designed for faucet nuts. they can reach the hard-to-reach area under the sink easily.
Can You Change The Kitchen Faucet Without a Plumber?
Yes, you can change the kitchen faucet without a plumber if you have the tools. However, it will be better to call a professional, if you lack prior experience in the task.
A new kitchen tapware will cost you around $25 to $75 depending on the brand and quality. Dual-handle ones start from $35 and can go up to $280.
How Much Does It Cost To Have A Faucet Installed?
The average cost to install a new faucet can be around $90 to $160. An experienced plumber might charge more fees.
Can I Replace My Kitchen Faucet By Myself?
Yes, you can replace your kitchen faucet without asking a professional. But you must have the essential tools we mentioned in this article plus some prior plumbing experience.
How Long Does It Take To Replace A Kitchen Faucet?
The process can be over within half an hour if you call a plumber. However, doing it yourself might require over an hour to finish completely.
Replacing the kitchen faucet can change the overall aesthetics of your old kitchen. However, not having the right tools can ruin the kitchen's interior. We suggest you stick with these nine must-have items for now.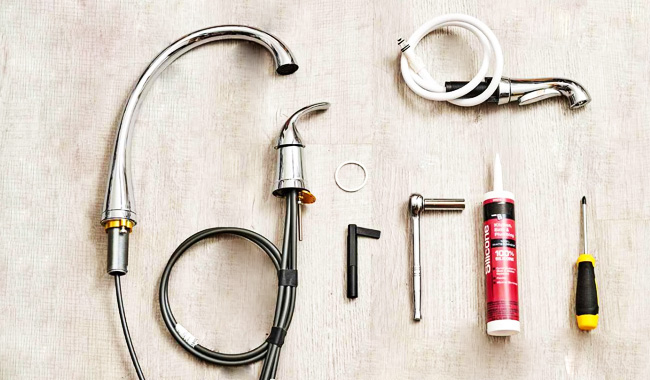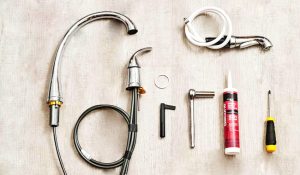 Hopefully, you won't need to look for more tools for replacing the kitchen faucet. As your experience keeps growing, you can fill the spaces with more wrenches in your toolbox.  
Happy plumbing!
When it's about choosing a filtration system, most people try to get the healthiest one possible for their families within their budget. Faucet filters are
Read More »
Was this article helpful?