When it comes down to facets, the name Glacier Bay goes up on the top list. With years of experience and excellence, this brand has claimed quite a remarkable reputation inside the US and abroad.
Yup, you could be looking for a few facts and information about this magnificent manufacturer. Well, it's time to dive in.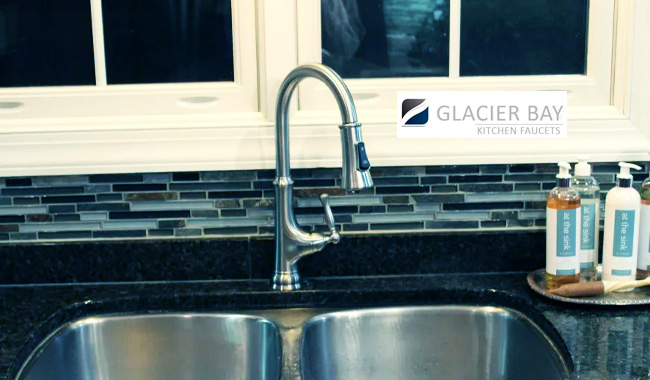 Glacier Bay is a great entry-level faucet brand. The faucets from this brand are some of the lowest-ends out there. As a brand, Glacier Bay has targeted consumers that need good products at cheap prices.
Although they provide products that cost less, they ensure better quality than other products in the market with the same price range.
Glacier Bay is not the manufacturer itself. It is a brand of the Home Depot, Inc. Home Depot is the largest home improvement retailer in the U.S.  Alongside faucets, they also produce vanities, sinks, mirrors, and toilets with this branding.
Glacier Bay products are made by Foremost Group. This brand's products are also made in China, Italy, and Taiwan by different companies. 
The faucets of Glacier Bay are available at all the Home Depot stores. You can also buy them from their online retailer shop. E-commerce platforms like- eBay and amazon also showcase Glacier Bay faucets.
Glacier Bay Faucet Brand Review
In our opinion it scored 9 Out of 10
Different Sides of the Brand:
Glacier Bay faucets are more durable than the other brands that offer their faucet in the same price range in the market. According to most reviewers, you can expect a Glacier Bay faucet to last at least 2 years.
You can find many high-end brands that offer much more durability for a lot higher price. But at this price, a 2-years durability period is more than just pleasing. Because all the other brands in the faucet market have failed to achieve this mark while keeping the price low.
These faucets have succeeded to please the consumers enough aesthetically. The Glacier Bay products are designed to look modern. Any traditional home with a contemporary design can handle the looks of these faucets with ease.
You can give your old kitchen a new refreshing appearance with a Glacier Bay kitchen faucet addition to it.
Glacier Bay faucets come with a lot of special features out of the box. From minimal to high-end, every kind is present in their product list. They offer special features like a pull-down sprayer end, turbo spray, fast mount, etc.
On a side note: Nowadays most kitchen faucet brands have a lot of special features. So, choosing the perfect kitchen faucet with great features for your kitchen is always confusing and tough. To get a clear idea about how to choose a kitchen faucet, click here.
The majority of the Glacier Bay faucets are made of stainless steel. Also, there are bronze variants for the body part. The handle parts are made of stainless steel, ceramic, etc. Most of the faucets come with ceramic disk cartridges.
But the materials of the faucets are prone to tear. That's why they need frequent maintenance.  
These faucets come in many finishes. Chrome finishes are the most positive reviewed ones. You can also find oil-rubbed bronze and heritage bronze. The stainless-steel finish is also offered with many of the faucets which also look modern and beautiful.
A minority of the consumers have complained that Glacier Bay faucets are prone to scratches if they are not handled with enough care.
Glacier Bay offers faucets at budget-friendly prices. Their faucets range from $10 to $250 on average. Lower-priced faucets come with minimal basic features.
Better and more features with better materials and finishes at more price. They cost less than the majority of the high-end faucet brands in the market.
Glacier bay offers a limited lifetime warranty with their faucets. Any defected original product is replaced for free at any time. Many reviews say that Glacier Bay faucet parts go out of stock frequently as they are an entry-level brand.
Customer Reviews About the Glacier Bay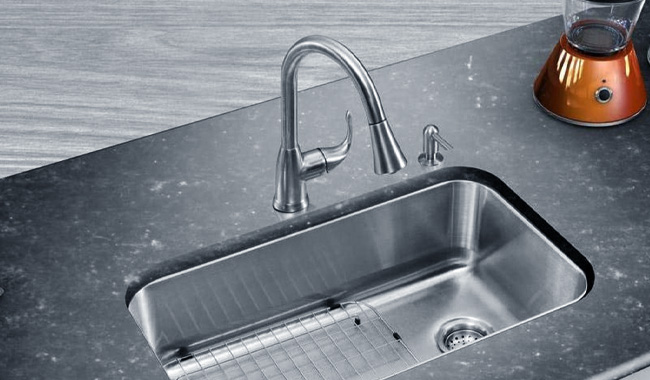 Glacier Bay faucets are for those consumers who are cheap-heads. For those who want to spend less on a quality faucet, Glacier Bay turns out to be the best option in the market. That's why this brand has a huge consumer list.
The average customer rating of Glacier Bay faucets is 4.5/5 on the home depot website.
The majority of the customers are mostly satisfied with what the company offers with the product at this cheap price. But there are some complaints too.
Some users rated Glacier Bay faucets to be prone to scratches. If not handled with care. Also, the replacement of the faucet's damaged parts is not always easy to find. Very often, they go out of stock.
On top of that, according to some customer reviews, the faucets go out of order often; even after a professional installation process. Most of the cases are electronic and sensor-related.
But the positive reviews win most of the time! Consumers are satisfied enough with the deal for the money.
Why Choose Glacier Bay Faucets
Glacier Bay Faucets are some of the best-selling faucets on the market. They come in a variety of styles which makes them perfect for any bathroom and Kitchen in your home. Plus, they're made with high-quality materials, so you can trust them to last.
They're also easier to maintain than other faucets, making them an ideal choice for anyone who wants pristine water every time.
Top 5 Glacier Bay Kitchen Faucet Recommendations
These are the top 5 Glacier Bay faucets recommended for you
1. McKenna Kitchen Faucet
McKenna kitchen faucet is stylish and durable with amazing features. This kitchen faucet from Glacier Bay is made of stainless steel. Its weight is only 4.84 pounds. 
This has a stainless-steel lever handle. It provides you with a 1.8 GPM flow rate. The pull-down sprayer features TurboSpray.
The FastMount technology makes installation faster and easier. The stainless steel of this faucet is made sure to last longer. The single-handle design makes it an easy-to-use product. It has 2 spray modes with a long reach. 
The ceramic disc cartridge helps its performance to be drip-free. The price of this faucet is only $61.68.
Sadira kitchen faucet is a cheap one. It costs only $35.98. The material used to make this faucet is stainless steel. The handle material is also stainless steel. It has a polished finish. It weighs 4.93 pounds only.
The maximum flow rate of this faucet is 1.8 GPM. This rate is more than the average faucets in the market. It comes with TurboSpray and EasyMount technology.
3. Glacier Bay HD67858-0008D2 Statham Kitchen Faucet
The Statham kitchen faucet comes with a coil-spring neck. It helps by making it easier to spray the water further. 
Also, the TurboSpray technology help with high water flow rate. This single-handled faucet is made of stainless steel. The maximum water flow rate is 1.8 GPM. This faucet weighs only 3 pounds. It costs $39.99 only.
4. Glacier Bay HD67496-1008D2 Dylan Kitchen Faucet
This faucet from Glacier Bay is fully made of stainless steel. With TurboSpray technology, it gives the maximum water flow rate of 1.8 GPM. 
This single-handle pull-down sprayer faucet is good for hard-to-clean areas. It comes with 4 holes. This faucet weighs up to 5. Pounds and costs $75.99.
5. Glacier Bay Gage Kitchen Faucet
This faucet from Glacier Bay is deck-mounted. It is a single-handled stainless-steel faucet. It has a coil spring neck. 
It has 4 holes in it. This has 2 spray modes: aerated spray and turbo spray. The ceramic disc cartridge makes sure of its drip-free 1.8 GMP water flow.
This faucet includes a soap dispenser. It weighs 7.93 pounds. This commercial-looking faucet costs only $61.68.
Pros And Cons of Glacier Bay Gage Kitchen Faucet Brand
Who manufactures Glacier Bay? What company owns Glacier Bay?
Ans: Glacier Bay products are made by Foremost Group. The Home Depot Company owns Glacier Bay.
Where Glacier Bay manufactures its product?
Ans: Glacier Bay products are manufactured in the USA, China, Italy, and Taiwan.
Is Glacier Bay a good brand for faucets?
Ans: Glacier Bay is a good brand for faucets with low prices.
Do Glacier Bay faucets last?
And: Glacier Bay faucets last up to 2 years.
What company owns Glacier Bay?
Ans: The Home Depot owns Glacier Bay.
Do Glacier Bay faucets last?
Ans: Glacier Bay faucets last up to 2 years.
What is the most reliable brand of faucets?
Ans: Delta faucets is the most reliable brand of faucets.
Is Glacier Bay compatible with Delta or Moen?
Ans: Yes. Glacier Bay is compatible with Delta and Moen.
Is Glacier Bay Home Depot brand?
Ans: Yes, Glacier Bay is a Home Depot brand.
Is Hampton Bay and Glacier Bay the same company?
Ans: No. They are different brands owned by the same company, Home Depot.
These are the most important things that you should know about Glacier Bay. We hope that our review helps you to find your next kitchen faucet for your home.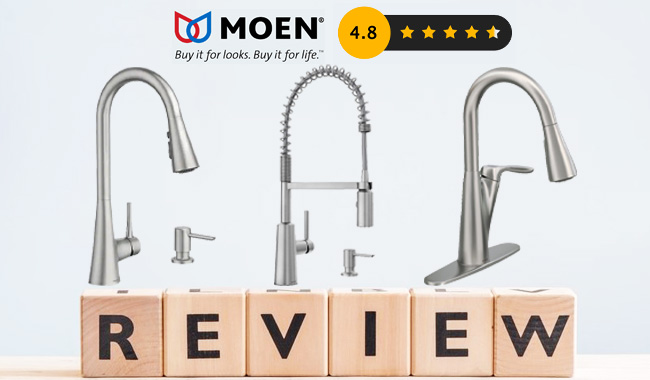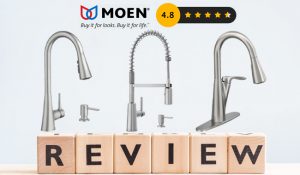 Choosing the best Moen kitchen faucet was tough for us. The brand had awesome faucets, and we were confused about which one to grab for
Read More »
Was this article helpful?