Kitchen remodeling projects have a long list of benefits. For you to reap the full perks of your undertakings, you should purpose to give your cabinets a facelift. Also replace the leaking, dripping or corroded faucets.
With so many fixture styles and finishes, how do you choose the right one for your kitchen?
Relax; we have done all the heavy lifting on your behalf. We have studied the features, performance, and cons of different types of products to make it easier for you to find the perfect tap for you.
Dive in to learn about the best kitchen faucet brands in this year.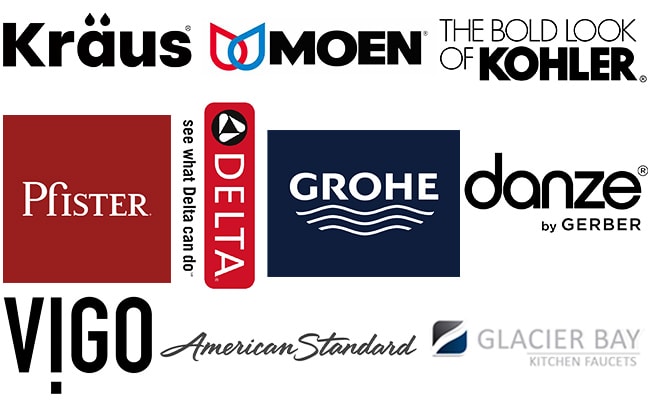 Top Kitchen Faucet Brands Review
List of top 10 kitchen faucet brands:
Moen
Delta
Kohler
Kraus 
Grohe
Glacier Bay
Pfister
American Standard
Vigo
Danze
Faucets differ in more aspects than merely their design. Instead of focusing on their rating, we have shifted our focus to their pros and cons. 
This way, you can confidently choose a brand that matches your primary needs.
First on our best kitchen faucet brands review is the Moen brand. It offers nearly all kitchen tap designs available in today's industry.
This brand has managed to gather consistent top ratings across almost all their faucet models and collections. It stands as one of the largest and most influential faucet brands.
Considering the high quality of their fixtures, their prices are surprisingly fair.
Which faucet brand is the biggest rival of Moen? The answer is: Delta. They came into the business right after the Moen.
Water can transform how people feel each day. This is Delta's first code of belief that has inspired their faucet designs.
This brand seeks to offer simple plumbing innovations and solutions. Also, it provides a wide selection of stunning faucets for both kitchen and bathroom. 
You could also trust this brand for other plumbing fixtures such as shower heads.
[On a side note: to find the best delta kitchen faucets, read this.]
KOHLER offers some of the most elegant plumbing fixtures in the current industry. 
It is known for using sturdy materials, delivering flawless functionality, and most notably, providing products with cutting-edge designs.
The artistic flair in each product, coupled with the use of advanced technology brings each of their faucets as close to perfection as possible.
Recommended Reading: Best Pull Down Kitchen Faucets Review
Another brand that cannot go without mentioning is Kraus. It is gaining more and more popularity with each passing year thanks to its decent selection of sturdy faucets.
Conversations around this brand will not emphasize the aesthetics of its products.
Instead, people recommend the taps because of their full metal build or ability to hold up well to standard usage.
Recommended reading: Things You Need to Know About Brand Kraus
If you have a thing for products made in Germany, Grohe Faucets are likely to warm your heart. 
This brand name is well known globally for providing outstanding kitchen fittings and a whole range of innovative plumbing products.
Another aspect that gives this brand the badge of quality is its values around product quality, technology, design, and sustainability. 
The experts always seem to have something brilliant up their sleeve.
Recommended reading: 1. Grohe Vs Kohler Brand Comparison 2. Kitchen Faucet Buying Guide
For homeowners in search of outstanding entry-level faucets, fixtures from Glacier Bay will not disappoint. 
This brand offers the most affordable plumbing fixtures in today's industry. Their products are also remarkably easy to install.
With the available kitchen faucet styles and types, you can upgrade the functions and aesthetics of your kitchen without breaking the bank. 
There are various finishes available from oil-rubbed bronze to chrome.
7. Pfister Kitchen Faucets
With Pfister faucets, you can say hello to convenience. This brand offers fixtures with timeless, traditional designs, practical transitional designs, and also sleek minimalist designs. 
Irrespective of the tap styles that tickles your fancy; it will not be challenging to find a product that suits your kitchen needs.
The manufacturers of this brand believe that less is more, and this has been their motto since 1910. Each of their faucet models has a simple yet breathtaking overall design.
8. American Standard Kitchen Faucets
When in search of beautifully designed and thoroughly engineered faucets, consider fixtures from this brand. They are made to enable you to perform everyday kitchen tasks more efficiently.
There are numerous options available for homeowners with diverse needs. You can even get touchless taps that allow you to switch the water on and off without touching anything. 
With a long list of configurations, it is not hard to find a product that can improve your life in a significant way.
Kitchen faucets from VIGO are built to hold up to everyday use without failing. 
They are made from solid brass, and this ensures they last through their intended life span without any significant concerns arising.
The finishes of products from this brand are designed to resist tarnishing and corrosion. 
Irrespective of the faucet style you choose, it is bound to remain in pristine condition for years.
10. Danze Kitchen Faucets
If you intend to try something new without making quality compromises, consider the selection of faucets from Danze. 
This brand is not the most prominent in the markets, although it has dramatically risen in popularity over the years, thanks to the highest quality construction of its fixtures.
Even if you are not familiar with Danze products, rest assured that the quality of their models is on par. 
Some fixtures cost the same as faucets from more popular brands, although you are promised higher value for your money.
After comprehensive research, we can confidently say that the above is the best kitchen faucet brands in the current market. 
Irrespective of your budget, style, and design needs, products from these companies are always worth a look.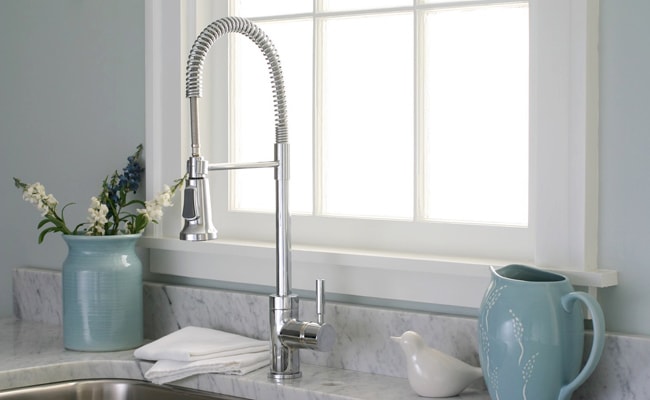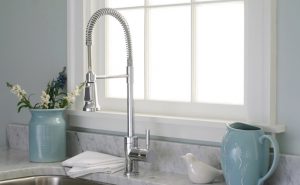 In any home, the kitchen is the command center. This is where you will prepare meals, chat about the day with your loved ones, clean
Read More »
Was this article helpful?