Sinks and faucets are one of the most important parts of a conventional home or work-loaded office nowadays. Perhaps, you cannot think about a kitchen without these items for the versatility your all-in-one home or office needs.
From providing you with drinking water to washing your dishes, or say, kitchen clothes – this pair must be there to get your things going. That's not all, a well-designed sink and faucet pair is something that can change the overall confidence of your space.
So, to meet the higher demand and supply rate, a huge number of manufacturers now exist in the kitchen appliance market to offer their products. Among them, Kraus is one of the brightest light-bearers to even this age.
So, Let's Get Started…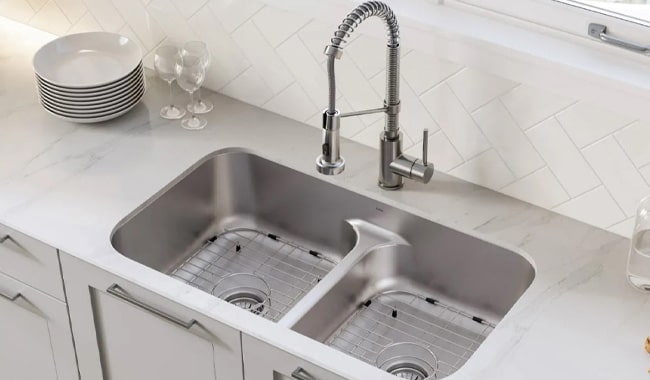 Well, let us assume you don't know about Kraus. (Yeah, you could be on the other set).
Kraus is a USA-based kitchen appliance and accessory provider. It is comparatively newer than its other renowned competitors. Kraus's history began back in 2007.
Russel Levi and Michael Rukhlin, who are from New York, USA, founded Kraus USA. They started by importing good-quality sinks and faucets to sell online back then.
Over the years, Kraus has managed to be among the home appliance brands that come first to the consumer's mind. So, now you have Kraus – in 2022- as one of the most pronounced names among consumers.
How? It's the positive and wide consumer review, broader usage, blend of sophisticated technology, and of course, tradition with contemporary design in their products that just cut it in sink and faucets!
Where Are Kraus Products Manufactured?
Kraus's products are primarily made in China and India. But they are based on German engineering. That means Kraus products are not natively built. They are manufactured in southern Asia; then imported.
Nevertheless, on December 31, 2020, Kraus became a part of Masco Corporation.
As of now, Kraus operates as an affiliate of Masco's Delta Faucet Company, which is a leading U.S.-based manufacturer of residential and commercial faucets.
The collaboration is highly beneficial for both companies as they can now share their expertise and products as well as their reputation and service.
Recommended reading: 13 Best Delta Kitchen Faucets Reviews
As A Brand, Is Kraus Any Good For Sinks And Faucets?
Kraus manufactures their product based on affordability with the best possible look and quality. This is the very point where the largest number of consumers gather.
Interestingly, most of the other brands that co-exist in the plumbing accessories market offer their products at way more costly than those of Kraus. In other words, Kraus is an inexpensive (NOT CHEAP) brand.
Then comes the durability. The Kraus products are solid, heavy, and reliable. Best quality materials are used to make Kraus sinks and faucets. (You want some facts? Well, check them out in the following section.)
Still, you are not convinced? Well, you have got a promise.
Kraus guarantees their product with a limited lifetime warranty. That means you don't have to worry about investing in their products. They will provide you with a long-time service with utmost excellence. 
On top of that, Kraus sinks and faucets are easy to install. You get easy-to-follow installation instructions with the product. It saves you both time and money.
So, now question yourself – is it good? I bet you have the answer.
[ P.S. You can read our review of Kraus KPF-1610SS Kitchen Faucet, to get a better view of their products. To read this, click here. ]
What About The Quality Of Kraus Sinks And Faucets?
We all believe, rather like to believe, that quality products are always expensive. But that doesn't go with Kraus.
Kraus focuses on delivering premium quality, long-lasting products at an affordable price range. The German engineering-based production makes it easier for them to produce higher efficient goods. Manufacturing in China and India provides low-cost-per-product.
That's why it is possible for them to be able to sell their products at low costs without decreasing the quality of the product they are selling.
Kraus sinks are usually made from Stainless Steel, Granite/ Quartz, Porcelain Enameled steel, and Fireclay. What's more – most of their faucets have a Brass finish that serves the best.
[ On a side note: Want to know more about the best kitchen sink materials, click here. ]
On top of that, you have got Chrome, Nickel, Stainless Steel, and many more variants to choose from according to your preference. Well, these go for the faucets only.
Top-notched, the tech used in the production makes Kraus pretty exceptional.
Kraus is continuously working on their innovation and creativity in the plumbing field. The development of the quality of their products is sharply visible over the years.
Well, last but not least – Krause is eco-friendly. It is one of the fundamental facets of this manufacturer. They produce 100% lead-free sinks and faucets. That is praiseworthy as well as necessary for the well-being of the environment and health.
Quality at its best, isn't it?
Where Can You Buy Kraus Sinks And Faucets?
Kraus USA offers its products on its online retail shop, kraususa.com. You can directly buy products from their website without having to go through any hassle of running shop-to-shop for the product you need.
Additionally, Kraus's products are also offered through many retail outlets out there. Amazon, Lowes, Walmart, and Home Depot- are some of the major retail stores that provide Kraus sinks and faucets.
You can find Kraus sinks and faucets at most third-party plumbing supply stores as well.
Are Kraus Sinks And Faucets Worth It?
Sinks and faucets are major investments in the kitchen of your house or office. Durability is a major factor for these items as well as the aesthetics. In most cases, to ensure all of these criteria, you need to spend a huge amount of money.
Consequently, it leads you to look for cheaper products with poorer quality to match your financial condition or the money you are ready to invest. Kraus comes here as a savior of yours.
This brand is a great combination of design, durability, budget-friendliness, and after-purchase services. So, in the same package, you get the contemporary design to look cool, better technology for smooth service, and a quality build process for lasting longer. 
The build quality, components, and availability make Kraus products worth trying. This may prove to be a considerable investment for long-term quality kitchen service.
What Is the Warranty Policy of Kraus's Sink and Faucet?
Both Kraus sink and faucet come with a limited lifetime warranty, with different conditions. For you, they are described below-
For Household Use: Kraus faucet's limited lifetime warranty conditions are exactly the same as Kraus Sink's limited lifetime warranty conditions. You need to buy from an authorized dealer. As long as the product stays where it was first installed, the warranty will cover the product.
Kraus warrants the Faucet's spray head assembly for one year, and the faucet cartridge for five years from the purchase date.
In the warranty period, defective products will be repaired or replaced with a product of equal value at the option of Kraus.
For Commercial Use: Kraus Faucet is warranted for one year from the date of purchase if used commercially.
This warranty does not cover discontinued products. However, the damaged products due to an accident will not be covered by Kraus's warranty policy.
Kraus Kitchen Sink Warranty
For Household Use: Kraus provides a limited lifetime warranty for personal household use of the Kitchen Sink. It must be purchased from an authorized outlet or dealer. This warranty is non-transferable.
Kraus warrants the structure and finish of the kitchen sink until the buyer stays in the same home where the sink was first installed. As long as the consumer stays there, the warranty will remain. That means, if you shift it anywhere else, you go against the warranty policy.
Defected products will be repaired or replaced with products with the same value.
For Commercial Use: Kraus warrants its products for one year that are used in industries or for business purposes.
The warranty does not cover the product if it is bought from an unauthorized dealer. Damage through misuse or accidents is not covered by the warranty policy.
Recommended reading: Kraus KHU100-30 Kitchen Sink Review
Do Kraus sinks scratch easily?
Ans: Kraus sinks are made of stainless steel. Stainless still gets scratches with normal usage. It is not a deal-breaker though. The scratches fade and blend with the overall finish eventually. So, after a time, it's not quite noticeable.
Are Kraus and Kohler the same?
Ans: No. Kraus and Kohler are not the same. They are separate brands. Both of the companies produce kitchen accessories.
Kohler Co. Is an American company that was founded in 1873 by John Michael Kohler. Kraus is fairly a newcomer in the American market. It was founded in 2007 by Russel Levi and Michael Rukhlin.
Is Kraus a Chinese company?
Ans: No. Kraus is an American company. Kraus's products are primarily manufactured in China and India with German-based engineering.
Is Kraus Italian?
Ans: No. Kraus is an American company. Kraus's products are primarily manufactured in China and India with German engineering.
Is Kraus an American company?
Ans: Kraus USA is an American company founded by Russel Levi and Michael Rukhlin in 2007.
Are Kraus faucets lead-free?
Ans: Kraus faucets are 100% lead-free.
Does Kraus offer a lifetime warranty?
Ans: For both sinks and faucets, Kraus offers a limited lifetime warranty. Any authorized purchase of the products will be covered under the warranty policy of Kraus.
Where are Kraus fireclay sinks made?
Ans: Kraus Fireclay sinks are made in Italy.
Kraus USA is a dependable brand for your kitchen appliances. Despite being a newcomer in the U.S. market, Kraus has managed to make its name known to plumb market customers. It's obviously happened for good reasons.
To achieve affordability goals, Kraus hasn't compromised the quality of its products. So, you can have both your desired look-good and a serve-good product at the same time for a long time period.
On top of that, the eco-friendly building of the products provides you with a feel-good factor.
Put all these things together- you have one of the best sink and faucet brands at your disposal that conveys German engineering!
When it's about choosing a filtration system, most people try to get the healthiest one possible for their families within their budget. Faucet filters are
Read More »
Was this article helpful?