In any home, the kitchen is the command center. This is where you will prepare meals, chat about the day with your loved ones, clean dirty dishes, and even fetch water for your indoor plants. 
To make this important room functional and practical, you need a faucet.
This is a fixture you are likely to use every day. It is hence, essential to find one that is perfect for your needs and space.
Consider the types and configurations of different branded products and also aim at finding a fixture whose style complements the curb appeal of your counters.
In this post, we will highlight vital aspects that will guide you on how to choose a kitchen faucet that is perfect for your space.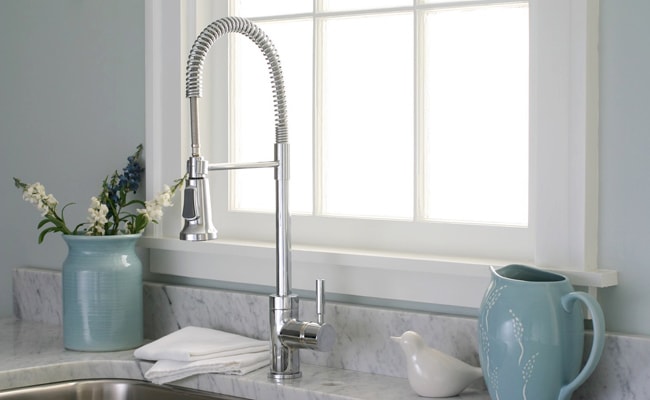 Choosing the Right Kitchen Faucet
Choosing the right kitchen faucet is not easy, mainly because these fixtures are available in a whole range of finishes and styles. 
With so many options at your disposal, it is not enough to merely consider the primary function of a fixture and whether it can stand up to frequent use.
Faucets sit above the sink, and this makes them command attention through their placement, design, and finish. We have put together other vital aspects to take into account when searching for the right fixture to purchase.
Recommended reading: Kitchen Faucet Buying Guide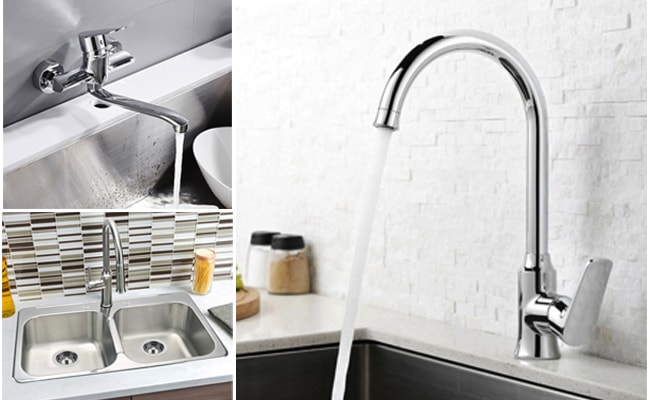 There are three main mounting options, namely the sink, deck, and wall mount. When getting your sink-mounted faucet replaced, you must consider the holes that are already in place. 
The idea is to choose a tap with the same number of holes as your sink.
Alternatively, settle for single-handle faucets that provide a deck plate you can use to cover the holes you no longer need. 
This only works when changing from a two-handle tap to a single-handle faucet configuration.
The deck-mount option is mainly ideal for farmhouse and under-mount sinks. In case this configuration still tickles your fancy, ensure that your counter top offers adequate space behind the faucet to allow easy cleaning.
Wall-mounted faucets are the most challenging to install and are best for single basin sinks. First, make sure that plumbing on your outside walls will not violate your local codes. 
Also, consider a faucets pitch to find out how the sink water will flow.
You need to have enough room between the tip of a faucet and your upper cabinetry. 
In most cases, taller faucets are best suited for island installation or sinks installed in front of a window.
There are five popular faucet styles; including traditional, rustic, contemporary, modern, and transitional. 
These fixtures differ in their designs and finishes. Focus on choosing a faucet style that pairs perfectly with your kitchen décor style.
An essential tip on how to choose a kitchen sink faucet is to consider whether you need a single or double handle. 
Single handles are typically more convenient although double handles give you more control over the temperature of water to use.
Additionally, if one handle leaks or requires repairs, the functions of the other handle will not be interrupted.
Gone are the days when all faucets were manual. Currently, you also have the option of choosing between touch and motion-activated varieties.
When using a faucet with sensors, you need to touch the fixture to turn the water on or off. The majority of current touch faucets are electrical, so you need a power outlet under your sink.
Motion-activated faucets offer completely hands-free operations. Merely passing your hand close to the nozzle allows the water to run. Most brands have an auto-shut off mechanism. 
Both the motion and touch-activated options have a handle for temperature and flow control.
[You may also like: Is a touchless kitchen faucet worth the money?]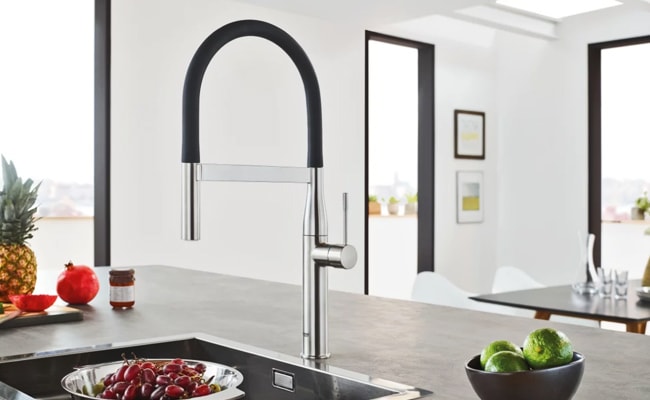 The majorities of faucets have stainless steel, polished chrome, oil-rubbed bronze, matte black or brushed nickel finishes.
However, you can find numerous other choices, including trending colors such as champagne bronze and brushed gold finishes.
The right fixture finish should complement the style of your kitchen and perhaps even rhyme well with your cabinet hardware. 
For instance, make sure the cabinet pulls and handles pair well with your kitchen faucet finish. It will enhance the appeal of your décor and ensure that the flow of ideas is easy on the eyes.
You should think about the sprayer configuration that works best for you. A good number of single-handle faucets have a pull-out or pull-down sprayer. 
However, some brands still produce fixtures equipped with traditional side spray.
Pull-down faucets have a high-arching style that offers better aesthetics and greater utility. 
They are excellent for deep sinks and are highly preferred by professional chefs. On the downside, their style demands more space or clearance to work effectively.
Side spray faucets are the most versatile option, and they work perfectly for kitchens with a vintage tone. 
You need to mount the side spray adjacent to either one of the sides of your faucet where it can be utilized via a trigger-like action. Their main disadvantage is that they deliver less water pressure.
Pull out faucets are not as aesthetically appealing as their pull-down counterparts. They are, however, ideal for kitchens with limited spaces or homeowners who need extra versatility. With this option, the fixture styles and designs available are somewhat limited.
To get it right, do not compromise quality for cost. In the end, it is not every day that you invest in plumbing fixtures and faucets in specific. 
Instead of making price the overruling aspect during your search for the best taps, consider other crucial elements such as the materials, styles, and finishes of different fixtures.
Now you have insider information on how to choose a kitchen faucet. Making the right choice can be a tricky affair, however, this comprehensive guide should make it a bit easier to make an informed purchase.
Even if going through the parades of fixture styles and finishes can be overwhelming, focus on the fact that the perfect faucet is out there waiting for you!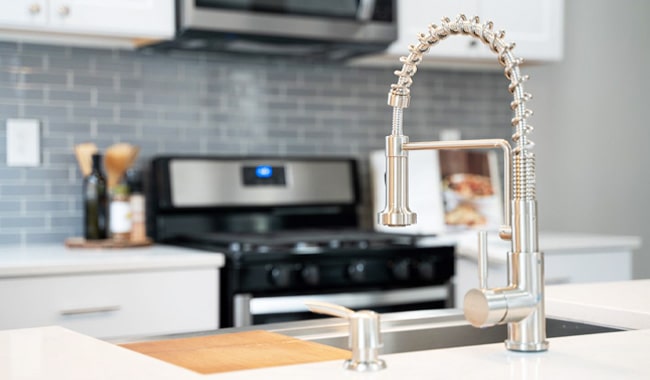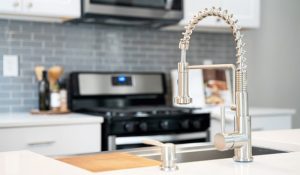 Your kitchen faucet is one of the most frequently used appliances in your home. Whether you're filling up a pot, washing dishes, or getting a
Read More »
Was this article helpful?