Who doesn't like an attractive kitchen faucet in their house? It is an obvious fact that faucets have become a matter of reputation for people.
A stylish piece with a unique design is mainly preferable rather than those same old models of the past. With so many different options on the market today, it can be difficult to decide which one is right for you. 
That's why we've put together this Kraus KPF-1610SS Kitchen Faucet Review to help make your decision easier.
The faucet is designed in such a manner that will provide you with more flexible usage for your kitchen with many advanced features that match modern people's desires. 
The Kraus KPF-1610SS features an elegant design that will look great in any kitchen and comes with a lifetime warranty! 
Let's find out more about this product below.
Kraus KPF-1610SS Bolden 18-Inch Commercial Kitchen Faucet Overview
Let us know some interesting facts about the Kraus KPF-1610SS Bolden commercial-style faucet. As the term commercial-style arrives, the faucet is required to be a perfect fit for commercial places. 
Gladly, it does have an industrial look which is supported by its high-arc open coil spout. The 18-inch height is manageable for installing underneath all sorts of kitchen cabinets. 
A pull-down spray head is the specialty of the Kraus KPF-1610SS faucet. This spray head allows you to reach the bottom of the sink and also on the edges more efficiently. 
The sprayer has two spraying options, stream for filling water and spray for rinsing off after cleaning. It is made from premium quality components for more prolonged usage.
Here are some important features of the Kraus KPF-1610SS Bolden commercial-style faucet. 
Review on Product Features
The Kraus KPF-1610SS Bolden commercial style faucet is built with sufficient delicacy. Its design is preferable for the kitchens as well as the industrial premises. 
The 18-inch height makes it fit under almost all kitchen cabinets. Installing this faucet doesn't require implementing any additional adjustments in the kitchen cabinets. 
Its high-arc open coil spout takes it one step forward to the industrial look. This exceptional creativity is rare amongst other faucets. 
The docking arm is given a fashionable pattern to prevent any awkwardness. The Kraus KPF-1610SS offers a wide range of color options. 
These colors are ideal for any kitchen and have a greater chance of embracing the look of your kitchen décor. 
It comes in Stainless Steel, Chrome, Matte Black, Stainless Steel/Chrome, and Stainless Steel/Matte Black. 
These colors will not fade away with time because of the stain and water resistance of this faucet.
It consists of a pull-down spray head with a flexible hose to move it in all directions. The spout has a very high reach that makes it easier for you to fill the large pots and pitchers. 
Cleaning the sink is more effective because the higher distance makes it accessible to every corner. The docking arm of the faucet provides a legitimate hold to the spray head. 
As the sprayer comes with an open spring coil and pull-down feature, this holder is just the thing you will need to keep the sprayer securely in one place. 
Otherwise, it could be swinging on the sink. The spray head comes with a dual-function spraying feature. 
It is supported by an effective rocker switch that enables you to enjoy its functionality. 
The dual-function spray head is designed to switch between two valuable modes, stream and spray. 
However, the stream mode is conventional when moderate water pressure is mandatory, such as filling pots or pouring water in any dishware. 
The powerful spray mode is necessary for multiple cleaning purposes. When this mode is turned on, the water flows at a jet-like speed. 
High water pressure is essential for cleaning and helps rinse off the sticky foods from the sink or dishes. Whether it is the stream mode or spray mode, both are needed in the kitchen. 
The Kraus KPF-1610SS Bolden faucet made effortless cleaning possible and prevented unnecessary water splashes.
Recommended reading: Things You Need to Know About Brand Kraus
Whenever taking a faucet under consideration, the durability must be top-class. The Kraus KPF-1610SS faucet is built valuing this concern. 
It is made from stainless steel, and this material has a high reputation for making faucets last longer. Stainless steel prevents all sorts of stains from being visible.
The faucet has a high resistance to rust or corrosion, and it will prevent any damage from rough usage. 
The high resistance ensures the new look lasts, and the shine of the sink is glossy after every wash. 
It is also water-resistant, so water spots will not appear on the faucet.
This faucet is made from brass that is a common choice amongst people when buying a new faucet. 
Kraus provides their product with a lifetime guarantee that gives you the option to replace the faucet every time it is broken or not functioning according to the promised efficiency.
The smartly designed faucet is built with a single handle that functions a little differently than other faucet levers. 
Kraus KPF-1610SS faucet features 90 degrees forward rotating handle. The lever is required to be pushed to the right for turning on the faucet. 
In addition, you can also control the temperature by pulling the handle forward. Water will always flow at a cold temperature whenever the handle is turned on. 
For warmer water, the handle needs to be pulled forward. The water will become hotter as the lever is pulled more. 
This process makes a smooth transfer between the temperatures. The handle allows you to install the faucet in tighter spaces, and no extra space is needed in the back to push the handle backward. 
Also, the ceramic cartridge stops it from any leakage and will make it more durable.
The nozzles of the faucet are made from soft silicone, which makes its cleaning a lot easier.
Limescale and minerals can build up in the nozzles of the faucet if not cleaned very often.
It would help if you rubbed the nozzles with the fingers, and all the residues would be cleaned out of them. 
Besides, the chances of a decrease in the water pressure are mere to none due to the nozzles, making the powerful flow available for you.
Eco-friendly products play a significant role in contributing to saving this wonderful planet.
The Kraus KPF-1610SS faucet comes with a water-saving aerator. Due to this aerator, water is not overused when it is turned on.
Gladly, saving water will eventually save your water bills. The requirement of high water pressure is not compromised during this process.
Installation is a vital matter when it comes to faucets; complex installation can result in vexation. 
Kraus KPF-1610SS bolden faucet ensures easier installation for your convenience. It has pre-attached 22-inches water supply lines that make it a perfect fit for all kitchen cabinets. 
In addition, mounting hardware is provided with the package of the product.
These will make the installation process more straightforward, and several excess tools are not necessary to make it work.
Product Dimensions-

11 x 4.44 x 18 inches

Size-

18 Inch

Style-

Faucet

Finish-

Stainless Steel

Material-

Brass

Installation Method-

Deck Mount

Number Of Holes- 1
Spout Height- 6.38 Inch
Flow Rate- 1.8 Cubic Feet Per Minute
Handle Material-

Stainless Steel

Included Components-

Mounting Hardware, Faucet, Water Supply Lines

Warranty-

Lifetime Warranty
Price Range: The price of this kitchen faucet is around USD 180, which is a standard price tag.
Review Based on User Opinions
Before purchasing any product for the house, it is always better to know the experience of users.
So, here are a few pieces of information that we have collected from the customers' reviews.
It has been given the title of commercial-style faucet for a reason. A wide range of people uses this product, some for their kitchen and others use them to upgrade the look of their business premises. 
All the users are satisfied with having it installed in their desired places. Customers say that they are often appreciated for their excellent taste in faucets. 
The Kraus KPF-1610SS bolden faucet comes with a heavy-duty open coil spring spout. 
This innovative implementation attracts the most attention and increases their curiosity for the product. The users recommend others to install this beautiful piece created by Kraus.
Multi-Functional Spray Head
The spray head is the most crucial part of the faucet. A highly functional spray head can seize the game for customers.
Thankfully, Kraus considered this need while designing the Kraus KPF-1610SS faucet. The users like the flexibility of moving the sprayer 180 degrees. 
Wisely designed pull-down options made it comfortable for them to reach every corner of the sink. 
It comes with a docking arm to prevent the spay head from swinging on the sink and provide a solid hold. 
Customers are delighted to have a dual spraying feature in their faucet. Stream and Spray modes of the sprayer seal the deal for them.
It is a surprising and appreciated matter for the customers. Often, people search for advanced features with fabulous designs while choosing a faucet for their sink. 
However, all these things are only available if a higher price is paid for the product. 
But Kraus valued the emotion of their customers and made it affordable for most people. 
The users say that their need for a better quality faucet is fulfilled because the Kraus KPF-1610SS faucet fits their budget.
The value of a well-renowned brand cannot be overshadowed by any means. Kraus is not just a company's name; its reputation is way above the standards. 
It has been providing bathroom and kitchen fixtures for quite some time now. The company is excellent at maintaining the quality of its products. 
The designs of their products are the ground of popularity. They focus mainly on consumer needs and carry out the requirements with precision. 
It is impossible to resist the premium quality they offer. The affordable prices secure to engage more attention. 
Lifetime Warranty ensures to value the trust in the brand. 
[On a side note: to know more about how to choose a kitchen faucet, click here.]
Kraus is famous amongst its customers for its high-quality products and frequent launches of new designs. 
The Kraus KPF-1610SS bolden faucet features are so attractive that the demand for this faucet is increasing dramatically despite its plastic spray head. 
It is highly recommended for people who like having some unique features in their faucet that set it apart from usual ones. 
Its high arc open coil spring spout gives it a commercial look to make it choose-worthy amongst all sorts of people. 
Furthermore, the Kraus manufacturer provides a lifetime guarantee to encourage Kraus KPF-1610SS to be more trustworthy so that the customers can buy this bold faucet.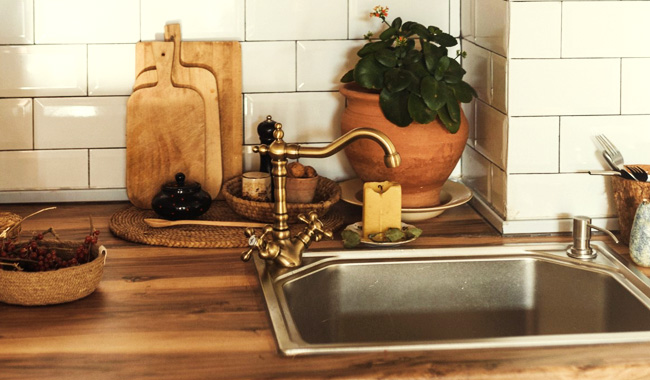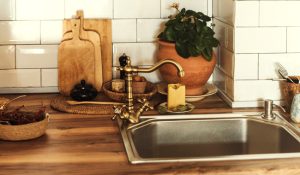 When you are shopping for a new kitchen faucet, you may come across some pricey options that range between $500 and $1,000, or even more.
Read More »
Was this article helpful?