Touchless kitchen faucets have become extremely popular because they employ cutting-edge technology to make your life simpler. It seems magical when your hands are placed beneath the spout and water begins to flow.
Actually, behind this touchless mechanism, there is a sensor that regulates the water flow. It has an electromagnet valve, a power source and a sprout which together lets you enjoy the hand free operation.
Well, to tell you all about touchless kitchen faucet, we will go over everything you need to know about this innovation. So, by the end of this discussion, you can freely decide whether a touchless faucet is worth purchasing for you or not.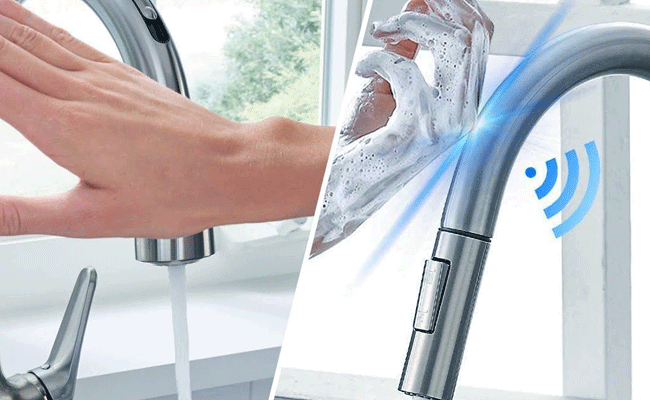 What Is a Touchless Kitchen Faucet
Basically, a touchless/non-touch kitchen faucet is a smart faucet that triggers the water flow using motion detector technology. It turns the faucet on or off by sensing the movement of your wrist.
How Does a Touchless Kitchen Faucet Work
A touchless kitchen faucet operates primarily by movement signals from the sensor which controls the solenoid valve. When the sensor detects movement, it transmits a motion signal to the valve to activate or shut off the water flow.
The sensor would either use ultrasonic energy or infrared light to detect movement. Well, these sensors are frequently located at the tip of the spout or at the base, where they can automatically detect motion without being obstructed by heavy things.
Can a Touchless Faucet Work Manually
Yes, a touchless faucet can work manually when the manual mode is turned on. Generally, touchless faucets have a manual sensor override mode that can be overridden to enable them to work when the electricity is off or the battery of the faucet is dead.
Parts of a Touchless Kitchen Faucet
There are four major components that help to run a touchless kitchen faucet without being touched. Here is a short brief of them:
A touchless kitchen faucet's main component is the movement detecting sensor. It employs a small infrared laser to detect the presence of a hand underneath the spout. When your wrists move in the area, the sensor activates the valve, and when your hands leave the area, the sensor turns the faucet off.
The solenoid valve is also an important part. It is an electromagnetic valve that pushes or pulls based on electric polarity. Essentially, the valve shut till it gets information from the sensor, meaning that when the sensor detects the presence of a palm, it opens the water flow.

A power source is required for any automated or touchless kitchen faucet to function, although the power sources might differ. Well, when some faucets are powered by DC batteries, others rely on a low-pressure current supplied by an AC transformer.
A touchless faucet's spout contains all the functioning elements. Spouts of various materials can be found. Zinc is commonly used in lower-cost types, whereas brass or copper is used in expensive faucets. Nickel or chrome-coated spouts are commonly used for longevity and aesthetics.
Benefits of Touchless Faucets
Here are the top benefits of using a touchless kitchen faucet that you may love as well:
Touchless faucets are often more durable than inexpensive not-touch faucets since they are manufactured with high-grade materials that are highly corrosion-resistant.
Usually, a touchless faucet provides more aesthetic value to your kitchen since it is made of a higher-quality material with a higher gloss and seems much cooler.
Hygienic- (Prevent Spreading Germs and Grime)
Now, this is the main benefit of using a touchless faucet as they do not require touching the handle, so it does not spread germs or grime from hand to hand.
A touchless faucet uses sophisticated motion-detecting technology, which may bring a new dimension to life for individuals who enjoy using new technologies.
Some touchless faucets come with additional features like voice command operation, and others which you may find very useful and interesting to use. 
When you take your hand away from the sink, the touchless faucet will automatically shut off the water flow, saving both water and energy.
A touchless faucet is extremely easy to use with motion-detecting or voice-controlling technology. As a result, you will benefit from the convenience. 
Helpful for People with Disabilities
Touchless faucets can be helpful for people who are physically disabled as they will be able to on or off the water flow without moving the handle.
Low-maintenance and Cleaning
Unlike typical non-touch faucets, which soon develop water spots and scratches, touchless faucets are well-made and require little care and cleaning.
Problems With Touchless Faucets
Now let's take a quick look at the drawbacks you may face with a touchless faucet, which are good to keep in mind:
First thing is, touchless faucets are a bit expensive if compare with the regular non-touch faucets. So, make sure you are okay with the budget.
Well, another thing that can happen is that your touchless faucet may get the green signal to turn on accidentally while you are walking in front of the faucet. 
The most common problem with touchless faucets: the motion-detecting sensor stops operating after a certain period and may no longer function appropriately. 
If you get a touchless faucet that is powered by a battery, you will need to purchase extra batteries because the battery may discharge after a few months.
Tricky Installation process
Yes, the installation process of a touchless faucet is slightly trickier than the process for a not-touch faucet. So the installation cost may increase for that reason.
Installation Options for Touchless Faucets
Installing a touchless faucet is a bit more tricky than a regular faucet, but you can still install it by yourself. Here are the guidelines to install a touchless faucet on your own.
But if you don't have the right tools or the technical skills, then you can call your nearby plumber to install your touchless faucet in the place you want.
Do Touchless Faucets Leak?
Yes, leaking can occur if dirt or contaminants in the water penetrate the pilot valve membrane. To solve the issue, you will have to clean the membrane or you can replace it as well. If you don't know how to fix that, calling a plumber would be an ideal choice.
Price Details of Touchless Faucets
The usual cost of a touchless faucet is between $300 and $500, although it can cost $500 to $1,000 or even more than $1000. 
In reality, the price is affected by the material and any additional technology used for the touchless faucet. The cost may also differ from one brand to another.
Which Touchless Faucets is Best?
Best Brands For Touchless Faucets
Well, there are a variety of manufacturers that provide touchless faucets for kitchens and bathrooms. Here are the top five manufacturers that are well known for manufacturing high-quality touchless faucets.
| | |
| --- | --- |
| Brands  | Best For |
| Moen | Moen is best for offering luxurious touchless faucets. |
| Delta | Delta is best for offering quality touchless faucets at a budget price. |
| Kohler | Kohler is best for the top rating given by users for overall durability. |
| Kraus | Kraus is best for offering a reasonable price and support. |
| Pfister  | Pfister is a decent touchless faucet brand for providing an appreciable design in its range. |
How Long Does Touchless Faucet Last?
The longevity of a touchless faucet highly depends on the quality you are buying and the way you use it. Suppose you buy a good quality faucet and you use it to maintain all the manufacturer's guidelines, then your touchless faucet would last at least 5 to 10 years.
Where To Buy Touchless Kitchen Faucets
Well, you can simply buy a touchless kitchen faucet online or from an offline store. To purchase an original touchless kitchen faucet online, you can either visit Amazon.com or the official website of the brand you choose.
Are Touchless Faucets Worth It?
Touchless faucets are worth it when you don't want to touch the faucet's handle to turn it on, which is especially convenient whether your hands are unclean. Also, it prevents bacteria or germs from spreading, making the faucet and sink more antiseptic.
Do Touchless Faucets Work Well?
Yes, touchless faucets work well only when you buy a good-quality touchless faucet and you use them properly. Otherwise, you may face unwanted hassle because of the sensor malfunction, which can cause an accidental water flow.
Which Is Better Touch Or Touchless Kitchen Faucet?
Both touch and touchless faucets serve their purpose well. However, a touchless faucet is usually more expensive than a non-touch faucet. So it is your budget and needs that will determine which faucet type is best for you.
Do Touchless Faucets Need Batteries?
Every touchless or fully automated faucet requires a power source to operate, but their power sources may vary. Well, some touchless faucets are powered by dry-cell batteries, and others function by low-pressure current using an AC transformer.
Do Touchless Faucets Work Without Batteries?
Yes, touchless faucets can work without batteries. There is usually a manual sensor overrule mode in touchless faucets that allow them to function without batteries in the event of a power outage.
How Long Do Touchless Faucet Batteries Last?
The longevity of a touchless faucet battery is determined by the size and kind of battery used. Conversely, it also matters how frequently you use your faucet. But ‌a good-quality battery will last one to two years at least.
Do Touchless Faucets Need Electricity
Because every touchless faucet requires power to work, certain touchless faucets require electricity that does not come from a DC battery. As a result, this sort of faucet is powered by a low-voltage AC transformer which is connected to the electrical socket.
Why Did My Touchless Faucet Stop Working?
In most circumstances, your sensor is likely to be faulty or your battery is expired. Replacing the battery or sensor will solve the problem. Well, if it is the sensor, then the faucet must be removed to replace the sensor.
Do You Need An Outlet For A Touchless Faucet?
Touchless faucets require external power to function and the power can be provided with the AC current. So, when you buy a touchless faucet that is not powered by a DC battery, you will need a 120-volt AC outlet.
The touchless kitchen faucet is an invention that allows you to enjoy hands-free operation while improving the value of your kitchen. Furthermore, we hope that this discussion will help you ‌make a wise decision when purchasing a touchless faucet within your price range.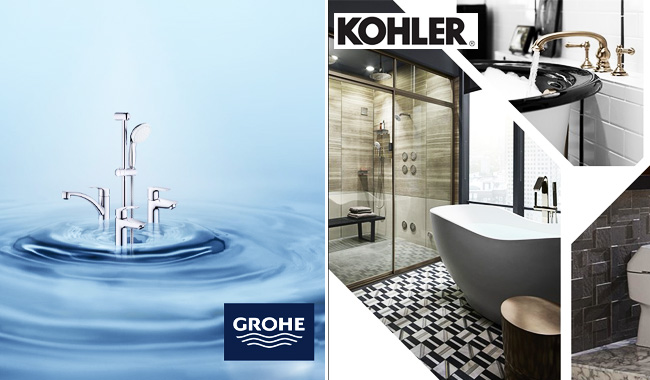 Grohe and Kohler are considered to be stiff competitors to one another. Both the brands offer the best quality products according to their focus area.
Read More »
Was this article helpful?