Probably the most hyped question I have recently come across is what are the standard kitchen sink sizes! And honestly, there's no accurate size ratio you are gonna find.
Because there's a wide range of kitchen sink with different lengths and width and strategically, each of them is made depending on the kitchen cabinet sizes [to know more about kitchen cabinet size, click here].
Also, the faucet size, your height, your kitchen's interior design, everything varies so that the term "standard" doesn't fit adequately on each of them. 
But if you intend to get a kitchen sink which suits your kitchen cabinet well, then you must narrow down the appropriate measurements.
Herein, today, I am going to articulate the standard kitchen sink sizes precisely! Let's get into it!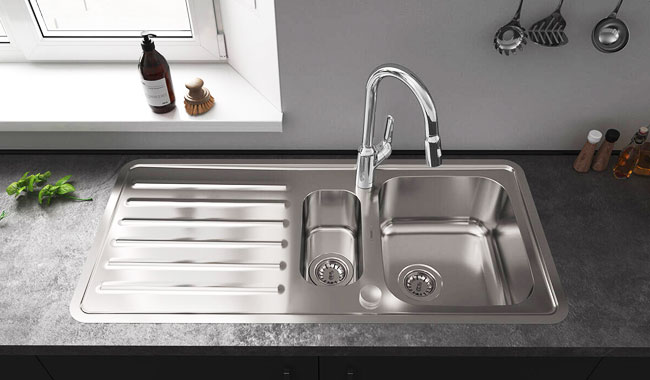 What is The Size of Standard Kitchen Sink?
Suppose you want to change your kitchen sink or replace a new neat and glossy looking sink with your previous one. 
In that case, you are gonna face some complications. The first thing is if you aren't aware of your previous kitchen sink's size, then you have to encounter some confusion regarding the sizes.
Also, if you buy something expensive and advanced without focusing on the sizes, then you will surely end up getting expensive garbage because it won't be any of your use. 
Moreover, a robust kitchen sink will look odd in a compact size kitchen — Vice versa.
That's why, before making an investment, make sure you are sufficient with the knowledge regarding standard kitchen sink sizes!
Now, a 22 to 30 inch wide kitchen sink considers as the standard size of a kitchen.
However, kitchen sink sizes depend on your kitchen area or the cabinet sizes, I have shortlisted different standard kitchen sink sizes for different kitchen areas specifically. Here you go!
Kitchen Sink Size for Average Size Kitchen Cabinet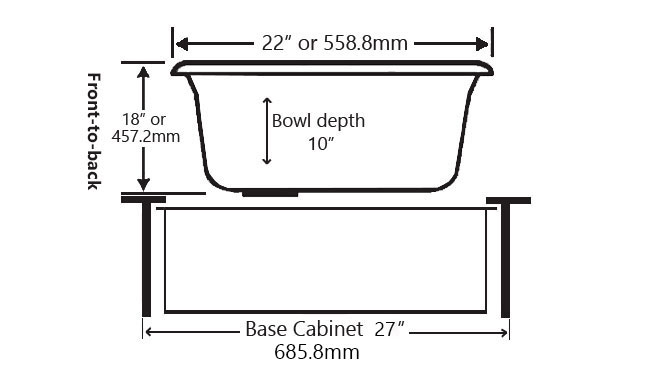 A 22-30 inch wide kitchen sink can easily accommodate the average cabinet size having a dimension of 36-42 inch. And the dimension of front-to-back for 22-30 inch kitchen sink is respectively 18-20 inch with 10 inch bowl depth.
Ideally, it's the universal measurement for choosing a standard size kitchen sink though you need to distinguish other crucial facts.
For instance, an average kitchen sink allows short family members to get easy access. You may install the sink bowl before the sink itself. 
In that case, you need to take the proper measurements of the vessel, counter tops, and the cabinet.
Then, according to their sizes, you should replace your kitchen sink. However, if you only want to change the kitchen sink, not other parts here, you only need to know the dimensions of your kitchen counter top
For Compact Size Kitchen Cabinet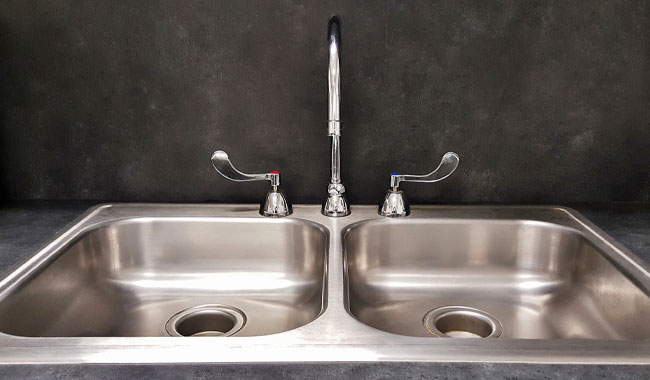 Now if you have a small size kitchen cabinet with a 22 by the 30-inch kitchen sink, then it not only look strange but also the family members are gonna face complication doing their daily chores. 
Because the dimension is just inappropriate for small cabinets and the entire kitchen room.
Anyways, the standard kitchen sink size for small cabinets is around 22 inches wide. And usually, it reciprocates fairly with the square size D-bowl. 
Now, the perfect fit for a 22-inch wide kitchen sink is a 27-inch base cabinet.
For instance, if you have a kitchen that is smaller than 155-160 square feet, then purchasing a big vessel or sink would be a great mistake.
Here, the theory is very easy — short sinks for short cabinet and large sinks for large. The dimension isn't drastically different. Possibly the difference between kitchen sink and cabinets is less than double.
For Large Kitchen Cabinet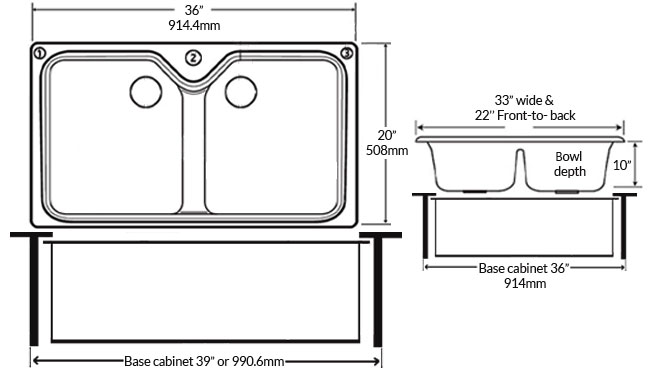 It's pretty obvious that if you have a large kitchen area, then you have got to install relatively a larger kitchen sink. 
Moreover, the large kitchen sink can effortlessly mend with the large kitchen cabinets.
In this regard, purchasing a 33-36 inch wide kitchen sink will be utterly appropriate for 36-39 inch kitchen cabinet. 
And the dimension of front-to-back for 33-36 inch kitchen sink is respectively 20-22 inch with 10 inch bowl depth.
Initially, it can accommodate comfortably with the large sink cut-out.
For Common Size Kitchen Cabinet
Lastly, we have a common size kitchen cabinet.
You might know that a universally installed kitchen sink for a typical size kitchen cabinet has a dimension of 30 inch wide and 20 inch front-to-back. And it smoothly fits with a 33-inch base cabinet.
Choosing the Right Kitchen Sink
Determining what's functionally and aesthetically ideal will help you pick the right option for your projects.
If you are replacing an existing kitchen sink, you have got to measure the area very carefully because you want to be sure that the new pan that you get fits in the same cut-out. 
Now for choosing the right kitchen sink for you, firstly, you need to determine your lifestyle or your kitchen activities.
For instance, if you frequently wash large items, then you may need a single bowl sink. On the other hand, if you do multiple tasks at once, then you must install a double bowl sink. They tend to be the most popular configuration. 
Here's another thing that is called a dual-level sink, which is basically a blend of a big bowl and smaller bowl sink that fits all at once.
[ On a side note: Do you want to know the differences between single and double-bowl kitchen sinks? To find the answer, click here. ]
Lastly, if you want to work along with your housemaid or need a two-person sink, then surely you need to mount two sinks — one for cleaning and another sink for food prep. Moreover, you also have an under-mount stainless steel sink, which is the most popular option for the kitchen. 
As they are typically inexpensive, easy to clean, and sturdy, people are prone to install them more often. Luckily, these sinks have no lips, and the liquid can be easily wiped right away. Being cleaning convenient, it also arrives in an enormous range of varieties.
Here while choosing the perfect shape and size, you need to follow these processes:
Measure your kitchen sink cut-out

Measure your kitchen cabinet area

Stick with a 10-inch depth sink vessel. It will help you to do the dish washing, cleaning food preps, and cookie sheets comfortably

Consider your kitchen activities and the standard height of each family members so that they can get easy access to the sink
Recommended reading: Undermount vs. Drop-in vs. Farmhouse Kitchen Sink
Undoubtedly, narrowing down the standard kitchen sink sizes is a tedious job. But knowledge is the key to decode every misperception. Thus, collecting the right information before making a purchase is crucial to saving you from an expensive mistake.
I hope that you've finally identified the kitchen sink sizes and the in-depth facts precisely.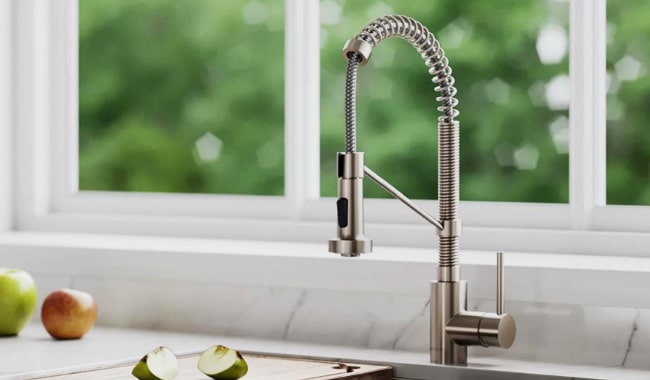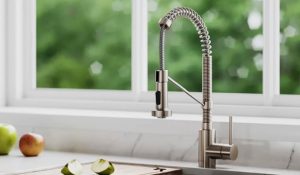 Who doesn't like an attractive kitchen faucet in their house? It is an obvious fact that faucets have become a matter of reputation for people. A
Read More »
Was this article helpful?