When it's about choosing a filtration system, most people try to get the healthiest one possible for their families within their budget.
Faucet filters are well-known for providing mercury and pesticides free drinking water among a considerable number of families. Unlike pitchers and reverse osmosis filtration systems, this one sets no capacity limitation. You can have fresh, clean, and healthy tap water at any time, regardless of the quantity.
This article will help you to choose the perfect filter for your home or office. The buying guide will let you know which key aspects you need to focus on while buying one.
Our Picks for the Best Faucet Water Filters of 2023 – Reviewed
Among lots of options available on the market, we picked the most powerful ones that are very effective at knocking out contaminants and toxic chemicals from tap water.
1. Engdenton Faucet Water Filter
With 10 times enhanced filtration ability compared to conventional ones, Engdenton faucet water filter can ensure you of the purest form of drinking water right from the tap. 
The filter is very effective when it comes to purifying the water from the sand, rust, bacteria, virus, and many others.
If you live in an area that supplies water with chlorine and has odor in it, this filter will come great for such a condition.
It's able to reduce chlorine as well as the unpleasant smell from the tap water.
You can instantly get relief from the thirst regardless of the amount of water you need. With its speedy water flow, you can get 8 cups of clean water in a minute. The 0.5GPM high water flow ensures you of no waiting to fill a glass, unlike reverse osmosis filters.
As far as durability is concerned, the filter got a food-grade 304 stainless steel housing, which is a very high-grade construction. 
The manufacturer assures you of no cracking and leakage throughout the product's lifetime.
2. Brita Tap Water Filter System
With its ability to knock off up to 60 contaminants, the Brita filter system is able to provide you with 99% chlorine, lead, and odor-free fresh drinking water. 
You will easily be able to attach the system to a standard water faucet. No extra tool is required for installing the filter.
You will get 100 gallons of filtered clean tap water with this BPA free faucet water purifying system. On paper, the quantity is equivalent to 750 water bottles of 16oz. 
This one features 3 spraying options for convenient usage. You have the options to get filtered water, unfiltered spray, as well as unfiltered water.
There are conditions when you don't need filtered water; you can easily get unfiltered water in such cases, which is something not all filtration system offers.
To get an uninterrupted service, the system features an LED light reminder that tells you when it's time to replace the cartridge. Its 1-click filter replacement is highly appreciable regarding the ease of use.
For an average family, the filter requires to be changed every 4 months.
3. PUR PFM400H Horizontal Faucet Water Filtration System
This one is a horizontal water filtering faucet, which is construction-wise different than the rest of the filters on the list. 
The most highlighted feature of this filtration system is its mineral clear filtering process, which reduces sand, dirt, rust, and turbidity from the tap water.
Its micro carbon fiber filters 99% of microbial cysts as well as lead, 97% of chlorine, and heavy metals such as mercury, benzene, and many more.
Considering its filtration process, this one ensures getting fresh drinking water right from the tap. You will get up to three months of healthy and clean water from this one, which is equivalent to 100 gallons of water. 
When the system requires a new filter, its light indicator will tell you to replace it. With its hassle-free one-click filter installation, there is no need to call a plumber to do this.
4. DuPont Premier Faucet Water Filter
If you are looking for a budget-friendly best faucet water filter system for home, look no further. 
DuPont offers you high performing filtration system, which is far better than most convenient ones within this budget.
The filter is certified to reduce lead from tap water effectively. Apart from that, it also reduces chlorine, cysts, sediment, linden, and other mercury. 
If the water in your area has an odor in it, you can get rid of that unpleasant odor by mounting this one to your tap.
As the filter also improves the taste of water, your tea, coffee, and juices will taste even better once you get it.
To save your money from spending on water bottles, this faucet system provides 100 gallons of water capacity. 
The manufacturer assures you of improved filter life. It's antimicrobial protection, which is built-in to cartridge housing, checks the safety as well as durability concerns.
5. PUR Classic Faucet Mount Filter
Even though tap water seems fresh, it consists of a lot of contaminants, which are very harmful to our body considering long term effects. 
To prevent those risks, PUR classic faucet filter assures you of reducing more than 70 contaminants as well as lead and chlorine.
The filtration is a 3 step process. Your tap water will go through sediment, lead as well as microbial cysts removing process, and at the same time, its taste will get better too. 
MAXION filter technology with activated carbon and ion exchange is in charge to ensure you get the purest water out of the tap.
As far as capacity is concerned, this filter is able to provide 100-gallons of filtered water.
The filter will last typically 2 months for a small size family. After that, you need to replace it. You will be warned when it's time to change the cartridge by the LED indicator.
The package comes with 4 faucet adapters and washers. You can attach the filter to your standard faucet. There is no need for additional parts to mount it.
Considering the price, filtration, and ease of use, this one is the best faucet water filter within the budget.
6. ESOW Faucet Mount Water Filter
For those who want an advanced filtration system with high capacity, ESOW faucet can meet their requirements. The filter uses Japan's advanced ACF – activated carbon fiber filtration technology to make the water as fresh as possible. 
Its 7 layers of filtering process ensures you that the tap water is free of contaminants as well as mercury, chloride, and lead.
If you have a baby in the house, this filter will make sure the little one isn't drinking any harmful things with the water. The stainless steel mesh will block sediment and isolate impurities effectively.
Apart from that, the filter features Ultra filtration technology to improve the taste of water. Dirt, sand, and rust will have no space to stay. 
The cleanest possible water will ensure that you drink the real flavor of your coffee.
With its high-speed water flow, you will get 8 cups of water per minute. Once you install the filter, there will be no waiting for the glass to fill with water. 
Your thirst will go immediately. The filter will last around 3 months, depending on the water consumption of your family.
Durable 304-grade stainless steel assures you of its durability. Unlike conventional ones, there will be no leaking, deformation, and cracking if you get this one.
The faucet is rotational up to 90-degrees. Besides, a concentrated water outlet will cause no water splashing whatsoever.
7. PUR FM-3700 Water Filter
Another PUR filtration system on the list. This one is the best faucet water filters for home. The filter is equipped with MAXION filter technology that is very effective at removing lead, pesticides, and various mercury. 
If your tap water has chlorine and unpleasant odor, you can rely on the filter. With its superior 3-stage filtration process, the manufacturer ensures that you drink contaminants free fresh water right from the tap. 
Its premium mineral clean filter reduces more than 70 contaminants.
Talking about the capacity, the FM-3700 filter system can provide you around 100 gallons of water. One filter will last you up to 3 months, depending on the usage. 
Considering what you need to spend on water bottles, this package is far more cost-efficient as well. 
Like other advanced filter systems on the list, this one also features an LED indicator, which informs you about the time to replace the filter so that there is no interruption in providing fresh water.
8. Waterdrop Faucet Filtration System
Cheap and convenient faucet filters don't perform great when it comes to purifying tap water. Smaller capacity filters sometimes have an effective filtration system, but that isn't budget-friendly to some people.
To eliminate all these equations, Waterdrop offers faucet filter, which has a high capacity with an effective water purifying system.
Its 320-gallons of large capacity take of a huge load from your shoulder regarding replacing the filter more often. 
Once a new filter is installed, it will give you backup for about 3 months easily. The flow of water is 0.5 GPM, which can fill 4 water bottles of 16.9oz within a minute. 
The filter packs an advanced activated carbon fiber filtration technology that is able to reduce chlorine up to 93%. It does a decent job of reducing fluoride and lead as well. 
So, overall, the water you will get from the filter will be free of mercury, contaminants, dirt, sand, rust, and other harmful objects. At the end of the filtering, the stainless steel mesh will make sure no larger particles make its way to your glass.
With that being said about the product, it's one of the best faucet mount water filters within this price range.
9. Kibter Faucet Mount Water Filter System
Installing a faucet water filter is a cost-efficient alternative to water bottles. 
If you consider getting this filter that has the 200-gallons capacity, it will easily last you 3 months, even more, if it's only you and your spouse. 
Replace the filter once every 3 months, and you are good to go having fresh and clean drinking water.
Kibter water filtration system cleans the water with its activated carbon fiber technology and ensures you of mercury, chlorine, cysts, and lead-free tap water. There will be no longer the sour taste of chlorine; all you will get is plain water from the system.
The housing got chrome finish; some parts are made of ABS plastic. Unlike cheap ones, ABS plastic doesn't crack that easily. The plastic quality is reliable. 
Its food-grade calcium sulfate ball assures you of the cleanest water possible within the price range.
10. Wingsol Water Faucet Filter
Made of 304 stainless steel housing, this filtration system from Wingsol assures you of 10 times longer life than conventional plastic filters. 
As it's made of stainless steel, you will not come across any cracking whatsoever.
Although the filter doesn't reduce TDS, it knocks off water-sediment such as sand, dirt, and rust. Besides, it does a decent job of reducing chlorine as well.
However, if your tap water contains a high amount of chlorine, the advice is not to go for the product. 
The biggest advantage of this faucet filter is its speedy water flow; you can get 3 liters of water per minute from this one. For its fast flow rate, the filter is the fastest filtration system in this best faucet water filter reviews.
With great speed comes great capacity. Its 200-gallons capacity will last you about 3 months easily. That means you will have to change the filter cartridge after 3 months, which isn't bad considering how much you are going to pay for it.
11. LELEKEY Tap Water Filter System
If your requirement is to get the one that is most durable with the largest capacity, then the Lelekey filter system is for you. 
It has a durable food-grade 304 stainless steel construction. You will not come across any cracking or leaking issue from this one.
The capacity of the filter is 528-gallons, which will easily last you about 3 months if you have a big family. 
It will last longer if you live alone or with your spouse. You have the option to get filtered or unfiltered water from this one. This feature is great for extending the lifespan of a cartridge.
Its 6 layers of recyclable filtration process take the accuracy to 0.05um.
The activated carbon fiber technology can filter 99% of chlorine, lead, and odor. You will get better tasting water for drinking, making coffee, and cooking purposes.
You can fill your glasses and waterpots with a much faster rate of water flow. The system is easily mountable to most common and standard faucet systems.
With all that being said about the product, it's the best faucet water filter for hard water that you can get.
12. Instapure F2 Essentials Tap Water Filtration System
Every manufacturer claims to reduce contaminants and substances from tap water; however, few are certified for reducing them. 
Instapure F2 filtration system is one of those filters that is certified to reduce chlorine very effectively. Your tap water will taste and smell much better than it was before.
Apart from reducing chlorine, it also ensures your drinking water contains 99% less lead and microbial cysts. 
The F2 filtration system will provide you about three months of great-tasting and healthy water right from the faucet. After that, you need to replace the filter cartridge for maintaining the optimal performance of the system. 
If you are concerned about the process of filtering water, Instapure offers you all the organic ways to filter your tap water. 
The cartridge is made of high-quality coconut carbon, which is free of silver. 
All pollutants and organic compounds are taken care of by the carbon. As a result, you get great tasting water without wasting much.
Faucet Water Filters Buying Guide
It's pretty hard to find a suitable product that serves your purpose well. People often get overwhelmed by seeing lots of features; but, you don't need that many features to make your investment worth. 
In this guide, I will address some key features that you need to take a look at.
Although most faucet filters are of the same size, there are some models that are a bit larger. If the cartridge is large, then the size of the filter will be large as well. 
The size matters, because it will occupy a considerable amount of space of your sink. It shouldn't be too large so that you have to compromise the space for plates.
So, consider your sink size as well. Go for a larger model only if your sink is large enough to accommodate plates when it gets packed. [ On a side note, to know more about sink size, read this ]
Otherwise, stick to a smaller filter. The smaller size doesn't mean you are compromising with the purity of water. Moreover, the filtration process will be the same for both smaller and larger models.
It might seem to you that all faucet water filters work in the same way. Although that's true to some extent; however, there are some sectors that differentiate them from each other.
Not all the filters have a similar type of finish. When it's about time to get one, you must consider your kitchen room's decoration so that the filter doesn't look weird in it.
If possible, avoid plastic finish filters; they crack the most.
However, if the plastic is of high-grade, you are good to go. Apart from that, the plastic finish will hardly match to anything inside the kitchen. Your faucet should match the finish of the filter system.
This is the primary reason why people buy faucet filters. The one you are getting should be effective at filtering tap water. 
Look for one that reduces around 96% to 99% of mercury, chlorine, as well as lead. It should also take care of viruses, bacteria, fluoride, cysts, and other contaminants too.
Pesticides are mostly found in tap water, make sure your filter is able to remove 90% to 99% of them effectively. If any filter states percentages below 90%, you should not approach the product.
Almost all faucet filters offer an easy installation process. You don't need to get an additional tool to install it. The manufacturer will include everything you need inside the package. 
However, some filters do require additional tools when it comes to installing them. It's necessary to get a filter that is very easy to install because you will need to change cartridges periodically.
The cartridge is the part that reduces contaminants and pesticides from the tap water. So, this part requires more of your attention. 
Most faucet filters come with heavy-duty cartridges. Some have the ability to eliminate up to 70 different substances from the water. 
Besides, these cartridges have a limited lifespan. Some have the capacity to filter 100 gallons, some have 200 gallons, and high capacity cartridges can filter around 300 gallons, till it requires a replacement. 
Depending on the capacity, you will need to replace the cartridge in order to get optimal performance from the filter.
The manufacturer will mention when you need to replace it. So, if you live with a big family, more capacity, less hassle of replacing the cartridge. Properly follow the manufacturer's instructions to be able to replace this part successfully, or you will get unfiltered water.
As I said before, you need to change the filter cartridge periodically. There are LED light indicator in the best faucet mount water filters that tells you when it's time to replace the part. This light sensor is very convenient. 
When the light is green, that means the filter is close to its maximum capacity. The yellow light will tell you that it's time to order a replacement.
If it's a red light, the filter has reached its maximum capacity, and the water coming out of it is unfiltered.
There will be no issue regarding its performance if you get a filter without this feature. You need to remember when it's time to change it on your own. If this doesn't bother you, you are good to go.
How We Selected the Top Product
Before digging deep, we set some principles that make a faucet filter recommendable for our readers. 
Our team went through a lot of comprehensive faucet filter reviews that have high hits. We went through all the products and came up with listing the ones that fall under our principles.
There are a couple of faucet filters on the list that got certification for effectively reducing chlorine, lead, and other chemicals from the tap water. NSF doesn't recommend the poor quality and unstable products. The customer reviews also ensured us about the credibility of the products.
We made a list with some high capacity filters as well as filters with low capacity. Different people have different requirements, so we maintained this variety on our list of best faucet water filters.
The price was another factor to consider. There are products on the list that cost quite low but can provide better drinking water. On the other hand, some filters have a higher price tag; these are well-constructed, have a high capacity, and fast water flow.
We also went through hundreds of customer reviews to identify the pros and cons of the filters. All this effort was to make sure you get the best faucet water filter for home. 
Do Faucet Water Filters Really Work?
Faucet water filters work on treated water. If you thought a faucet filter would purify untreated tap water, you didn't get this in the first place.
Most people get confused when it comes to filtering and purifying water. Filtering and purifying isn't the same thing; they are not synonyms of each other. You get purified water when you use a reverse osmosis water purifier to treat untreated water.
On the other hand, faucet water filters only work on treated water; you cannot use the system to purify untreated water.
To summarize, treated water requires to filter contaminants, chlorine, lead, etc. using faucet filter systems, while untreated water requires to purify using reverse osmosis purifying systems.
Why Use a Faucet Water Filter?
The water you get from the tap is treated water; the process involves using chemicals (mostly chlorine and bleach) to some extent. That results in sour-tasting water with lots of chlorine in it. 
If you don't filter the tap water using a faucet filtering system, then you are consuming chlorine, lead, and other harmful substances with the water.
When you filter the water using a faucet filter, it ensures you get healthy drinking water free of excessive chlorine, lead, mercury, and other 60 to 70 types of contaminants.
Filtering also reduces the odor and sour taste of the tap water as well. 
If you don't use such a filter, you need to buy bottled water, which is very expensive in the long term, comparing what a faucet filter system costs.
Faucet Water Filters Advantages
Installing a faucet filtration system will bring a lot of benefits. Some of them are as follows –
As it reduces odor and improves the taste of water, you can drink natural tasting water to get rid of your thirst as well as make your coffee more enjoyable. 

Having a faucet filter can effectively eliminate chlorine, lead, mercury, bacteria, viruses, cysts, and other staff up to 99%, which are harmful to human health in the long term and assures you of healthy water to drink.

Compared to bottled water, installing a faucet filter system is much cheaper and super-efficient as well. You don't need to go out to buy bottles regularly. A filter cartridge lasts about 2 to 3 months, depending on the usage.

Faucet filters don't waste water, as well as they don't involve plastic material that you need to throw away regularly, which is an environment-friendly option over bottled water.
Which Is Better – Faucet Filter or Pitcher Filter?
People who are looking for buying an entry-level filter often get confused with whether to go for a faucet or pitcher filter. They are alike in many ways, but, still, some differences give one the upper hand over the other.
As far as the speed is a concern, pitcher filters use gravity to let the water go through the carbon layer. It takes time to get the water into the reservoir. For a big family, a pitcher filter isn't an ideal option to go with. 
On the other hand, faucet filters provide water in a faster way. You can get 2 to 3 liters of water per minute from some larger models.
You have the option to get unfiltered, cold, and hot water from a faucet filter as well. This is something that a pitcher filter doesn't offer.
Space is another factor where faucet filters take the lead. 
When it's about filtering water, faucet filters are found to be more efficient at removing contaminants than pitchers. Some pitcher filters have activated carbon fiber with ion exchange; but, you have to pay a higher price to get that.
It doesn't require you to change the cartridge of a faucet filter as frequently as a pitcher one.
Installing a pitcher filter is easier compared to its competitor. In addition, faucet filters are prone to leaks and cracks if the material isn't stainless steel.
So, in most aspects, the faucet filter is the clear winner here. But, also consider the fact that these filters are less durable than pitchers.
Nothing really beats faucet filters when it comes to reducing chlorine, lead, unpleasant odor, and taste from treated tap water. Best faucet water filters will make sure every glass of water that you drink is healthy and safe. 
Hopefully, you have already decided which filter to buy, considering your requirements and the benefits you will get from the product.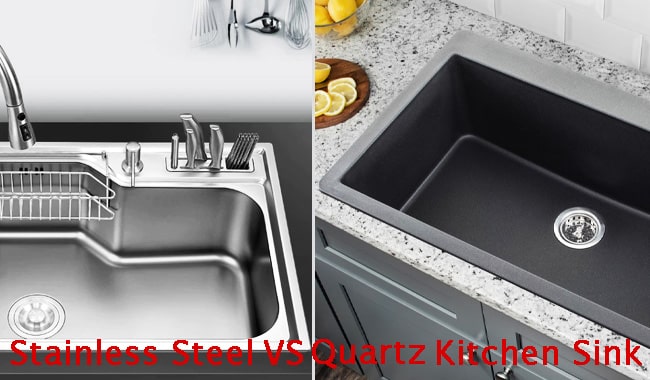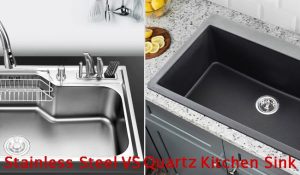 Are you planning on renovating the kitchen? You may have had some thoughts concerning the sink. And it's quite evident that the most frequently used in the
Read More »
Was this article helpful?