Till today I had no idea that there are so many types of kitchen sink available in the market. 
If you are about to renovate your kitchen, you need to be familiar with different types of kitchen sink so that you don't regret later by seeing more stylish ones.
Undoubtedly, the kitchen sink is one of the most visualized pieces of equipment that you can get in your kitchen space.
If you want the space to have a nice-looking atmosphere, and ensure that the interior nicely suits the sink, you must pay close attention while getting one.
Let's have a look at different kitchen sinks and their materials, which will surely help you to get the perfect looking one for your kitchen.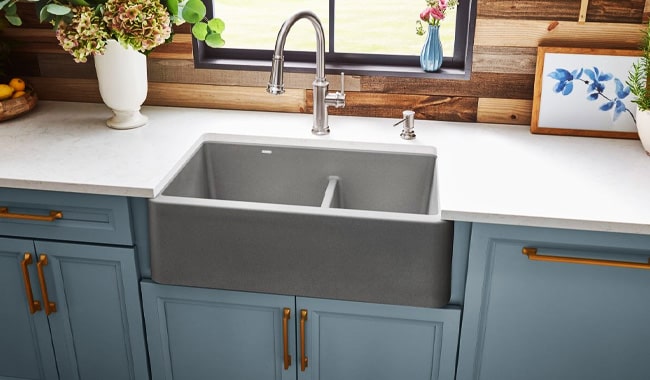 As I have indicated earlier, there are an overwhelming number of kitchen sinks to choose from. Once you have a little idea about their design, purpose of use, and functionality, you can't go wrong while getting one.
Kitchen sinks can be categorized based on their number of bowls, installation, and shape or design.
The review of all types of kitchen sinks along with their pros and cons will help you decide which one to go for and which one to avoid.
There are three types of kitchen sink based on the number of bowls.
As the name goes, this type of sink features a sink with its countertop. This is the most common kitchen sink that is found pretty much at every average household. 
Single bowl sinks are best for small and compact kitchen space. It's much easier to clean compared to other types. The sink checks all necessities for a small-sized family without any issue.
However, there are single bowl sink models with a drainboard on its side. It takes more space than the traditional ones.
[ NB. If you are interested in knowing the difference between single and double-bowl kitchen sinks, click here. ]
The name tells you about the sink like the previous one. 
These sinks have two bowls that provide an extra space compared to single bowl ones. Due to the space it provides, you will have flexibility while cleaning dishes. 
There are some variations in this type of sink. You will come across two bowls of equal size and depth, two bowls of different depths, same depth bowls of different sizes, and more. 
If your kitchen room has enough space for this kind of sink to accommodate, or there is more than one cook in the room, you can consider getting the sink. 
[On a side note: to find the best double bowl kitchen sinks for your kitchen, click here]
Based on Configuration or Installation
This category can be further classified into 3 different types.
1. Top-Mount Kitchen Sink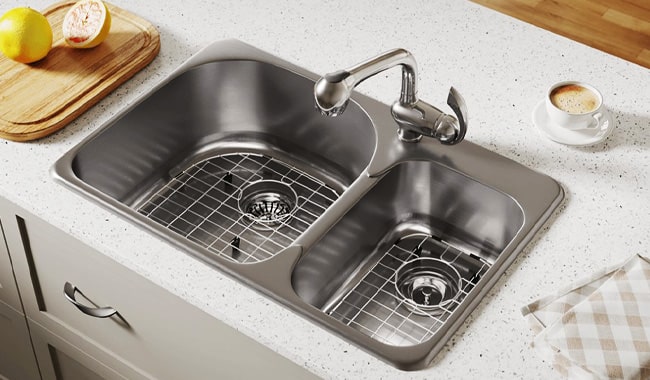 This is the most common and inexpensive sink type. It's also known as self-rimming or drop-in sinks. Top-mount sinks are installed on top of the cabinet countertop. 
One can easily mount it using cement or other adhesive materials. As far as ease of installation is concerned, it's the easiest one.
The rim is sturdy enough to support the entire sink's weight. If you want to add a distinctive look yet don't want to spend much time cleaning it, this type is just right for you.
However, due to the rim, you cannot sweep debris and water from the counter straight into the sink.
2. Under-Mount Kitchen Sink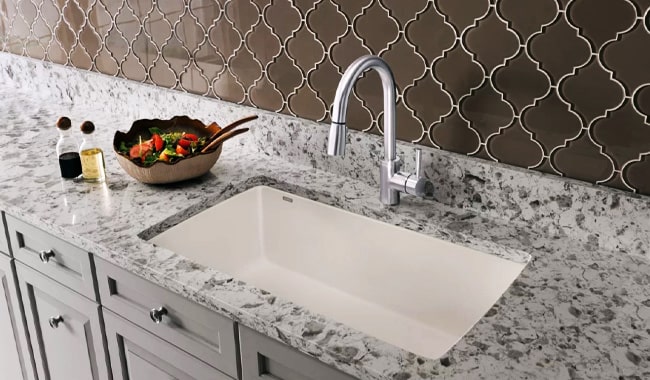 Homeowners love the sleeker look that the under-mount sinks bring to the granite countertop.
As the name suggests, you need to install it below the countertop. This type allows you to easily sweep water as well as debris directly into the sink. 
Construction-wise, the under-mount sinks are made of good quality material.
3. Integrated Kitchen Sink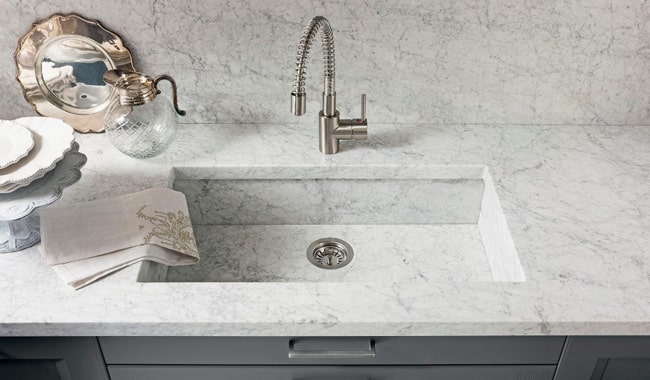 Integrated kitchen sinks come with a solid surface countertop. Staron Line from Samsung and Corian Line from DuPont are popular models of this type. 
Both the sink and countertop are made of the same material and fused at the fabricator's place.
Kitchen Sink Types Based on the Material
1. Stainless Steel Kitchen Sink
This is the most affordable and easy to clean sink material. Construction-wise, stainless steel sinks are sturdy and last longer. You will rarely notice any scratches on its surface. 
No matter what type of countertop you have at the kitchen, this type of sink will easily fit on its surface. There are different shapes and sizes to choose from.
These sinks are made of 15 to 24 gauge of steel; higher the number, thinner the surface is.
Due to the overall durability of the material, cast iron sinks are becoming popular over time. 
These sinks have a porcelain enamel finish on most of the parts. There will be no scratches on the surface whatsoever.
The material is easier to clean, and its glossy surface hides streaks as well as water spots.
Due to its weight, you will require to place a support underneath the bowl so that it doesn't accidentally fall because of the pressure.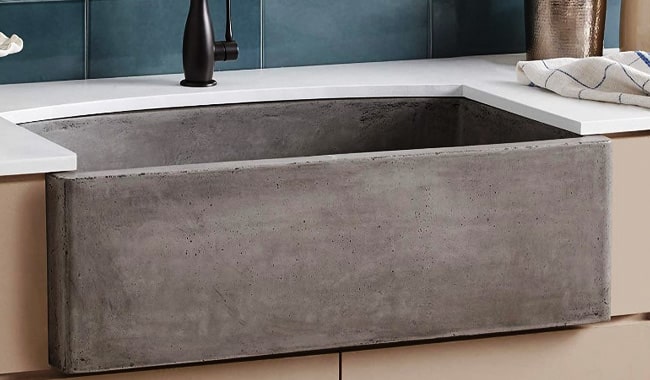 Stone sinks are mostly made of marble and granite. There are some sinks that have petrified wooden construction as well.
If you want your guest to sound 'wow' just by looking at the sink material, this can be a great choice.
Due to pigmentation and variegations of stones, you will find these sinks very unique. 
The designers carved the sinks from a single stone block that has lots of tone and texture variations on the surface.
And the sinks are very durable, and if you manage to do proper sealing, you can rest assured that your sink will be safe from scratches, staining, and chemical damages.
Has your kitchen space gotten an aesthetic interior? 
Installing a composite material sink will suit perfectly in this case. Composite sinks are made of two different materials; acrylic resins and granite stone dust. 
Combining both these materials under high compression brings a very solid and sturdy material to rely on. 
Even under heavy usage, composite sinks look brand new and last longer than conventional materials.
Recommended reading: Granite Composite Vs Stainless Steel Sinks
This material is quite similar to cast iron, but it's more durable. 
The manufacturers turn ceramic clay into sink shape, and later give high heat to make it dry. Once the sink is dry, it gets enamel coating, and further cooked in a kiln. 
Even though this type is more expensive than most others, it provides great aesthetic visuals to the kitchen interior.
Copper sinks are one of the most trendy sink materials because of their beauty and elegant finish. 
However, the material has the tendency to change its color due to a number of factors.
So, if you are looking for a sink that will hold its color and appearance, this one isn't for you. It's solely for those who appreciate the beauty of copper and have no problem changing the sink in anytime soon.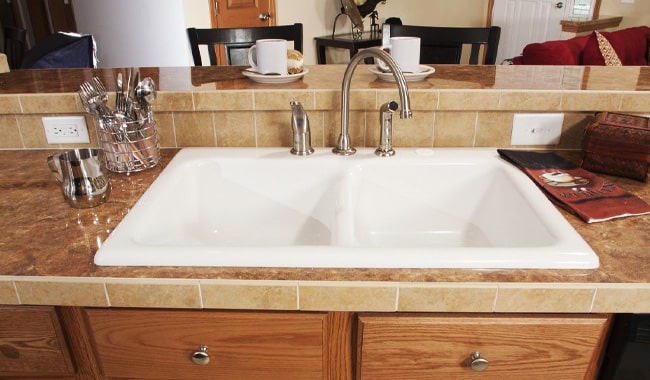 These sinks are made of polycarbonate plastics that come in various colors and shapes. 
The material goes through the molding process, which makes it easier to repair in the future. You can easily remove scratches and stains from their surface due to this.
If you like muffling sounds, this is your type. You will find it softer than most other sink material out there. The downside is that the material isn't durable for long term use.
8. Porcelain Kitchen Sink
With a mixture of glass, metal, and clay, porcelain is a traditional kitchen and bath fixing material. 
These sinks cost way less than stainless steel ones. So, you cannot expect this material to last like steel. 
Having a tendency for coloring too soon is the biggest downside that discourages people from using this material. If you are looking for an inexpensive and temporary solution, porcelain is worth giving a try.
Other Types of Kitchen Sinks
Apart from the types that I have mentioned above, I came across more different types of kitchen sinks that don't fit a certain category. So, I decided to list them separately.
You can easily distinguish one of these sinks by its front wall design. To be able to install it, your counterpart has to have integrated space. 
You can choose to go for country-style mounting on top of the kitchen cabinet or on any freestanding kitchen table that is fixed to the wall.
Farmhouse sinks are large enough to accommodate bigger baking pans as well as a casserole. This sink will add elegance to your kitchen space. 
However, most of these sinks are prone to dripping. More so, it's an expensive option as well.
Recommended reading: Undermount vs. Drop-in vs. Farmhouse Kitchen Sink
Its compact size is ideal for your supplementary food preparation period. These basins come with a single sink most of the time to keep things minimal. You can either decide to get a square or round shaped one.
If you have more space, it can be a great additional sink to your kitchen. During events and parties, when multiple people are in the kitchen, having such a secondary sink helps a lot.
Even though it's a secondary sink, it may cause you to spend a considerable amount of money.
This is the most impressive kitchen sink style you can install in your kitchen. This type includes two basins that are installed at a suitable angle. 
Some models offer you a wide space between the sinks as a drying area. The cornered setup allows you to effectively use the counter corners and eliminates wastage. 
Compared to other types, corner sinks are a bit expensive. The custom cuts for installing the sinks will reduce the overall strength of your kitchen countertop seamed areas.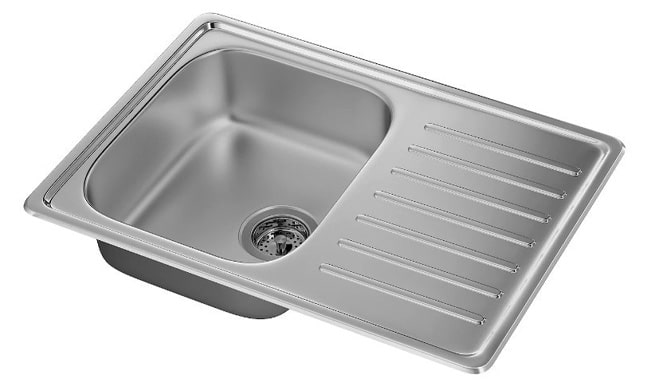 Technically it's a double basin style, but with an extension for draining. 
This sink is for those who have to clean lots of dishes and use more water usual. You can leave the dishes to dry on the drainboard conveniently. 
Due to its effective water drainage system, this is a great option to go with for people living in areas with a low amount of water supply.
Knowing about different types of kitchen sink is a bit overwhelming.
But as long as you consider cleaning intensity, using pattern, kitchen space, interior factors, you will be able to easily select the right sink for your kitchen.
Recommended reading: Kitchen Sink Vs. Bathroom Sink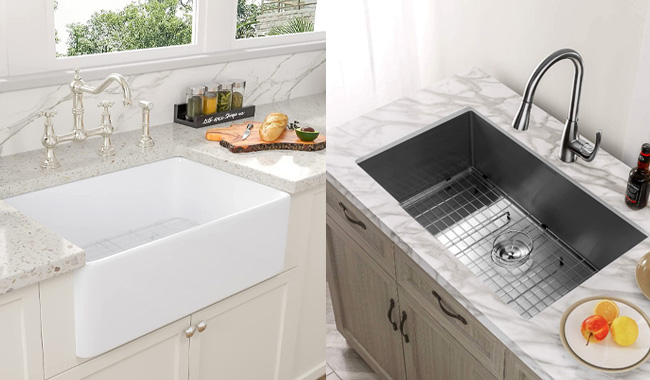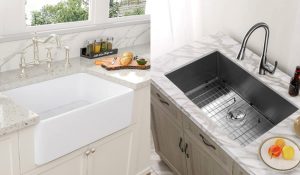 A well-structured and installed kitchen sink has the power to enhance the look of a kitchen. The materials used to make a sink play a
Read More »
Was this article helpful?