The most significant factor for a kitchen sink's overall durability is the material used to make it. However, with the plethora of brands offering multi-variational materials for each of their sinks, it gets challenging to find something tailored for our purposes.
You will be surprised to know that the sink material for the kitchen comes in different types. Yes, some are very durable, while some have the potential to elevate your kitchen's beauty to a new extent.  
Therefore, this article will help you understand some of the best types of kitchen sink materials. 
You may go through the article on kitchen sink buying guide to know more about other important factors of a kitchen sink.
Here are the 10 Best Kitchen Sink Materials:
Stainless Steel
Granite
Cast Iron (enamel)
Fireclay
Quartz
Copper
Stone
Composite
Acrylic
Porcelain
Let's Know Them in Detail with Pros and Cons
Before you build, remodel, or renovate your beloved kitchen, it is a mandatory task that you should look for quality material or else, you will be in jeopardy. Choosing the right material will determine how you will use it in all situations.
For your ease, we have done some research about the materials and came up with the best ones that are currently dominating the market. Check them out.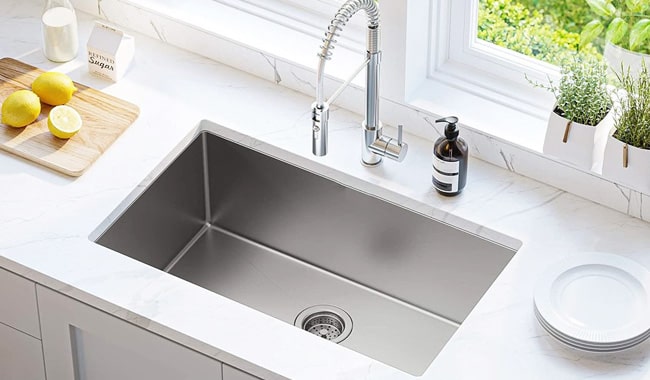 Key Points: 
Most common and durable materials

16 gauge Premium T-304 grade is considered to be an extremely robust material

It can be easily cleaned and does not hold bacteria or stains

Comes in many shapes to suit every kitchen
Stainless steel can scratch easily
Sinks made of stainless steel are the most widely bought because this material is substantially more affordable than others mentioned in this list. 
In addition, it offers benefits that tackle scratch and rust accumulation. For kitchen aesthetics, it is also convenient because stainless steel sinks can blend in with any sort of cabinet.
However, stainless steel sinks need regular maintenance, or else those will not stay durable for a long time. Without cleaning and scrubbing, its self-beneficial features will slowly degrade, and that will expose your kitchen sink's surface to scratches, spots, and rusts.
Generally, 16 GAUGE Premium T-304 Grade Stainless Steel is considered as an ideally strong material. 
Different studies show that the gauge has a small amount of impact on the kitchen sinks' quality. Though stainless steel materials make noise, the manufacturer prevents this issue by spraying padding or coating. Due to that, you will never face this irritating problem.
However, the best brands you may look for to get stainless steel kitchen sinks are "Kraus" and "ELKAY." We go through a comprehensive comparison of these brands in our article on Kraus vs Elkay.
Price range: Most purchased stainless steel kitchen sinks are priced around $120 to $450.
On a side note: Want to know more about the difference between top-grade and low-grade stainless steel sinks, click here.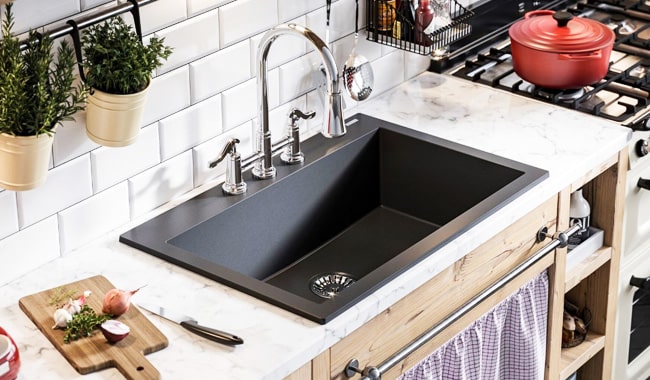 Key Points: 
Extremely strong material with the ability to last a lifetime
It offers a cleaner, more modern look than a natural stone sink
Naturally stain resistant and maintain its looks despite exposure to water, oil and heat
Difficult to install and maintain
Relatively expensive than stainless steel
This one is considered the best kitchen sink material by a lot of professionals because it really looks attractive from the outside and will elevate your kitchens' beauty to a new extent. Everything from texture, color, finishing, etc., will catch everyone's attention within an instant.
Granite is one of the durable materials for kitchen sinks. These sinks are made from hard stones, which can resist heat and mitigate stains. 
In addition, granite comes with a wide selection of colors such as grey, charcoal, black, and brown for decorating your interior.
However, these sinks are relatively tougher to clean and maintain because you need to use appropriate products and follow some guidelines. In addition, these sinks cannot handle excessive heat. They may chip easily if heavy utensils are cleaned without a care in them.
Plus, this material is heavy, and you have to make sure your countertop and cabinet are strong enough to properly support the sink without any issue. 
So, more professional support is needed for installing them. This adds to the material's already expensive price tag and makes it more costly. 
BLANCO is known for making some of the best granite kitchen sinks in the market right now. [ On a side note: to know more about the top kitchen sink brands, click here. ]
Price range: Most purchased granite kitchen sinks are priced around $250 to $600
Recommended Reading: Quartz vs Granite Kitchen Sinks, Granite Composite Vs Stainless Steel Sinks.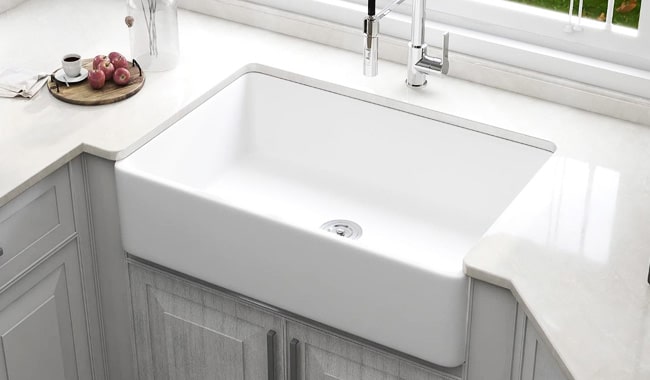 Key Points: 
Aesthetically pleasing
Able to hold up against heat better than stainless steel
Won't scratch or chip easily compared to ceramic sinks
It can easily be cleaned
Very low maintenance compared to other materials
The material of porcelain sinks is not entirely made of porcelain. Instead, it has underlying metal support, with the surface coated in enamel or porcelain. It is available in different colors, textures, mounting choices, and patterns. 
So, you can easily use it in contemporary or traditional modular kitchens.
These materials are dense, hard, and also non-porous compared to stainless steel. Because of this feature, you won't need to maintain it on a regular basis. Porcelain is a bit hard and has fewer pores if you compare it with ceramic. Both sinks are vulnerable to chipping if you use them roughly.
If you accidentally toss your kitchen accessories in the sink, there is a chance that the sink will get damaged. Though the material is solid, the coating is not.
Porcelain is highly resistant to heat and stains. In addition, it can tackle scratches and chips. These sinks have a non-porous surface that allows them to be hygienic without any possibility of forming water spots. 
Though it should be mentioned that, like granite, porcelain is also a bulky material. So, extra professional care is essential to install sinks of that material. However, these sinks are relatively more affordable than Granite kitchen sinks. 
Houzer makes some of the best modern porcelain sinks of the present era.
Price range: Most purchased porcelain kitchen sinks are priced around $200 to $450.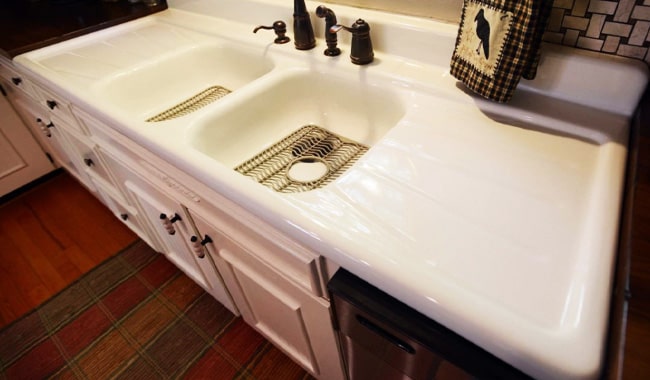 Key Points: 
Very good for the environment because they are recyclable and eco-friendly
You have to maintain it properly if you want it to last long
Try to apply an anti-rust agent every few months between regular cleanings
Their unique design makes cast iron kitchen sinks immune to damages
Cast iron is the heavier, bulkier, and more stylish alternative to stainless steel. Sinks of this material are built for long-lasting and heavy-duty usage. In addition, it offers multiple colors to choose from that will fit your kitchen's appearance. 
Sinks made of cast iron rarely show signs of cracking, chipping, and burning. They are also resistant to stains.
However, cast iron sinks cannot handle scratch and rust accumulation very well. The maintenance of cast iron sinks is relatively easier than stainless steel because it does not need to be taken care of regularly.
Its enamel coating allows it to stay clean all the time, whether dirt or grime comes into contact. Because of that, your kitchen sink surface will look fresh every day.
To be on the safer side, you should clean the area with a mild cleaner, wet cloth, and plain water. Avoid using the kind of abrasive cleaners loaded with chemicals because it will damage the enamel coating and ruin the beauty of the sink forever.
One of the oldest kitchen sink brands Kohler still makes unique cast iron sinks.
Price range: Most purchased cast iron kitchen sinks are priced around $500 to $1300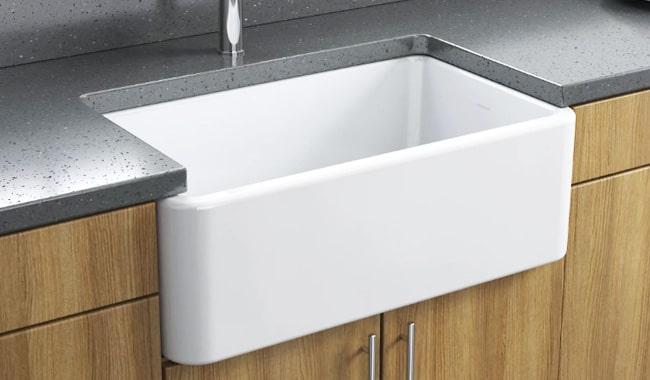 Key Points: 
You won't need to worry about discoloration or corrosion
Fireclay isn't susceptible to rust like enameled cast iron sinks can be
Much easier to handle than other models such as stainless steel or copper sinks
If you have a glass cook top, glass stove top or glass oven door in your kitchen, you should avoid fireclay models
Not recommended for use with any type of synthetic or metal utensils
Now, fireclay has the potential to withstand extremely high temperatures without damaging itself along the process. Thanks to its well-built body, it can survive temperatures between 1800- and 2200-degrees Fahrenheit.
Like porcelain and enamel, fireclay can last for many years with proper maintenance. 
Fireclay also comes with a wide range of choices in texture and design. And it is the most accessible material to clean amongst other materials. 
This material is very popular in the farmhouse or even apron kitchen sinks because of its precise finishing and durability. Some users claim it as the best farmhouse kitchen sink materials and it has efficiently performed well in all conditions.
However, buying sinks made of fireclay can be intimidating because of their price tags. And given that fireclay sinks are heavy, a strong cabinet is crucial to install them correctly. As a result, the installation process will require you to spend some money.
Depending on the brand of sinks, the material may crack easily upon installation, alongside showing visible signs of decay upon lack of maintenance. 
Houzer and Bocchi are notable brands that make high-utility and premium fireclay kitchen sinks.
Price range: Most purchased fireclay kitchen sinks are priced around $300 to $700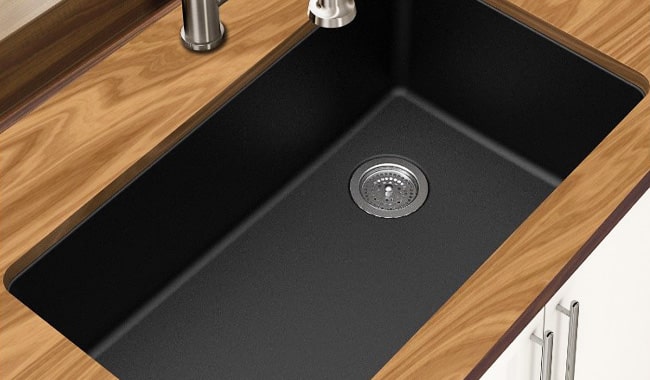 Key Points: 
Scratches are less likely to show up on the surface
Reasonably priced (not as cheap as steel but cheaper than copper)
It can crack under extreme

temperature

Need to refinishing or re-coloring the sink every few years temperatures
Quartz is used to make kitchen sinks that have a modern appearance alongside long-term durability. Like granite and fireclay, this material is also resistant to heat, scratches, and stains. However, the quartz kitchen sinks have a limited range of styles to select. 
When you are finished installing it, you will definitely love its beautiful outlook. Plus, it is considered one of the hardest materials that have the capability to withstand all kinds of impacts.
Besides, its density is very high, and also, it is non-porous. As a result, you won't have to go through the problem of cleaning because the scum or dirt won't get stuck in your sink.
In addition, it has bacteria and odor-resistant properties, along with being non-porous. It also has inherent soundproofing facilities. Unfortunately, it becomes weak and gets damaged if the temperature gets too high. 
If you will drain rice or pasta, ensure that you are running cold water down the sink to neutralize the temperature. And since the material has a darker shade, its decay becomes eventually visible after significant usage.
Like stainless steel kitchen sinks, ELKAY is also known for making beautiful Quartz kitchen sinks.
[ To know more about the difference between stainless steel and quartz, read this ]
Price range: Most purchased quartz kitchen sinks are priced around $300 to $650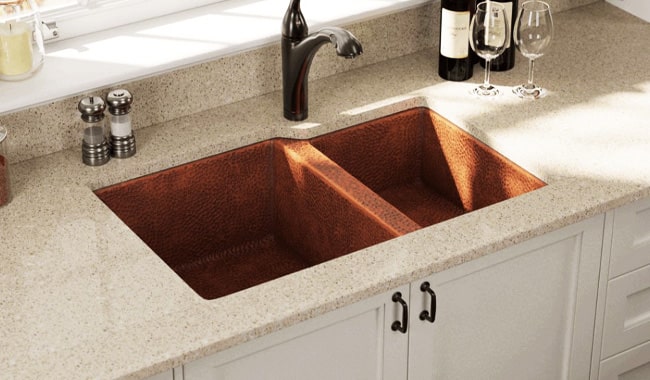 Key Points: 
Extremely durable material
Copper provides excellent heat retention
Most expensive materials for kitchen sinks
It will rust if not treated with a protective coating
Most copper sinks are sold with an enamel coating that can be wiped clean using warm water
Copper is generally used to make high-end expensive kitchen sinks. It has an aristocratic vibe, and the material is molded into customized shapes. Apart from its elegant outlook, copper has a high thermal resistance, and it remains immune to corrosion and rust. 
In addition, copper sinks are also suitable for heavy-duty usage and come with the beneficial features of being scratch and stain-resistant.
Furthermore, it has powerful antimicrobial properties, which prevent bacteria from accumulating on the sink surface.
Natural variations of copper are available as textures for copper sinks. Most importantly, copper is regarded as one of the only materials that can eradicate germs if exposed to it. It boasts a possibility of eliminating up to 99% of germs.
However, problems like natural discoloration can take place upon long-term usage of copper sinks. With time, copper starts to develop a blue-green color. This is a corrosion process and is called Patina. 
Alongside that, this is one of the most expensive materials for any kitchen sink. Sinkology makes most of the best copper sinks in the current market.
Price range: Most purchased copper kitchen sinks are priced around $700 to $2000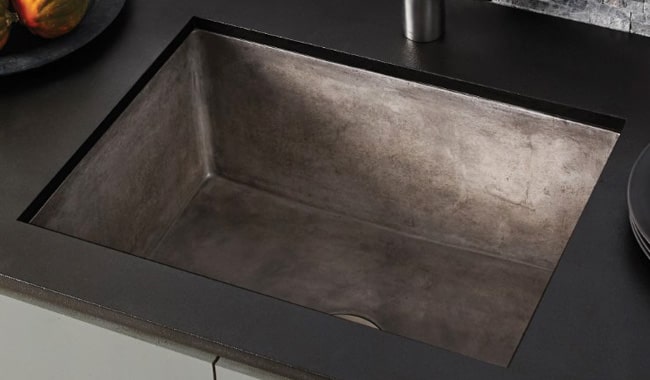 Key Points: 
Durable and not prone to damage or scratches
Heavy and require a stronger structure to support the weight
Usually limited lifetime warranty against color fading
Extra care needed for maintaining their natural look
Installing natural stone kitchen sink materials can come with some difficulties
Sinks made of natural stone are carved out into customized shapes to fit any sort of interior. So, this material offers versatility to a large extent. In addition, it is highly resistant to heat since stone is a poor conductor to it. 
Also, this material is durable and robust enough to resist staining, chipping, and cracking, which makes it easy to maintain.
Moreover, you can easily cut it to any size of your preference so that you can fit it into your cabinet and countertop. And the material itself is one of the heaviest on this list. 

However, the problem with sinks made of stone is that discoloration and oxidation can eventually occur since the material is organic. This material gradually darkens with time, and to get a beautiful result, you have to polish the surface with mineral oil. 
Brands like Vermont Soapstone make customized stylish stone kitchen sinks.
Price range: Most purchased stone kitchen sinks are priced around $600 to $1500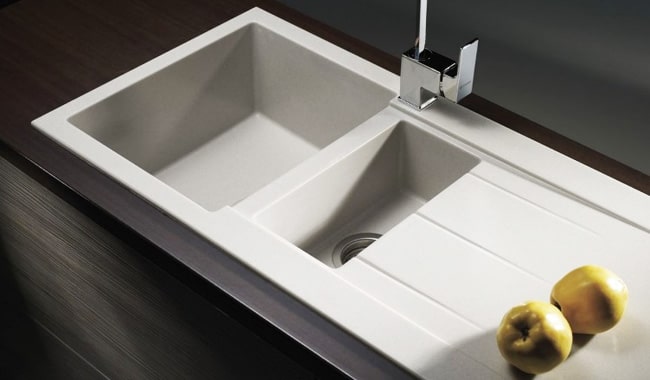 Key Points: 
Made from recycled materials that mimic natural stone products
Lower cost than other materials
Environmentally friendly alternative to traditional stone
May get damaged more quickly than other types
Don't count on them for a commercial kitchen
A combination of multiple durable materials such as granite and quartz makes a composite material for kitchen sinks. This material is in high demand among people because it has a perfect balance of beauty and performance. 
If you want your sink to have a presence of granite but you are on a tight budget, this excellent material can make your wish come true.
These sinks look more stylish because of the variation of numerous textures used to make them. In addition, it offers more beneficial features as it takes the properties of various materials.
It can tolerate extreme abrasion, and heat with ease. Plus, it keeps the surface free from dirt and grime all the time. Since it remains spotless, you don't need to scrub off the stains every day.
However, composite sinks can break down easily if it is not bought from the right brand. And these also have the same backlashes of the materials combined to make it. 
Price range: Most purchased composite kitchen sinks are priced around $250 to $450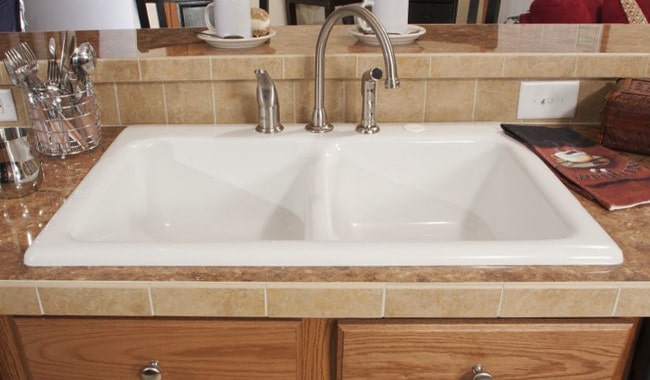 Key Points: 
Acrylic can be easily cleaned with hot water and dishwashing soap
Available in a wide range of colors
The design options are virtually endless
It will cost much less than many other materials
Less resistant to scratching than other materials
A variation of plastic known as tough polycarbonate is what we call an acrylic material for kitchen sinks. This can be molded into any shape, fitting any kitchen interior. 
Acrylic sinks are generally lightweight and are reinforced with other materials like fiberglass and resin. As a result, its surface is resistant to stain and spot formation. Surprisingly, it is giving tough competition to the others because it is affordable, has a pleasing outlook, and requires a minimum amount of maintenance.
You won't be able to question its durability because it lasts for a long period of time. Its core material is a mixture of mineral compounds and acrylic resins, and polyester. Keep in mind that the addition of polyester is optional, and it depends on the situation and purpose.
Luckily, the material is non-porous, so it won't accumulate dirt or bacteria. Furthermore, it won't give out any type of pungent smell, which is a rare feature that you won't find on other materials.
One thing you have to be careful about is that you have to handle it smoothly all the time because there is a possibility that you might scratch it if you don't take this factor into consideration.
Therefore, cleaning sharp utensils is not encouraged in acrylic kitchen sinks. Along with that, the material may burn and melt upon exposure to fire. 
Vigo and Kohler make convenient acrylic kitchen sinks that are positively rated.
Price range: Most purchased acrylic kitchen sinks are priced around $200 to $450
How to Choose the Best Material for Your Sink?
Here are some of the tips you can follow so that you don't face a problem when choosing the best sink material for the kitchen.
Here are five questions you should ask yourself to get the suitable material for your kitchen sink:
What Sort of Chores Will You Do?
Firstly, it is crucial to know what you will do in your kitchen most of the time. If your chores involve heavy-duty activities, you can settle for any material mentioned in this list except acrylic kitchen sinks. 
Or, if your tasks involve boiling water a lot, you may prefer to get a kitchen sink that is resistant to heat like stone or fireclay.
How Long Do You Plan to Keep a Kitchen Sink?
A speculated timeline can help you cut costs. If you intend to use a kitchen sink for 2 to 3 years, getting a stainless steel kitchen sink will be enough. However, for long-term usage, durable materials like granite are preferred in a kitchen sink. 
Do You Have any Style Preferences?
The appearance of your sink enhances your mood when you are doing chores in the kitchen. If you prefer modern and simplistic-looking kitchen sinks, getting sinks made of quartz is a reasonable option. And suppose the style is not a priority for you. 
In that case, Getting a stainless steel kitchen sink will be enough if you can settle for materials like stainless steel and iron cast. 
Do You Like Maintenance Tasks in Your Kitchen?
Kitchen sink maintenance for many people is an annoying activity. If you do not want to bother with regular maintenance of your sink, then getting materials with inherently beneficial features like dent and scratch resistance is encouraged. 
But sparing some time for maintenance can make any material last longer.
Lastly, all materials are not accessible at the same price range. If you have a high budget, you should opt to get kitchen sinks that are durable and resistant to many damaging factors. The style and appearance of the sinks will automatically add to your purchase. 
However, at a standard, you will have to make inevitable trade-offs, which could be between style and utility or durability and maintenance. 
The suitable material for your kitchen sink is the first indicator of a successful purchase for any buyer. So, putting sufficient emphasis on it is essential because it saves you from unexpected troubles and does not waste unnecessary money.
Tips on Choosing the Right Sink Material
Here are some of the tips you can follow so that you don't face a problem when choosing the right sink material for the kitchen.
Tip 1: Check Your Family's Daily Routine in the Kitchen
You should check your family's daily habits in the kitchen, and according to that, you will get an idea of which sink materials will be the best for your home. You can start with checking the purposes like cleaning of pots or pans, dishwashing, etc., of your family.
Not only that, you should check what you are doing in the kitchen sink every day. All this information will leave a clue, which you can grab to purchase the best material.
If your family needs to do heavy washing regularly, you should opt for the granite or stainless steel one. For this purpose, you should definitely avoid the kind of sinks that are made of porcelain and enamel because these are prone to scratching.
Tip 2: Go for the Right Material If Your Sink Is Exposed to Hot Liquids
Not all materials are safe from hot substances. Some remain immune, while some get damaged instantly when they are exposed to high temperatures.
If you use hot substances or liquids on your kitchen sink for cleaning purposes, go for the material that is non-porous and is resistant to scratch and heat. You can select copper, granite composite, stainless steel, or fireclay kitchen sink material to tackle the problem.
How to Buy a Kitchen Sink?
As you know, the quality of the kitchen sink and its material are directly connected with each other. If you prefer the best kitchen sink material, you have to make sure your kitchen sink has all the necessary features you were looking for in the first place.
Below are all the factors you should consider before you purchase your ideal kitchen sink. Keep reading.
Select Number of Bowls (Single or Double Sink Bowls)
This factor is an important one because it determines the ease of your cleaning. If you do a lot of cleaning every day and need to load all the kitchen accessories in the sink simultaneously, you should consider purchasing a kitchen sink with two bowls.
You should use one of the sides for washing and the other for cleaning the food. In this way, you will be able to save your time and physical effort that you can now invest in other purposes.
If you have a large kitchen and you have available space, you can go for a large sink. This size will help you out in many ways that you can't even imagine.
You must be aware of your cabinet size, or else you might purchase a sink that will create a big problem in your kitchen. If you plan to get a farmhouse or undermount sink, you should definitely measure the size of your beloved cabinet in advance.
Use a measuring tape and measure the width. You can note down the size so that you don't forget about it when you are heading out to the market. Plus, you can consult with the supplier regarding this aspect, and they will give you the kind of sink that will perfectly fit your kitchen according to your measured width.
Another option you can apply is to purchase a custom-sized cabinet. Though this will add extra money to your overall investment, you can still give it a try if budget is not an issue for you.
Know the Depth of the Countertop
You have to measure the countertop depth so that you can find out the sink depth and width. Normally, countertops that have a backsplash generally limit the sink space by a small amount. So, keep this factor in check when you are checking the sink catalog.
Recommended reading: Kitchen Sink Vs. Bathroom Sink
There are a lot of questions from people regarding sink materials. You will get tired if you start researching all of them from multiple websites.
So, we have gathered all the common questions for your benefit and have included them below.
Which one is the best kitchen sink material?
If you consider durability, low maintenance, and investment, stainless steel successfully fits the puzzle.
You might be interested in the quartz composite or granite materials since they are also strong and won't scratch or dent. But they failed in one area, and that is the price. These two materials are a bit expensive compared to the stainless steel ones.
So, if you are okay with increasing your budget and go for a durable and beautiful material, quartz composite or granite can be your best friend. However, you can opt for the stainless steel material if money is your prime factor.
Do stainless steel sinks look old?
No, it doesn't look old. Stainless Steel is mainly popular because it comes with a hassle-free installation process, requires less maintenance, and is affordable. Though it is not that stylish like the other materials, you will never be disappointed with its features.
Nowadays, manufacturers prefer to apply heat coloring on the stainless steel to upgrade its look. This type might cost you a bit if you are interested in availing this new feature.
Which material is the easiest to clean?
The material that has a non-porous surface is the easiest to clean. This is because they don't accumulate dirt and won't smell bad. Materials like solid stone, copper, fireclay, quartz, graphite composite, and solid-surface acrylic resin will be the smartest option if you prefer to clean the surface as fast as possible.
What kind of kitchen sink lasts the longest?
Granite kitchen sinks are the most notable for their overall lifespan. These sinks can last for multiple decades after installation.
What are most kitchen sinks made of?
Most kitchen sinks are either stainless steel or composite because of the accessible price range and standard design.
What is the most accessible sink to keep clean?
Definitely, porcelain and fireclay sinks are the easiest to clean because of their non-porous surface and inherent benefits.
These are all about the sink material. As this is an informative article, you should go through all the sections a couple of times. In this way, you will get a good grip on it.
Share this article with your loved ones so that they also can choose. Best of luck!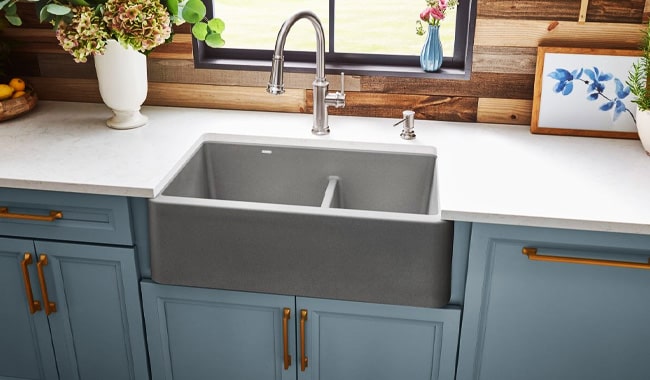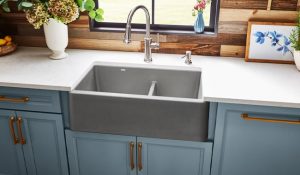 Till today I had no idea that there are so many types of kitchen sink available in the market. If you are about to renovate
Read More »
Was this article helpful?