When it comes to kitchen sinks, the choice seems to be endless. There are fireclay, porcelain, copper, stainless steel, and many more material choices. While most are expensive and often exude luxury appeal, stainless steel remains a budget choice.
And that brings us to the important question, are stainless steel kitchen sinks out of style? The short answer is no. In fact, it's the most widely used commercial-grade solution for kitchen sinks out there.
Several factors contribute to the steady popularity of stainless steel kitchen sinks. Let's have a look.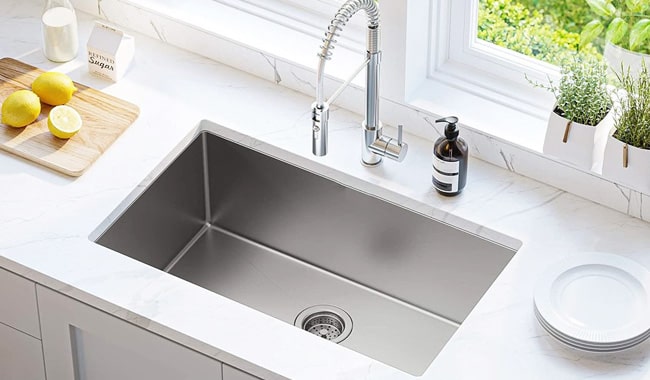 Are Stainless Steel Sinks Out of Style?
As we've already mentioned, stainless steel sinks are in no way out of style. In fact, it is emerging as a timeless choice, just like the contemporary fireclay or the porcelain option. The main difference is that stainless steel costs a fraction of what they cost and offers more durability.
The National Kitchen and Bath Association revealed that in fact, stainless steel sinks are the most commonly used kitchen sinks out there. And part of it is due to the customization, ease of maintenance, and durability that is brought by the stainless steel material.
A steady pattern has been seen in the adoption of stainless steel sinks in median-income households. That is most middle-income and upper-middle-income households choose between a farmhouse style or under-mounted sinks. Regardless of the type, the material choice consistently lists stainless steel on the top.
What is the Most Popular Kitchen Sink Style?
The NKBA data shows that there isn't really a single winner when it comes to the kitchen sink style. That is mostly because the choice of sinks differs not just in income level and choice but in the kitchen design and overall ergonomics.
However, in terms of installation numbers, self-rimming sinks come out on top closely followed by under-mount and farmhouse styles.
The self-rimming kitchen sinks mostly come in stainless steel builds. These types of sinks are easy to use, maintain and install. They also tend to be lightweight yet durable. Self-rimming sinks also have a reputation for lasting a long time.
Recommended reading: Granite Composite Vs Stainless Steel Sinks
Reasons Why Stainless Steel Sinks Are Not Out of Style or Still Popular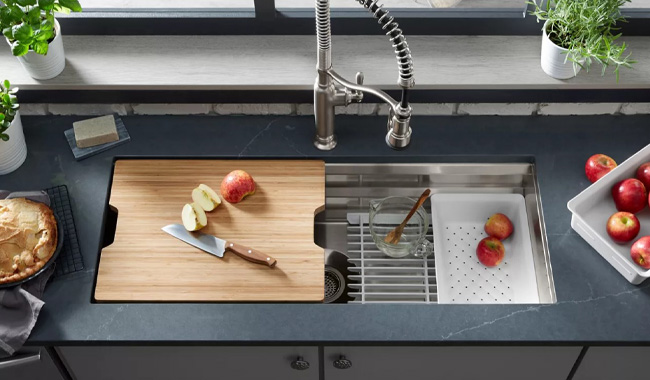 Stainless steel sinks have been available since sinks became a kitchen essential. At that time, it was simply because the material was readily available and it fits almost every household ergonomics.
But there are other factors as well that see stainless steel sinks to be still in vogue. Let's have a look.
Sleek Looks with Great Finish
Most stainless steel sinks come in either glossy shine or brushed matte finish. Regardless of choice, it adds a sense of quality and attractiveness to the kitchen. The finish and usability easily make it a top choice.
Stainless steel sinks are incredibly durable. They are almost on par with cast iron ones. One aspect where the stainless steel sinks edge over the rest is that it doesn't chip at all. So the durability remains unparalleled here.
Stainless steel kitchen sinks are versatile in the sense that they can come in every shape and size imaginable. The material is easy to craft and mold in the o desired size. Not to mention the different finish and style options.
Fulfilling Customer Expectations
What does the customer expect from the kitchen sink? In our research, we've seen that the most important aspects are often the looks and durability with maintenance coming a close second. Stainless steel sinks check all the boxes with ease.
Wide Range of Options With Lots Of Brands
The sky is the limit when it comes to stainless steel sinks and brand choices. Be it under or overmount, farmhouse, apron style, or self-rimming, and every major kitchen style is replicated in stainless steel material under different brands. It makes them easily available and provides a durable choice.
Stainless steel has historically been a cheaper material compared to porcelain or cast iron. It's also far more durable than high-end options like granite or ceramic. The affordability factor mixed with its other benefits makes the stainless steel sinks an easy choice.
Easy to Maintain and Clean
Stainless steel sinks are also reputed to hold their shine and finish for a long time. This makes them easy to clean and maintain over the years.
Material-wise, stainless steel is 100% recyclable. Meaning there isn't any waste accrued from this type of sink. Long-term durability means you won't have to frequently change the sink. That also adds to the sustainable usage factor.
Stainless steel sinks are made from a single mold without any external enamel coating. As a result, there's virtually no chance of chipping or cracking. The durable material can be bent or dented, but there's no way it will chip or crack over time.
Why Stainless Steel Sink Will Always Be in Style
Stainless steel sinks will always be in style because of the customization option it brings. No other sink material out there can replicate the customization capability of stainless steel sinks. So as time goes by and new styles come in, stainless steel will be an obvious choice because it can be molded into any form and size.
So there's no way stainless steel sinks will ever be out of style.
Do Stainless Steel Sinks Add Value?
Stainless steel sinks bring a unique combination of value over money. As a consumer, the first priority is something that will last a long time and cost significantly less.
Think of it like this, would you rather spend your hard-earned money and keep changing sinks at regular intervals? Or would you rather buy and stay worry-free for several years?
The fact that the latter is the obvious choice is exactly why stainless steel sinks will always hold their value proposition.
Pros and Cons of Stainless Steel Sink
Just like there isn't any unmixed good in this world, stainless steel also isn't without its drawbacks. While the cons in no way equate to the myriad of pros, it is still there and definitely something to take note of.
Are Stainless Steel Kitchen Sinks Right for You?
See, there's no definitive answer to this. It comes down to the setup of the kitchen, the budget, and the look and feels you want in your sinks. Say you're someone who owns a villa or a cottage and want a luxury kitchen fix. In that case, stainless steel won't be an ideal choice.
But if you're looking for a compact utilitarian solution for any budget range, then stainless steel becomes the obvious choice.
Well, now that you've learned everything that is to know about stainless steel kitchen sinks, let's move on to see some frequently asked questions regarding the same.
What is the current trend in kitchen sinks?
Currently, self-rimming kitchen sinks are in style with trends being medium to large sizes depending on the household.
Do all stainless steel sinks scratch easily?
Not really. Stainless steel sinks are susceptible to scratching but not that easy. It takes considerable weight to make a dent and that holds for any stainless steel sink.
Which is better single or double kitchen sink?
It depends on the counter size of the kitchen. If you have a large kitchen counter, then obviously double kitchen sink will add more value.
Do farmhouse sinks add value?
Yes, they do. The deep sink combined with an apron style works well for a large kitchen with frequent sink use.
What is the appeal of a farmhouse sink?
The appeal of farmhouse sinks has to be their luxury. They are often large and deep, which brings a statement to the kitchen. Depending on the material, farmhouse-style sinks can blend well with the setup all the while bringing utility to the kitchen.
To wrap things up, stainless steel kitchen sinks hold up in any form of cost-benefit analysis. They look good, are durable, and can be used in a range of styles. However, the best thing about stainless steel kitchen sinks is that they can blend in any kitchen, be it a compact or a large one.
While it certainly has its drawbacks, stainless steel kitchen sinks are still the obvious choice for many because of the cost and long-term sustainability.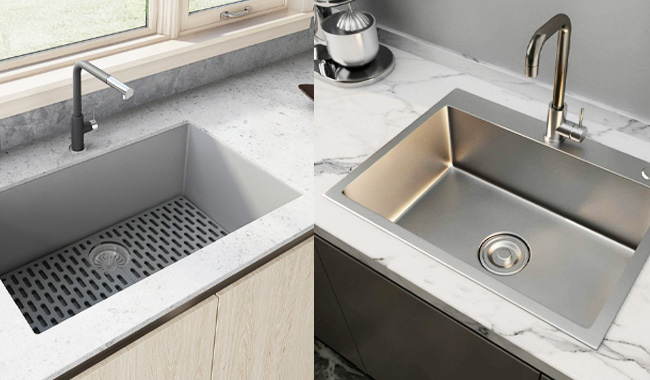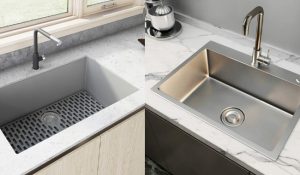 Sinks are permanent fixtures in your kitchen, so a little bit of caution before the purchase brings fruition. Both granite and stainless steel make a
Read More »
Was this article helpful?