It is tough to imagine a house without a kitchen, right? Imagine you are planning to make a special meal and you have no sink in the house! This is also equally unimaginable! So, a home with a sink gives us the whole feeling.
But purchasing a suitable sink is not an easy job! There are always considerations and options about the three major types of sinks: undermount, drop-in, and farmhouse kitchen sink.
Each type has unique features and advantages. To make a proper choice, you must compare and analyze their cost and benefits. To present all the required information about undermount, drop-in, and farmhouse sink is the objective of this article. It covers the following topics:-
Types of the kitchen sink (undermount, drop-in & farmhouse)

Distinguishing factors

Pros and cons of each type of kitchen sink

Answer to some frequently asked questions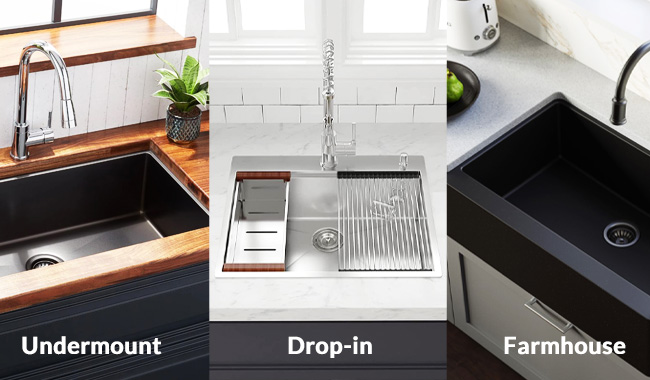 What Actually Undermount, Drop-in, and Farmhouse Kitchen Sink are?
The undermount sink is one more popular and widely used kitchen sink. It has a similarity to a drop-in sink. 
However, the uniqueness of the undermount sink is that it is placed on the hole of the countertop. The associated rims fix the sink below the counter. This type of sink is most suitable in the houses where each square foot needs to be utilized.
This is the sink that is just dropped on the kitchen's countertop, for which it is called a drop-in sink. A drop-in sink looks simple, and there is no hassle in the installation process. 
You can install and use a drop-in sink even if you are not an expert in plumbing activity. Most people choose a drop-in sink for this feature when they need a kitchen sink.
Farmhouse (Apron Front) Sink
The third popular choice of sink is the farmhouse sink. It has a similarity to the undermount sink. Some notable features of this sink are –
A rustic aura
Outstanding look
A bigger basin
Undermount vs. Drop-in vs. Farmhouse Kitchen Sink (Main Differences)
Now Let's Know The Differences in Details-
➤ Winner: Drop-in
Drop-in sinks are popular among customers worldwide as it needs less cost and have no complex installation procedure.
Moreover, most of the drop-in sinks are made of stainless steel, making them easy to carry. But when the budget is not an issue and the sink needs to be a look enhancer of a house, undermount or farmhouse sinks get more popular.
➤ Winner: Undermount
Compared with a drop-in sink, an undermount sink has more space. This is because it has no open rims. The basin is deeper than the drop-in sink too.
So, in that comparison, farmhouse sinks are also deeper and bigger, but farmhouse sinks being a special kind of sink holding a rustic feel, not everybody will choose to buy one. So farmhouse sinks are also a kind of undermount sink.
Recommended reading: Best Undermount Kitchen Sinks for Granite Countertops
➤ Winner: Drop-in
Although all three types of kitchen sinks are versatile, the drop-in sink is more versatile than the others. This is so because a drop-in sink or overmount sink is installable on any given type of countertop material. But undermount sinks need to be attached to the hole on the countertop and so not every material suits this. 
Considering the look and style, all three types – drop-in, undermount, and farmhouse sinks have significant variations.
➤ Winner: Drop-in
A drop-in sink is an outright winner in the installation process. In the undermount or farmhouse sinks, you need to make a hole on the countertop. Then you can place the sink with the help of materials to fix it properly. 
Finally, you need to wait to sit it properly. This process requires special knowledge and expertise. In the case of a drop-in sink, you can put it in the right place and use it easily without any special knowledge.
➤ Winner: Farmhouse
Yes, farmhouse sinks are more durable than all other types of sinks. Generally, between drop-in and undermount sinks, undermount is durable because of its materials. Stainless steel, Granite, Fireclay, and Copper are used to make undermount sinks.
On a side note: Want to know the difference between stainless steel and granite kitchen sink? Then, click here.
But when comparing farmhouse and undermount sinks, farmhouse sinks win over undermount sinks because farmhouse sinks do not tend to crack. As a result, there is hardly any chance of water damage from cracks. In addition, it is easier to repair than undermount and drop-in sinks.
➤ Winner: Undermount
An undermount sink is too easy to clean. There is no open rim between the counter and the sink; wiping out dust and soaking is very comfortable. 
You don't need to force it to make special preparation for cleaning an undermount sink. The dust and unwanted elements are accumulated below the sink from where you can easily collect and dispose of them. 
In the case of drop-in sinks, the open rims hinder the smooth cleaning process. As it is an overmount sink, the whole part is on the countertop, so you need to clean it thoroughly in every corner that requires more splash of water.
➤ Winner: Drop-in
A drop-in sink has a more competitive edge over an undermount and farmhouse if you consider its price. An undermount or a farmhouse sink needs more money to purchase and install. 
Whereas a drop-in sink is less costly, and the setting is easy as well. A drop-in kitchen sink can reduce the minimum $100 of your budget.
Pros and Cons of Undermount Kitchen Sink
Pros and Cons of Drop-in Kitchen Sink
Pros and Cons of Farmhouse Kitchen Sink
Undermount Vs Drop-in Vs Farmhouse Kitchen Sink: Which One Should I Buy?
Best Kitchen Sink Option on Low Budget
Considering the above factors, a drop-in kitchen sink is the best choice if you have a tight budget. The drop-in stainless steel sink is the apt choice if you plan to buy a kitchen sink within your budget.
Price starts from more or less $100. The upper limit of the price increases when different other materials like iron or fireclay are used.
Best Kitchen Sink Option on Mid Budget
If you are in mid-budget condition, an undermount kitchen sink is right for you. The price of an undermount sink, including the installation, can be $500 approximately. This price is justified as the undermount sink looks more attractive and sleek.
Best Kitchen Sink Option on Luxury Budget
A farmhouse kitchen sink is appropriate for customers with a luxury budget. However, a high-end farmhouse sink costs $2000. As a bigger farmhouse sink looks extraordinary, the high price is justified.
Which is better, an undermount sink or a drop-in sink?
Ans: It is an undermount sink that is better because of its higher resale value, sleek look, durability, and comfort of use.
Are drop-in sinks out of style?
Ans: No, drop-in sinks are not out of style. It can be less popular than undermount if resale value is considered.
Can you undermount a drop-in sink?
Ans: Yes, it is possible to undermount a drop-in sink
Are drop-in sinks outdated?
Ans: No, because it is easy to install, less expensive, and flexible.
Can you replace an undermount sink with a drop-in?
Ans: Yes, there is a way to replace an undermount with a drop-in sink.
Can an undermount sink be removed from granite?
Ans: Yes, it can be removed but should be done by a professional.
Can an undermount sink be replaced with an Overmount sink?
Ans: Yes, an undermount sink can be converted or replaced with an overmount or drop-in sink.
Are farmhouse sinks undermount or drop-in?
Ans: Undermount
Can a farmhouse sink be a drop-in?
Ans: With some preparation, a farmhouse sink can be a drop-in.
So, deciding between drop-in vs. Undermount vs. Farmhouse kitchen sink is not challenging but strategic. You need to focus on your criteria and desire and choose among the types of sinks for your kitchen. It is impossible to say that one particular sink is better than all others. 
These three types have their winning points and not so glowing points. So, the final call to buy one depends on the customer. We strongly hope that the facts of this article will be helpful for you.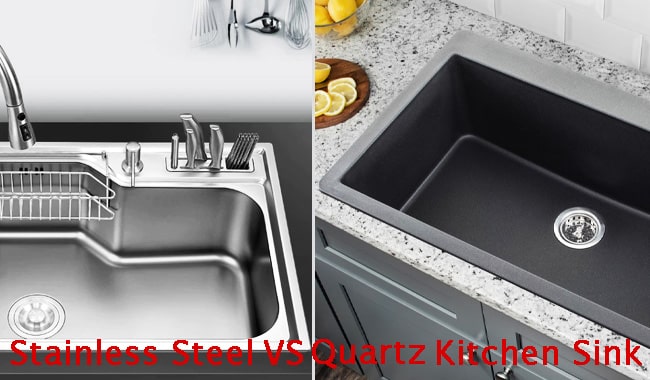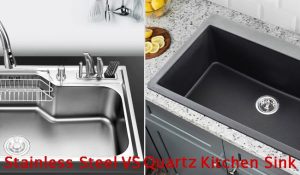 Are you planning on renovating the kitchen? You may have had some thoughts concerning the sink. And it's quite evident that the most frequently used in
Read More »
Was this article helpful?