Right now, Kraus is one of the best brands that guarantee safe purchases for homeowners. Most of its kitchen sinks are value for money products. 
This article will discuss Kraus kitchen sinks in-depth for people looking to buy a good-quality kitchen sink for their interiors. 
Kraus is one of the most celebrated modern kitchen sink brands. It is known for providing a vast catalog of spacious sinks at a conventional price. For an ordinary homeowner who can spare some time for maintenance, Kraus is a fitting brand.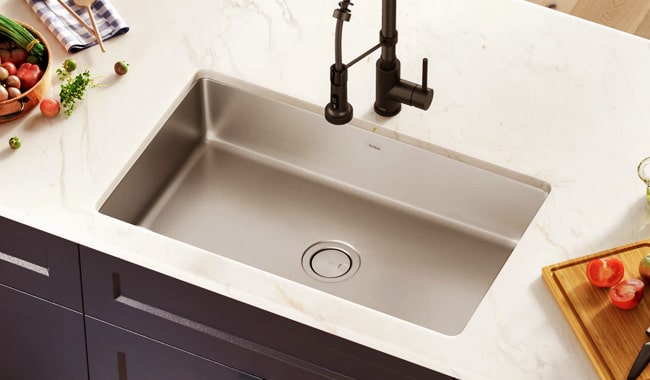 Our kitchen sink buying guide showed you 11 essential factors to look out for when buying a kitchen sink. So lets us  go through that list again:
Sink Type
Size and Shape of Sink
Sink Bowls
Installation
Material
Accessories
Cabinet Size
Style
Brand
Cost
Maintenance
We'll go one by one to see how Kraus kitchen sinks play out on each of these factors.
Kraus Kitchen Sink Review in Details
Kraus sells mainly the following types of kitchen sinks:
Stainless Steel Sinks
Farmhouse Sinks
Workstation Sinks
Most stainless steel sinks of Kraus are top-rated by users and are comparatively better than its other types of sinks.

The price range of those sinks is proportionate to the features and accessories they are offering. Two of the best-selling stainless steel sinks of Kraus are 
[ P.S. Want to know more about Kraus KHU100? To find out, click here. ]
However, Kraus falls behind on its other types of kitchen sinks. Those are either too expensive or below par in quality compared to other brands.

For example, the Kraus Turino Fireclay Farmhouse Kitchen Sink is finely crafted and offers all the relevant optimizations for a buyer. 
But the price tag is too high, and you can get similar or better kitchen sinks at a lower price range from other notable brands.
Stainless Steel kitchen sinks of Kraus are its best-selling catalog for having.
Kraus falls significantly short on the sales of its other types of sinks because of
Kraus kitchen sinks are generally spacious and have the traditional box structure build. The average size of most of its top-rated sinks is around 30 inches in width. 
This huge size creates an uninterrupted workspace for people to do their chores. However, it also has a range of medium and small sinks, both single and double bowls.
The problem with the large size of Kraus sinks is that it is hard to maintain. Given that the material of Kraus is prone to be scratched, daily maintenance is essential, or else the entire surface could look visibly impaired. 
Alongside that, cleaning the edges of its sinks is rather difficult because of their structure.
Kraus offers a vast catalog of both single and double bowl sinks. Most of its double bowl sinks are shaped symmetrically and have adequate space as its single bowl sinks.
So, doing tasks uninterruptedly on these is possible. An exclusive benefit of the double bowl sinks of Kraus is that most of those are designed with a low center divider. This makes multitasking seamless. 
The "Kraus KBU29 Undermount 50/50 Kitchen Sink" is an excellent example of a spacious and high-capacity double bowl kitchen sink by Kraus.
[ NB. If you are interested in knowing the difference between single and double-bowl kitchen sinks, click here. ]
Recommended reading: 50/50 vs 60/40 vs 70/30 Kitchen Sinks
Kraus sinks also come in two types of installations.
Drop-in Installation
Undermount Installation
Kraus has some of the best drop-in kitchen sinks that are especially easy to maintain and clean. In addition, its under-mount sinks have all the expected features of a well-made kitchen sink.
However, what sets aside the drop-in sinks to be more special is their pure accessibility. Unlike many other sink brands, Kraus's drop-in sinks barely need professional support to set up. And that is an inherent benefit that comes with its affordable price range.
Buyers mention usual problems, such as open edges in the setup for both structures.
[ Side note: Do you have a granite countertop? Don't know how to install an undermount kitchen sink to a granite countertop? To solve it, follow this step by step process ]
Recommended Reading: Undermount vs. Drop-in vs. Farmhouse Kitchen Sink
The stainless steel kitchen sinks of Kraus are amongst the highest quality sinks in the market. Those have an indestructible construction that makes the sinks durable for long-term use. 
In addition, the material has a commercially graded brush finish. This allows the stainless steel kitchen sinks to be resilient to rust, corrosion, and stains. 
However, regular maintenance of these material sinks is essential because they are notorious for showing scratch signs.
The fireclay sinks of Kras have a non-porous surface, which makes them significantly easy to clean. And the sinks made out of granite are built to be solid and heavy sinks that will last decades.
The major problem with other materials for sinks of Kraus is those are underperforming compared to other competitor brands in aspects of inherent benefits such as self mitigatory features.
Kraus offers a wide range of essential accessories that boost your overall kitchen productivity. None of these accessories are extras and are made of a similar quality as the sinks themselves.
Some of the accessories it provides are:
 Strainers
 Sink Grids
 Baskets
 Racks
 Hole
Covers Drainers
The standard cabinet dimensions are 24 inches in depth, around 40 inches in height, and near 25 inches in width. This does not apply to a lot of Kraus kitchen sinks since they are spacious and have a width of more than 30 inches. 
So, getting a bigger cabinet with a width near 40 inches is an ideal size for Kraus kitchen sinks.
Kraus does not focus much on the appeal and aesthetics of its kitchen sinks.
However, their sinks still look modern and appealing. The grayish colors of its stainless steel kitchen sinks have universal adaptability, so it can fit in any sort of kitchen interior, starting from a home to a five-star restaurant. 
However, the fireclay and granite sinks have a limited range of styles and color palettes.
As a brand, Kraus is very reliable. It is one of the best modern sink brands in the market right now. 
And the reason behind having such a good reputation is not only for its fabulous catalog of kitchen sinks but also for its accountability and responsibility towards its customer base.

Kraus does not discriminate against its customers. Their customer support is flexible in helping buyers. They take all concerns seriously, whether it is related to replacing a sink, maintaining it, or even a small issue.
Most of Kraus kitchen sinks have a price tag that is around the standard range.
Small and utility kitchen sinks of Kraus are priced around the USD 200 mark.

Its top-rated stainless steel sinks cost around USD 200 to 400. 

Its undermount sinks price starts from USD 400

Fireclay, granite sinks of Kraus have a price range of USD 400 to 900
Regardless of its material, regular maintenance of Kraus sinks is mandatory. 
Although they have their inherent features to resist damage, without adequately cleaning the sinks of Kraus using microfiber cloths and scrubs, they may accumulate scratches and spots quickly.

Recommended reading: Things You Need to Know About Brand Kraus
Is Kraus a good sink brand?
Kraus is one of the best modern kitchen sink brands known for making top-rated stainless steel kitchen sinks.
Are Kraus sinks well made?
Kraus sinks are constructed to be durable for heavy-duty and long-term use. Dent resistant T-304 stainless steel is used to make its steel sinks, and its other sinks are also made with long-lasting material such as Fireclay and Granite.
Are Kraus sinks good quality?
For an affordable and standard price range, Kraus sinks are definitely of great quality.
Where is Kraus' sink made?
Most of Kraus kitchen sinks are manufactured in India and China.
How long has Kraus been in business?
Kraus was founded in 2007. It has been running as a successful kitchen sink business for 14 years.
Therefore, if you are a homeowner who can give some time to maintain your kitchen and not prioritize aesthetic appeal properly, Kraus kitchen sinks are ideal. It provides great utility at its price range and is durable for many years, even after continuous heavy-duty usage.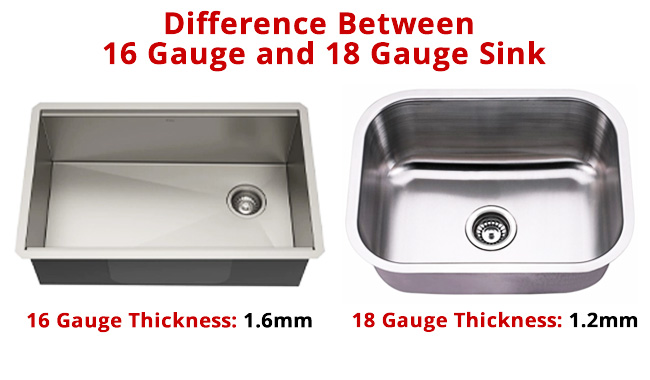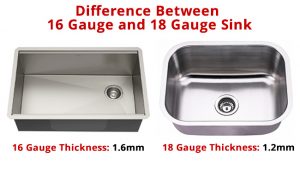 16 Gauge SS Kitchen Sinks are more costly and comfortable than 18 Gauge sinks. But 18 Gauge is also considerable if you are on a
Read More »
Was this article helpful?