'Kitchen Sink' – just two simple words yet sounds like a confusion creating term when it comes to picking one for your own kitchen. 
But if you're thinking about putting one on your granite countertop, the toughness of the job simply multiplies itself like a herd of wild rabbits. 
However, grabbing the best undermount kitchen sinks for granite countertops ain't as hard as you think. But that's only when you've got all the ideas about the finest options and how to deal with the things related to it. 
Don't worry; we're here to let know each and everything you might need to know about it in the first place.
Top 13 Undermount Kitchen Sinks for Granite Countertops
We didn't want you to miss any of the finest undermount sinks that you can get for your beautiful countertop. 
So, we made a list of the top 13 that can literally change your definition of quality kitchen sinks. Let's get started!
1. Kraus KHU100-30 Undermount Kitchen Sink
We don't know how many sinks you've dealt with so far. But if it's the sturdiness, quality and ease you're looking for, then not too many of them can beat the KHU100-30 kitchen sink from Kraus in that race. 
Due to being made of 16-gauge T304 stainless steel, no matter what kind of torture you're planning to put it into, it can easily sustain all of them. 
On top of that, its dent and rust resistance feature took its durability and strength a level higher.
And no, this sink ain't going to make your kitchen feel like a concert hall anymore as it comes with Noise defend soundproofing technology.
Plus, its gently sloped bottom doesn't let any water stay still in the sink. 
By the way, this easy-to-clean sink also comes with a broad and perfect dimension of 30" x 18". Besides, this corrosion-resistant sink with its 10" depth can take in all your large pots and pans easily.
2. Modena Undermount Stainless Steel Kitchen Sink Set for Granite Countertops
First, take some super-sturdy 16-gauge T304 stainless steel and get it the dimension of 30" x18" with a 10" deep basin. 
After that what you'll see is nothing but the amazingly durable Modena 30 kitchen sink from Zuhne. 
As you already know the basin depth, you can be sure that your big pots and pans won't be a big problem this time. Unlike a ton of sinks there, it can keep both noise and vibration so low that you won't even feel like them. 
Moreover, it's sloped bottom leaves zero chance of having a pile of stuck water. 
One thing we must thank team Zuhne for the useful accessories, including the sponge caddy, 2 pcs colander set, drain strainer. But the most impressive one is its Scratch Protector Grate.
With it, you've got no chance of ending up with a scratched bottom. And rust? There's no place for that here.
3. Ruvati RVH7400 Tight Radius Single Bowl Kitchen Sink
To finish off your days of struggle with the underperforming kitchen sinks, Ruvati has brought a solid 16-gauge T-304 Stainless Steel sink. 
Yes, you've guessed it right. It's the RVH7400 kitchen sink we're talking about. 
Don't think the team Ruvati is just done by getting it durable, dent-resistant material. In fact, you're going to be surprised after seeing its Sound-guard padding along with noise-proof undercoating. 
So, it doesn't matter if you're asking for low noise or superior thermal insulation, you're going to get both right here. 
And rust or stain? You can say goodbye to them once and for all after bringing the RVH7400 in. 
Plus, team Ruvati has got this wide 32" x 19" x 10" sink rinse grids. That'll help you out not only with saving the bottom from scratches but also with drying the dishes.
4. Kraus Standard PRO Undermount 60/40 Double Bowl Stainless Steel Kitchen Sink
Bored to see the single-bowled sinks already? Guess what? Team Kraus is back again with their KHU103-33 double-bowl kitchen sink.
Once again, they've proven their expertise with metal by making this one with 16-gauge T304 stainless steel. So, if you'll call the KHU103-33 indestructible due to its durability and strength, then we can't say that you're wrong.
Along with that, for easing up the cleaning, they've given it the Satin Finish of Commercial grade. Like a cherry on the top, it has made this sink rust and corrosion resistant as well. 
So, what else do you need to call it one of the best undermount kitchen sinks for granite countertops?
And the noise level? With Noise defend soundproofing technology, team Kraus has left no scope fall calling it noisy. Plus, its double bowl design has simply made multiple cleaning chores easy as pie.
[On a side note: If you are in search of a double-bowl kitchen sink, click here]
5. BLANCO Drop-In or Undermount Kitchen Sink for Granite Countertops
It's time to step on a different segment of sink materials with the 440194 Kitchen Sink from BLANCO. 
If you're a fan of stone sinks, then we bet you're going to love this awesome sink made of durable Granite Composite.
This 33.5" x22" x9.5" sink not only can keep up with all your harshest chores but also tolerant to extreme heat levels. Want to know the number on it? 
It's 536°F! Along with that, it can unbelievably withstand impact, chip, stains, and scratches.
Another impressive part of this cool looking Anthracite colored sink is installing it in both undermount and drop-in style.
By the way, it's also completely food-friendly and hygienic. Now you say, why wouldn't we put it on the list of the best undermount kitchen sinks for granite countertops?
6. Kraus KBU24 32 inch Undermount Double Bowl Kitchen Sink
If this brand hasn't been able to make you fall in love with it yet, then we think the KBU24 dual bowl kitchen sink can change that to a certain extent. 
After all, they've poured all their drops of excellence in this one. 
It all starts with its super durable and strong construction made of 16-gauge T304 stainless steel.
So, if you're expecting any dent in the future on this 1.5mm thick sink, then you're wasting your time as that ain't going to happen.
To deal with the corrosion and rust, team Kraus has never underestimated the importance of commercial-grade satin finish. So, by applying that they've also eased up the cleaning process once again. 
Plus, this 32" x20 5/8" x9" sink doesn't cause any noise as well, as it has extra thick pads all over to deal with the sound.
And the dual bowls? Both of them are deep and convenient enough to get all your tasks done.
7. Ruvati 30-inch Undermount 16 Gauge Single Bowl Kitchen Sink
It's 'Ruvati' time again, but this time they've got something better, and it's the RVM4250 curved kitchen sink. 
This 30"x18"x9" durable T-304 Stainless Steel made sink will simply blow your mind with all its amazing features. 
As you've already known about its solid built, what you better check out is sound-guard padding backed by noise-proof undercoating. 
With these, you won't have to deprive yourself of the privilege of having a quiet sink or a sink of superior thermal insulation.
But what you'll find amazingly helpful in this one is its curved bowl shape. Unlike those hard cornered sinks, it's much easier to clean up. And faster drainage? Let its sloped bottom take care of that.
By the way, it comes with bottom rinse grids as team Ruvati doesn't want you to get a scratched sink bottom ever.
8. MENSARJOR Undermount Granite Countertops Kitchen Sink
So far, all you've seen is some certain brands are dominating the toppers list. But now it's time for an intruder, and that's none other than the Stainless Steel kitchen sink from MENSARJOR. 
The T304-Grade Stainless Steel construction has literally made this 30 "x17" x10" sink Unbreakable. 
So, if you were planning to question its sturdiness and durability, then we guess you've got your answer after seeing what it's made of.
Plus, its Commercial-Grade Brushed Finish has left no scope for scratches to take place on its surface and also made it last longer than ever. And the ease of cleaning? This finish is more than enough to pull that off for you. 
This 1.5mm thick sink comes with Rubber Noise-Reduction Pads. These thick and soft pads are so good at absorbing noise that no one can call your kitchen noisy anymore. 
By the way, it's also helpful with isolating condensation.
9. Ruvati Workstation 33-inch 50/50 Double Bowl Undermount Kitchen Sink
If uniqueness could've been renamed, then we probably would've called it Ruvati. And if you see their RVH8350 kitchen sink, we believe you'll agree to that as well. 
Using T-304-Grade Stainless Steel for the construction ain't anything new for team Ruvati. But what will surely impress you this time is the design and accessories. 
This dual-bowl sink has a built-in ledge that has made it easier than ever to utilize all the accessories.
From the accessories, the number on that will simply awestruck you as it includes a ton of them like a colander, cutting board, roll-up rack, bottom rinse grids, etc. 
And of course, the makers haven't forgotten to take care of the noise and condensation with sound-guard undercoating and noise-defend padding.
One thing we can't help admiring about this 33″x19″x10″ sink is its commercial-grade brushed finish. If you want to hold something responsible for the scratch resistance, easy cleaning, and long life span, then this is it. 
10. KRAUS KWU110-30 Kore Workstation Undermount Kitchen Sink
Looks like team Kraus thought of improving the sinks too, as their close competitors did. Otherwise, why they would've brought something like the KWU110-30 kitchen sink? 
This 30"x19"x10" perfect sized sink comes with a solid construction made out of industrial-grade stainless steel. 
So, it doesn't matter how rough you're planning to go on this 16-gauge piece of metal; it ain't going to fall apart. 
Moreover, its large single bowl gets you the uninterrupted workspace perfectly. 
And if you're more into making the sink an efficient workstation, team Kraus will ensure that too. Want to know how? With all the required accessories, they're getting you like the roll-up dish-drying rack, bamboo cutting board, sink strainer, dish grid, and drain cover. 
But no matter how good it is with all the specs, it still will be called flawed if it's not good with the draining. Thanks to its gently sloped bottom for taking care of that and easing it up.
11. Houzer Quartztone Series Granite Undermount 50/50 Double Bowl Kitchen Sink
Unbreakable, easy to clean, and scratch-resistance – mix all these features up and what you'll get next is the M-200U MOCHA Undermount sink from Houzer. 
The first thing that'll make you fall in love with this sink is its solid composite granite construction. 
Surprisingly, this great looking sink is literally 3X hard and stronger than any natural granite you've seen so far. On top of that, its non-porous surface is not only hygienic but also resistant to heat up to 500° F.
Making no mistake in turning it into an efficient sink piece, the makers built it with the dual bowl design. 
Now handling it all in the multi-tasking mode ain't going to be any harder for sure. Plus, its silky surface won't let you break a sweat while cleaning it up.
12. Elkay Quartz Classic Black Single Bowl Undermount Sink
The second last contender in our list of best undermount kitchen sinks for granite countertops is the ELGRU13322BK0 from Elkay.
We haven't so far seen a Quartz sink that can match up to the standard of this bad boy. 
No, we ain't saying that just because it comes with an amazing look, but for the tons of useful features that it has in its arsenal.
Doesn't matter whether you're asking for supreme durability or extreme impact resistance level; it's got all of them covered.
And what to say about its ability to withstand scratches? Not even all your utensils can put a scar on this one. Why don't you try some hot water then? We bet its heat tolerance up to 535°F won't let that make much of a difference there. 
Thanks to its flawless surface, you won't have to struggle with the cleaning too. Plus, if you mistakenly drop your wine bottle on it, you still can't make it stain. 
13. Swanstone Granite 1-Hole Dual Mount Single-Bowl Kitchen Sink
It's time to wrap up. And guess what? The last one we have on our list is something you probably weren't expecting but is more than enough to blow your mind.
It's the QZ03322LS.077 from Swanstone we're talking about. 
The makers claim it to be one of the hardest sinks out there. And the sole reason behind that is its solid construction of 80%-actual quartz stone. 
So, waiting for it to get damaged will be nothing but a waste of time. And if you ask for the installation, you've got the complete freedom to install it as an undermount or drop-in sink.
By the way, you won't have to miss the faucet hole anymore as it comes with one. 
But that ain't the part we're looking forward to, it's the unique double-bowl design. It has not only made the chores easier but also created an amazing visual appeal. 
What to Look for Before Buying Undermount Kitchen Sink?
Do you know the best way to end up with the wrong sink? Buying a sink without knowing what to look for. We bet you're not in the mood for that. 
If so, then let's check out what can make it easier for you to find the best undermount kitchen sinks for granite countertops.
These days, there's a ton of variety there like stainless steel, granite, porcelain, marble, fireclay, and many more. Pick something that has higher durability along with better convenience in every way.
Pick something that won't eat up too much space on your counter. On top of that, the bigger it'll be, the heavier it'll get. 
And once you fill it up with water, it'll put more pressure on the counter, which can even lead to crack on it.
[On a side note: To know more about kitchen sink size, read this]
If you've made your mind about picking the stainless steel one, then check out the gauge in the first place. 
As the gauge represents the thickness, the high the number will be, the thinner it'll get. Try to pick the one with 16-gauge as it's perfect for kitchen sinks.
Do you like burn marks on your sinks? Then pick one with better heat resistance, at least up to 500°F. Because when you put your hot pans in there, it has to be resistant enough to keep the surface intact.
Imagine how you'd feel if every time you start cleaning your dishes on your sink, it starts sounding like a rock concert. 
So, if you don't want it that way, make sure the one you're grabbing can keep the noise low. 
If the installation process reminds you of the spaceships from NASA, then you better avoid getting that one. 
Always choose one that has the easiest installation process so that you can readjust the sink later if you need it.
Why Choose Granite Countertop?
To be honest, there's not one but a ton of reasons why granite countertop is better as a choice. After all, if you've got the chance, why would you pick anything but the best.
It's tough and durable. So, once you put that on, you can be sure that ain't going to let you down any sooner. With proper care, even in years, you might not have to think twice about changing it. 
On top of that, if you're trying to give it a score on ease of maintenance, then you can go for nothing but perfect 10.
What Are the Advantages of Granite Countertops?
Though from our earlier segment, you've already got some idea about why granite countertops are the right pick, yet we'd like to be a bit more specific. 
Let's check out the advantages of granite countertops.
Come with a wider variation on look and color that you can easily choose from

Durability level is amazingly high

Can be repaired if there's any damage somehow

Polished surface requires no effort in the cleaning

Can tolerate heat without getting damaged

Eco-friendly construction gives a natural vibe to the atmosphere
How to Install an Undermount Sink to a Granite Countertop?
Everything sounds like rocket science when you don't know how to get it done. We don't want you to feel the same for installing an undermount sink. 
So, we thought of taking the liberty to let you know of the process if you want to go for the 'D-I-Y' mode. All you need to do is just follow –
Step 1: Measure the Sink
Take the measurement of the sink and match it with the countertop where you want to put it.
Step 2: Gather the Tools
Along with the sink, you're going to need a power drill, screwdriver, mounting brackets, clamps, and silicone sealant. 
Step 3: Mark the Drilling Spots and Drill
Take a marker pen or pencil and measure where you need to make holes to use the mounting brackets for holding the sink in place. Then pick the power drill and start drilling.
Step 4: Apply Silicone Sealant on the Sink's Edge 
Now put the silicone sealant on the edge of your sink. Once you're done there, pick the sink up and set it in place on your countertop. 
Use clamps to hold it there. Then pick the mounting brackets and put them according to the holes. 
Step 5: Letting the Silicone Dry
After you're finished with the above-mentioned steps, wait for 24 hours to let the silicone dry.
Step 6: Attach the Drain
Now install the drain and check out if you're seeing any loose silicon on the edge from outside. If you see so, clean it up.
How We Selected the Top Product?
For being in the list of tops, we think a sink must have certain features. So, while selecting the top products or the best undermount kitchen sinks for granite countertops those were our prime focus. 
Those features are high-quality material, durability, draining facilities, and resistance to regular issues like stains, scratches. But along with these, we've also prioritized features like ease of cleaning and perfect dimension.
1. Which one is more suitable for heavier tasks – single or double bowl sink?
If it's the bigger and heavier pots that you want to clean, then single ones are better. But if you're more into the multiple chores, then choosing the double bowl is better.
2. How much depth is ideal for undermount sinks?
It mostly depends on your height. If the bowl is too deep for your height it might get you back pain. So, pick something that won't cause you that.
3. What is the major drawback of double bowl sinks?
With double bowl sinks, it's hard to establish an uninterrupted workstation for cleaning larger pans and pots.
4. In which way stainless steel sinks are better than granite sinks?
The stainless steel sinks don't cause much of the hassles with the installation. Plus, they're more budget-friendly than the other type of sinks.
5. Which one is easier to install – Undermount or Drop-in sink?
If you compare these two based on installation, then drop-in sinks are comparatively easier.
The best undermount kitchen sinks for granite countertops are the perfect combination of durability and quality.
And the only thing they know is getting you everything you've asked for like better thickness, impact, and scratch-resistance, low noise – you just name it.
So, we've got each one of them that can bring these to you. Now you decide which one you're going to grab.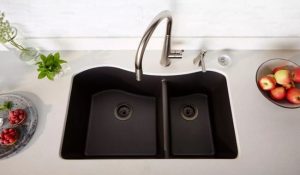 Looking for one of those double bowl sinks? Did away with the old one or redecorating your home, perhaps?  Nothing to fret about, we have got
Read More »