Kitchen is the heart of your home, and the sink keeps it tidy. Unfortunately, a bad kitchen sink can sink your day. You can't cheap out on this issue.
Choosing kitchen sinks among categories of compact performance, standard efficiency, and modern aesthetics is a challenge because of the obvious deviating priorities each brand possesses. 
So, to clarify this dilemma, this article will show you a precise comparison of 3 notable kitchen sink brands. So, it's Ruvati vs. Kraus vs. Kohler kitchen sink.
As you'll see, all three brands have a good reputation for their sink products. But not all brands suit everyone. And that can make life tough for anyone.
We certainly have our favorite but disclosing it before you make up your mind isn't a good idea. Instead, we will talk about the brands, their sinks, and what value they offer. It should give you more than a surface-level idea about them.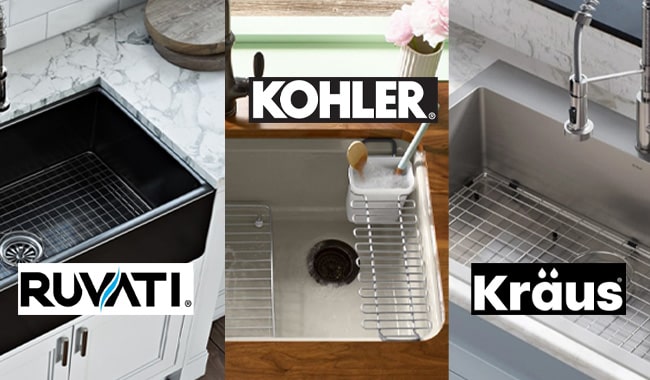 Difference Between Ruvati, Kraus and Kohler - [Pros and Cons]
Kraus is a significantly known brand for its value-for-money kitchen sinks. Kohler sinks are the best addition to your kitchen for multitaskers, and Ruvati offers some of the most stylish kitchen sinks.
Before we go around putting these three industry leaders against each other, we should first get to know each brand. It is essential to know how the brands formed and grew over the years and their relationship with the customers.
"Il Bello e il Buono is" the motto behind the brand Ruvati. As you can tell, the brand is inspired by an Italian sense of beauty and elegance.
The brand was founded in 2009. It was brought into existence to meet a real demand for kitchen and bath fixtures. With lots of real estate experience, the founders saw a real problem in the market.
Ruvati is the embodiment of modern, stylish, and aesthetic kitchen sinks. All of its sinks are made of premium imported materials, and they are designed to appeal to a user's kitchen.
In addition, its kitchen sinks have built-in durability, and the price of most of its top-rated products is slightly above the average amount.
The company was founded in 2007, 2 years earlier than Ruvati. But the principles are more or less the same for their products. 
Kraus is a leading name among renowned modern kitchen sink brands. It is recognized for offering a plethora of spacious sinks at a market average price range. If occasional maintenance is not a problem for a user, Kraus kitchen sinks can be a suitable option.
It's evident from their pricing history, and it's pretty clear that they are not aiming for their products to be dubbed as the best products. 
On the other hand, they don't ask for high prices either. And quite frankly, that's a smart move. With a remarkably affordable price, they have been holding their market share for a long time.
[ To know more about Kraus kitchen sink, read this. ]
Kohler sinks are amongst the oldest brands in the industry. The apple of bathroom fixtures. That's a name this brand has made for itself. Kohler, a brand that's a hit in the USA and worldwide, is known by its name.
You could have furnished your whole house with products just from Kohler if you wanted. However, they are mainly known for their bathroom fixtures, which are still their main products.
It is exceptional as a brand for making compact and integrated kitchen sinks. It's the fittest brand for multitasking users who want to maximize their productivity in the kitchen.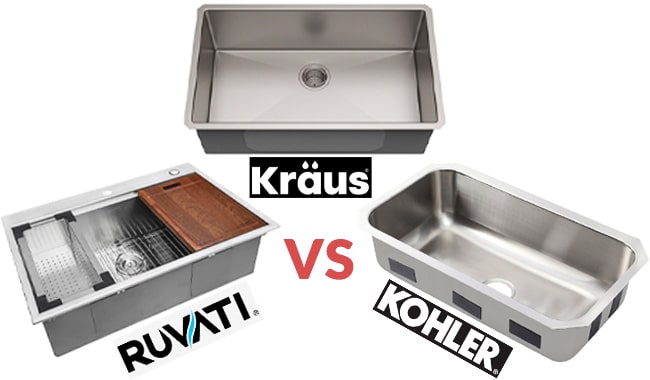 Here, we went through eight crucial factors you should consider for getting the desired kitchen sink of your choice. Based on those, we will distinguish among Ruvati, Kraus, and Kohler sinks.
Let's have a close look at the difference between each brand's sinks;
Both of Ruvati's under-mount and drop-in kitchen sinks have a tricky build. This makes the setup of these sinks incompatible with numerous kitchen layouts.
Alongside that, cleaning issues on its sink's surface are a concern because of its structure.
Kraus has one of the best drop-in kitchen sinks in the market that are exceptionally easy to maintain and clean. Its under-mount sinks have all the expected features of a well-made kitchen sink.
Users mention general difficulties, such as open edges in the setup for both structures. 
The drop-in sinks of Kohler are underwhelming because of hassles related to cleaning. Users generally prefer its under-mount kitchen sinks because of the ease in maintenance the sinks come with.
Ruvati's material is widely known for its Italian aesthetic. It focuses on premium and stylish designs that are tailored for a user's personal experience. 
For Ruvati, the material range includes Stainless Steel, Granite, Fireclay for kitchen sinks. The brand's fireclay and granite sinks are especially appealing to the eye. 
Kraus is famous for its stainless steel material kitchen sinks that have the necessary space to finish your tasks without intervals. Kraus too has similar materials on their list, such as Granite, Porcelain-enameled, fireclay, Steel and Quartz for Kraus' kitchen sinks. 
However, these materials do not offer important features. Furthermore, if not properly maintained, its stainless steel kitchen sinks will show signs of corrosion. 
As a unit kitchen sink, Kohler's overall material is consistently well-created. Its stainless steel kitchen sinks can fit any kitchen setting and are suitable for extended usage.
Kohler still produces their classic Cast iron sinks and then Composite sinks for the kitchen. However, it falls short in terms of its texture and style compared to the other two brands here.
[Side note: to know more about the kitchen sink materials, read this.]
Recommended reading: 16 Vs 18 Gauge Stainless Steel Sink
Ruvati's use of top quality and high-end material has made its kitchen sinks inherently long-lasting for many years. This allows these sinks to not require any sort of consistent maintenance once it is installed.
Kraus kitchen sinks can last for more than a year without displaying any hint of damage. So, its sinks are compatible for rough usage.
However, it cannot work continuously due to drainage issues, resulting in dampness and the formation of rust.
The durability of Kohler's fireclay and farmhouse sinks is not a significant factor behind its great reputation. But, its stainless steel sinks are reasonably well made to last multiple rough uses.
Recommended Reading: Grohe Vs Kohler Brand Comparison
Kraus kitchen sinks provide all-important accessories like strainers, cutting boards, bottom grids, and more for finishing your duties efficiently.
Ruvati offers a similar number of accessories as Kraus. Its stylish and spacious cutting boards are a great addition to a kitchen sink.
Kohler is the best among the three brands in terms of having accessories. Most Kohler's kitchen sinks are built as a unit and compact sink that is best for multitasking.
There are not many differences between Ruvati and Kraus regarding sink size. Ruvati starts their sink size at 14″ and finishes the lineup with a maximum kitchen size of 33″. The same is with Kraus.
However, Kohler is a bit different. Their side-to-side sink sizes start from 22″ while finishing at more than the size of 42″ or more.
In terms of sink weight, there is quite a noticeable difference between the three. Ruvati is the lightest of them, with the maximum sink weight going as far as 100lbs. 
Kraus is the better one of the two, and Kraus surprisingly hovers around 20-30lbs with a maximum of 50lbs, give or take 10lbs.
On the other hand, Kohler has cast iron sinks that can go up to 170lbs.
Although Ruvati kitchen sink's price tag is suitable because of its style and premium quality materials, it does not equate to value in terms of its overall utility. 
The price range of highly rated Ruvati sinks is USD 360 to 580.
Kraus offers the most value-for-money kitchen sinks among the three brands here. The price range of its kitchen sinks is around USD 270 to 500.
Kohler comes in second place after Kraus. Although it provides at a price range, only its multifunctional kitchen sinks offer adequate value for its cost. And apart from that, most of its kitchen sinks have an expensive price label. 
The price range of Kohler kitchen sinks is USD 400 to 900.
Notably, all three discussed brands here have cooperative, responsive, and efficient customer service employees. The majority of users give positive feedback about the friendly disposition of the employees during any stage of them acquiring a kitchen sink from these brands. 
The only problem where customer service cannot come into assistance is during the delivery and of products by third-party platforms. Kitchen sink brands, in general, are notorious for receiving most complaints related to damage during delivery.
Side by Side Comparison - Kraus Vs. Ruvati Vs. Kohler
Let's have a quick look at their differences from this chart below;
Which Brand of Sinks Is Best?
Before answering this question, you need to know what you want and what you can spend. These brands have your choice of sink in their lineup. Set a budget and select one based on the features.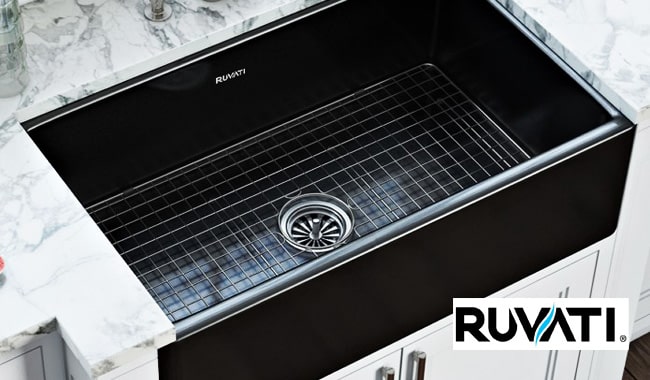 If you're on a tight budget and want the most affordable one, Ruvati sink is your answer. They are not the best, but a sink made of T-304 stainless steel won't budge any time soon! These have a nice satin finish that fits anywhere. 
Ruvati doesn't have a lot of variety in their product line. As a result, you won't get as much flexibility when picking the sink position.
Considering the cost of buying and installation, you can save up a lot of money.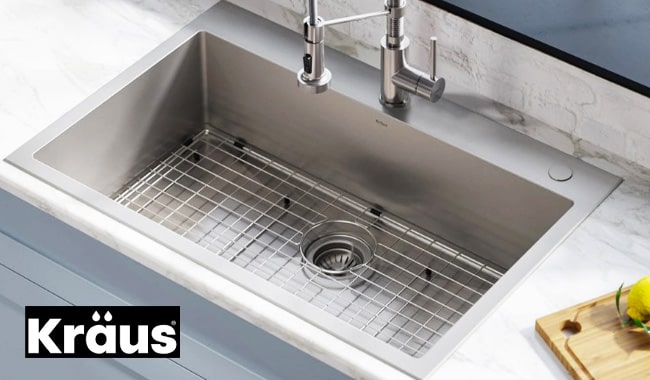 Assuming you can spare a bit more of your money, Kraus has an excellent line of products for both sinks and faucets. You can opt for a combo and save up. Kraus's products have a lot of variety in terms of features and usefulness from material to technology integration.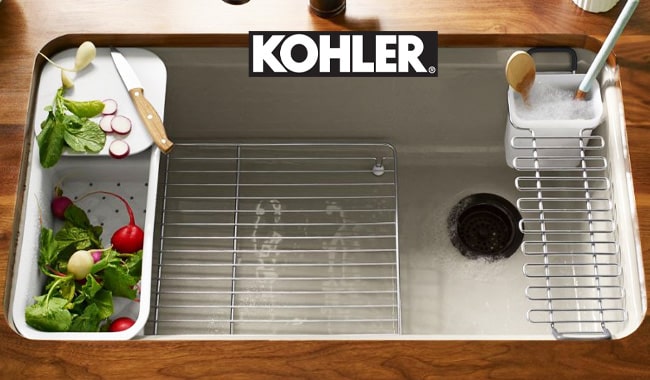 But if you do not have any budget restriction, do not think and go for Kohler. Money is never wasted on the products from this brand.
You also won't fall short of products. There is a lot of variety to appreciate. Unfortunately, they also cost more concerning installation.
Considering everything, Kraus seems to be the best brand for sinks.
Top-rated Kitchen Sinks of Ruvati, Kraus, and Kohler
Some of the top-rated Ruvati kitchen sinks are:
Some of the top-rated Kraus kitchen sinks are:
What Should I Look for When Buying a Kitchen Sink?
When buying a kitchen sink, you just need to keep a couple of things in mind. First, keep it simple and basic unless you're looking to break your bank just for the sink. Get T-304 stainless steel from any brand you prefer. And it should last throughout your life and more.
Here are a few other tips,
Determine whether you want a drop-in or under-mount kitchen sink
The composite material can be a fantastic alternative to stainless steel
Size and number of bowls
Look for easy cleaning
Rear drains
Deep bowl
Corner bowl
NB. To know more in detail you can read our kitchen sink buying guide.
Recommended reading: Kitchen Sink Vs. Bathroom Sink
Are Kraus sinks any good?
Sinks are the main product in Kraus's product line, so naturally, their sinks are of top-notch quality. However, since they source their products from Chinese manufacturers, they can provide T-304 stainless steel sinks at a lower price than their counterparts.
The Kraus sinks are known to have lasted for decades without any trace of damage to them. And it should be expected from such a stainless steel sink.
Do Ruvati sinks scratch easily?
Unless it is continuously used in a rough manner, Ruvati sinks rarely scratch. This is because the high-quality materials used to create these sinks are highly resistant to damage.
However, through daily use and due to abrasive tools, these Ruvati sinks can develop minor scratches here and there despite their limited anti-rust warranty. But they are entirely avoidable through proper use and care.
Kohler is one of the best kitchen sink brands for multitaskers. It will enhance your productivity to the full extent because of its compact design, making its sinks work like a single unit. 
Besides, they offer a range of materials, including cast iron, stainless steel, and composite, and their sinks often come with additional features like soundproofing and deep basins. 
Where Do They Get Sinks from?
Both Ruvati and Kraus are importers rather than original manufacturers. So, they get their products from other manufacturers outside the country. 
Xinhe Stainless Steel Products Co. Ltd is one of Ruvati's go-to Chinese manufacturers, especially for their sink product line. Kraus imports their sinks and faucets from Chinese and Indian manufacturers like Xiamen Lota International Co.
On the other hand, Kohler is the complete opposite. From the start of the company, they have manufactured their own products. Even though they now have a few factories in China and India, the whole process is controlled centrally.
Which brand of sinks is best?
Among the three brands discussed here, Kraus takes the upper hand as the best kitchen sink brand because it has a universal application in a standard kitchen and is suitable for all sorts of kitchen settings.
Kraus sinks are an excellent choice for a variety of homes, regardless of whether they have a conventional or modern kitchen. It is a name worth considering because of its positive customer reviews and limited lifetime warranty.
To conclude, regardless of which brand is objectively better, a user's priority will always come first. 
So, if you are content with having minimal style in your kitchen, then Kraus can be your go-to option as a kitchen sink brand. And if you are willing to spend more money to get the full extent of your productivity in the kitchen, then Kohler is the ideal brand. 
Lastly, if you want to add to the overall look of your kitchen, opting to buy the stylish Ruvati kitchen sinks will be preferable.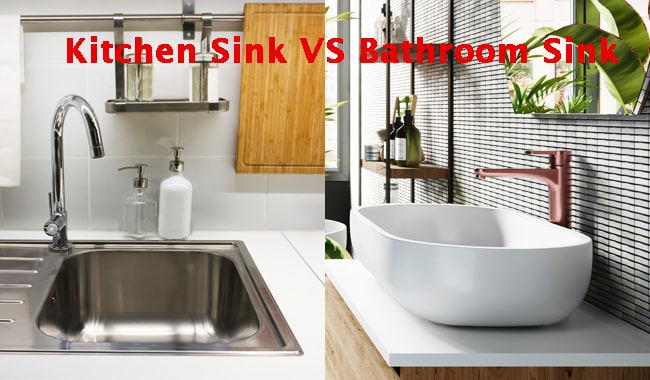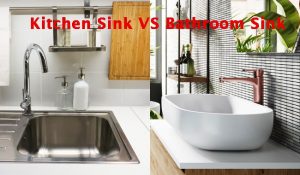 The kitchen sink and the bathroom sink both serve as an important part of our daily routines. They are both needed for normal day-to-day activities.
Read More »
Was this article helpful?