In this guide, you will know almost everything you need to know before purchasing a showerhead. We've conducted an extreme level of research to make things easy for you. So let's get started…
How to Choose the Right ShowerHead? (Step by Step)
Step 01: Select right materials
Step 02: Choose your installation type
Step 03: Know your shower head size
Step 04: Then, select between shower head types
Step 05: Choose your favourite spray patterns
Step 06: Choose the perfect finish
Step 07: Choose other factors like- shapes, tech features, water efficiency level, flow rate etc
Step 01: Select Right Materials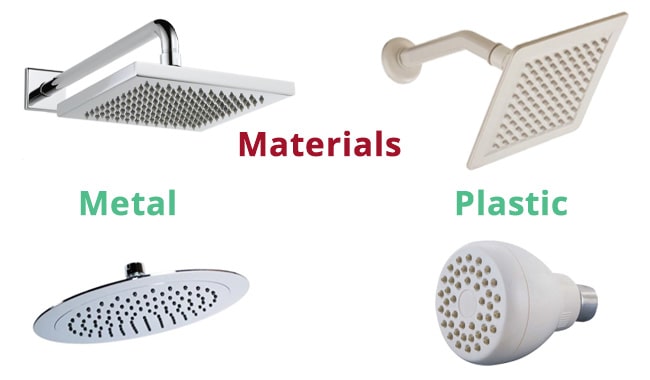 It is as essential as any other feature when buying a new shower hand. You should never compromise with safety when buying apparatus for your bathroom. Longevity is another thing that you should keep in mind. 
Let's look at some of the most popular shower head materials and finishes.
Metal is considered one of the best materials for a shower head. We will see the advantages and disadvantages a metal shower head provides.
Its simple and elegant look is becoming a top choice for homeowners nowadays. So we did our research and will present to you all the advantages and disadvantages to you.
Step 02: Choose Installation Type
This shower head is usually attached to a bar with a slider. You need to secure the sliding bar with the bathroom wall to avoid falling. The installation process can be a bit complicated.
You can move the shower head up and down to your comfort. Most of the shower heads of this category come with handheld shower heads. You can take off the shower head from the sliding bar and use the water flow how you see fit.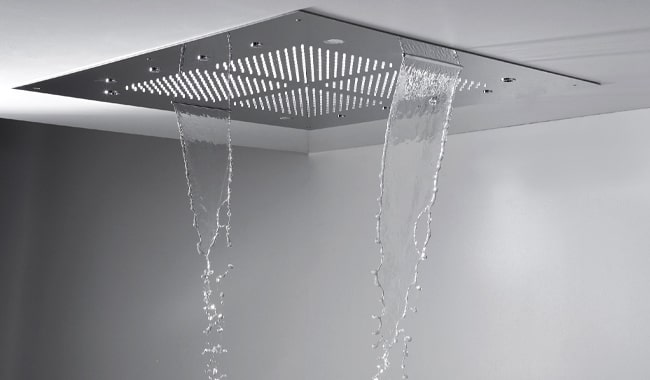 The name is self-explanatory. It is installed overhead in your ceiling. The water flow is consistent because it comes from above.
The installation process might be a bit tricky. The piping has to go through the wall and then to your ceiling. You might want to hire a plumber to help you with the necessary installation steps.
Wall-mounted shower heads are planted in your bathroom walls. The shower head is extended via an arm in most cases. It comes with a few variants.
Standard-

The simply designed shower heads are of the standard variant. Again, you can see the arm hanging from the wall downwards.

Offset-

You can use this type of wall-mounted shower head for additional space in your bathroom. You can see that the arm is extended from the wall but upwards and then curved downwards. It's an ideal choice for people taller than average.

Extended-

The extended shower variant makes sure your body doesn't need to be close to the wall. The shower arm is usually very long, and the shower head is installed at the end. It provides you with more comfort than the usual ones.
Step 03: Know Your Shower Head Size
You might feel the need to change your shower head if the old one is clogged and is not working to your satisfaction. However, you also need to know the size if you plan to remodel your bathroom. 
Let me tell you; it's the part size that goes with the pipe, not the size of the shower head itself.
It's essential to know the size; otherwise, the head will not fit with the pipe. As a result, you will not get any water through the line. Even if you do, the water flow will not be up to the mark. Luckily for us, shower heads have a standard size across the US.
[ NB. A common question people generally ask about shower head size is: Does the size of the shower head affect pressure? to find the answer, click here. ]
In the US, The standard shower head size is 5-inch(17.7mm) NPT. The complete form for NPT is national pipe thread tapered. If you are shopping online, make sure the shower head you are buying is compatible with NPT measurements.
If you are planning for a ceiling-mounted showerhead, then remembering the measurement will not help you in most cases. 
If you live in an old home, you might see that half-inch shower head will not fit in your bathroom. One of the reasons can be that owners built the house before the modern standard was set.
Please talk to a plumber because you might need remodeling in that case.
Step 04: Select Between Shower Head Types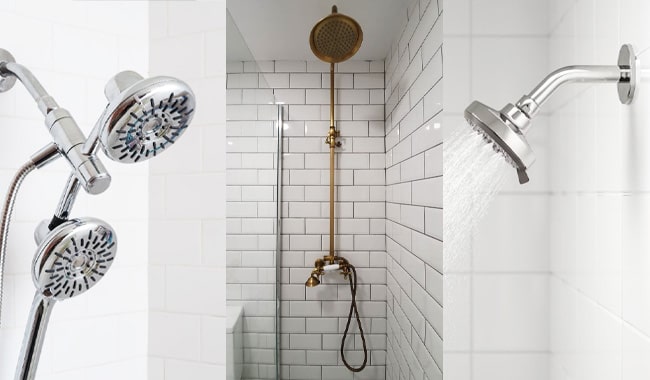 Tell me what comes to your mind when someone says shower head. Yes, the image that comes to your mind is what a standard fixed type looks like.
The shower head is somewhat moveable up and down and sideways, but not much. It compensates with a steady water flow.
Nearly every bathroom in the USA is already set up for a regular shower head. This way, you don't have to go the extra mile for installation. Instead, you can do it yourself at home in less than a minute.
You don't have to buy a lot of different components with a standard shower head. It is very cheap for that reason.
Rainfall shower heads are usually bigger than the standard ones. The large surface area will give you the experience of rain pouring down. 
The advanced ones can make it look and sound like rain as well. You will find it in different variants. You can go for wall or ceiling-mounted ones. Handheld rainfall shower heads with stylish designs and water-saving technologies are available in the market as well.
The amount of space it takes in your bathroom is one of the downsides. It will cost you more than the standard ones too.
[ Are you interested to know the difference between the rain shower head and the regular one? Then, read this post. ]
A hose is usually attached to this type of shower head. It allows the user to detach the hose and use it in comfort.
It's beneficial while you shower seated down. In addition, it can be helpful to wash pets, bathe children, and use them in the bathtubs.
Most of the shower heads are fixed, and some have handheld features. Dual shower heads can do both. You can use the handheld features to focus the spray.
 You can put the head back in the stand, and you will have the opportunity to bathe under a fixed shower head. The rubber hose is handy for mobility.
They are also known as shower towers. We call them to shower thrones because they are the right fit for a king. The manufacturers equipped them with almost all the features.
Rainfall shower, handheld shower, massage jets, body sprayer, you name it, and they will have it. You might think this takes a lot of space with all those features. It doesn't. The modern design ensures that your bathroom has enough space to do other activities.
It feels like we are only saying the good things. Then why doesn't everyone buy it? Because of their price. It's genuinely an all-in featured shower head, so you have to pay for them all.
[ To know more about shower head types in detail, click here. ]
Step 05: Choose Your Favourite Spray Patterns
Default settings for body massage with several options give you the soothing feeling of a body massage.
The water is concentrated, and you get boosted spray. A spray pattern like this is beneficial for cleaning certain parts of your body. It usually ignores most shower head holes, so the water flow is strong.
You will usually get medium water pressure with a turn on and off switch.
Dual water flow at the same time will help you clean your hair and scalps.
Water comes in the form of a trickle. This type of spray pattern is ideal for shaving or shampooing. However, you may need more time while taking a shower.
The water mixed with air turns into water droplets. This type of spray will give you a gentle bathing experience.
This pattern follows the rainfall one, but this is a lot quieter. Thousands of micro drops make little to no noise. These are very effective as well.
Step 06: Choose The Perfect Finish
There are quite a few finishes which are very popular nowadays. We are going to cover the most popular ones in this article.
The most popular and user-friendly one, hands down. You might wonder how something made out of chrome gained this much popularity because it isn't always made of Chrome. It has a chrome-like look, a shiny and metallic appearance.
When it comes to money, nothing else beats a chrome finish. This is surprisingly cheap because the chrome finish stood the test of time.
The chrome finish doesn't get stained quickly, but it will create many problems to fix once it does. So we recommend that you clean it regularly.
The availability of different designs is another reason behind its popularity. It's a safe bet for any household under any circumstances.
It is also known as Tuscan bronze or Mediterranean bronze. You should consider this an ideal choice if you are looking for a classic, rusty look in your shower hand. It's called a rubbed finish because it is rubbed to bring out the perfect look after the bronze finish is done.
As you already figured out, a lot of work goes into the process. And thus, it is one of the costlier finishes you can find out there.
It is more of a luxury item than a necessity. Additionally, considering the price, the durability of this product is not up to par.
You need to make sure that you stick to one manufacturer when buying oil-rubbed bronze finish products for your bathroom. It varies a whole lot from one manufacturer to the other.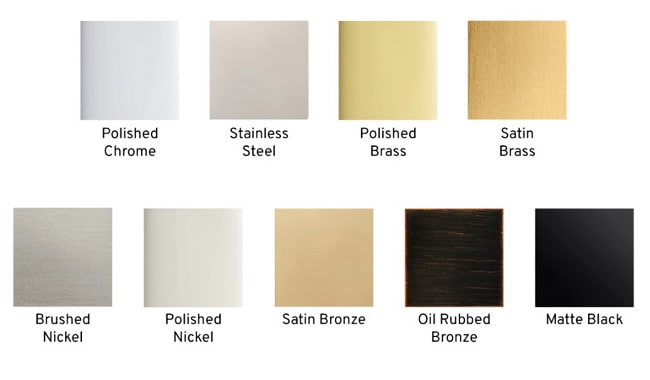 They are the biggest competitor of chrome finish in the market right now. However, because of its more neutral appearance, it may be used in various design styles, from classical to trendy.
It does better than the chrome finish is the stain-free service. It hardly gets any water spot over time.
Some businesses are trying their best to keep the prices low. But this one is a labor-intensive procedure, making it costlier than the chrome.
Another upside of this particular finish is that it's very durable, more so than the top 2.
If you were born in the 80s or the 90s, you know better than us what we are talking about. Nevertheless, this one gets our honorable mention. This highly reflective, gold color finish ruled the market for quite a long time.
Physical vapor deposition finish technology was first introduced with this kind of finish. Simply, PVD means creating a thin but highly durable finish. Manufacturers considered it as the standard finish before the start of the 21st century.
NOW, Choose Other Factors Like- Shapes, Tech Features, Water Efficiency Level, Flow Rate etc
We know that it's really important to make the bathroom look exactly the way you want. Shower head shapes are an important aspect to look for when you care about aesthetics.
They are also known as circular shower heads. These are the most versatile and most sold ones on the market. You can quickly get modern or traditional designs depending on your choice.
Square and Rectangular Shape
These shower heads got a modern look than the round ones. It gives you a better rainfall experience if you go with that type of shower head. However, it usually takes more space because of its size.
The oddly shaped shower heads are usually custom-made. However, they are a monument of your personality and charm. They can be cylindrical, trumpet-shaped, water can come from the flip side, and many more designs.
If you are a big fan of technology just like us, you can have your shower head featured with some of them as well.
We all know a bathroom singer. What if you can turn your shower into a concert? Or a ball dance? Led shower heads let you do that.
It uses water pressure through a dynamo for lighting. So you don't have to worry about changing the batteries at all.
Some manufacturers build their led shower heads to change color with the water temperature. Usually, the blue color means cold water. The light will turn green when the water is warm. You will see the red lights if the water is boiling.
The lighting helps with the kids as well. Aside from the safety, the kids tend to find bathing more entertaining.
You can take singing in the shower to the next level with this technology. The water-resistant Bluetooth speaker is usually attached to the shower head. You can take it off when you are done with your shower and charge it if necessary.
A few modern shower manufacturer companies now build an application solely for their shower head. You can use the application to set the exact water temperature, decide how much light you want and what you want to hear.
Some even allow their users to use voice for all these commands. Unfortunately, the shower heads with this type of technology are costly. But, if comfort is everything you ask for, smart bath technology is something you should look at.
We were talking about mist spray patterns in our article. This is done by using air injection technology. Water and air flows at the same time and create air-filled water droplets. It works miracles for households with low water flow.
A filtered shower head does exactly what comes into your mind. It filters the water as it pours down.
It is handy if the water in your area is diagnosed with access chlorine, lead, and other chemicals of that sort.
The maintenance of this type of shower head can be a bit costly. The filter needs to be replaced more often than not.
Step 09: Water Efficiency
If you read our article until now, you are already an expert. Water efficiency depending on the water flow in your house is one of the last things to look at if you want your new shower head to be perfect.
If the water flow in your home is high, you can look at flow regulators. They are installed inside your shower head to create a lesser water flow. As long as you waste most of the water with a very high-water flow.
We discussed this type of shower head in our article before. By mixing with air, they give you the feeling of a lot more water than you are using. Studies show that aerator shower heads might conserve as much as 50% water.
If you are really in need of high-pressure flow but want to save water simultaneously, you should look at these different shower head types that we talked about in this article. Some of the shower heads create concentrated water through a few holes. Thus, you get the feeling of a good bath, and you don't have to use extra water for that.
The shower head water flow rate is an important factor to consider when shopping for a new shower head. In markets, there are three types of shower head flow rates available, which are 2.5, 2.0, and 1.8 GMP.  The most common and standard one is 2.5 GMP and for this, you have to spend some extra money on your water and energy bill.
On the other hand, the water and energy bills of 1.8 GMP are less than the standard one, besides shower head price can vary depending on the flow rate.
[ to know more details about flow rate, click here.]
Bonus Tips: Shower Heads For Camping
If you are one of the adventurous ones, you can take shower heads specifically manufactured for you on your next trip.
They are also known as camping shower heads. But, wait a minute, why would anyone want a camping shower head in their home? Because it's made for water efficiency and water pressure.
As long as the RV shower head works with small water tanks, it's cautious when wasting water. Less water usually means low water pressure. But this shower head's built-in mechanism takes care of that too.
They are most common for camping, and they take very little space in your bathroom.
I believe they use it in the navy; that's why the name. My research result was not 100% confirmed, so don't quote me on that.
Nearly all of them are equipped with a switch to pause. You get to turn on and off the water flow with a button located at a convenient place. The idea is you get wet, turn off the shower. And you get some shampoo on your hair, apply your shaving foam, do what's necessary and turn it back on again to rinse it off.
When you turn the switch on, the water is at the same temperature for most shower heads. This way, you don't have to compromise on your comfort, but you also ensure comfort for the planet. Thank you for saving water, says our beloved Planet Earth.
Top Brands to Choose From
A good shower is the best way to start your day. That is why choosing the right brand for the shower head is essential.
In this age of competition, it's so hard to stay on top for so long. However, some brands still managed to do it, thanks to their quality over the years. The after-sales service is also an excellent reason for their reputation. Next, we will talk about our top 3 shower head brands.
Moen is our number 1 pick. They have been running their business in North America since 1956. To this date, they are still a top manufacturer of plumbing products. In addition, they are well-known all-around US for the top-quality products they provide the customers with.
Are you looking for a vintage shower head? A modern one? Hand-held is your choice, or are you looking for something with more technology? Chance is, you will find it in Moen. They have various products for customers with different choices and different budgets.
Nearly all of their shower heads come with a fluent water flow. Their products are EPA certified, too, if you are worried about the energy costs. Let's see one of their best-selling products in the market.
Moen 26112SRN Handheld Showerhead. With over 9000 reviews and 78% of them being five stars, it tells a lot. This 6 in 1 handheld shower head comes with a magnetic feature. 
You can take the handheld shower head off its stand and put it back in an instant with the help of the strong magnetic force. This nickel-finished shower head doesn't catch water spots or fingerprints that easily.
Multiple settings give you a choice to experience relaxing massage and other traditional showering features.
They are our number 2 on this list. They are one of the global leaders in manufacturing shower heads and other bathroom apparatus in general. They offer various types of designs for the customer. 
Delta is well known for its technology-related features. One of their best-selling products is: Delta Faucet RP34355RB Shower Head.
A staggering average of 4.8 stars after 711 customer reviews calls for attention. This intensely powerful shower head comes with three different spray patterns.
It has the messaging jets feature installed for a soothing shower experience. This particular model is straightforward to clean as well. This brass finished shower head has a water flow of 2.5 GPM, the highest US currently allows.
Kohler is our last pick for the top 3 shower brands to choose from right now. This American-based company has been in business for around 140 years. Yes, you heard that right. They are still one of the best shower head manufacturers in the US right now.
They are one of the first companies to introduce Bluetooth speakers with their shower heads. They are also the pioneers of Flipstream technology. This technology allows switching between different spray patterns by rotating the shower head.
They have a lot of products that sell like hotcakes in the market. To name one of them: KOHLER K-10282 Shower head with Catalyst Spray.
It is one of the best wall-mounted shower heads you can find in the market. The air induction technology in this shower head provides an excellent water flow under all circumstances.
Chrome Finish on the shower head makes the product very durable. Kohler even provides you with different necessary parts to fix your shower head by yourself.
The manufacturers charge 95.45 USD for this product without a discount.
Shower head prices differ a lot depending on their features. Therefore, we will divide them into three categories and look at some of the market's products at our price range.
You would be surprised to know that shower heads prices can go as little as 15 bucks. We have put the shower heads up to the $60 mark in this category. Let's take a look at our top picks.
Only at $29 dollar, it just feels like this product can't do anything wrong. This is a wall mount shower head with a polished chrome finish. It is easy to install and has a 1-year additional replacement warranty. One downside of this product is low water flow.
Another handheld shower head is priced only at $15 dollar. This one comes with 6 settings. Another advantage is it's easy to maintain and the installation process is easy also. Though the shower head may leak after a few months of use.
If you have a low budget then you can also check out these top-rated low budget shower heads:
We have put the shower heads ranging from $70 to $180 in this category. Our top three choices are here:
This is one of the best shower heads you can buy if you have a medium budget. This product is priced at around $74, and we can safely say that it's a bargain.
Modern design with high-pressure water makes it a perfect choice for most households. It even comes with a one-year warranty. Though, some of the users actually complained about adjustability.
At $129, this shower head is one of our top 2 picks. This handheld shower head is built with quality material. Extra long flexible hose with a smooth three-way diverter and the rainfall effect are some of the most attractive features of this shower head.
It comes with a 3-years warranty. The installation process is a bit tricky. We suggest you keep the manual guide with you.
For mid-budget you can also check out this list of shower heads given below:
They are the ones with the highest number of features, and they are the costliest ones as well. So we keep the shower heads ranging from $200 and above in this category.
Our Top 3 picks for luxury shower heads are:
[ Want to know is it worth to by an expensive shower head? Then, read this. ]
Tips: How to Order the Best Shower Head?
Now, with all of the information in mind, let's show you a 7-step guide for buying a shower head to make it as easy as ever.
Understand What You need
As you already know, shower heads are of so many different kinds. You get a lot of options, so you might feel overwhelmed. 
So, ask yourself these. Are you buying it to save water? Is it for the family or you are the only user? Do you want modern technology? Do you need to save the bill? Do you only wish to comfort, or is durability your concern too? What's your budget? 
I hope once you have an answer, you will know exactly which one you need from our thorough article.
Determine Proper Size
As we said earlier, not all shower heads fit traditional or modern bathrooms. You need to know which one is the perfect fit for your home.
Choose Your Brand
A brand isn't only a name but a reputation built on years of service. Providing that you go for the right brand goes a long way. Budget can be an issue for some of you, and we understand that. But there are a lot of excellent shower heads at a low-price tag in the market as well.
Read the Reviews
It has to be one of the best ways to know about a product. People in marketing will lie to you, but the users won't. 
Check the percentage of the 5-star reviews. Read the lowest-rated reviews to figure out what went wrong.
Order Only from Reputed Sources
It's not just about buying and getting to your home. It's about after-sales service as well. Reputed sources will never sell faulty products. Even if they do, they will make sure to compensate you accordingly.
Check the Warranty Policy
Different brands and manufacturers have separate policies. Some will get you a 1-year warranty, while in some places, you might even get three years of servicing for free. 
Read those before you buy your product. This will make sure that misunderstanding in the future doesn't happen.
Install and Use
A lot of the shower heads are straightforward to install. If it's not, hire a plumber and enjoy your brand-new shower head.
We tried our best to tell you the truth and the truth throughout this article only. We thoroughly researched the market, read many user reviews, and even heard what the dealers had to say. 
We hope that this guide will help you in every aspect while buying a shower head.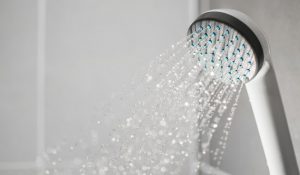 Showering with a handheld shower head is very pleasant, washes flawlessly, and pretty efficient for watering at every single body part.  Basically, a handheld shower
Read More »
Was this article helpful?