A well-equipped kitchen will make cooking and cleanup a lot easier. One of the first things you'll need is a kitchen sink. That's because it's where you'll wash, rinse, and chop all of your raw ingredients before cooking them. 
Now, what size should you get, and how should you choose the size? The answer to this depends on a number of factors. But first, you have to know exactly how much space you have in your home and what other appliances are already there so you know what to expect. 
Read on for more information about choosing the right kitchen sink size for your home and its layout.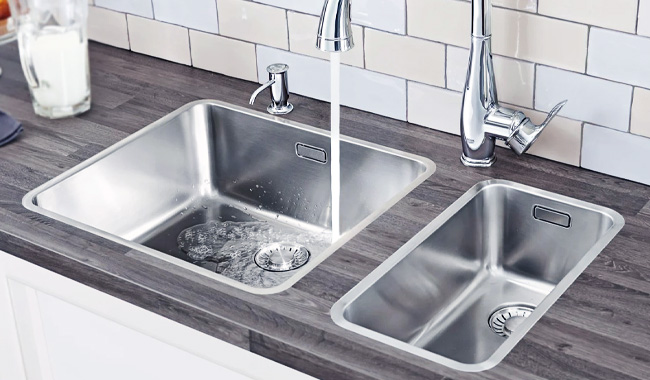 5 Basic Steps to Choosing a Kitchen Sink Size
Here is a list of common things to consider before choosing the right sink size for your kitchen.
Step 1: Know Your Kitchen's Size
A big sink in a small kitchen can be a huge issue. The result will be less counter and cabinet space, which are essential for your kitchen. Before choosing the sink size, decide whether your kitchen is large, medium, or small.
Step 2: Determine Your Cabinet Size
Typically, the base cabinet should have a few extra inches on both the length and width sides. You might, however, stray from the accepted measurement if you consider several other factors. 
Step 3: What Should be the Depth?
Typically, standard sink depths range from 7 to 12 inches. Select the appropriate size to avoid future regret.
Step 4: Learn About Different Sink Types and Sizes.
After the initial measurement, finding the appropriate size is the next thing you should think about. On the other hand, the appearance of your kitchen can be significantly enhanced by selecting the ideal design.
Step 5: Installation Method
Consider a different installation technique now, then install a sink in the kitchen. There are four common installation processes.
In short, size really matters when choosing the perfect sink because both the large and small sink sizes have advantages and drawbacks.
For example, if the kitchen sink is a bit larger and deeper, it will take longer to be overcrowded with dishes and plates. 
The benefit of such a sink will also extend to large families with numerous members. However, tall members of your family may find it challenging to reach the sink's floor because doing so may require excessive bending, which could lead to back pain and spinal damage.
What is the Average Sink Size?
The sink size can be a minimum of 9-10 inches, while the maximum limit depends on your kitchen size and needs. The maximum length is typically 40 inches or more. 
Average home sink sizes range from 24 to 30 inches, with a depth of 7 to 10 inches. For medium-to-large-sized kitchens, standard sink sizes range from 30 to 36 inches.
NB. Want to know more about kitchen sink size in detail, click here.
How to Measure the Sink Size for New Installation or Replacement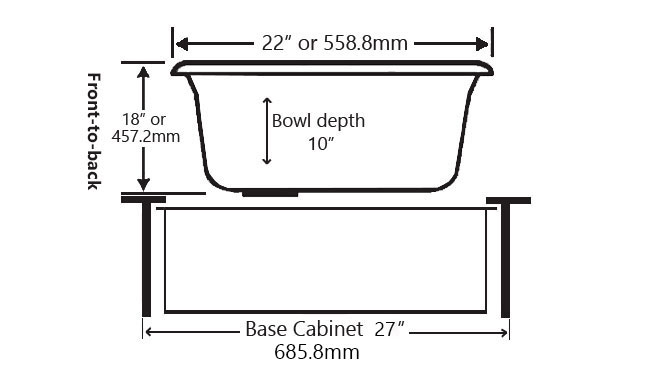 When it comes to giving your kitchen a unique look, various sizes are available. And it is pretty easy to remove your old sink and replace it with the new one.
Step 1:

Determine the dimensions of your current sink's length, width, and depth.

Step 2

: Disconnect the faucet in the drain from the sink, then remove the sink.

Step 3:

Now, measure the length and width of the cutout. Any new sink you select should be larger than the cutout to cover the hole adequately.

Step 4:

Measure the length of the base cabinet. Consult the specification sheet before purchasing a sink to ensure it will fit properly in your base cabinet.
Some additional details while measuring the sink size for new installation or replacement
Some additional details you need to take into account, such as the corner radius of each corner of the cutout.
First

-If, the new sink has a smaller lip than the sink being replaced, the new sink may not cover the existing cutout, requiring the countertop replacement.

Second- Consider the sink material. Different sink materials will be sized in shape differently. For example, if you are replacing a stainless steel sink with a cast iron sink, account for the thicker material when measuring. Because the new sink may not fit perfectly into the existing cutout, requiring the modification or replacement of the countertop
Third– Consider the number of sink basins. If you are going from one basin to a double basin or vice versa, you may need to adjust the under-counter plumbing. 
Finally

, if you install a deeper basin or a basin that is sized and shaped differently, you may need to modify or move your drain outlet to accommodate this change.
Note: Once you have your measurements, go online to find specification sheets, installation guides, and templates that will help you choose the perfect sink for your perfect kitchen.
Things to Consider Before Choosing a Kitchen Sink Size
The size of a kitchen sink is something that you should consider at the very beginning of your purchasing plan. Yes, you have to make room for other kitchen appliances, which leads us to consider it even with more care. 
So, let's find out what you should consider when choosing a kitchen sink size to give your kitchen a perfect design and outlook.
Large and deep kitchen sinks are necessary if you want to wash large plates or big dishes or occasionally bathe your pet. Be aware of the needs of your kitchen before choosing a sink size.
Sinks come in a variety of designs. Depending on your preferences and needs, you'll decide which type to use. Here are a few of them:
The Overmount Kitchen Sink

Undermount Sink

Inset sink

Flush-mounted Sink

Belfast Sink 

Stainless still Sink

And many more.
Recommended reading: Undermount vs. Drop-in vs. Farmhouse Kitchen Sink
Different types of sink material include the following:
Stainless Steel:

Among other materials with low maintenance requirements, stainless steel is the most widely used.

Granite: One of the most durable materials also available in multiple colors.
Ceramic:

Ceramic is a great option. Mainly used in the traditional kitchen

Coper:

Despite not being used frequently, copper sinks are heavy, larger, and have more finish options.
Recommended reading: Granite Vs Stainless Steel Sinks
Often oversight, before placing the new sink, checks whether it comes draining system. This is an important feature to look at before buying.
Make sure you're buying within your budget. Do not get too excited about a particular sink that you won't be able to bear. On average, a new sink will cost somewhere between $40 and $300. With installation, the cost can reach $500.
How do I Choose a Kitchen Sink Size?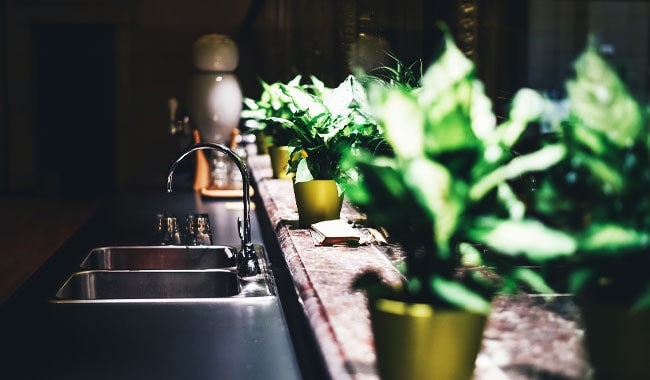 By now, you have an overall idea of choosing the perfect sink size. Now, let's find out how you should choose the accurate size that will ensure maximum comfort and efficiency.
The consequences of replacing an inappropriate sink will be reduced counter and cabinet space, which are equally necessary spaces for your kitchen. Before looking into other issues, consider this aspect first.
According to research, a common size for kitchens in the United States is between 150 and 200 square feet. The expert said a kitchen with such a  measurement would work with sinks between 24 and 32 inches wide.
After the initial measurement is done, finding the appropriate size is the next thing you should think about. 
Standard Size:

The standard size can range from 27 to 32 inches.

Workstation Sink Sizes:

Different sizes of workstation sinks are available, ranging from compact 32-inches to large 45-inch models.

Bar Sink Size:

The width of the common bar sink ranges from 16″ – 22″ and from 16″- 18″ deep.
Single Bowl Sink Size:

the Average size of the Single bowl sink can be as wide as 32 inches and is appropriate for small to medium kitchens.

Double Bowl Sink Size:  the Average size of the double bowl sink can be as wide as 48 inches and is appropriate for medium to slightly large kitchens.
Triple Bowl Sink Size:

It can be as wide as 60 inches and should be used in a large kitchen.
What Should be the Cabinet Size?
What should be the maximum width of your sink depends critically on the size of the kitchen base cabinets. Typically, there should be two to three inches between the sink and cabinet widths.
What Should be the Depth?
The correct depth selection is essential. If the depth of the sink is too deep, you might find yourself bending over excessively while washing the dishes. 
However, if the depth is too shallow and you have to wash many dishes each day, the pile of dishes may grow too large and eventually reach the faucet. The standard depth of a sink should be 7 to 10 inches.
Perhaps 90% or more of kitchens have a sink beneath the window. It offers a few advantages. For instance, it aids in transferring cooking-related odors from the kitchen to the outside. 
In addition to the practical advantages, a sink under the window enhances the aesthetics of your entire kitchen. Additionally, the window's natural light enhances your positive attitude while cooking.
There are four common installation processes. Each process is different from the others. 
Top Mount or Drop-In:

The drop installation process is quicker and easier to install. The chances of damaging the countertop are lower with this installation process.

Undermount: Unlike the top mount installation process, the undermount installation process requires sinks to be installed under the countertop.
Dual Mount:

With this installation method, you have the option of installing a sink as an under-mount or a drop-in.

Farmhouse:

This is another style of installation where the sink is mounted below the countertop.
How do I Know What Size Sink to Get?
When determining the size of the sink, it is important to make sure the size you select will fit into the new sink base.
After measuring the width of the cabinet, deduct 2 to 3 inches from your base cabinet's overall width. A 33-inch sink should fit into a base cabinet that is 36 inches wide. That's the size of the sink. You can download the detailed spec sheet from the website with all the other dimensions you need.
What is a good size sink?
A typical and suitable kitchen sink size is 27 to 32 inches long, 17 to 20 inches wide, and 9 inches deep.
Why does cabinet size matter for sinks?
You must measure the cabinet size in order to determine the length of the sink, which is typically 2 to 3 inches shorter than the base cabinet width.
Can you put a 30-32 inch sink in a 36-inch cabinet?
Yes, you can; typically, the length of the sink should be 2 to 3 inches shorter than the total width of your base cabinet.
What size sink do I need for a 33-inch cabinet?
It is preferable to have a sink size 2 to 3 inches shorter than the total width of the cabinet. The 33 inches cabinet should have a 30-inch sink.
The kitchen is unquestionably the essential room in your home, and the sink is a crucial component of the kitchen. Additionally, having the appropriate-sized sink enhances the appearance of the kitchen and makes things simpler while handling a variety of tasks.
It is clear that the old sink has to be replaced with a new one owing to wear and tear. If this is the situation and you want to install a new kitchen sink yourself, follow the tips and instructions we provided in this article. Good Luck.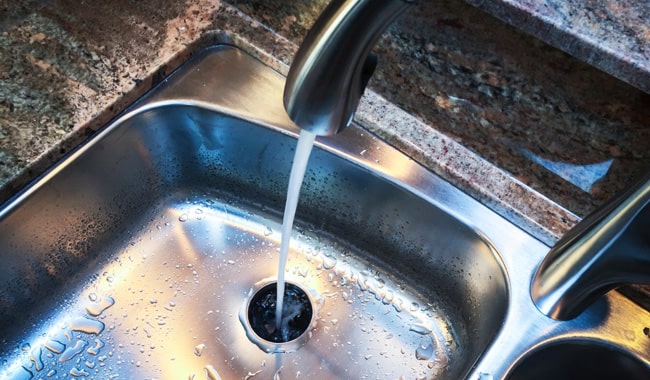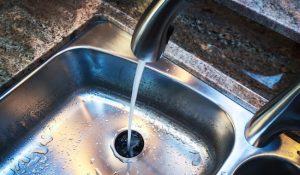 Whether you are to repair your kitchen sink drain or install a newer one, you must know about the standard sink drain size. The same
Read More »
Was this article helpful?