Choosing the perfect shower system is surely important as relaxing showers at the end of the day helps every family member unwind and destress.
For invigorating showers, you need a shower system that can better meet your needs and make showers more enjoyable for you.
Picking up the appropriate Shower System is quite a difficult task that requires legitimate product knowledge.
SR Sun Rise company is establishing their Shower Systems up to the highest standards. The designs are created with versatile innovation that complements your bathroom's appearance.  
SR Sun Rise Oil Rubbed Bronze Shower System is one of the finest releases of the reputed company. 
It is a complete set with advanced technology involved to provide you every possible facility that you might require while taking a shower.
In this article, we'll analyze the highly-rated SR sunrise shower system that should be the perfect solution to your showers. 
Here comes our SR Sun Rise shower system review!
SR SUN RISE 10 Inch Oil Rubbed Bronze Shower System Review
The SR Sunrise shower system is perfect for a home or for use by one person.
It is a complete unit that comes with several necessary items as well as the tools you may need to properly maintain and take care of the showers. 
If you are an interior décor enthusiast, you will love its oil-rubbed bronze finish that makes your bathroom look chic and make the shower head last much longer. 
[ On a side note: to get ideas on shower head placement, click here ]
The L-style handheld shower will make your life convenient if you have children or pets and you need to bathe them. 
Needless to say, they are perfect for you as well and can even be used for cleaning the bathroom. 
This one also comes with a coveted and customer-favorite rain shower head as well as a shower mixer valve that makes showers more relaxing. 
Efficient as always, the rain shower head can help take showers in a regular manner even when the water pressure is low.
This thing has some state-of-the-art features that make it stand out from its competitors. Let us take a look at some such features. 
Comes with a handheld shower head, a rain shower head, and a brass shower mixing valve

All the equipment in the shower are extremely durable 

The shower bracket helps store handheld shower 

Consistent rain shower flow even when the water pressure is low 

Makes the bathroom look chic and classy

The shower mixer valve ensures perfect temperature for a shower
Some special features set this SR sunrise shower system apart from its competitors and make sure you get a relaxing shower every time. 
Let us take a look at some such features.
This model is quite an expert at making your bathroom look chicer and classier. 
The ten-layered oil-rubbed bronze finish is just what you need to make your modern bathroom look classy. 
This finish also makes the whole system extremely durable and makes sure you do not have to replace any of the showers or pipes any time sooner.
Rain shower heads are different than regular shower heads and are known for the relaxing shower experience they can help achieve. 
[ On a side note: to know more about rain vs regular shower head, read this ]
The item comes with a rain shower head that can make shower experiences more relaxing and memorable for you.
Recommended Reading: Rain Shower Head Buying Guide
Equipped with shower brackets, this one makes storing the handheld shower easy for you.
It is not like the low-quality holders that are made from plastic. 
Instead, it is built using brass material long term usage and is square-shaped to provide a uniquely attractive look that matches the shower system.
The shower valve is a very important fixture of the Shower System. It combines hot and cold water to constantly provide you with water that is just the right temperature. 
The mixer valve has control over the water temperature of the shower faucet. 
Your shower experiences will be even more invigorating with the help of the shower mixer valve that comes with this product. 
Whether it is the sweating summer or the shivering winter, you can always enjoy the water according to your mood and the need of the body. 
Just simply moving the lever by following the instruction manual can let you experience the exact temperature. Rough-in valve body and trim are included with the mixer valve.
The items in the unit were constructed using quality brass material that does not contaminate the water that you use to take a shower with.
The 15.7-inch Shower Head Arm is for setting the wall-mounted Rain Shower Head. 
The design of the Shower Head Arm is very classy and it is made from metal that increases its longevity. 
The water will fall directly from the top of your hand to make you feel like it is raining from the sky.
Stainless Steel Shower Hose
The stainless steel in the shower hose makes it vulnerable to stains. It is built recognizing the fact that you might require to bend your handheld Shower Head in any way you like. 
This is a kink-free hose so the chances of causing any tangle or knot are mere to none. 
The size of the hose is approximately 70.8 inches that provides you a high reach for taller people. 
The flexible hose compliments the handheld Shower Head very well and lets you enjoy its functionality properly.
If you live somewhere where the water pressure is often low, you will not have to worry about skipping a shower anymore. 
The rain shower head in this system can provide a constant water supply even when the water pressure is low. 
No matter what, you can enjoy relaxing showers regularly.
The state-of-the-art SR Sunrise shower system is equipped with very smart Air Injection technology. 
This technology helps make the best of the existing water pressure and save more water than you would while using any other shower unit. 
It is also the same system that keeps water flowing consistently and helps you take a shower even if water pressure gets low.
Below, we have listed some noticeable specifications of this very efficient shower system.
Material – Brass and 304 Stainless Steel
Finish/Color – Oil Rubbed Bronze
Shower Hose Length – 70.8 inches
Comes with – 1 rain shower head, 1 Brass Handheld Showerhead, 1 Shower Mixer Valve Control, 1 stainless steel shower hose, 1 metal shower head arm, and 1 Brass Shower Bracket Holder
Special Advantages Over Other Shower Heads
The SR Sunrise shower heads have several advantages over other shower heads that make them stand out and make your investment worthwhile. 
Surely, the oil-rubbed bronze finish is the first advantage that this model brings. 
This finish is an expert at making your bathroom look chic as well as making the shower system as a whole much more durable than other shower heads.
Although many showers come with mixer valves, most showers actually do not. 
The mixer valves on this SR Sunrise shower system are surely extremely handy and will help you enjoy more comfortable showers.
Long-lasting and Quality Material
Made with brass and 304 stainless steel, the equipment in this unit is one of the most long-lasting ones on the market. 
There are many long-lasting shower parts and systems available, but the SR Sunrise system beats almost every one of them.
The SR Sunrise shower unit is great at consistently providing relaxing showers. It can provide amazing shower experiences even when the water pressure is low.
For Whom This Product Is Designed
The shower unit is designed for those who want their bathroom to look great in addition to the quality. 
This one-in-all system is perfect for making your bathroom look classier and elevating the interior décor quality of your home. 
Those who have children, pets, or the elderly living with them can make the best use of both the rain shower head and the handheld shower. 
Last but not least, this shower system is a dream come true for homeowners thanks to its extremely long-lasting life, durability, and ability to save water.
Why Chose SR Sunrise Shower System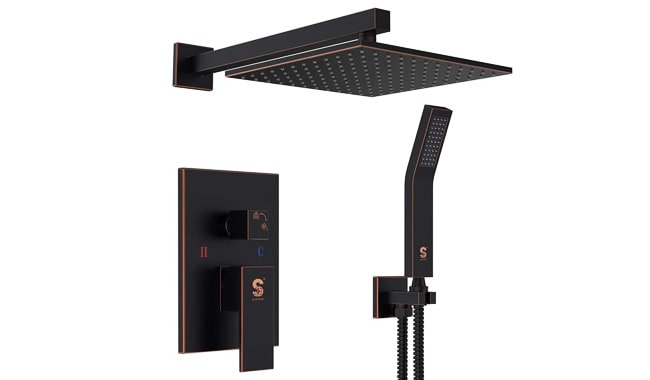 You must be wondering that when there are plenty of shower systems available at the market, why you should choose the SR Sunrise one in particular. 
Let us take a look at some reasons that will surely convince you.
Quality materials that will last a long time and reduce replacement costs

Handheld shower can be used to bath children, pets, and the elderly

Sleek look provided by the oil rubbed bronze finish

Shower can be taken even when the water pressure is low

Environment-friendly and can save more water than most other shower systems
Expert Overview About SR Sunrise Shower System
Let us take a look at an expert opinion about the much-coveted SR Sun Rise shower system.
Overall, we love the SR Sun Rise showers for the convenience and quality they provide at such as low price. 
Its clever use of two types of the material makes it more long-lasting than most other shower brackets and heads on the market.
We also love its oil-rubbed bronze finish that is known and loved for its ability to make your bathroom look much more luxurious. 
This all-in-one system comes equipped with anything and everything you might need, which also means that you will get great value for the money you are spending. 
We also cannot but discuss how environmentally friendly this item is and how much people who are environment enthusiasts will love this.
Thanks to its user-friendly nature, you can take showers even when the water pressure is low, and that is something that many showers in the market cannot do.
Users Review on SR Sunrise Oil Rubbed Bronze Shower System
Besides reading about expert opinions, it is also necessary to learn about opinions or reviews from other users. That can help you learn things from a user's perspective and make more informed decisions. 
Below, we have summarized some online reviews from some very satisfied customers.
Most of the Shower Systems that are available in the market, carry the same patterns. These types of designs are getting outdated day by day. 
The same old materials and patterns require to be changed for the sake of taste. Some attractive designs are available in the market too. 
Sadly, those don't come with the entire set like the SR Sun Rise SRSH-ORBD1003 shower system. 
The perfect 10-inch square shape of the rain shower head is adequate for a classy look. 
The handheld shower head is also given a shape that is way more trendy than regular ones. 
Oil rubbed bronze finish of all the items sparkles the sleek look of this unique shower system. The shower head arm and the hose appropriately match the design. 
Customers get tired of praising this shower system but don't stop praising it.
There might be some rumors about the product that it has some leak issues. 
It requires a legitimate installation that matches the instructions provided by the manufacturer. The product is completely leak-free. 
No matter what, the chances of any leaks occurring any leaks mere to none. Once it is installed properly, the shower system won't leak in a lifetime. 
Although, if a rookie plumber is hired then there are high chances of any leaks taking place. It is always recommended to hire a professional plumber to install this shower system. 
Otherwise, it can end up messing the entire installation or even worse damage the product
The materials used to build a shower system are very important. Plastic fixtures are very poor in quality. 
There is a high possibility of this type of shower system to break or leak very soon. 
More time passes higher the chances. It has become an obvious issue for most of us. Gladly, the materials used in the shower system of Sun Rise are better in quality. 
The shower heads are made using brass and have an Oil Rubbed finish. 
It consists of a metal arm for the rain shower head and a 304 stainless steel hose. The mixer valve also has a lever made from brass. 
Neglecting these rich materials is next to impossible. It is built for lasting a long time.
The items that come with this shower system have a higher value in the market. 
It can cost many bucks. Even the materials increase the price by a huge margin. Can't deny the fact that Sun Rise made it very affordable for the customers. 
Customers get the best quality at the lowest rate possible. 
It very hard to get all the items of this shower system at such a lower cost. Thankfully, the users can enjoy the facilities because of Sun Rise.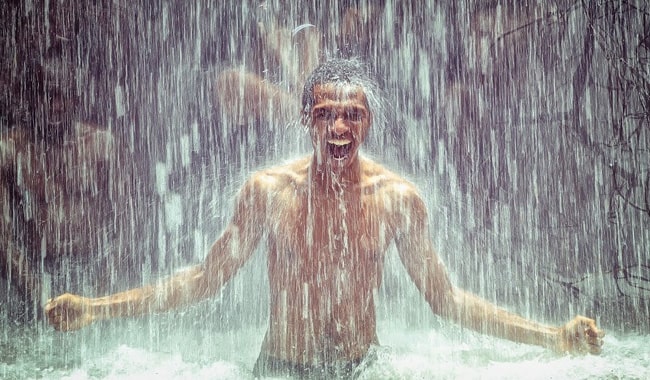 The rainfall shower head is becoming a very popular choice for users. Most of us want to feel something different after having such a busy day. 
Regular shower heads drop the water in a very disturbing way. 
The rain shower head has come to rescue from this irritating experience. As the term refers, it flows the water like the actual rain. 
It will take out all the stress of the body and make it much relaxed. Thanks to the air energy feature, the water pressure is always consistent. 
Where can I get replacement cartridges for the shower valve?
The replacement cartridges have to be shipped from overseas. 
You can contact the manufacturer if you need any replacement parts, and they will arrange for them to be shipped.
I already have a shower head. Can I use the SR Sunrise shower head to replace that shower head?
Yes, you absolutely can.
Most users who install the shower head are using it to replace an existing shower head.
Can this be used as an outdoor shower?
We recommend not using it as an outdoor shower if there is no roof protection where this shower system will be and is open. 
That will cause the SR Sunrise shower system to decay and get damaged much faster. 
I have an existing shower mixer valve. Can I install this SR Sunrise shower system with that valve?
Yes, you can install this shower system without replacing your current mixer valve.
What is the GPM for this shower?
The SR Sunrise shower system has a GPM of 2.5 for the rain shower and 2.0 for the handheld shower.
We hope our SR Sunrise shower system review has provided you with enough information that you need to make an informed decision and get a shower installed in your home.
The SR Sun Rise SRSH-ORBD1003 shower system enlightens your bathroom's interior from a dull and old-fashioned cave to a modern and classy-looking peaceful place.
The materials used in building the shower system are top-class like the brass used in the shower heads. Nonetheless, the shower system should be a definite choice for your bathroom.
Always remember to use water responsibly and be generous to the environment.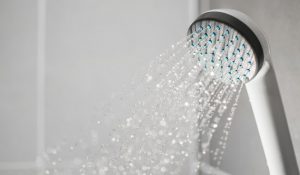 Showering with a handheld shower head is very pleasant, washes flawlessly, and pretty efficient for watering at every single body part.  Basically, a handheld shower
Read More »
Was this article helpful?