Keeping an expensive iPhone in the pocket or riding a luxurious car has become a preference for most of us. But what about our shower?
Is it worth installing a luxurious shower head in the bathroom?
Expensive shower heads consist of the major features that can make your showering process more pleasurable.

The top-class durability and the eye-pleasing designs of such products will enhance the beauty of your bathroom décor and prevent damages that could result in plumbing costs. Many necessary features are provided with these shower heads to ease your shower time.
Installing a luxurious shower head will serve you an overwhelming experience and these will snatch your attention from any regular shower head.
These products might cost a bit higher but is worth the service you receive from them.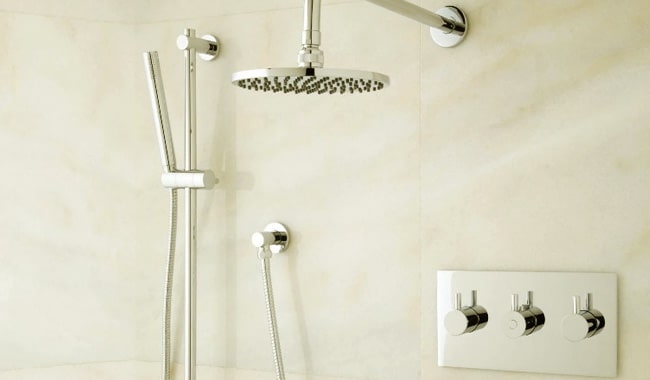 How Shower Heads Can Make or Break Your Shower?
People require many necessary fixtures and fittings that can enhance their comfortability in the shower. 
A shower head is the main item for having a pleasing shower. Manufacturers are improvising their creations to provide the highest possible facilities to the users.
It is mandatory to maintain a longer-lasting shower head for installing in the bathroom. Cheap shower heads might seem to be beneficial at the time of buying but will result in regret later. There is a high possibility of leakages if it is made from poor quality materials. The nozzles can become blocked with water disposals that might be hard to get rid of. 
Mostly, cheaper shower heads don't have many spraying options to choose from. This will put you in the condition to change the shower head quite often.
As a result, it will cost you more in the long run. One of the major costs that might be required is the plumbing expenses. 
Therefore, it is vital to consider the efficiency that you might receive from high-quality shower heads. Top-class manufacturers evolved the technology of their products to provide enticing features for the users. 
Modern designs of luxurious shower heads can provide a sleek look to grab the eye of an individual. 
Therefore, it is easier to maintain the fresher trends of the shower for years. The privilege of witnessing the durability of luxury shower heads is beyond something usual. They are made from premium quality materials that are worthy to last for many years. The chances of breakages are hardly an issue with this type of shower heads. 
Cleaning is a major factor when it comes to shower heads as the continuous flow of water passes from this item which may result in residues sticking on it. 
The chances of occurring blockages are mere to none and cleaning can be done just by swiping the fingers over the nozzles in many shower heads. Leakage and breakage are never an issue unless a faulty product has been provided. 
Luxury shower heads are mostly built with air-tight technology that seals them from water leakage.
These also consist of several spraying modes, so you don't need to change the shower head to enjoy a different spraying pattern. 
These are very soothing for most potential buyers because they can enjoy the pleasure separate shower heads into one. All these advantages of the expensive shower heads make them vulnerable to any additional repairs and make your shower more comfortable. 
Nonetheless, these products are always backed up with the manufacturer's guarantee so you can replace them if it is performing as the brand's promise.
What Are The Special Elements That Makes Shower Head Expensive?
The materials of the shower head affect the price drastically. Nowadays, Stainless Steel, Brass, and ABS plastic are the most popular choices for shower heads. 
Although, the entire mechanism cannot be done with one material. 
To provide fantastic features, it also requires other materials to improve the functionality of those features. Stainless Steel has the longest durability and it is resistant to stain, corrosion and heat. 
Comparatively, the cost of Brass is higher but the designs of these shower heads are marvelous. 
ABS is a non-toxic plastic, which is not harmful to the body and it is also BPA-free and resists heat more than regular plastic. All these materials ensure the standard quality of the shower heads for increased longevity.
Other materials are supposed to be cheaper in prices but those will not provide legitimate satisfaction. 
Therefore, the luxurious shower heads are built using premium quality materials to minimize the risk of unwanted damage.
Recommended reading: Metal vs Plastic Shower Head, and Brass vs. Stainless Steel Shower Head.
The design of the shower heads is polished with several outstanding finishes. 
Oil Rubbed Bronze, Brass, Polished Brass, Brushed Nickel, Polished Nickel, Stainless Steel, and Chrome finish are mostly appreciated by the potential buyers of the shower heads. These finishes have an individual cost that increases the price of the products. 
However, these polishes are highly demandable for shower heads as they provide a ravishing look.
The separate spraying options require a special mechanism to enable the shower head to perform the spraying functions efficiently. 
Nowadays, renowned brands compete to provide more updated spraying experiences to establish their uniqueness. Rainfall, Powerdrench, Power Spray, Ultradrench, and many more options are available. 
Creating these new spray settings requires continuous research, it is a result of their repetitive investment. 
So, the price of such products can have a justified cost attached to it.
The water pressure adjusting capability of the shower head is also a necessity for most people. 
Additional flow restrictor requires extra materials to be installed inside the shower head. The flow can also be controlled by the lever or switch that is used to change the spraying options. 
High water pressure shower heads are also broadly preferred by many people. [On a side note: to know more about best high pressure shower heads, click here.]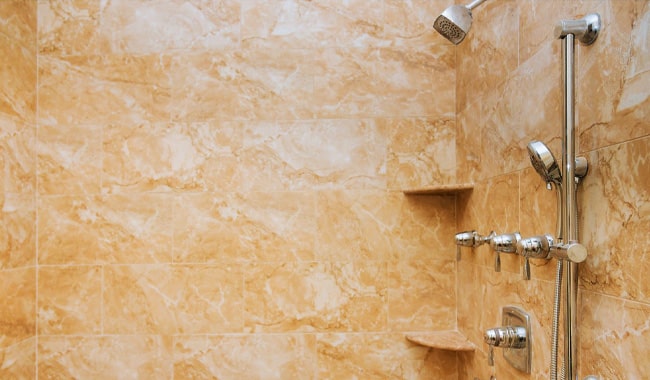 However, Luxury shower heads contain many advanced features like a Ninety-degree rotating lever also Air Injection technology, and many more which highlights the efficiency of these products. 
The technology of luxury shower heads is updating each day and evolving the industry of fixtures and fittings.
Another major factor that affects the price of the shower head is brand value. It is an ignored fact but monopoly manufacturers have established their place in the market and have the right to charge a bit higher for their high-quality products. 
Therefore, It is quite obvious that the price of the shower heads consisting of such facilities and features will have an increased value in the market.
[P.S : If you were looking for the best shower head brands, click here.]
Why Choose Expensive Shower Heads?
Shower head is a very competitive product that has a huge number of manufacturers. So there is a vast opportunity for the buyers to purchase the shower head that fits their budget. 
However, it is not always beneficial to aim for the cheaper ones. As these might not serve the purpose in the long run. Therefore, making an extended budget for the appropriate shower head is a wise decision.
Expensive shower heads prevent the users from facing issues during the shower. 
Some problems such as shower head squeal, low water pressure, leakage, and blockage will not occur while using high-quality shower heads. This ensures a smooth shower without any disruption. A repair is not required very often saves the additional expense of hiring a plumber.
Although, the major problems such as the fading of the color, building junk, jammed spraying switch, and uneven distribution of water flow can also be avoided. 
It is a known fact that the design of the shower heads needs to last for a longer period, as this might ruin the reputation in front of visitors. The luxury shower heads will keep shining for years without any harm occurring to their design. 
Their designs are fabulous and provide a unique look to the bathroom's interior. The showering experience is highly relaxing with the advanced technology involved in them. 
These shower heads can last for ages without the need for any repairs.
It is always worth the investment to buy an expensive shower head instead of buying cheaper shower heads and changing them one after another.
How Much Does a Expensive Shower Head Cost?
As the fixture and fitting industry has an increasing demand in the market and shower head is a big proportion of it, the price of such an item can be very low to extremely high.
However, the price of the luxury shower heads starts from $200 to $1100.
Although, the price can get even higher if a custom shower head is ordered from some specific manufacturers.
We all know that the price of a product will automatically rise if the quality of that item is better compared to other products.
Therefore, thinking that there will be more features in the product if the price is higher won't be a wrong assumption. By now you have been familiar with the prices, so always keep your budget on that price range to get your desired shower head.
Here are some of the luxurious shower heads and their average prices.
Moen TS22002EPBL Arris Posi Temp Pressure Balancing Modern Shower Head, Price- $918.85 – $1010.84
DELTA 57140-BL25-L H2Okinetic Pendant Raincan LED Light Shower Head, Price- $562.38 – $727.76
Grohe 26504000 Rain 310 Smart Active 2-Spray Cube Shower Head Set, Price- $646.10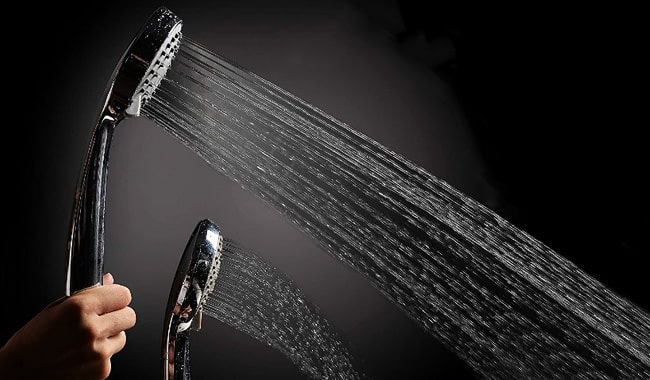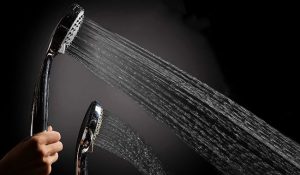 The HO2ME shower head is a product of the G-Promise brand. This shower head has a beautiful design that catches the eye of any potential
Read More »
Was this article helpful?