When choosing a new shower head, you might wonder which material is best for your home. Luckily, we've found that stainless steel works better than others after extensive research.
It is long-lasting and resistant to heat, corrosion, and oxidation. Moreover, this metal is lightweight, making it easy to maneuver (handheld). Notably, stainless steel shower heads are cost-effective for individuals of various income levels.
However, no matter what type of environment you have or what type of appearance you're going for, there's a shower head for that. 
Let's take a look at some of the best shower head materials available.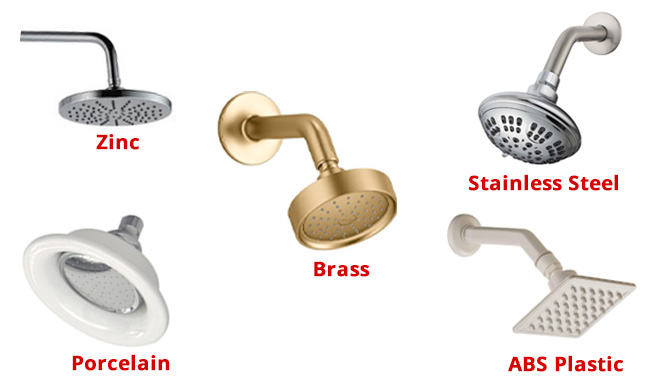 Shower Head Material Types [ Top 5 List]
The three most common materials used to manufacture shower heads are brass, stainless steel, and ABS plastic. In addition, zinc alloy and porcelain are used in the manufacturing of some sprinklers.
Shower Head Materials List:
Brass
Stainless Stee
Zinc
Porcelain
Plastic
Though each has advantages and disadvantages, taking these into account could help you make an informed choice before making a purchase.
On a side note: Are you interested in finding the top manufacturers using the best materials for their shower heads? Then, click here.
Brass is a metal alloy composed mostly of Copper (66%) and Zinc(34%). It makes the brass shower heads very lustrous and aesthetic, which enhances the user's personality and rich choice.
Moreover, it is sturdy and can tackle heavier impacts for several years without compromising performance while taking a soothing bath. These shower heads are resistant to corrosion and rust due to their chemical inertness.
Furthermore, these can withstand extremely high temperatures. As a result, having a long hot bath will not damage the housing. They can intuitively eliminate a wide spectrum of dangerous bacteria with consistency. Therefore, no bacteria or microbe colony makes the shower head its nest.
A brass shower head is completely maintenance-free. After installation, you need not waste time cleaning, reassembling, or adjusting the shower head from time to time.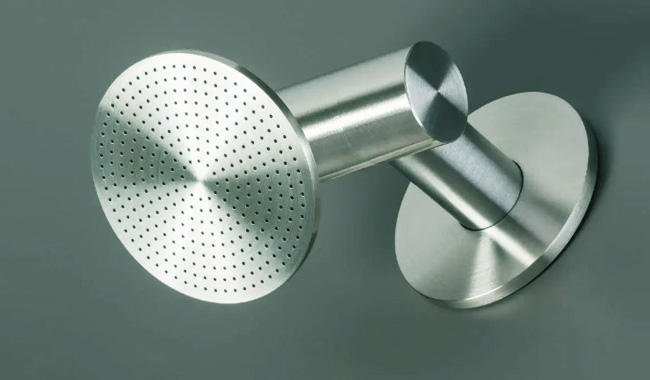 Stainless steel shower heads are tough and durable because they possess high tensile strength. Because of low material density, these shower heads are lightweight, which maintains the premium feeling and looks of the shower head.
Furthermore, stainless steel is resistant to heat, corrosion, and rust, enabling it to last for a long time without any maintenance and replacement.
You will get a wide range of options while getting stainless steel shower heads in shape, spray type, design, etc. When it comes to the price, it is very cheap and affordable for most people. 
The stainless steel shower heads have strong thread and brackets, making the installation easy and sturdy for long usage.
Recommended reading: Brass vs. Stainless Steel Shower Head
The Zinc alloy shower accessory has an electroplated exterior surface and a polished appearance that is even brilliant, trendy, and premium looking. 
However, it is durable enough for long-term usage but requires regular maintenance. Because, compared to brass and stainless steel, zinc alloy has lower resistivity over corrosion.
A Zinc alloy shower system is very lightweight. You can conveniently maneuver the head in different directions for a comfortable and relaxing bath. 
Additionally, it can be covered with polished or brushed nickel, which expressively enhances the outlook and improves durability.
The alloy coating makes an antimicrobe environment resulting in no nesting area for bacteria. Lastly, the price is quite competitive compared to different metals.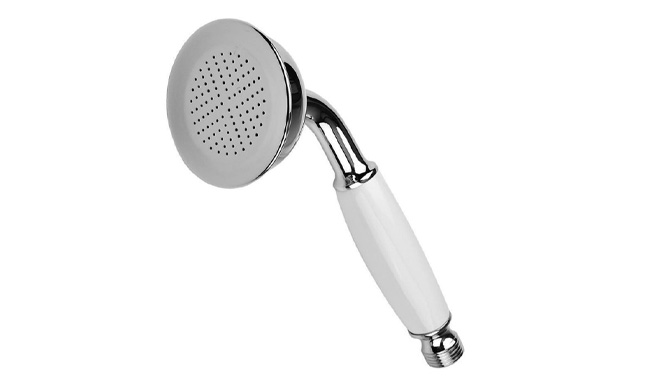 Porcelain shower heads are made of variable components such as clay, feldspar, kaolinite, ashes, etc. This makes a porcelain shower head very sturdy but quite brittle.
It cannot withstand heavy impacts and can break down accidentally. The porcelain bathroom shower makes it look dull in modern houses or apartments. But you can select it for more of a vintage look.
The aesthetic designs and colors make it look charming, enhancing the traditional feel of the bathroom. In terms of resistivity, these are not good for hot water streams. 
Using Porcelain shower heads for the long term slowly degrades the water flow and pressure and causes complete abruptness.
Furthermore, bacteria and microorganisms actively attack Porcelain surfaces. You may need to replace the shower heads frequently or conduct regular inspections and cleaning.
ABS or otherwise known as Acrylonitrile butadiene styrene, is a storing form of thermoplastic polymer. It has a wide range of uses nowadays, making lots of domestic items such as shower heads as well.
Its friendly molding capability allows for making many different types of shower heads. As a result, you will get many designs and color selection options for the best-looking one.
Due to the abundance of polymers and easy processing of plastic material, the price is very cheap and affordable for all.
Another best feature of a plastic shower head is its durability. The robust character of the ABS material makes it very hard and strong. Hence, it can easily withstand heavy impacts without any degradation.
Since it is made entirely of organic polymers, no impact of rust or corrosion occurs. But a major drawback of the ABS shower head is that it does not possess anti-bacterial features.
This results in replacing the shower head every 6-8 months constantly, which can be very hassling and also a waste of money.
Recommended reading: Metal vs Plastic Shower Head
What is the Healthiest Material for a Shower Head?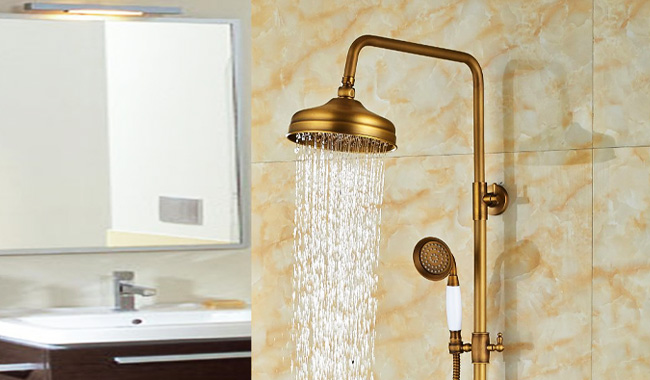 The healthiest material for a shower head is undoubtedly Brass. It possesses a major copper and zinc composition along with other anti-oxidation metals.
Brass-made shower heads last for a long time without requiring any sort of cleaning or maintenance. Notably, Brass is highly anti-bacterial. The surface of Brass does not allow bacteria and other microorganisms to produce a colony. 
Its excellent heat, rust, and corrosion-resistive nature keep it protected over the years without any damage and need of replacement.
The easy flexibility of brass makes it easily maneuverable n both fixed mounts of hand-held shower heads. As a result, you get more room to wash yourself thoroughly.
What Shower Head Material Lasts Longer?
Metal-made shower heads last longer compared to other materials such as plastic or Porcelain. Brass, Zinc-alloy, and Stainless Steel are the best-suited materials for making a long-lasting shower head.
Although all metals are durable, stainless steel and brass come out on top in terms of strength and sturdiness. The shower head bracket and connecting threads do not get deformed even after using those for years.
Being chemically inert to oxidation, brass and stainless steel shower heads have high resistivity over rust and corrosion. Since metals are a naturally good conductor of heat, these shower heads can withstand very high temperatures without any trouble.
Which is Better, Plastic or Metal Shower Head?
Both Plastic and Metal shower heads are good regarding some factors. But metal shower heads are better for long-term use without the hassle of maintenance or replacements.
It is because the metal threads, brackets, and hose are more sturdy and flexible than the Plastic ones.
Metal shower heads also come on top regarding the designs and premiums. Especially the brass ones with brushed and polished nickel surface gives an eye-catching aesthetics which a plastic one is refrained off.
But the plastic shower head has the upper hand when it comes to the price. These are far cheaper than metal shower heads. That is why budget can be an issue while selecting a shower head for your bathroom.
Recommended reading: Shower Head Price Guide
1. What lasts longer, brass or stainless steel?
In terms of relativity, brass is more durable and long-lasting than those Stainless steel. Brass is composed of severable strong metals such as Copper, Lead, and Zinc, whereas Stainless steel has one major component, iron.
2. What is ABS material in the shower head?
ABS material is a form of thermoplastic. It is an acronym for acrylonitrile butadiene styrene. This material is popular for its flexible molding capability and durability. Besides, it is non-toxic and robust.
3. Is Brass Waterproof?
Brass is a metal alloy made up of Copper and Zinc in different compositions. This makes Brass waterproof, which means oxidation won't affect Brass, causing corrosion or rust.
4. How do I know if my shower head is nickel coated?
You can determine if your shower head is Nickle coated or not, judging by the color and shade. Brushed Nickel or Polished Nickel shower heads are brown or earthy in color. 
In contrast, normal metal shower heads are shiny silver in color, which is more lustrous than Nickel coated ones. 
Choosing the best material for a shower head is important, as replacing one frequently can be irritating.  The good material of a shower head ensures longevity and healthy water spray on your body and head.
That is why it is worth investing time to know all the different materials used to make the shower heads. This article covers the facts about different materials used to make shower heads. 
We hope it has been informative for you and becomes useful in making a wise decision before choosing a shower head for your bathroom.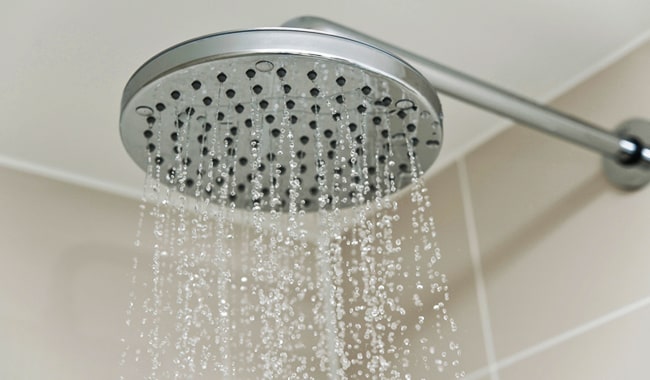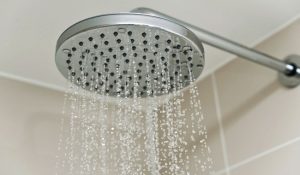 If you are looking to buy a shower head, the flow rate of the water from the shower head is something you must learn about.
Read More »
Was this article helpful?