Comfort at home is not only in the bed or sitting room, but also in your bathroom. Choosing the right kind of a typical shower head height is not that easy as it should meet the requirements of a recommended shower head height.
It is best if you start with industry standard shower head height.
Shower Heads come in different designs that make a difference in their heights.
The designs are made unique for a particular installation that will be suitable for every height.
This article will also give you insights about the different ways you can employ while installing your shower heads
Standard Shower Head Height
There is always this question, "what is the industry shower head height?"
Well, we can get you covered. Industry shower head height is a standard and comes with a fixed shower head height from the floor. It is basically eighty inches (80") or six feet and eight inches(6′ 5")/207.26 centimeters (cm).
This is an ideal shower head height for people who are average or tall in height.
If you were looking for shower height, then the above measurements are perfect especially if you want a standard normal shower head height.
However, for those considering a custom made shower head height, make sure you consult your plumber on the best way that can suit you or your family.
Height of Shower Head Controls
To ensure that you have comfortable access to your shower head whether standing outside or inside the shower spray, the controls should be easily reachable for everyone despite their height.
The ideal height for a shower head control should be ranging between 38 inches to 48 inches from the floor. This will also rely on personal preference and style.
Importantly, the controls should be easily accessible and placed in a strategic position and height.
Shower Head Height Regulations
There is no fixed height for shower head height. This is because we all have different preferences and designs for our house and bathrooms. 
There are, however, plumbing guidelines given when you don't know the measurements in designing the height of your shower head.
But it's of an essence to use the standard height so that your bathroom is suitable for any family member. Despite this, if you want something unique, you can toggle the measurements to come up with something for you or your family.
Shower Head Height Installation
With the above standard shower head height, sometimes it is recommended to choose the most appropriate for easy installation. A shower head might be correct, but improper installation may ruin everything.
You can consider the following shower heads since each is ideal for a perfect shower head height;
Standard Wall Mounted Shower Head
It is the most common shower head and ideal for you if you consider using the industry standard shower head height.
As the name suggests, it mimics the sensation of rain, enabling a perfect flow of water down on your head. It is installed with the recommended shower head height and perfect with low ceiling bathrooms.
Handheld shower head incorporated with 36" to 72" long hose pipe giving you the control, it also comes with a mount, hence very suitable for wall mounting.
There might not be any regulation when deciding which shower head height to use. However, if you are looking for the appropriate shower head height, many sellers will provide you with the shower head height codes.
If you are considering using a standard wall mounted shower head, use a shower head height with measurements ranging from 80" off the floor or 6 to 8".
For those using rain shower head, it will require you a 4-5 or 8" height while handheld shower head is best if fitted with 36 to 72" hose pipe that can also be mounted.
Shower Head heights can also be adjusted, but consult your plumber on how you can adjust it. Most of the modern designs are easy-to-adjust to improve and make the experience worthwhile.
Shower head control standard measurements are 38" to 48" above the ground. Installation and mounting should be at a position that can be easily seen and accessed whether in or out of the shower.
Shower Head Height For a Tall Person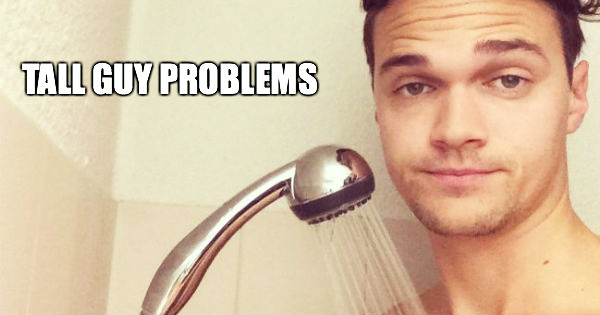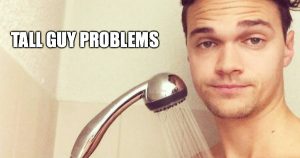 There are other shower head heights designed for tall people. They are usually custom made but can also be used by short people because of the positioning of the control used.
Rain shower head is ideal for tall people because of its high rain like sensation spray. Other shower heads can be fitted with a 10 to 16″ shower head extension arm or an adjustable one to suit not only tall people but also any height.
Go for the adjustable one as they are versatile.
Shower Head Height For a Short Person
Kids and other short people must also be considered when designing your bathroom shower head.
Let every family member easily accesses the bathroom. You can consider using an adjustable shower head arm that can be adjusted to meet the requirements of short people or kids.
This is ideal when designing a bathroom for your kids in that, as they grow tall, it will be easy to adjust the height of the shower head.
It is not advisable to design a fixed shower head height for flexibility and versatility. A fixed one may be problematic if one grows a little taller than the shower head.
Not everyone is of the same height, and when it comes to choosing a standard shower head height, you will only choose what suits you best. It can be embarrassing, hitting your head on a showerhead every time you are taking your shower.
This can be worst if it happens to your visitors and friends. Deviate from this mentality that if you are short, go short showerhead and if tall, go for a long shower head. Instead choose a standard shower head mounting height that will be comfortable for you and those you are living with.
It's best to start with the normal shower head height, and for further designs to suit your home, consult your architect, plumber or contractor. They will guide you better on what will serve you longer and better.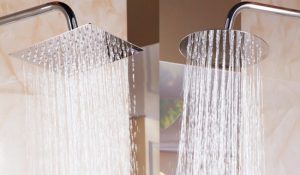 If you believe square or round shower heads make no difference in the end, you are someone I was a week ago. However, after researching,
Read More »
Was this article helpful?