Camping is an amazing and adventurous way to revitalize your energy levels without busting the bank. Bringing you closer to nature, this hobby can also be enjoyed by people of any age group.
However, there are many different types of outdoor camping methods you should look into. This will make your expedition more enjoyable and memorable.
Usually, when we imagine the concept of camping, we only think about grills, tents, bonfires, and barbeques.
Outdoor traveling, however, is much more than just a fancy barbeque in the woods.
Today, we will go over the different types of camping. This will make it easier for you to understand which type will be perfect for your summer trip.
Well, what are we waiting for? Lets learn more about camping!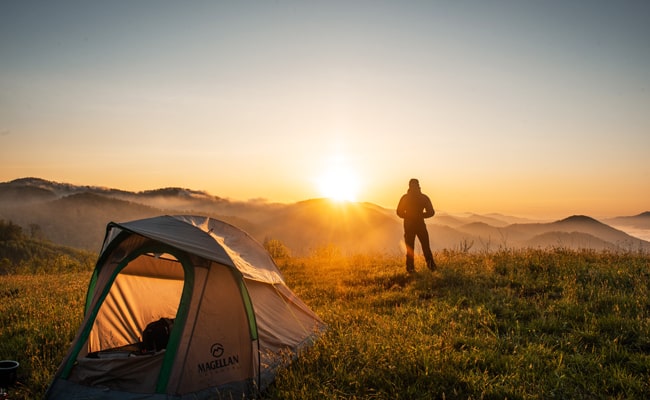 The 11 Different Types of Camping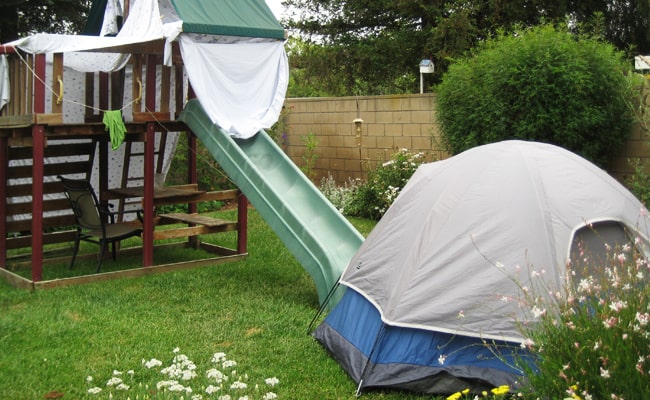 This form of camping is by far one of the easiest methods of outings on this list. Simply take your tent out to your backyard, pitch it, and huddle around a campfire with your loved ones and friends.
This form of camping is also particularly safe from any form of harsh weather environments or animals. Which means you can easily bring the kids along. 
Also, this simplistic manner of outing can greatly encourage people as well as children for future outdoor adventures.
Did we mention that this type of camping is also very cost-effective? You can enjoy the stars while roasting marshmallows from the comfort of your own backyard without spending a dime.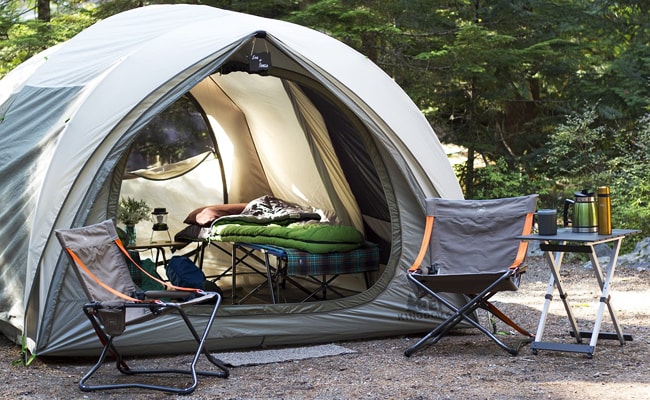 This method of camping is one of the best ways to escape the hustle and bustle of the city without breaking a sweat. Tent camping is one of the most comfortable ways to explore the outdoors and experience nature in a safe and protected environment.
Because of its ease, tent camping can be particularly perfect for beginners as well as experienced outdoorsmen. Tent camping is also a great and ideal choice for couples.
Not only that but this method of camping can also make it possible for people to be closer to nature without spending too much. 
However, this form of camping is not always permitted in certain areas. In distinct cases, traveling, hiking, or camping in the wilderness without permission is considered illegal. 
For safety reasons and precautions, people are commonly advised to use parks designed for pitching tents strictly.
These specific parks are monitored by authority and are very safe. These reservations will also provide you with working water, portable toilets, as well as a modern charging dock for your electronics.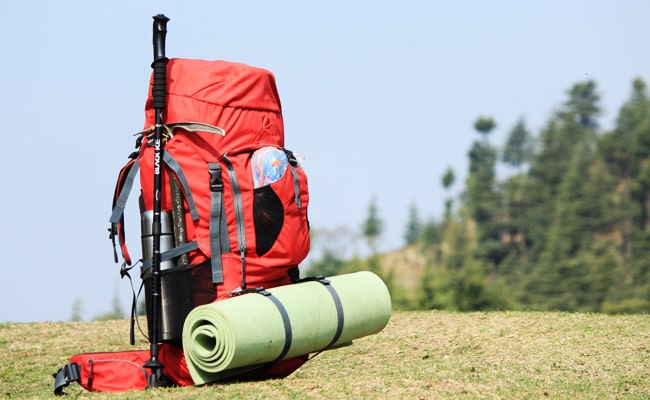 This form of camping is one of the most physically exhaustive types of camping on this list. Backpacking will have you walk for hours or days carrying heavy bags through beautiful mountains and forests.
Occasionally, however, you will be stopping along your expedition to enjoy beautiful natural scenery.
However, in the case of backpacking, we advise you to plan your trip beforehand. Keeping a well-organized routine of your journey can be very beneficial and helpful when on long hiking trips.
Being self-sufficient is also particularly crucial for this trip. Since you will be spending most of your time walking or traveling, you will have to sleep in sleeping bags.
Comfortability is not always an option when on long backpacking trips through harsh weather climates and rough terrain.
In case of emergencies, you should let someone know before you begin your trip. This will give someone outside the expedition an opportunity to alert authorities if something catastrophic should happen. 
Backpacking is easily still one of the most beautiful kinds of camping trips on this list. You will not only be closer to nature, but you will also be far away from civilization and technology.
Some people also find these long excursions from society, walking through forests and mountains distinctively therapeutic.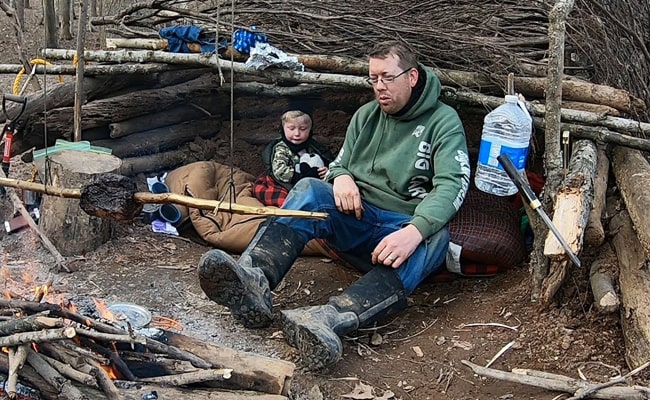 This form of camping is not meant for the faint-hearted or the weak-willed.
Unlike normal camping trips, these expeditions require people to be experienced in advanced camping skills and have a fine amount of knowledge on survival.
In distinct cases, extreme enthusiasts and adventurers opt for this form of expedition over convenient types of camping. Their choices are made strictly because this form of camping brings them closer to nature.
Do not be confused, this is not a soothing or relaxing summer camp trip. These expeditions can be difficult and physically challenging.
This form of camping will force you to fend for yourself with little to no technology. Meaning, food is either gathered from the wilderness or hunted.
Survival camping usually does not follow any specific set of guidelines or rules.
However, there are books that teach you how to find, gather, and cook food in the wild with limited tools. These books not only teach you how to find food but also how to create shelter in remote and difficult climates.  
Nonetheless, survival camping can undoubtedly be an unforgettable experience.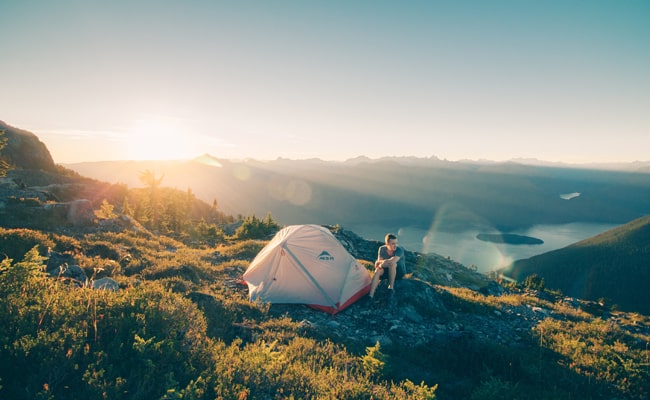 Do not be alarmed! This type of camping is not as difficult as the name suggests.
Firstly, you must understand that there are only a few key aspects that differentiate primitive camping from simple tent camping.
In both cases, however, you will be taking certain tools from home, such as a basic pitching tent and knives, along with lighters to aid your camping experience. One of the major elements that make these two types of camping different is the choice of location. 
Primitive camping is not done inside reservations and protective spacing. This means that campers opt for pitching their tents in remote locations with zero to no access to technology.
If you are simply hoping to go tent camping, then your ideal tent pitching location should be the nearest reservations or park.
However, in the case of primitive camping, people tend to choose more desolate areas away from civilization to pitch their tents. Primitive camping is not as safe as tent camping.
When it comes to primitive camping or backpacking, it's preferred, you learn extra survival skills to make your experiences more fun. Learning how to use a map can also be extremely beneficial when trekking through mountains and creeks.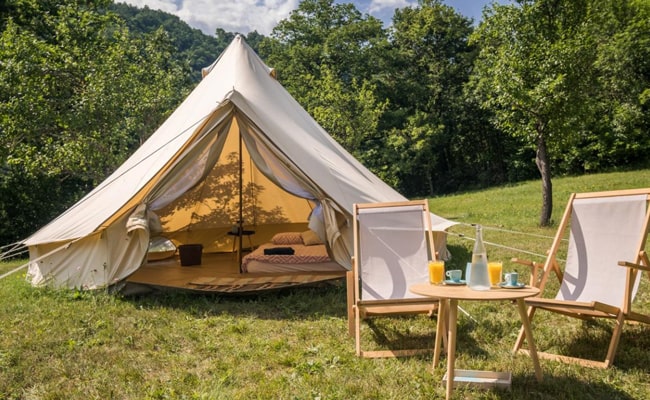 This luxurious form of camping creates a uniquely glamorous experience with nature.
In most cases, resorts combine the functionality of a hotel with the concept of natural outdoor camping to give you glamping. This distinct mash-up creates an amazing, unique, and glamorous stay in camp with most modern-day amenities.
However, glamping is not only limited to being a resort in desolate areas.
There are many different styles of glamping, as well. Each type of glamping is unique and distinct from the other. However, eccentric campers will often create their own glamorous camping locations in remote and natural areas as a substitute for resorts. 
This home away from home created by campers accommodate their own distinct needs and wants. Some people frown on the thought of glamping, calling it glorified camping. 
Recently, however, most glamping resorts and sites have become eco-friendly. This aspect has greatly boosted their performances and has drastically taken down their own carbon footprint.
Some people tend to opt for using hammocks instead of tents for camping. 
As surprising as it may sound, using a hammock can be very relaxing when outdoors. Using these comfortable tools for camping can also be very great for increasing luggage space. 
Since hammocks don't take much space, carrying them around can become extremely handy. 
Not only does this aspect make hammocks great for carrying around, but this also decreases their weight. 
This specific type of camping is also a great and ideal choice for people who are planning to go backpacking or hiking for several days.
These amazing items come with many different types of functionalities as well: such as nets and rain covers. This aspect of the hammock makes it possible for campers to hike and trek through remote locations.
Since it is so inexpensive, it can also be ideal for anyone looking to explore the outdoors on a budget.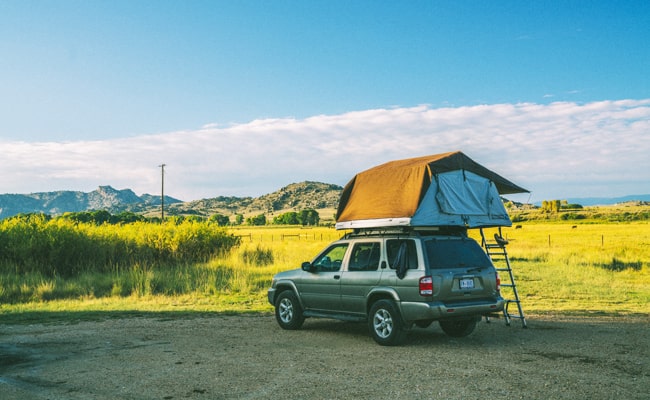 Using off-road vehicles to enhance your camping experience can also be particularly exhilarating. 
This opens many different aspects of camping, giving you the opportunity to maneuver through the harsh wilderness and dry deserts.
People often at times modify their car's back seats to house a mattress for sleeping comfortably when outdoors. This makes it possible for you to set up camp inside your car without any form of hassle.
This form of camping is also absolutely perfect for people hoping to spend nights outside in harsh dry climates. 
Enthusiastic campers opt for buying hatchbacks and carrier vehicles mainly for its ability to camp outside with ease.
This form of traveling can be an amazing and cost-effective way to experience the outdoors.
9. RV Camping / Van Camping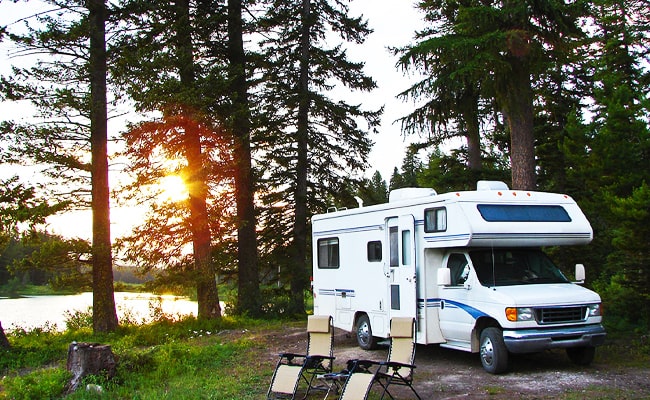 This form of camping is easily one of the best, simply for its ability to be mobile. Using vehicles for making your camping experience better has always been a drastic advantage for camping. 
After all, who wouldn't want to carry their camp around on the back of a truck when outdoors?
Using RV's or Van's for camping greatly enhances your summertime fun. Also, newer modeled vehicles come with a larger amount of functionalities to boost your camping experience for the better.
There is also a large amount of variation in vehicles, each with their own pricing and functionality. 
What sets them apart from each other is the luxury. Also, as the price increases, so does the added glamour in the vehicle.
Using RV's and Van's for camping also broadens the possibility for long-distance expedition and trips. 
Countryside road trips become a feasible and viable choice as well, simply because of the vehicle. 
In most cases, however, the disadvantage of using the RV is its enormous space and off-road driving incapability.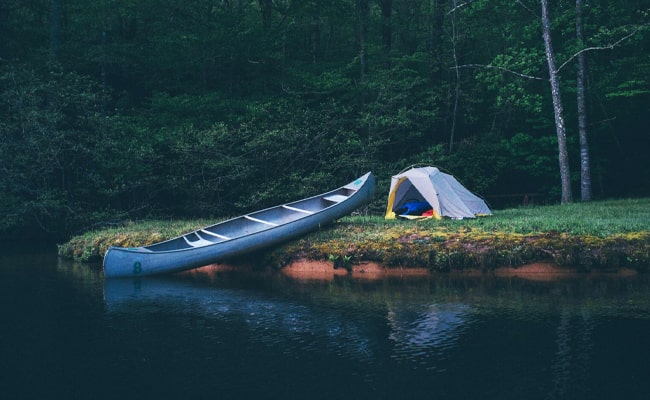 One of the most beautiful ways to travel outdoors is by using natural water bodies. Kayaking around rivers and lakes can be an exceptional and beautiful way to camp with mobility.
Most campers nowadays choose to use canoes to travel and camp around riversides and lakes. This is partly because of the self-sufficiency and freedom you get from traveling on it.
This type of camping trip can never be fully enjoyed alone. It is preferred you travel with a large group of people to fully enjoy these specific expeditions. 
Having companions can also be particularly helpful when dealing with difficult situations on the water.
This does not mean you can't make the trip entirely alone. Of course, you can make this trip alone, but for that, we would highly suggest you plan out your trip rigorously beforehand. 
Keeping a careful eye on the weather is also crucial when it comes to canoe camping. Simple rainfall can greatly affect the current, which in turn can make it difficult for you to maneuver on water.
Nonetheless, this is a stunning way to get in touch with nature and be away from civilization.
Thinking of staying fit while out for an amazing and relaxing trip? 
Well, perhaps biking down the countryside for a couple of days can just be the perfect thing for you. 
Not only is this form of camping extremely healthy, but it's also significantly more fun in large groups or parties. You can also choose to go solo, in which case keeping a small handy toolkit is a must. 
Small tedious bike repairs are all that will stop you from spending the perfect outdoor summer. 
If you want to avoid bike repairs, you can choose to buy a heavy-duty mountain climbing bike ( to find best mountain bikes read this post ). 
They very rarely breakdown and can also be great if you choose to travel off road during your camping trip. 
Having a great amount of mobility makes this an exceptional type of camping for the avid adventurer.
Let's also not forget that this will end up leading almost zero to no environmental impact in your travels.
Usually, on most occasions, the best type of camping is the one that caters to your needs the best. Since there are so many types and forms of camping, it can be moderately easy choosing the perfect type for any weather.
Regardless, we hope you have a beautiful and exhilarating expedition ahead of you.  Happy camping!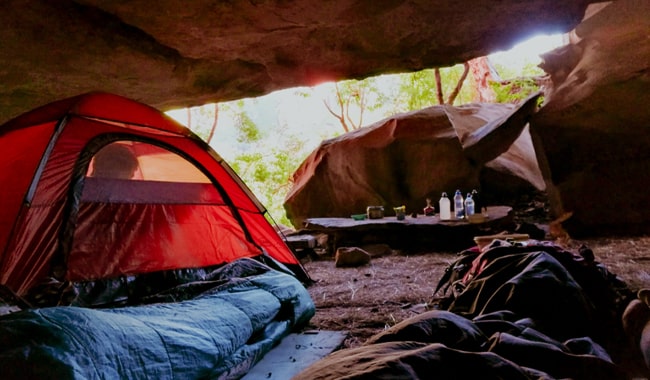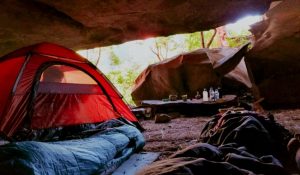 In movies, camping looks easy. People sit under the stars, roast marshmallows in the campfire, tell each other horror stories, and sleep in tents.  However,
Read More »
Was this article helpful?