Whether you are planning for multiple day hikes for leisure or a short excursion, the first thing you need to do is ensure getting your durable hiking gear list right.
It can be a lot of headaches to figure out all you need to include in your hiking packing list especially if you are hiking for the first time.
Luckily, in this article, we have provided you with the ultimate hiking gear list. We covered all the basic essential hiking gears including safety materials, clothing, food, and other miscellaneous accessories to make sure you make a memorable journey.
You don't want to reach your destination and discover you failed to bring essential hiking supplies. Or do you???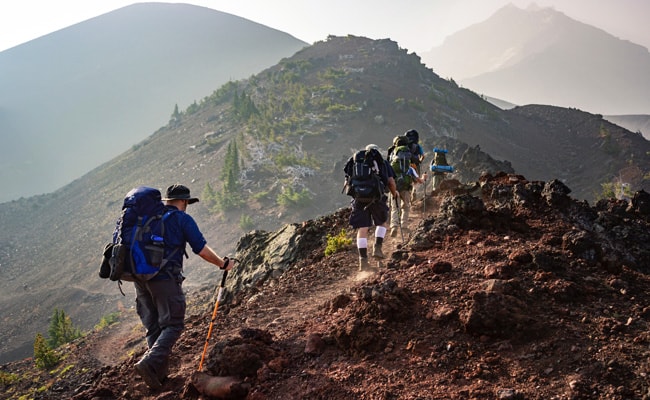 How Crucial is Your Day Hiking Supplies List?
You need proper planning and adequate preparation anytime you want to go out hiking. Day hiking supplies list ensures that you have all the essentials you need to help you make a smooth and safe trip as much as possible.
Sure, your hiking gears list will differ depending on your hiking time, how long you plan to be away for, the season of the year and the climatic condition of your location of travel.
Nevertheless, when you are hiking in the mountains, you need to be well prepared for the broad range of temperatures differences and differing atmospheric conditions. Such an isolated environment is notorious for unpredictable weather conditions.
If you are hiking in a location with a considerable elevation or alteration, you need to realistically anticipate a temperature difference of roughly ten degrees and above.
In addition to that, mountainous areas are commonly wet; with places located in high mountainous ranges getting about 90 inches of rainfall annually.
If you are not adequately equipped, an unexpected storm could be a very discomforting and dissatisfying experience.
Surely, you don't want to ruin your hiking adventure by being ill-prepared.
You'd commonly witness showers of rainfall and thunderstorms during summer day hikes, especially in the afternoon. Mountain hiking during the winter season as well comes with its peculiar challenges.
You may enjoy milder weather in the low mountain ranges but higher up, it could get chilly, and it could snow while you are out.
For this reason, it is essential to carry with you some clothing and hiking gears that would keep you comfortable in any weather situation. Although these day-hiking gear lists are not exhaustive, they provide all the most essential pieces of equipment that will make you stress free throughout your trip.
Remember to modify the items to suit your hiking needs and personal preferences.
Hiking Gear Essentials List
Above you have the reasons why we want to invite you to join us in this article as we explore in details, hiking essentials you need to put in your backpack.
Now, let's quickly begin: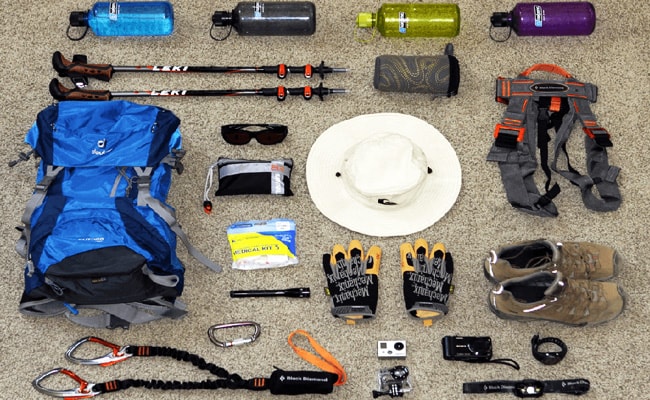 The clothing to include in your backpack depends primarily on your location of travel and the associated weather condition. If you are hiking in hot climates, you will only need a few clothes depending on the number of days you plan to be away.
However, if your hiking period falls within the winter season, you need to carry sufficient clothing to ensure adequate protection against harsh weather condition.
It is not a good idea to pack cotton pullovers. Cotton materials soak up moisture and are not good insulators. So, stay away from cotton fabrics or clothing made from bamboo and rayon material.
The best types of clothes for your hiking are synthetic fabrics like merino wool, thermal, fleece, and polyester.
They tend to keep your body dry and warm. Also, ensure that you choose only breathable clothes that easily wipe away moisture and dries faster.
Here is an essential list of clothing to include in your hiking gear list:
2. Hiking Shoes and Footwear
Your hiking shoe is an essential gear that can make or break your hiking experience.
Therefore, ensure you get it right….
You need comfortable pairs of shoes with a solid structure. Check the topography of your hiking location and choose a suitable hiking shoe accordingly. 
Some places may require you to use mid or high-cut shoe styles that provide extra support to the ankle especially if you have weak ankles.
You don't want to return home with a leg injury or sprain, so prepare well. Conduct research to find out a suitable pair of shoe for the topography of your hiking area and choose wisely. Try to break it in before your hiking expedition.
You'll require the following two types of shoe for a great hiking experience:
You need the camping sandal to rest your feet after being out all day while a river shoe comes in handy when you need to cross rivers.
Alternatively, you can use water-resistant boots or walk barefoot if the depth of the river is shallow and you are comfortable to go bare.
3. Camping Gear and Cooking Materials
Ensuring you have the correct hiking packing list and cooking materials will make your expeditions trouble-free and pleasurable.
You may wish to get more room and minimize weight by packing some items inside your sets of cookware or by using bows that flattens and lightweight sleeping bags.
You don't want to sleep on bare ground in the woods or on the rocks. Consider Air mattress and sleeping pad. Also, remember to take camping pillow to relax your head and feel a little more comfortable.
Below are few hiking gear essentials you'll need for your journey:
4. Food and Water Supplies
Your food hiking gear list is where it gets a bit complicated. You want to do it rightly, not taking too much or too little. Also, you need to do it safely to ensure your optimal health.
Your best bet is to draw up a daily menu and plan your meal accordingly.
Concentrate more on foods that are filling and foods that come with a high density of nutrients to ensure you get enough daily calories and the energy you need for the hike. It is best to incorporate a combination of both hot and cold meals.
So, try to include one cold meal and two hot meals each day. You can decide whether to go hot or cold for breakfast, lunch, and supper. Choose whatever suits you best. Remember to include some snacks.
Try to include nuts and dried fruits. Also, include such things like Snickers bars, power bars, peanut butter, and crackers. You may also consider trail mix and beef jerky. Don't be afraid to customize according to your taste.
For your foods, try to include the following:
5. Water Filter or Sanitizer
Some hikes like the Kilimanjaro and a few others provide clean water supply. Occasionally, you can also get an organized program that purifies water with ultraviolet radiation. You can commonly fill your water bottles in these locations for minimal fees.
For hikes that have no water purification services, you have to determine how to purify your water. You should research this information and get fully prepared. In this instance, you can get water sanitizer for filtering the water you source from streams or village taps.
Hiking expedition means you are going to be far away from your doctor for some days. A wise decision is to carry with you some common medications for the flu.
Because some hikers have experienced sinus infections or gut bacteria during the trek. You will be able to manage these minor health issues and keep moving if you have the right medication.
Try to get these into your drug hiking packing list:
Alternatively, you can get some of these essential OTC medications in developing countries at a very affordable rate when you visit their pharmacy shops.
7. First Aid Hiking Packing List and Safety Items
First aid materials are essential to include in your hiking list. These come very beneficial when you have to deal with issues like minor blisters. 
Small wounds can get infected by bacteria if they are not managed appropriately.
You can adapt your first aid kit to include the items you need. Add things like a whistle, space blanket, pocket knife, headlamp, and combustible tools.
For your safety kit, you can include any of the following:
8. Small Hiking Backpack or Daypack
Your backpack should be comfortable. The size and fit must also be appropriate. 
Remember you will be going up and down the hill with your bag hung at your back. So, it is essential that you get it right.  
You want to get a backpack that will have enough room to accommodate all your essentials items like water, jacket, sunscreen, rain gear, rain cover for your pack and similar items. It must not be too big.
Otherwise, you will sacrifice comfort for weight. What you carry and the size of your backpack depends on how long you are going to be away and whether you will be camping or not.
10. Hiking Equipment List for Your Camera Bag
You will need a different camera bag to secure your equipment if you have a take-apart camera with many lenses.
A separate backpack also makes it easily accessible to you. You can even get a camera bag that comes with a waist belt if you are using a larger DSLR camera.
Dry sack is handy to protect your gears when it rains or snows. Some gears are unsafe under wet conditions. So consider those and get fully prepared.
12. Sunscreen, Sun Hat, And Sunglasses
You need as much sun protection as possible. So get your sunglasses, sun hat and remember to get a sunscreen with the highest amount of SPF factor for optimal sun protection.
13. SPF Moisturizing Skin Cream and Lip Balm
You want to get the right amount of sun protection. So, it is not a bad idea to get a moisturizing cream that has SPF protection on top of your sunscreen.
It can be drying out there in the mountain. You don't want chapped lips and cracked skins. Therefore, moisturize accordingly!!!
You will need walking sticks mainly if you need to trek downhill. As an alternative, get a sturdy tree branch to serve the same purpose.
15. Batteries, Memory Cards
You never know if there would be sufficient electricity to charge your camera. It is wise, then, to stock up extra batteries for both your cam and other chargeable hiking gears like a headlamp.
Also, consider spar memory cards so you'd capture all those beautiful moments without missing out on any. You can come with rechargers if there is electricity within your hiking location.
Other Hiking Gear Essentials
Hand sanitizer gel and soap: This can keep you from becoming ill.
Silicone earplugs: This will help ward off unwanted noise and allow you to get a good night rest easily.
Travel towel: This needs to be one that dries quickly for wiping down after a wash or bucket bath.
Leatherman: A handy multiple pack tools containing a knife, bottle opener, screwdriver, and related tools for cutting things like fruits and vegetables during your hike.
Headlamp: You need headlights if you are camping. They light your way while at the same time keeping your hands free. You also need it at night for a visit to the bathroom if you are staying in a family guest house.
Map and Compass: This will help you plan an entire trip.
Liner for your sleeping bag: This is particularly essential if you are sleeping in a rented sleeping bag or home stays. It is just a necessary precaution for safety in case the beddings are not appropriately laundered.
Toiletries: You need at least a roll of biodegradable toilet paper to keep yourself comfortable.
There you have it, your ultimate hiking gear list. 
We have tried to get in as much essential hiking gear you need for your journey as possible. Try to customize according to your personal and hiking needs. Also, it is good to mention that this list is not exhaustive.
Depending on the location of your travel, your hiking type and arrangements, you may add or remove from the list. This list is to give you a good starting point and ensure you don't mix out any essentials.
You don't want to make yourself uncomfortable during the journey by missing out on things of absolute necessity. So, conduct prior research on your travel location and plan wisely!!!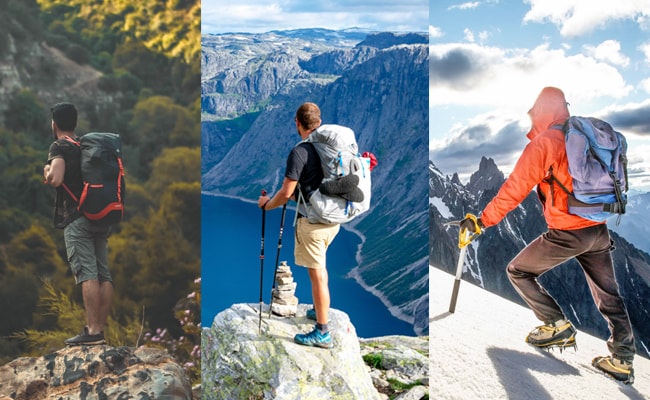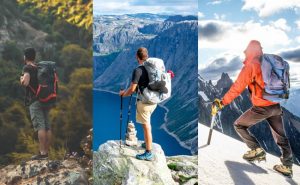 When you hear the name hiking, trekking, and mountaineering, you might think all are the same thing, and each one of them serves the same
Read More »
Was this article helpful?