Going through some tough times with your spouse? Want to impress her in a way that you probably have never tried before?
What about going to the wilderness with the one you love the most?
Thank me later because the memories that you guys are going to have while camping, hiking, or traveling together will not perish, and it will cheer your marital life further.
Camping with your wife is a bit different than going with your friends and buddies.
To make things easier, I will share some pro camping tips for couples and a camping checklist so that you don't have to worry about the matter and stay focused on enjoying every bit of traveling together.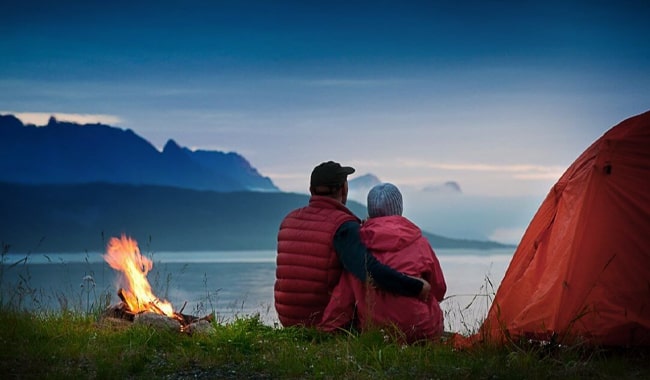 Things That Matter as Preparation for Camping
Traveling together is the best way to get to know each other; it really helps if you have gone through an arranged marriage and want to be compatible with your spouse.
Before going through the tips, be sure to consider these points as well to make sure nothing goes wrong before and while you guys are off to the campsite.
It's totally normal if you find that your partner shows a bit of hesitation about the plan.
This is mostly because the tour only includes two people, which seems to be tough to manage things in the wilderness. By telling the proper planning, you can convince her soon.
But don't hurry, start slow. 
Spending a night or a couple of nights outdoors might seem overwhelming to some. To make things easier, you can go for glamping or renting a cabin option if you want to spend time with great comfort and not up to the idea of experiencing what it's like to be there under the open sky.
Don't Expect Unrealistic Things
As you have decided to spend a few days outdoors, things can go wrong; you don't have to panic over this.
The best part of this kind of trip is to spend time with the one that you care about the most. 
You might feel a bit uncomfortable being inside the tent if the weather isn't favorable; there can be bugs inside it, and you can forget to bring bug spray. Even though these things can kill your mood, it will fade away with time. 
Don't ruin the trip, as long as you guys are together, enjoy every bit of the moments. It's totally fine if you don't manage to take the perfect couple picture during sunset like you often see on Instagram. 
I repeat, these things don't matter at all. The more time you spend together, the stronger your bonding will become, that's the thing that matters.
If both of you come straightforward about your expectations on the trip, there will be less misunderstandings as well as frustration.
Try New Things to Experience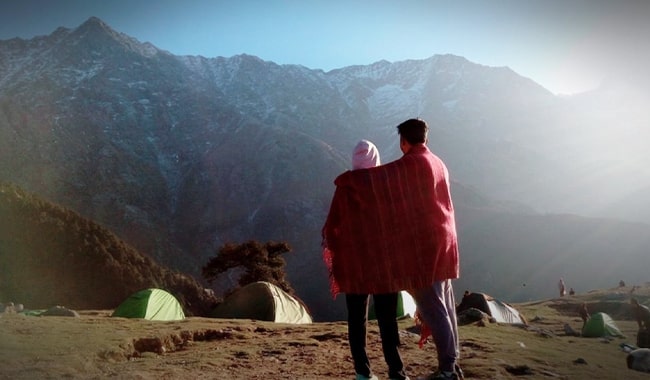 There are technically no boundaries while you are out for camping.
You might come across crazy camping ideas such as discovering new locations, backpacking instead of car-camping, sleeping in a hammock, and whatnot. 
When you return to your regular life, you guys will look back and have lots of things to talk about those experiences.
Before going on the trip, have conversations regarding what activities you want to do, what's the plan, how you guys are going to spend the time together, what you need to take for eating. 
Pre-plan everything, every single hour so that any of you don't feel that the person is stuck in the middle of the woods and is unhappy with whatever is going on with the trip.
Openly discuss the things that bother you. Your partner might be worried about wild animals, bugs, and elements, especially if this is the first time she is going to be in the wilderness.
If you have any preference regarding the place, facilities, or anything that makes a trip easier, be sure to inform your partner.
Check, Re-Check and Pack Carefully
Nothing can get worse during the trip when the situation demands you to use an essential thing or gear, and you forgot to pack it. 
Go through the checklist carefully so that you have everything necessary for the tour.
10 Camping Tips for a Couple
If you are a person who loves being in the wilderness, you can take advantage of this to further improve the emotions, feelings, and bonding between both of you.
Here are some tips to improve the overall camping experience and keep things less troublesome while traveling.
1. Take Short Trip If This Is Her First Time
If this is her first time camping outside, don't make it too intense. Go for one-day hiking or a backpacking trip somewhere nearby; short day hikes and car-camps are the best trips to start with.
Do it continuously; you can go for a hike or backpack trip each weekend before going camping for a week so that she can cope up with what the wilderness throws on the trip. However, before going overnight, be sure to go for short distances first. 
And most importantly, be sure to check the weather. It should be perfect as you expect.
2. Responsibly Divide Task
There will be lots of things to do, and you guys need to make sure the tasks are divided among both. If you divide the tasks, it will remove much hassle from one's shoulders.
When you are to take care of the outside works such as gather woods for campfire, prepare food, arrange necessary items, etc., your partner should take care of things inside the tent or cabin, such as getting sleeping pads and bags ready, organizing supplies, etc.
Make sure one doesn't have to do most of the tasks; otherwise, it can lead to negative things, which is the thing you need to avoid during this trip at any cost. 
When you guys will help each other, it will also reflect on your relationship and create a positive attitude towards each other.
3. Cook and Have Delicious Meals Together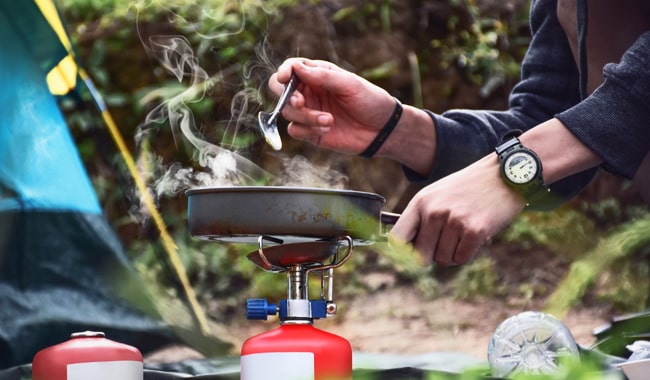 Although cooking will take a tremendous amount of your time, you will still enjoy every bit of it if you both participate equally. Even if you are out in the wilderness, it doesn't mean that you cannot prepare something delicious and amazing.
If you are to experiment with a meal, make sure you pre-planned it before arriving at the spot. Take all the necessary ingredients and spices that the meals require.
Prepare meals that she loves. Don't just cook foods to fill the tummy. She should get her desired foods.
Also, be sure to take snacks, fruits, choco bars, nuts, rice, pasta; you can take some pre-made meals as well. It can be preserved for a long time, such as cookies and cakes.
Don't forget about coffee and tea so that you guys can have a long chat while sipping on the cup.
So, prepare the meal together, have the meal together, and enjoy the surroundings while engaging in a long chat. You can arrange romantic dinners in the evenings as well.
4. Do Things as Per Your Interest
If you are really up to doing outdoor activities, then you must choose a location that suits your interest.
For example, if you love fishing, decide to go somewhere that has a nearby river or lake. If you are up to hiking, camp near a mount or in a forest. Similarly, if you love the sound of the ocean, set your tent up near a beach. 
You can give preference to the choice of your partner. If she loves the ocean, go somewhere near an ocean, where you can see the beach from the window or while sitting inside the tent.
Whatever it is, you both should have interests in activities. And at the end of the day, share your thoughts with your partner about it in a quiet and peaceful environment. 
The activities should open the door for a lot of discussions and chats so that you can get closer to each other through sharing thoughts.
If you can ensure a stress-free camping environment, share the experiences with each other; it will help you build a stronger relationship.
Want to make a good impression during the trip?
Show your wife that you care for her the most. To do that, make sure she wears a light backpack, and you wear a heavy-duty one that is loaded with gears and accessories. 
Organize her backpack with light gears and accessories, clothes, hammock, tent, etc. Keep the heavy stuff like food, drinks, camping stove, etc. inside your backpack. 
If there are too many items in her backpack, she will get tired, and you will have to deal with her mood during the entire camping; you know what I mean by that!
6. She Needs to Feel Comfortable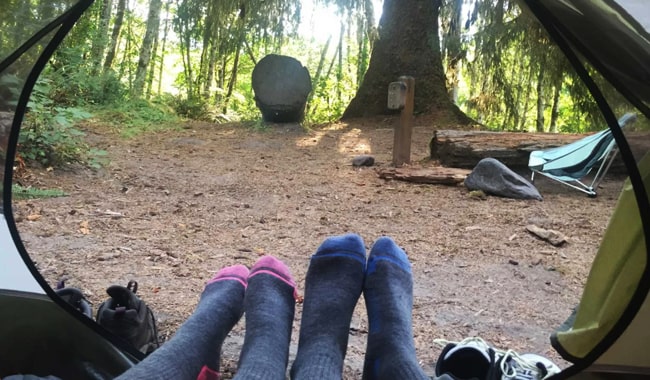 Be sure to take all the necessary accessories and gears that will make her comfortable and allow her to enjoy the trip much. 
Let's say she forgot to pack her raincoat; pack her raincoat in your backpack.
If the situation demands her to search for her raincoat, as soon as she realizes she left it at home, surprise her from taking it out from your backpack, it will make her happy, and she will realize how much you care about her.
7. Teach Her How to Do, Rather Correcting
You may know a lot of stuff about camping, which she doesn't. If you are not careful, this may lead to arguments and make your relationship worse. 
It's okay if she does wrong things; she doesn't do it willingly. It's her lack of experience and knowledge about camping.
Don't correct her every now and then. Teach her how to do things in the right way. If you try to correct her every wrong step she makes, soon she will blow up at you due to frustration.
Let her do things if she wants; she will learn from her experience. You are not building a rocket; continue to show her support and show the right way to do it.
8. Don't Get Too Lost in the Mother Nature
You guys are on a couple-trip, so whatever things you come across should bring you close to each other. Don't get too much lost in the beauty of wilderness that it ends up making you not paying attention to your spouse. 
Every moment counts, so try to engage in romantic conversations, share your feelings about her more often.
9. Stop Checking Your Phone More Often
There is no Wi-Fi in the wilderness, but I can assure you of a good connection between you two if you don't bring the phone in between. Your partner is the one that should get all your attention. 
The more you disconnect yourself from the outside world, the more you will be able to get closer to your wife, as simple as that.
Although cleaning and washing is something that pretty much everyone dislikes, you will not like it to take a sip from a dirty glass or cup. Bring a collapsible sink to the campsite if possible. It will make cleaning up a lot easier.
Must-Have Camping Accessories
Some of the essential camping accessories that you keep inside the backpack are;
Having a tent of high quality ensures that you will be protected inside it regardless of the weather. You can take this on your upcoming trips as well.
Get a pair of comfortable sleeping pad so that there is no compromise getting quality sleep during nights.
This will add variety to your trip. If you are a bookworm, it's a must to get.
Your backpack should be large enough to accommodate all your gear and accessories. Also, make sure the pack is comfortable to wear while you walk.
Take an extra pair of socks; you will thank me later.
Invest in a good quality blanket. Weather is an issue, so a blanket will keep both you guys warm enough to chitchat all night long.
After hours of walking on the trail, you will not smell good, which can trigger the bad mood of your partner. Make sure you take deodorant. 
If you are out in cooler weather, don't forget about the wet wipes.
Although you can skip it, having one will undoubtedly buy you great benefits at the campsite.
Even though there is no bear where you guys are heading to, using the spray will keep other animals further away from you.
The most expensive thing that you can give your wife is your time. While on the trip, make memories together; it's worth more than money. 
Hopefully, these camping tips for couples will help you build a stronger relationship between you two.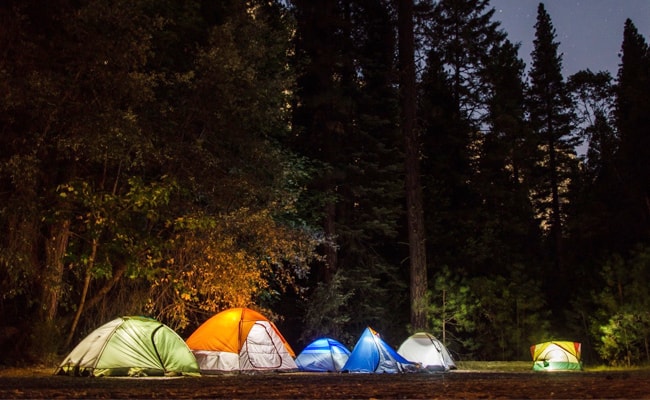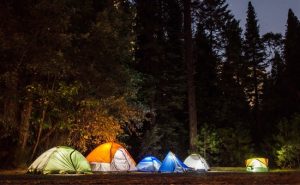 There is really nothing like camping to build bonds among friends or family stronger.  But if you have never gone camping before, planning to go
Read More »
Was this article helpful?