So it's been a while since you have mowed the grass of your lawn. With time, the grass can grow very long and make your lawn look like a jungle. 
It's always preferable to cut the excess grass off. Your lawn is at the entry of your house so an untidy lawn will make the guest feel uncomfortable. 
Enough of borrowing from the neighbors, now it's time to get a lawn mower for you. Sun Joe MJ401E is an easy pick when you want to buy a Lawn Mower.
Sun Joe MJ401E PRO 14-Inch 13 Amp Electric Lawn Mower eases the mowing of your lawn. 
Undoubtedly, the mower has been serving the purpose for quite some time now. Your lawn won't look like a bush anymore. 
Cleaning the lawn is more comfortable with this lightweight machine. The features are perfect for smaller lawns so let's guide you through the features.
Sun Joe MJ401E-PRO Electric Lawn Mower Features
The dimensions of the mower are 48.4 x 40.6 x 40.6 inches. So you can imagine that the size is smaller than other mowers.
Larger mowers require a fair amount of space to store them and this sometimes becomes a problem if your garage is filled with other items.
Thankfully, Sun Joe MJ401E-PRO is built recognizing this fact to take you out of this problem.
You will need a very small amount of space to store it anywhere you like. Even you can keep it inside your house.
We all know how heavy most of the mowers are. Heavy lawn mowers are very hard to move around the lawn. 
You will need to be strong to operate those heavy machines. 
However, Sun Joe MJ401E-PRO is a very lightweight lawn mower of 30 lbs. You can imagine the comfortability while using it. 
This won't require a lot of strength and moving around the lawn becomes a piece of cake. Now, mowing the lawn is just as easy as your morning walks.
Mostly, Lawn Mowers are known to be operated using gas or oil. The process is very costly and eventually harms the air with the carbons.
You can recognize the time and effort needed in maintaining those lawn lowers. So, How about an electric lawn mower?
Sun Joe MJ401E-PRO electric lawn mower can function free of gas and oil. 
Just simply plug in the cord to start the mowing. It is as simple as operating a vacuum cleaner.
Some of us like the grass of our lawn to be a little bit shorter and others might like it a little less short.
You can mow it in different sizes to match your taste from 1.5 inches to 2.52 inches.
You need to adjust the tires higher for longer grass and lower the tires for shorter grass. It is always better to mow the lawn according to your desired size.
Nonetheless, the adjustment is uncomplicated and fulfills the needs of the users.
Here is the most relaxing part of this Lawn Mower, no more bowing down to push the button. Sun Joe MJ401E-PRO features a smartly designed safety starter switch. 
It is on the handle of the mower. You can pull the switch and grab it on the handle to turn it on. Loosening the handle will turn the machine off. 
It is simple to use and as a result makes your mowing more comfortable.
Do you recall the thundering noise of the gas or oil consumed by Lawn Mowers?
I know, it is very hard to forget. The sound strikes in the brain like the lightning every time these are turned on.
The Sun Joe MJ401E PRO is built to reduce your headache slightly.
Comparatively, this 14-Inch 13 Amp electric lawn mower is far less noisy than the other lawn mowers.
Therefore, the sound of this mower won't hammer inside your head while mowing the lawn.
Dimensions-

48.4 x 40.6 x 40.6 inches

Type-

Walk-Behind Lawn Mowers

Mowing Sizes-

1.5 to 2.52 inches

Blade Size-

14 inches

Department-

Walk-Behind Lawn Mowers

Bag Capacity-

10.6 gal

Height Control-

3 Position
To check the latest price, click here.
Whom is This Product Designed For:
Sun Joe MJ401E PRO 14-Inch 13 Amp Electric Lawn Mower well renowned to solve the issue of mowing small lawns. 
[On a side note: Want to buy a lawn mower for your small yard, click here.]
Speaking of small lawns, operating this mower in larger lawns can be a bit difficult as it might take a lot of time. 
If you are one of those who can give time to mowing their lawn then this Lawn Mower is for you. 
Instead of going for a walk, you can mow the grass and it will enhance your fitness too.
Why Chose Sun Joe MJ401E PRO Electric Lawn Mower
The features of the Sun Joe MJ401E PRO Lawn Mower are adequate to match your need of clearing the excess grass off your Lawn.
No oil or gas is needed to use this lawn mower. Just plug in the cord and pull the starter switch to operate this machine.
This lowers the maintenance effort to the minimum. Expenses of gas and oil are completely erased.
Although, it will affect your electricity bills by a small margin.
The weight of this product is only 30 pounds with a 10.6 gal bag and discharge chute. You can move around the lawn with ease.
It is also a perfect fit for tighter places because of the smaller size. It is an ideal lawn mower for smaller lawns. The blade cuts the grass with a 14-inch radius.
It is fair enough for the size of this machine. Noise is pretty low compared to other lawn mowers. 
Eventually, it is a must-have machine considering the fabulous facilities.
It is always better to know the real-life experience from the users.
Recognizing your concern, we have collected a few reviews from the users of the product. Let's know their views.
Perfect for Smaller Lawns
A very powerful mower is not needed to cut the grass from smaller lawns. This is where this mower comes in handy.
The size of this and its grass bag is quite small.
Most of the users with smaller lawns choose this lawn mower. They say it is very easy to move around because of its lightweight.
It is ideal for people who are not very strong but like to walk around their yard.
Customers frequently wanted a lawn mower that doesn't require gas or oil and can be maintained very easily.
This product fulfilled their wish. It is very easy to maintain and is operated using electricity.
No one likes the process of filling gas or oil in the lawn mower. The customers have passed away over this process and are getting more updated.
It is very satisfying to maintain compared to other lawn mowers.
Despite the small size of this product, it is quite a powerful lawn mower to operate.
Most of the users say that they don't find that much of a difference using this electric mower and a gas or oil mower, in case of efficiency.
It cuts off the grass with such precision as the other mowers. The size cannot be underestimated, no matter what.
The customers just needed to go through the same place a few times to get the perfect finish.
It is very surprising that despite being an electric mower the efficiency is top-class. The 14-inch blade covers a decent amount of area of the lawn.
The size adjustment feature is a mind-blowing option for the users to mow the grasses according to their desired sizes.
Most of the electric lawn mowers are very expensive and this makes those products out of the customer's reach.
Thankfully, the moe joe lawn mower is very affordable for customers. This mower includes features similar to the expensive ones.
The customers are very pleased to have such a fantastic opportunity from Sun Joe manufacturers.
The users consistently encourage other people to buy this inexpensive lawn mower.
Are sun joe mowers any good?
Ans: Sun Joe is a very reputed company for producing the best quality mowers. The prices of their products are far more reasonable than any other mower regarding maintained quality.
How do you start a Sun Joe?
Ans: At first, you need to plug in the cord. After that just simply pull the starter switch on the handle and the mower is ready for work.
Can the mower also be used without the grass catcher?
Ans: No.
How often do sun joe lawn mower blades change?
Ans: You don't require to change the blade as these are made from metal
How do you use a sun Joe lawn mower?
Ans: Connect the cords to an electricity supply, pull the switch to start mowing the grass of your lawn.
How to charge Sun Joe lawn mower
Ans: The mower does not come with a battery so you can't charge it. It uses electricity and you need to plug in the cords.
Sun Joe MJ401EPRO 14-Inch 13 Amp Electric Lawn Mower is exceptionally built for making the mowing process way more comfortable.
We know it is not a comfortable task to be done.
Eventually, you need to maintain the lawn's look for highlighting the appearance of the house. After all, no one likes a messy lawn that looks like a jungle.
This sun joe lawn mower will get the job done in a very affordable manner. You can buy one of these for mowing the grass in your yard.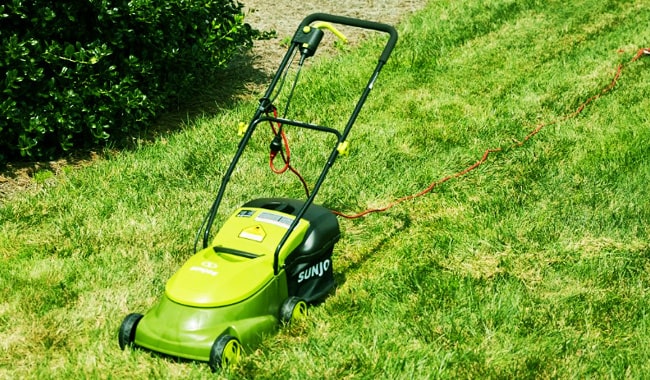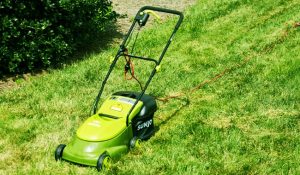 So it's been a while since you have mowed the grass of your lawn. With time, the grass can grow very long and make your
Read More »
Was this article helpful?