A lawn mower is an essential tool for your lawn to keep it healthy and look beautiful in shape. 
That's why proper maintenance is needed for the mower you use on your lawn from time to time. And when it comes to a durable, smooth engine, the type of oil you use for your mower really matters. 
It is important to refill the engine after every 20 to 50 hours of operation based on the mower's specifications. 
In order to keep your machine running, you need to understand the lawn mower engine oil type and capacity that is required. 
Basically, equipment type, engine, and the outside temperature are the key factors here.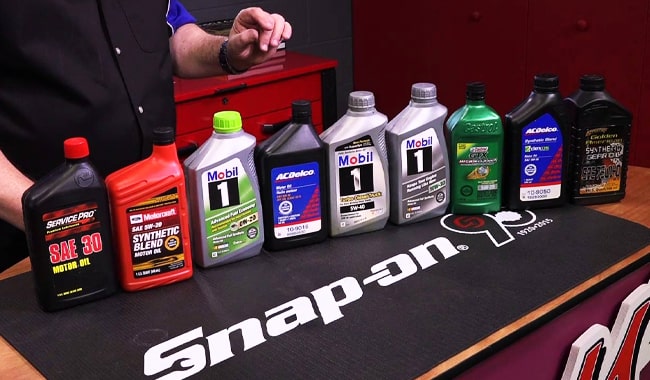 What Motor Oil to Use in My Lawn Mower?
Based on certain temperatures, various oil types will work best. If you are confused about what type of oil you need for your lawn mower, then you have to understand temperature scales first. 
The first common rule is, make sure you use high-quality detergent oil, which is categorized as SF, SG, SH, SJ, or higher than that.
And the smaller the engine is, the warmer it gets regarding its temperature. For this kind of engine, SAE 30 oil type is the best option. 
If you have to deal with cold weather while using your lawn mower, then SAE 10W-30 oil type might suit your choice. Also, this type is helpful for cold-weather starting, but it may enhance oil consumption. SAE 5W-30 is an oil type for almost freezing cold temperatures. 
On the other hand, if you are looking for an oil type for continuous usage for commercial purposes, then Vanguard, 15W-50, can be your pick. 
Not to mention, but Synthetic SAE 5W-30 provides the best protection in all temperature ranges. The synthetic oil type also provides great starting as well as offers less oil consumption. You can use 5W30 or 10W30 synthetic oil in all ranges of temperature. 
It doesn't stop you from performing regular maintenance tasks of your lawn mower as well as the engine break-in steps remain the same.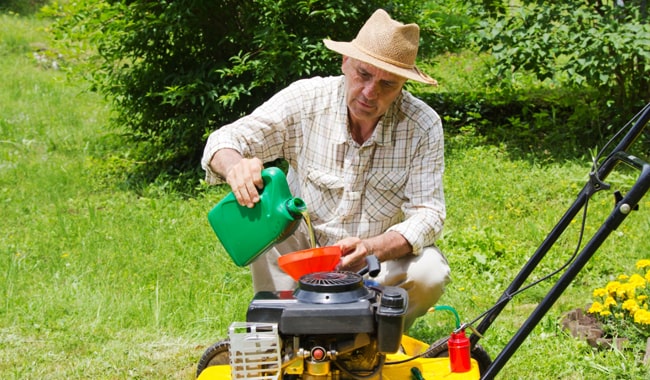 Engine Oil Type Based on Lawn Mower Brands
Now let's talk about different well-known lawn mower brands and their engine oil type, which might help you to understand the exact choice to make. 
Some well-known brands are Husqvarna, Craftsman, Honda, Tecumseh, etc.
Husqvarna Lawn Mower Engine Oil Type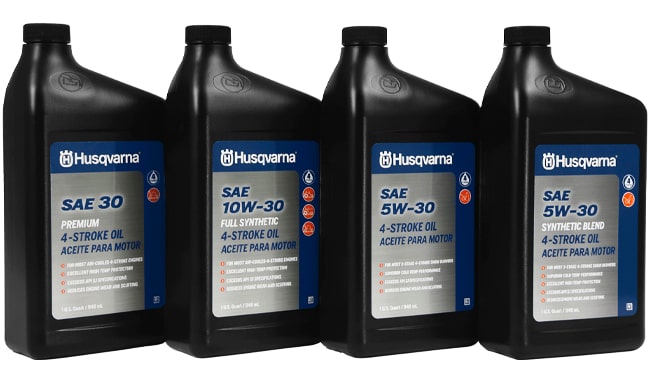 If you are a user of Husqvarna, then you need to know what oil type suits its engine the most. It comes in different sizes and shapes. 
Generally, riding a mower from Husqvarna holds 20 ounces of oil to keep its engine lubricated. This mower suggests oil that comes with the API standard of SG-SL.    
For general use, SAE 30 oil is a good choice for Husqvarna mower. If the weather is cold enough, then SAE 5W-30 will be the right option.
Craftsman Lawn Mower Engine Oil Type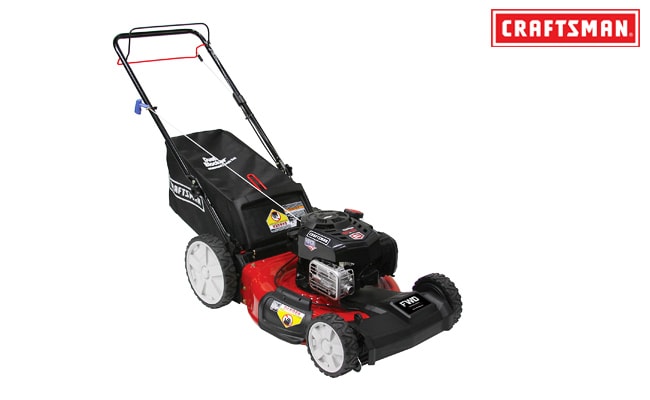 Another well-known brand Craftsman also features different models with different HP ratings and lubrication specifications. The mostly used four-cycle gasoline engines come with 6.5 HP that need 20 ounces of oil in its motor. 
And the viscosity rating of this type is usually SAE 30 when the weather is above freezing temperature.      
If the surrounding temperature is below the freezing level, then SAE 5W-30 motor oil will be the recommended choice. Don't forget to change the oil at the beginning of the mowing season. And after every 25 hours of operation, it also needs to be changed.
Honda Lawn Mower Engine Oil Type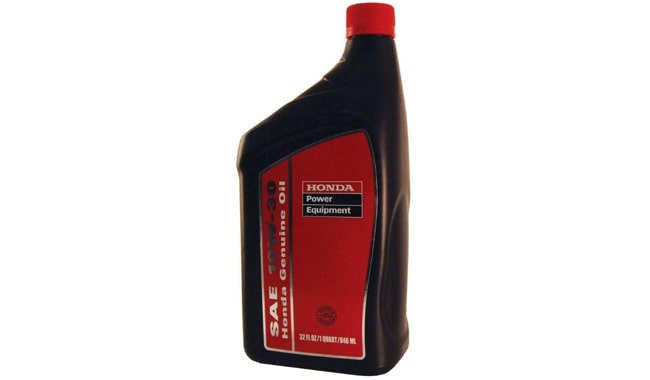 When you are a user of Honda lawn mower, then it's important to understand the oil type as well. As it comes with air-cooled, four-stroke engines with the facility of oil reservoirs, it is needless to say that the right level of oil is important to avoid engine damage. 
Most of the mowers from Honda are facilitated with the GCV190 engine. In this 6.5 HP engine, almost 18.6 ounces of oil is needed. 
If the temperature is between 0-100 degrees, it is recommended to use SAE 10W-30 grade oil with at least an SJ rating from API. Don't forget to change your oil after every 50 hours of operation.     
If the temperature is cold enough, then you need to use SAE 5W-30 thinner weight oil.
Honda suggests to use detergent oil and to avoid non-detergent oil to make the engine more durable. When you get the right oil type for the engine, it's easier to run it for long with smooth lubrication.
Lawn Mower Maintenance Tips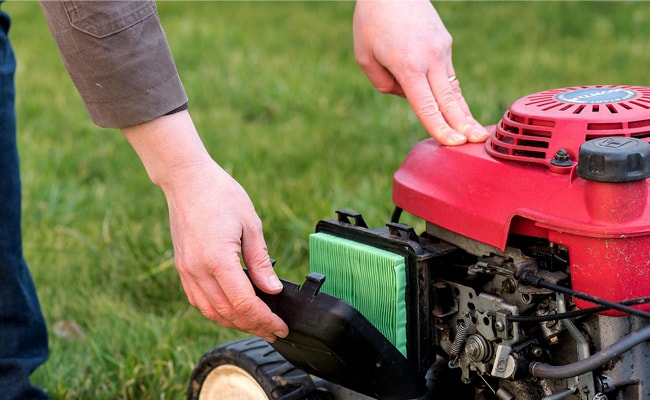 If you want your lawn mower to go for long, you need to care about some important tips along with the oil type you use. 
Make sure you read the owner's manual because they know the best how to take care of your mower as you are their customer. 

Every time when the mowing season ends, you need to drain the remaining oil out; and when spring arrives, use fresh oil. 

The undercarriage needs to be cleaned from time to time. With a wire brush, scrape glass dirt and clippings out of the carriage. Then clean the remaining debris by spraying with a hose. 

A clogged or dirty filter of a lawn mowers increases stress and burns gas with less efficiency. So, try to replace the air filter from time to time when it is dirty. It is inexpensive and easy to replace.

To ensure an easy start every year, replace the spark plug. It is also inexpensive and easy to change. 

Sharpening the blade is also important as you need to cut grasses with efficiency. You can do it by taking it to a mower repair shop when needed. 

If you are not ready to do all these on your own, then you can just get a professional tune-up by taking it to a lawn mower repair shop.
Hopefully, the article is answering all of your basic questions regarding lawn mower motor oil types along with its important maintenance features. 
So, according to your specifications, you can choose the right option for your lawn mower.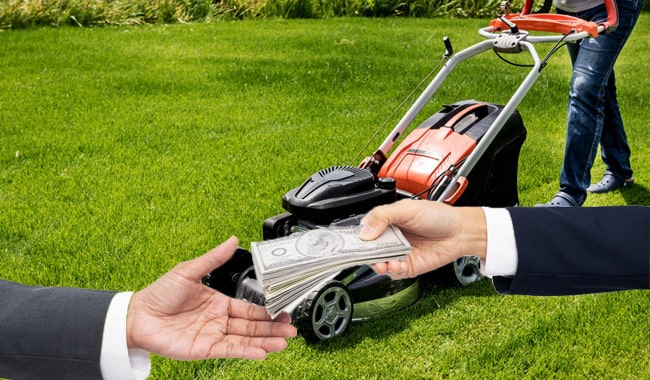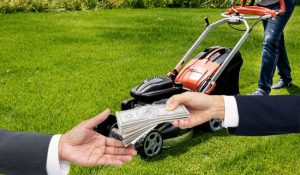 The price of an individual product changes according to the demand of the product at different times of the year. This is why you might buy
Read More »
Was this article helpful?