If you're a lover of outdoor activities, hiking may be one of the most favorite activities of yours. A rigorous cardio like hiking requires active gears that should be used to help you achieve your exercise goals.
One of the most sought-after hiking gears is watches. Hiking watches can track everything, from your steps to your heartbeat and more.
With its beneficial features, your climb to the mountaintop will be a lot easier than the guy who has nothing but sneakers on.
Here, I've written reviews for the best hiking watch under 100 to make your life easier so you don't need to look anywhere else.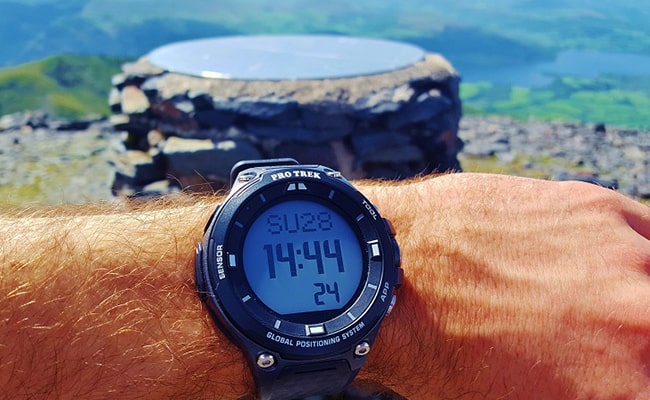 Top 11 Best Hiking Watches Under 100 – Reviewed
Hiking watch is like your companion during your adventures. It will look out for you as well as prepare you for your journey. The following are a list of the top contenders!
1. Casio GD100-1BCR G-Shock Watch
This one is a powerful wrist gear with amazing features. The watch being able to withstand water pressure up to 200 meters deep speaks for its power.
When you're in the middle of an intense hike, you wouldn't want to stop only to push tiny buttons. 
In this watch, the buttons are huge. So, it makes using the watch simple. Its inverted digital display with backlight makes it perfect for viewing the time in hard-to-see areas.
A cool setting that can be done with this watch is that you can set the time for multiple cities in the world, four to be exact. 
You can also set different alarms and have it automatically adjust the date. There is also a timer and a stopwatch for you to record your time taken to climb to the top.
2. Timex Expedition Grid Shock Watch
It's the wristwatch that will let you go the extra mile. This one can take a pretty big hit as it's tolerance for shock is up to par with the International Organization for Standardization. 
So, you know it means business.
Along with its incredible dial that can illuminate in the dark, it has alarms to remind you to stay hydrated. All the alarms in this watch make the device vibrate to really let you know what's up.
Not only it's sturdy with its stainless-steel finish, but it is also resistant to scratches. The fonts on display are nice and large enough to read from a distance.
3. Casio GA 100-1A1 Military Series G-SHOCK Watch
This stylish watch is specially made for military service. So, don't let its looks fool you. Its strap is made of resin which means it doesn't take in all the sweat, blood or any other fluid that might ooze out of your body meaning it will stay fresh even after the end of the day.
Most watches made for hiking are digital, but this watch can be set up to display digital or analogue time. 
The watch is also unaffected by hits or blows and can resist fall from a free distance of about 10 meters.
If that wasn't enough, the watch could also show the time of 48 different cities. And what's more, the watch is extremely long lasting.
4. Fanmis Military Multifunction Watch
Are you looking for a versatile watch that you can use anywhere? Then the Fanmis Military watch is for you. Not only is it great for all sorts of outdoor activities, but it can also be used for a style statement.
Among its many functions, the Fanmis watch has the ability to change its backlight to seven different colors and is also resistant to water. These functions definitely prove this thing to be an interesting yet fun watch.
The watch also has the option to automatically adjust its calendar and is very lightweight so you can carry it anywhere, anytime.
5. Casio Digital Compass Twin Sensor Sport Watch
Unlike the other watches on this list so far, you don't need to worry about the size of this watch. It is not too big and bulky, so it won't look out of proportion on anyone's wrist.
Another thing unlike the other watches on this list is that this watch has the power to withstand extreme temperatures such as -10°C and 60°C. Besides a thermometer, it has many different sensors such as bearing, and it also has the ability to resist magnetic objects.
The information on the display is very simple, and the features available on the watch make it a great contender for outdoor adventures. 
Op top of that, thanks to the A1 quality components being used in the device, you can use it for several years.
6. Timex Expedition Field Chronograph Watch
This classy watch is a keeper. You can use it both as outdoor gear and style accessory. It has the rustic feel of the outdoors and gives off a musky vintage vibe with its leather band.
What's special about this watch is that it has a chronograph. The chronograph can measure up to half an hour.
Though the watch doesn't have a digital display, it can definitely light up in the dark for easy time reading.
Despite its simple and lightweight look, the watch can go as deep as one hundred meters underwater and is pretty resistant to shock and scratch.
7. Military Sports Digital Watch
This Military Sports Digital watch will not disappoint the average hiker. The design of this wrist gear is so flexible that when you wear it, it won't feel like you're wearing a heavily functioned watch. It is very soft and flexible.
This exquisite timepiece has a built-in survival compass and is waterproof up to 50 meters deep. 
Not only does it have a stopwatch and a countdown clock to time your hikes, but it also gives you the option to set up 3 different alarms that will last till the date you set it.
It has a readable display and dial so you can easily take a look at the time at a glance while you're hiking. 
The display also has a great luminating backlight which helps you see the watch in the dark.
With its stainless-steel material, the Seiko SNK809 is a winner in the minimalist department. Its sleek finish and canvas band makes it a fashionable choice to take with you on your hiking trips.
The watch's metal texture and moody color palette make it a standard timepiece for any adventure. 
What makes this gadget handy is that the date and time are readily displayed at the middle of the dial.
Even the language of the watch can be changed between English and Spanish. The size is also comfortable enough to not get in the way when you're working on small projects. 
Another thing that you will like about the device is that it comes at an affordable price rate and should be within your budget.
9. Digital Multifunction Sports Watch
Sometimes you need to backtrack on your previous hikes and see how far you've come and what you need to do in order to improve. 
This requires you to have a watch that has internal storage that can keep a database of your previous conquests. This digital multifunction sports watch allows you to do just that.
It also prepares you for possible changes in weather so that you don't end up getting drenched mid-hike. 
This one comes with many advanced measuring tools, such as a barometer and altimeter. Moreover, the device also acts as a great trainer for your fitness regime.  
This thing takes care of your wellbeing and helps you prepare for what's to come when you start hiking.
10. La Crosse Technology XG-55 Watch
The La Crosse Technology XG-55 watch is a simple wristwatch that is one of the best gears for hiking. 
Not only does it come with a built-in compass, but it can also save your progress into its database. This is extremely useful for those who like to keep track of their workouts.
It even has an alert system to notify you of any change in altitude or air pressure. Although this watch cannot withstand deep waters, it is splash proof.
The settings of the watch can be toggled between feet and meters and also for temperature between Fahrenheit and Celsius, which make it quite a versatile device.
11. LAD-WEATHER Outdoor Watch
A sleek round toned textured wrist gadget with necessary functions, the LAD-WEATHER watch has attractive characteristics that can catch the eye of any avid hiker.
What's special about this hiking watch is that it can sense temperature and predict the weather. This one is also able to show you the altitude.  When it comes to durability, it gets full marks from me.
Besides all that, it can also detect if there is a change in elevation and has a functioning chronograph. 
It is a useful watch that can keep a record of your laps as well as help you set various timers and alarms.
Things to Consider Before Buying a Hiking Watch
There is a huge difference between regular digital watches and watches designed especially for adventure and hiking. To make things easier for you, here I will talk about the aspects you need to consider before purchasing a hiking watch.
To achieve comfort, you should look out for watches that have a rubber strap or a synthetic fabric strap. They will not only be smooth on your skin but will also be easily cleanable.
Various measuring tools such as; barometers (to measure the air pressure), altimeters (to measure the sea level height), thermometers (to measure the temperature of your surrounding) must be available in your watch to guide you throughout your hike and ensure a smooth experience.
How much the watch weighs and how easily it can be carried around according to its shape and size is also a factor to be considered. You want to be able to hike without any obstacles getting in the way. Therefore, a heavy and robust watch might cause wrist pain or might be uncomfortable if you are planning on doing long term hiking.
A GPS device in the watch is a must, especially if you are the lone trekker type. Getting lost is inevitable, and sometimes the WIFI on your phone might not work. So, to be able to track your location as well as pinpointing your final destination will be extremely helpful.
Apart from the GPS, a built-in compass inside your watch can also help you navigate your way to the intended direction.
Hiking watches all vary with different features it can offer. Other features you should look out for are heart rate monitors (to know if your body needs to calm down or keep moving), waterproof (just in case it rains or you happen to stop by at a waterfall) and finally, data tracking.
At the end of the day when it comes down to the basics, it is, after all, a watch. So besides everything else, the timekeeping capability of the watch you choose should be accurate. This is because the precision of the time is essential to your planning and many other activities that come with it.
A hiking watch will keep your adventures structured. Hiking can sometimes be dangerous if the weather isn't right or if you happen to get lost. 
So, a hiking watch will definitely keep you on your route, provide you with the weather forecast, offer you info about the location, and let others know where you are.
Without carrying a bunch of gadgets and gears that might weigh you down on your hike, wearing a hiking watch will save you the hassle with its many added benefits.
Why These Watches are the Best ?
These watches are the best because not only are they inexpensive, but they come with so many different features to cater to your hiking needs. These watches on this list especially will provide you with important information that sometimes might be extremely vital for survival.  
If you've come this far into the article, then you already know all about the hiking watches. That means you are well-equipped to make an informed decision about the item you are going to buy.
However, I'm sure that my reviews for best hiking watch under 100 will help you choose the right option.
So, don't wait too long because your adventures await you. Stay safe and happy hiking!!!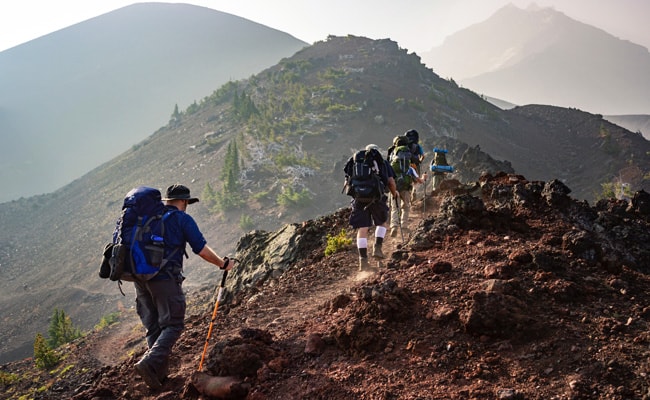 Whether you are planning for multiple day hikes for leisure or a short excursion, the first thing you need to do is ensure getting your
Read More »
Was this article helpful?