When you are born with curls, you have to be extra selective when it comes to choosing your hair dryer.
But there's no need to worry as we have done the hard work for you. To help you out, we have surfed the internet to find you the best hair dryer for curly hair available.
This is due to the fact that curly hair is more fragile and without the right hair dryer, it will get damaged. 
The tools mentioned in this article will not only dry your wet hair fast, but also will help you straighten your hair, curl it or even create a voluminous look.
So, without further ado, let's get started.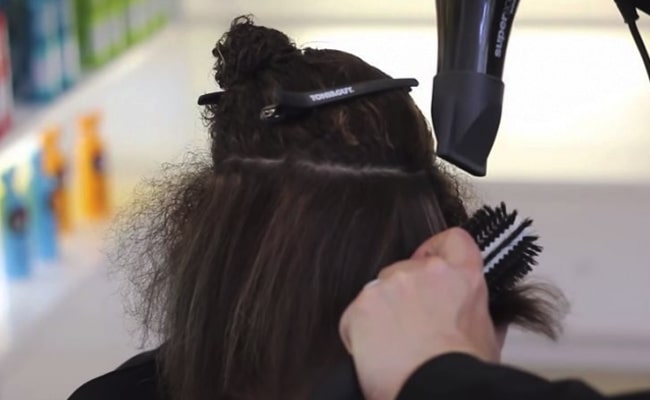 Our Pick for The Best Hair Dryer for Curly Hair
There are so many options to choose from, and sometimes it can become overwhelming and confusing.
To get rid of your confusion, I have done some research and narrowed it down to only 10 best-rated hair dryers for curly hair.
So, here are the reviews of my recommendations;
1. BaBylissPRO Nano Titanium Portofino Full-size Dryer
With 55 years of expertise, BaByliss is one of the leading companies in hair styling industry. The most sought-after item among girls with curls is BaBylissPRO nano titanium Portofino hair dryer.
It includes 2000W AC motor and nano titanium technology which provides powerful airflow and helps to evenly distribute heat to the hair. 
The dryer also generates negative ions thus preventing static electricity in the hair.
In addition, it comes with two concentrator nozzles and six heat and speed settings. This versatility of heat settings is great for any hair type allowing plenty of flexible styling without damaging hair. 
For these reasons, it is known as the best hair dryer for thick curly frizzy hair.
2. KIPOZI Pro 1875W Hair Dryer
One of the top professional salon hair dryers is the Kipozi Pro 1875W hair dryer. It is the most desired item by online reviewers as it is a good alternative for an expensive, high-quality model.
The device features a 1875W powerful DC motor and ceramic heater which provides the best hair results.
Also, the negative ion technology protects the hair from heat damage leaving your hair soft and healthy.
It has three temperature settings allowing desired heat adjustments, and it is very easy to hold during drying. The best part is that this professional salon hair dryer is sold at a very reasonable price.
3. Remington Hair Dryer with Ionic Ceramic Tourmaline Technology
Remington is one of the most well-known brands for hair care products. 
Ranging from hairdryer to curling wands, they have been manufacturing outstanding quality products for 80 long years. So, yeah, you can trust them.
This brand cares about the common problems a customer can face.  
For example, for over-drying and breakage of curly hair, they have come up with a solution – the Remington Hair Dryer with triple technology.
This device has earned the reputation for being one of the finest hair dryers for curly hair. The device includes ionic, tourmaline and ceramic technology which ensures your lovely curls remain healthy and shiny by reducing static and frizz.
It also has 1875W motor which helps you dry your hair faster. In addition, micro conditioners are included for preventing hair damage. 
This one also comes with a concentrator and diffuser attachment and a removable air filter.
4. JINRI 1875W Professional Salon Hair Dryer
Anyone with curly hair should invest in a hair dryer with ceramic technology. As mentioned before, ceramic technology helps to reduce frizz which is very common with curls. 
So, my recommendation would be JINRI professional salon hairdryer.
It includes tourmaline ceramic technology which protects your hair texture and also comes with three heat settings and two-speed settings allowing you to style your hair easily. 
It contains the 1875W AC motor and, therefore, dries your hair faster compared to other hair dryers.
The device not only includes ionic technology which leaves your hair silky and smooth but also the infrared technology which emits gentle heat preventing hair damage and breakage. 
To prevent your hair from being tangled, the hairdryer is provided with concentrator and diffuser attachments.
This is a really good choice for people with curly hair. Why? You'll find out soon.
In 2001, they changed the market outlook for hair dryers by creating a professional salon quality hair dryer. When it comes to performance, it's incredibly difficult to rival this thing.
It comes with a powerful AC motor which dries your hair faster, and its ionic technology provides you with soft silky hair. 
You can choose your heat and speed settings according to your hair type and style your hair with a cool shot button.
The extra-long cord helps you keep control of your hair dryer while working with it. Though it is not budget friendly, but it's certainly worth the money. 
I believe, if you give this guy a shot, you won't regret it.
6. Conair 1875-watt full-size Pro Hair Dryer with Ionic Conditioning
Conair has been ranked as one of the top best sellers in recent times as they have managed to continuously produce high-quality hair dryers at an affordable price. 
Conair Pro hair dryer is a top selection among hair dryers. It is highly recommended for those with thick and tight curly hair.
With the DC motor, its aides in the super-fast drying of your hair. This hair dryer comes with tourmaline ceramic technology which provides uniform heat distribution aiding in fast drying and less breakage. 
Moreover, it maintains the pattern of your curls.
It also comes with three heat settings and two-speed settings which helps you achieve any hair styling goal. 
After you are done styling, finish it off with the cool shot button to keep your hairstyle in place.
7. Babyliss PRO Nano Titanium Travel Dryer
It is definitely a hassle to carry your favorite hair dryer when traveling, but you don't want to leave it behind. 
Although the hotels provide hair dryers, they do not have perks of your perfect hair dryer. Do not worry about it anymore, babyliss has solved that problem for you.
You can now easily carry a powerful hair dryer with 1000W motor and dual voltage when on any international trips. 
Its lightweight nature and the foldable handle make it easier to carry.  The Nano titanium technology used in the device will leave you with desired hair styling results. 
This thing also includes two heat settings and removable filters. 
However, I would not recommend this to anyone with long and thick hair. This item is perfect for those with short and lighter hair.
8. CONFU Ionic 1875W Professional Blow Dryer
Those of you with unmanageable frizz prone curly hair, you should get the CONFU ionic professional hair dryer. 
It can help you achieve any hairstyle ranging from incredible blowouts to striking waves. 
The unit features triple ceramic and ionic technology to reduce hair damage and frizz by locking in your hair's natural moisture resulting in salon look every single day. 
Furthermore, the 1875WAC motor provides you with strong airflow which can dry thick hair in less time.
The appliance is ideal for home use as it is not loud when switched on. It also comes with three heat, two speeds setting, and a special cool button. 
This thing also includes two nozzles and one diffuser which boasts your hairstyling capacity.
The fact that it's made with quality components and gonna last years makes the more attractive.
9. Vaslon 1875W Hair Dryer with Diffuser for Curly Hair
If you are looking for the best hair dryer with a diffuser for curly hair, then this is the one. 
With its 1875W AC motor and negative ion tourmaline technology, it makes your hair tangle free and smoother.
Adjustable heat and speed settings help to avoid hair damage by heat. And the cool button at the top of the handle help you style your hair any way you want. 
All of the control settings are situated inside the handle which might be sometimes inconvenient.
Furthermore, it is travel-friendly due to its lightweight nature. The device is also known as one of the noise friendly hair dryers. 
It comes with a removable filter which makes it easier to clean.
10. Dyson Supersonic Hair Dryer Iron
Dyson dryers have made quite a reputation with their products. One of their most notable items is the Dyson supersonic hair dryer. 
Due to its innovative design, it is easy to handle and can be stored without any difficulties. Although it is very expensive for a dryer, the features make it worth the money.
It comes with a digital v9 motor located at the handle which helps to dry your hair faster. There's also a microprocessor that monitors the air temperature 20 times per second, thus, preventing your hair from over-drying.
The machine features air multiplier technology which amplifies the airflow three times more than others for fast drying. 
There are also three precise speed settings and also four precise heat settings. The best feature of this dryer is it has a cold shot button which aids you to set your hair after styling.
Furthermore, the diffuser and concentrator attachment are magnetic which is amazing. The surfaces of the attachments remain cool after use due to its heat shield technology.
What to Look For While Buying a Hair Dryer
Without knowing much about a hairdryer, it would be unwise to spend on it. For this reason, the following points should be checked when buying a hairdryer.
The more powerful the dryer is, the less time is required to dry your hair. So, you must check how much watt your hair dryer needs before buying. 
For thick and curly hair, it is ideal to buy starting from 1800 to 1900 watts.
For better care of your curly hair, you may need a diffuser. The diffuser is a nozzle that comes with the hair dryer, and it helps to distribute the heat evenly from the hair dryer resulting in smooth and shiny hair.
Heat control and settings
The variation in heat control settings can help you provide smooth hair without any efforts. 
You should make sure when checking the control system that if they have low, mid, or high heat settings.
Ceramic and Tourmaline Technology
This technology helps to combat frizzy hair. Ceramic dryer helps control the heat and tourmaline dryer gives smooth hair by retaining the moisture from your hair. 
It is perfect for those with curly hair and does not cause any frizz.
Always keep in mind to buy lightweight hair dryer as they will be uncomfortable to handle if they are heavy. This can also ensure that you can carry it anywhere when you are traveling.
I have tried to cover almost all the best brands of the hair dryer for curly hair. 
I hope you found this article helpful and you can also share it with your friends and family if they need help in choosing the best hair dryer for curly hair.
If you are still hesitant about what to do, then do let me know in the comment section below.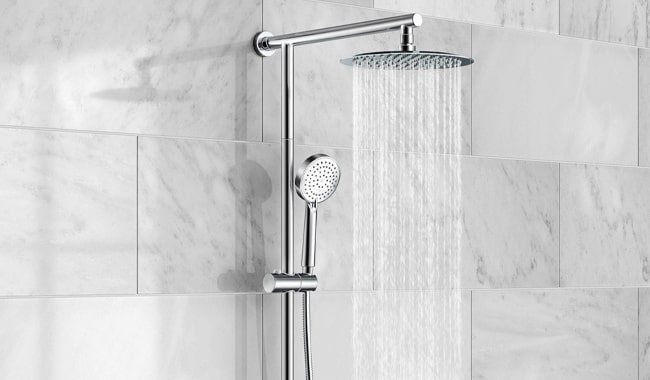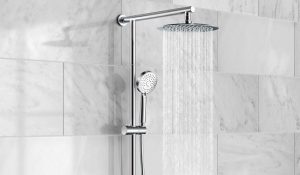 To make shower an even more magical place, we'll introduce 11 different kinds of shower heads for you to think about. Let's get started… Shower
Read More »
Was this article helpful?