If you are fascinated with mountain bikes and are about to get one but cannot decide which one will adopt your riding type, mountain biking interest, and your body the most, then you have come to the right place. 
It's okay if you are confused about how to choose a mountain bike as there are different types of bikes for each MTB category. 
Your confusion is highly appreciated as not all MTB are equal in terms of their construction, specialty, specs, and other prior factors depending on where you want to roll the wheels.
This article will tell you pretty much everything to get the right ride and other factors to consider that will enhance your riding experience.
Things to Consider While Buying a Mountain Bike
If this is your first time, you need to first determine a few things before selecting a bike to make your investment worthwhile.
Depending on your preferred riding type, you need to choose a mountain bike that will easily suit your riding style and requirements.
Key features that matter in different terrains you want to roll the wheels on.
The bike needs to fit your size well so that you can ride for a prolonged period without any physical issue.
Essential gears that will enhance your riding experience.
Your maintenance tendency.
[On a side note: If you are a beginner, read this post]
Different Types of Mountain Bikes
There are various types of mountain bikes, specially designed for each riding style and terrain.
So, at first, you need to determine your riding style to be able to get the right gear.
You will come across four different mountain biking types. Even if you only have an interest in MTB but still cannot figure out which one will suit you the best, you can determine the type after reading the pieces of information given below.
1. Cross-Country Riding Mountain Bikes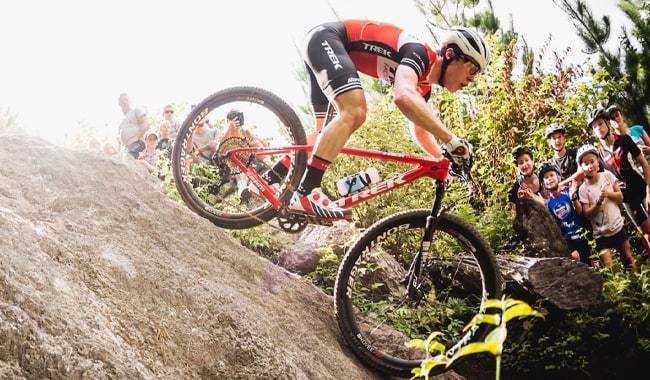 XC bikes are designed for those who like climbing as much as most others like descending.
It's lightweight design helps the rider to have well control over the ride while climbing, and that ensures efficiency and endurance. 
If the clock distance race is your kind of thing, this is the best option to go for.
You constantly have to pedal while uphill crushing on this bike. The geometry of the bike is somewhat similar to road bikes. 
If you prefer riding on a terrain that requires more ascending then descending and you don't mind pedaling for miles, go for a cross-country mountain bike without giving a second thought.
Specs and Features of Cross-Country Bikes
To help you with pedaling, modern XC bike models come with 29 inches of wheel size, which is the largest size in MTB. 

No other mountain bike feels as lightweight as this one; some models weigh less than 24 lbs. The average travel is 4.7 inches/120mm; this tells you how lightweight the construction is.

Most riders prefer hardtails. However, you can also get a full-suspension model.

The tires are made considering the weight and efficiency, faster rolling performance.

The Headtube angle ranges from 68 to 71 degrees.
This is the most widely available and used mountain bike. You can address it as an all-purpose trail MTB. 
This type doesn't serve any specific purpose like others. If you are to meet friends at the local trailhead and enjoy both climbing and descending, then this is the type you need to focus on.
Trail bikes come with more suspension and feature more gravity-oriented accessories such as larger brake rotors and chunkier tires that help you to do better traction. 
Without a doubt, trail bikes provide more relaxed geometry compared to MTB brethren XC, which makes it capable of handling pretty much all types of terrain.
Moreover, having such a bike allows you to bike uphill as well as downhill with much confidence and perform occasional jump or drop.
Specs and Features of Trail Mountain Bikes
Wheels are between 27.5 from 29 inches. 

You can expect suspension anywhere between 120mm to 150mm in both front and back travel. 

Neutral head angles between 66 to 68 degrees, which allows you to adopt various riding styles.

Tires will find a sweet spot between traction, rolling efficiency, and durability.
3. All Mountain or Enduro Mountain Bikes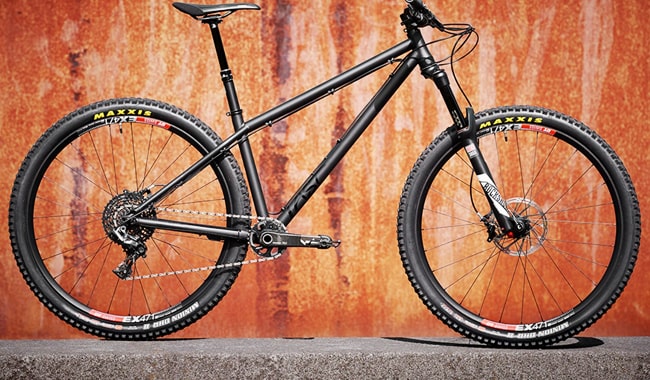 If you are not familiar with Enduro, well, it's a racing format in which riders are timed while descending. 
People get confused with enduro and trail bikes. Even though there are similarities, these bikes are even faster, more aggressive, and down steeper than trail mountain bikes.
Besides, you will find an all mountain bike light enough to pedal back uphill. 
So, overall, it can be an ideal pick for intensive leg-burning climbs and scarier and longer descents. 
You can even skip pedaling for a couple of descent laps at local shuttle accessed terrain as well as bike park riding on such a bike.
Specs and Features of All Mountain or Enduro Mountain Bikes
You will get the wheel in between 27.5 to 29 inches. Some models come with mullet sizes as well.

These bikes have more suspension than their comrade trail bikes that range from 140mm to 180mm.

Whether it's climbing or descending, you will find geometry on your side. Head angles range from 65 to 67 degrees.

Tires can efficiently handle aggressive corners and traction.
4. Downhill and Freeride Mountain Bikes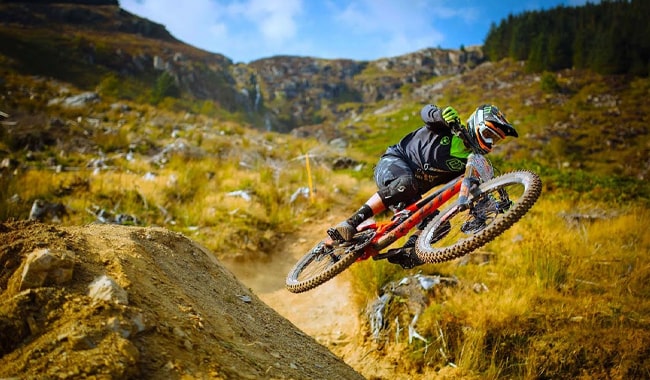 If you are looking for a bike that is designed for gnarly terrain, steep, bigger drops, jumps, as well as speed, then a downhill bike is all you need. 
The bike can swiftly get you to the bottom, whether it's hiking, chairlift, or shuttling. 
And if the terrain and trails are supportive of high speeds as well as airtime, nothing can beat a rider with skills riding on such a bike.
Specs and Features of Downhill and Freeride Mountain Bikes
Full suspension to handle berms, jumps, wooden ladder, rocks, and other toughest conditions on the terrains. Front travel suspension is about 200mm; rear one ranges from 210 to 240mm.

Up to 29 inches wheel size for easier traction.

With a head angle of 65 degrees, these bikes are very slack. Low center of gravity to confidently shift your body weight for aggressive lines.

Tires are ideal for traction.
Although technically fat bikes don't come under the mountain biking category because it doesn't require you to ride in the forest, you can roll its monster fat tires on the rocky valley, snowing, and even desert areas. 
If you ride a regular mountain bike in these tough areas, you will not be able to accelerate further. 
So, if you are really up to rocky valleys, want to ride in extreme cold areas on snow such as Canadian ski areas, having a fat tire bike will bring great advantage for you.
In fact, for some specific trails, you only have the option to roll fat tires, whether it's snow, mud, loose rock, and sand.
Specs and Features of Fat Bikes
Despite having a fully rigid frame, most fat bikes come with front suspension; some models offer full suspension as well.

Wheel size is common, 26 inches. What is exciting about this is the width. You will find tires with up to 5 inches of width.

Trail geometry is commonly found in fat bikes.
How to Choose the Right Mountain Bike - Buying Guide
As there are various types of MTB terrain to roll the wheels on, there are some key attributes of a mountain bike that tell you how the bike or which bike will easily handle which terrain. 
Key accessories of a bike such as suspension, wheel, numbers of gears, type of brakes, etc. influence your riding experience regardless of the terrain.
Therefore, have a look at some of the key aspects of mountain bikes so that you can make a decision for the right bike to be able to roll on the right terrain.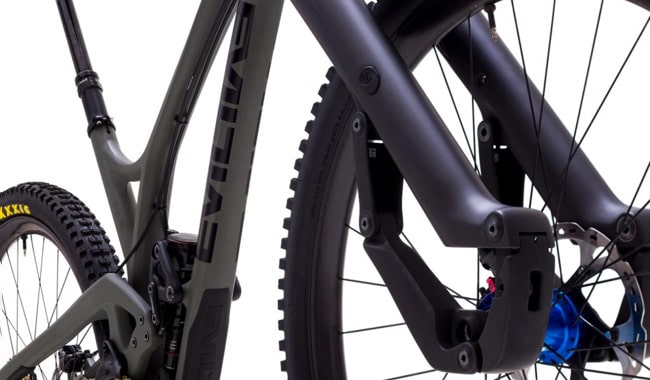 You will come across three different types of suspension in mountain bikes.
Rigid bikes don't come with any suspension.
Usually, fat-tire bikes come into this category. Rigid bike is the most inexpensive option. Although most riders want suspension for comfortable rides, some prefer rigid fat tires with no suspension.
The wide tires as well as low pressure allow the rider to get somewhat manageable squish they need to absorb tough bumps while riding on a trail.
Hardtail bikes come with a suspension fork in the front that effectively absorbs the impacts of trails and terrains.
The rear wheel doesn't have any suspension on it. These bikes are less expensive than full-suspension ones. You can even lock the front fork to be able to make it a rigid bike when necessary.
Cross-country bikers prefer hardtails as there is a direct transfer of power between the rear tire and pedal stroke. Hardtail bikes are also ideal for all-mountain trails. It costs less and is much easier to maintain.
Full Suspension, as the name goes, comes with suspension in both the front fork and rear part of bikes to provide an uncompromised shock-absorbing system of trails.
It allows you to get more forgiving and comfortable riding experience while ensuring much better traction.
If you are looking for a ride that is able to get you serious lifting service on downhill trails, go for the full-suspension system.
It allows the bike to soak trail bumps and chatter significantly, but you will lose a bit of energy transfer during the uphill climbing period.
But you can lock the rear suspension to get efficient uphill riding.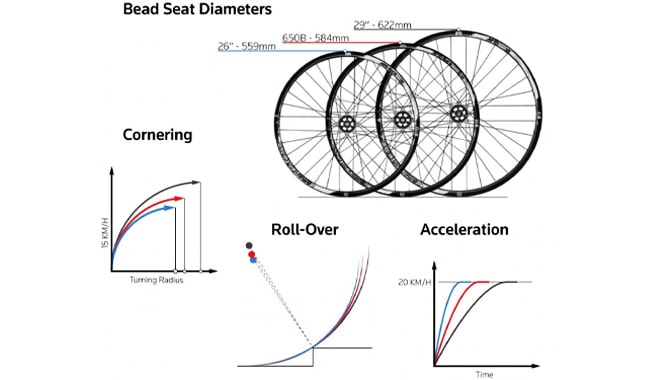 As you probably already know, there are different sizes of bike wheels. Each size is suitable for some specific requirements.
26 inches wheel size is still available on the market. However, this is less common nowadays. Wheels of this size are lightweight, durable, and roll swiftly around corners. It's difficult to ride on technical and rocky terrain with this size. 
27.5 inches wheels are also known as 650b wheels. It's in the sweet spot between 26 and 29ers that allows you to roll over rough terrain easily and maneuver well compared to 29ers. You can hit the aggressive trail as well as downhill on 27.5 inches wheels without much trouble. 
However, you might have to compromise with traction. 
29ers bikes are a bit slow to accelerate, but once you get it started, you can swiftly pass terrains much faster compared to other sizes. If you are up to longer rides, wheels of this size can keep the momentum up, and make it easier for you to roll over obstacles on trails. Cross-country riders usually prefer having 29ers wheels. 
Compared to other sizes, this one provides much better traction. However, it's the heaviest option out here, and it can be troublesome for short individuals.
No matter how many high-end specs your bike has, if its size isn't suitable to your height and ability to reach the handle, you will have to compromise with the comfort. 
Angles, frame geometries, and wheels can make you feel different on bikes of similar sizes of different brands. [To know more about standard mountain bike size, read this]
Make sure the distance between the saddle to the bars, mid-head tube to the center of the crank, is the right fit for your height and comfort. You can even go for a model that is longer than a road bike if it fits you. 
Mountain bikes come in standard S, M, and L sizes, and the sizes are pretty much similar regardless of the brands. The size corresponds to the rider's height. 
Most manufacturers include a size chart list for different heights of riders.
When it's about how to pick a mountain bike size, people that are in between sizes, often get confused. In such a case, consider getting the smaller one as the larger one might cause discomfort.
You can also consider visiting a nearby bicycle retailer store to figure out the right size for your height.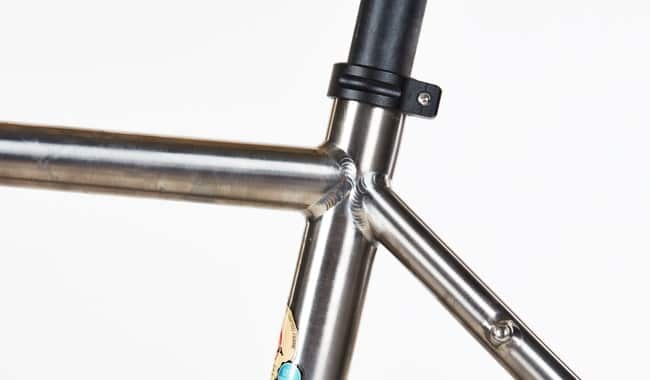 The durability, weight, strength, quality ride, as well as the price factor depend on the frame material.
Aluminum alloy is the widely used frame material for mountain bikes. A bit pricey model has lightweight aluminum frame construction that also contributes to better tubing design. 
You can go for a steel frame if you are on a budget. Steel frame bikes still offer smooth rides, but you might feel a bit heavier.
Titanium made frames are too expensive, which you will find in only high-end bikes. 
Carbon fiber, on the other hand, is pretty common in trail, cross-country, fat, all-mountain bikes due to the strength and lightness. However, it's also a relatively expensive option.
When you multiply the number of front chain-rings by the number of sprockets of the cassette, you will get the number of gears. 
You will find bikes of a single up to 30 or even more gears. If the factor of combining the numbers of chain-rings and cogs and their teeth numbers confuses you, let me make it clear for you.
Well, when it comes to choosing a mountain bike for beginners, consider your fitness level and the type of terrain you will mostly ride on. If you prefer riding on steep hills, but you find it challenging to climb, go for more gears.
For strong bikers that usually ride on flat terrain, fewer numbers of gears will suffice the needs; this will also contribute to keeping the weight light.
A mountain bike with a single chain-ring will keep things a lot easier for beginners and occasional riders. Less number of chain-ring will keep the bike lightweight, and make shifting to gears a lot easier.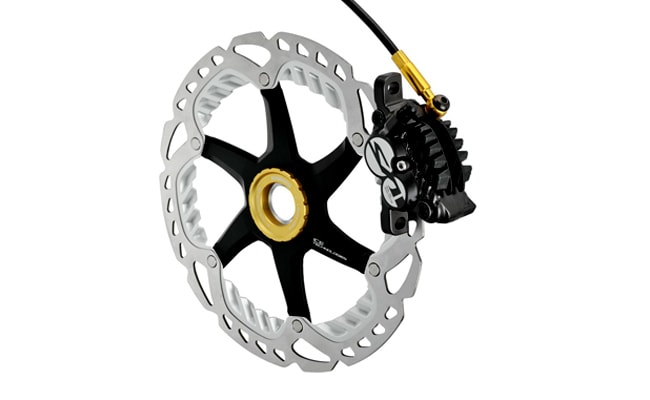 Most mountain bikes come with disc brakes. However, there are rim brakes still found in entry-level bikes as well.
Disc brakes come with brake pads that are attached to the brake motor of the wheel hub. These brakes deliver more consistent performance regardless of the condition, whether it's wet terrain or steep. Replacing a worn rotor is cheaper than a wheel.  
However, when it comes to inspecting pad wear or replacing it, these brakes are a bit complex. Disc brakes are expensive to service as well.
There are two types of disc brakes.
Hydraulic disc brakes are even stronger and progressive that require less effort to pull. You don't need to adjust to the brake pad wear.
Cable-activate or mechanical disc brakes require manual adjustment for the pad wear.
Rim brakes include pads that are gripped on to the rim of each wheel. It's a more inexpensive option and easier to inspect and replace the pads.
But, you have to compromise with the durability of the wheel as they wear the wheel rim more. In wet or muddy terrain, you will have a tough time stopping the wheels.
Hopefully, this article will help you to choose the right mountain bike that suits your preferred terrain as well as your riding styles. 
Apart from all the things that are mentioned above, mountain biking involves more risks than other riding formats. Consider investing in high-quality gears and accessories to ensure your external body parts are safe even if you accidentally fall from the bike.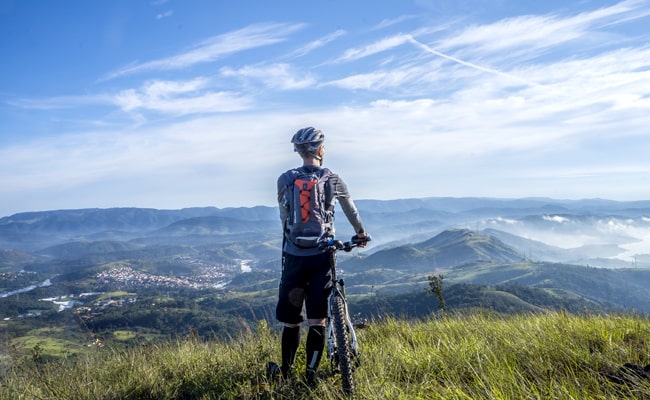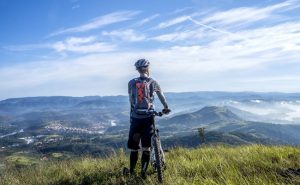 Your best companion on the mountain roads is your bicycle. Nothing can beat the feeling of speeding through the trees with your mountain bike. Budget
Read More »
Was this article helpful?