Buying a mountain bike online can save you a substantial amount of money. 
However, people often get confused about which size to get as you don't walk to a physical store.
So, what size of mountain bike do i need?
Getting the right-size bike that fits your height and body measurement is very crucial as your comfort while riding solely depends on it.
Luckily, there are numbers of mountain bike size guide on the internet.
And to save you from the hassle of going through multitudes of articles this mountain bike size guide with chart will help you get some ideas on what size of mountain bike you may need.
A Few Suggestion Related to Perfect Bike Size
For serious riders, it's a must to meet their specific riding characteristics.
If you're a beginner but don't want to make any compromise with your ride, be sure to keep the following things in mind:
The bike you are about to get should adopt your body measurement no matter what. There are specific sizes for each riding format. 
So make sure you are looking for a ride that is exclusively sized for your preferred riding format.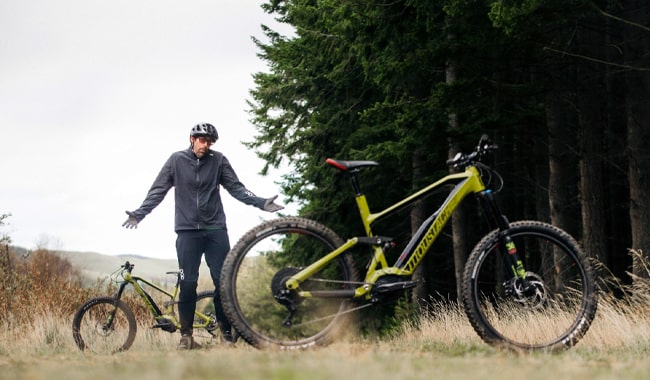 If you get the right frame size, you are pretty much done for getting an enjoyable riding experience down the terrain. 
But if you fail to select the correct frame size, no matter how expensive modification and adjustment you make later, you will always have to face difficulties with comfort.
As I have said earlier, the frame size is the base. If this base fits perfectly to your body shape and requirement, you can further tune the fit, making some adjustments as per the components allowed. 
You can easily adjust the seat angle as well as seat height. Swapping out components will not be an issue if you get the right replacement.
You can ask a senior rider or get help from a skilled bike technician or sales associate regarding how to select a mountain bike size. 
You can walk into an REI or local bike store to test a similar model that you are going to order online to see how it fits you.
How Are Mountain Bikes Sized?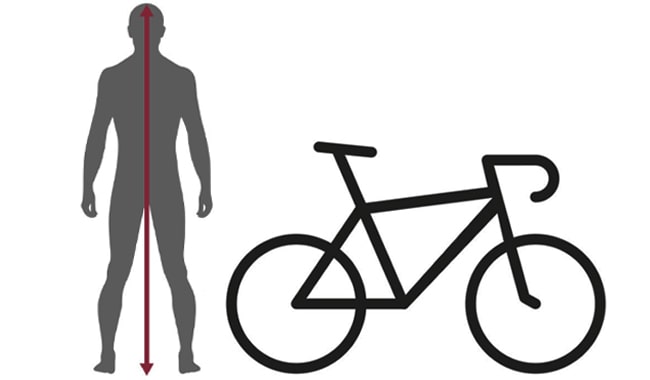 Mountain bikes come in general S, L, M sizes. The frame size is the only thing that changes between these three sizes. 
Other components, such as wheels, relative geometry, and wheel size, remain pretty much the same. 
However, you might notice the changes in wheel and suspension travel size as well in some models.
Traditionally, it's the seat tube length that mostly determines the bike size. But now that mountain bikes come in various shapes and designs, it's becoming less relevant. 
Pretty much all manufacturers focus on the stand over height of the riders these days. Therefore, the old traditional flat-footed standing over method doesn't work anymore.
That's why, to keep things simpler, you will see mountain bikes come in small, medium, and large sizes that are primarily the frame size based on the rider's height.
Standard Mountain Bike Size Chart for Men
Most manufacturers include a size chart that includes riders' height, frame size in both inches and centimeters, along with the actual frame size. Different brands come with different size charts. 
[ On a side note, to know more about the mountain bike brands, click here]
To keep things simple, I have made a standard mountain bike size chart inches below through which you can easily determine which size of bike you need to get.
Inside leg or inseam size actually determines the stand over length; so, it's an important factor to consider so that you don't get painful experience.
Whether you are looking for a downhill mountain bike size guide or hardtail mountain bike size guide, these measurements are pretty much the same for all formats. 
For each terrain and format, you may need to make some specific adjustments, which I will address later on in this article.
Standard Mountain Bike Size Chart for Female
For obvious reasons, the bike size for females differs from males.
I collected the size data after a few hours of research and came up with this women's mountain bike size guide if you are a lady rider or know someone who is looking forward to getting a mountain bike.
What's the Perfect Size to Go When You Are on the Edge?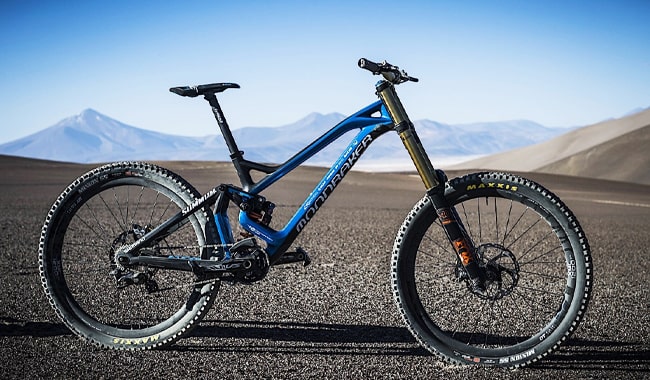 No matter how perfectly the chart is made, there will always be people who fall right between two sizes or on the edge of a size. 
[On a side note: If you are a beginner, read this post]
What to do, which one to go for then? 
Such situations require you to either size up or down for the bike. Here are some tips to get the perfect fitting mountain bike in such cases:
When to Go for Sizing up?
As far as mountain bike sizing is concerned, reach size changes whether the frame is smaller or larger than the stack size. 
The recent trend is to get as low as possible in pretty much all mountain bikes, so it matches the sweet spot of the rider's range of motion during riding. 
In addition to that, a bit longer wheelbase makes it easy to climb uphill for the riders. If you have a relatively long torso, you need to size up the bike in order to get a neutral fit. 
Again, if you size up, the reach will increase proportionally. 
So, if you are flexible enough, and your range of motion is up to the mark, there's nothing wrong to size up a bit. 
On the flip side, if you struggle to bend over and touch the toes, then a longer frame size will be challenging for aggressive and low riding style.
When to Go for Sizing down?
Similarly, a mountain bike with a relatively smaller frame size will have a slightly shorter wheelbase and, most importantly, the reach. 
You will get a low stand over as well, which might require you to extend the seat-post length to get the perfect pedaling position. 
But it's worth considering if you fall in between two sizes.
So, if your legs are relatively long, but lack flexibility, a shorter frame size will be more comfortable for you to ride on. 
In addition to that, a bit shorter wheelbase of a short sized frame will allow you to pedal faster, which is great if you want to ride the bike for longer periods. 
For those who have a relatively shorter torso and feel less flexible and prefer a more casual riding style, sizing down is recommended.
MTB Geometry Measurements
Some crucial aspects influence the overall geometry and shape of mountain bikes. 
In order to get the perfect fit, comfort, and perfect style, you must consider these factors along with the size chart. 
As every riding format is different, your bike's ability to suit a specific terrain depends on them as well.
As the name goes, the term indicates the reaching ability of the rider to the handlebar. 
Technically, it's the measurement of horizontal distance between the center of the head tube and bottom bracket shell, where a vertical line goes through perpendicularly. 
So, like I was saying, the reach determines how well you reach the handlebars while standing on the ground. 
This measurement tells more about a perfect sized bike as trail riders mostly prefer out-of-the-saddle riding than what an effective top tube indicates.
More so, the reach also figures out how well your range of motion of hips will be used to achieve a strong and comfortable riding position. 
If it's too long, you have to lean over and stretch out while riding. Shorter lean will make your weight bias shift more frequently, which is a bit risky to ride on tough trails.
Luckily, you can adjust it simply by swapping the stem of the bike.
It refers to the vertical distance between the horizontal head tube center line and the bottom bracket. 
Stack highly influences the height of the handlebar and the hand position of the rider. 
To achieve great control while ensuring comfort, you must bring stack measures into account as well. 
How comfortably you will be able to grab on the handlebar while seated pedaling state, this stack thing determines that. 
You can adjust it by raising the handlebar using headset spacers.
Pro riders and technicians often address it as ETT.
This is the distance between the seat post and the center of the head tube. And this important measurement determines how well the bike fits you when you are seated.
However, your saddle height and seat tube angle can affect the effective top tube.
If you are not up to aggressive riding, rather more to casual riding, and spend most of the time in the saddle, consider whether you feel comfortable reaching the handlebars or not.
The angle between the ground and front fork of the bike is known as the head tube angle. 
This is the primary metric that manufacturers, as well as the riders, prefer using to judge the characteristics of the front wheel. 
A bit slacker head angle is about 65-degrees, which provides stable performance at high speed and makes the rider feel much comfortable, especially on downhill terrain.
However, it will require you to change your body position more often on uphill terrains. You constantly need to keep your body weight on the front wheel.
On the flip side, bikes with steeper head angle (70-degrees) allow you to go fast on uphill terrain as the front wheel feels planted. But for downhill terrain, it will be unstable. 
So, if your preference is to pedal uphill, a steeper head angle is the right one; and if you like to roll on downhill more often, go for a bike with slack head angle.
Mountain Bike Seat Height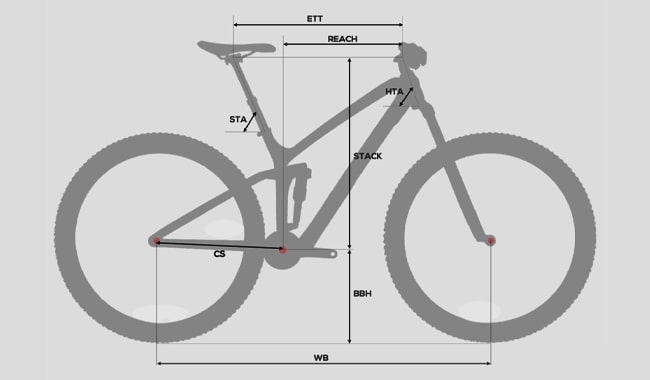 As you want your mountain bike to fit you properly, you must consider adjusting the seat height if necessary. 
Once you adjust the seat at the correct height, you can comfortably ride for a prolonged period. Be sure to perform these following steps to make necessary adjustments:
Adjustment for Flat Terrain and Climbing Hills
If you mostly prefer climbing hills or rolling the wheels on flat terrain, make sure your legs slightly bend about 80-90% of your full leg extension. 
Make adjustments until your legs reach this level. This position uses your leg muscles to make you pedal more efficiently and powerfully onto these two trails.
For steep descents, you need to lower your seat to be able to get low center gravity that gives good control and much confidence to roll on the downhill. Be sure to try a different seat height to find which one suits your riding style the best. 
If you previously adjust the height for climbing, consider lowering it by 3 inches first. Go further lower if necessary.
Adjusting the Seat Height
You may need a wrench to make adjustments to the seat height. At first, consider loosening the quick-release lever of your seatpost.
Once it loosens enough for making adjustments, raise or lower as per your requirement. However, you shouldn't go beyond the minimum insertion mark.
If you still find the seat height not fitting to your body comfort, and it seems like you need to change the height significantly, you most likely need a different frame size.
When you are done, now, retighten the lever properly. If it's a binder bolt, do not over tighten it.
To meet the manufacturer's specific instructions, you may need to use a torque wrench to tighten it properly.
Over tightening the lever or binder bolt can damage the carbon fiber frame and seatpost.
And if you are at the beginner stage, and progressing quickly, consider adding a dropper seatpost that allows you to raise or lower the seat with a simple push-button.
This option comes great, especially when you are constantly changing the terrain.
Hopefully, this mountain bike size guide helped you to determine your perfect bike size regardless of the terrain you want to roll the wheels on.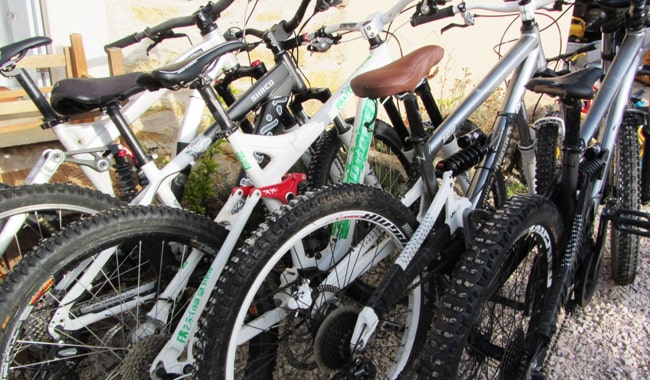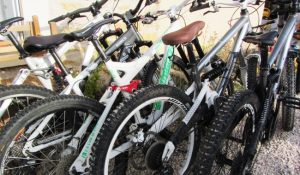 Imagine going down a mountain so fast that everything around you is a blur, and all you can do is trust your instincts and paddle
Read More »
Was this article helpful?